Finished these  Easter Houses with tree stump bases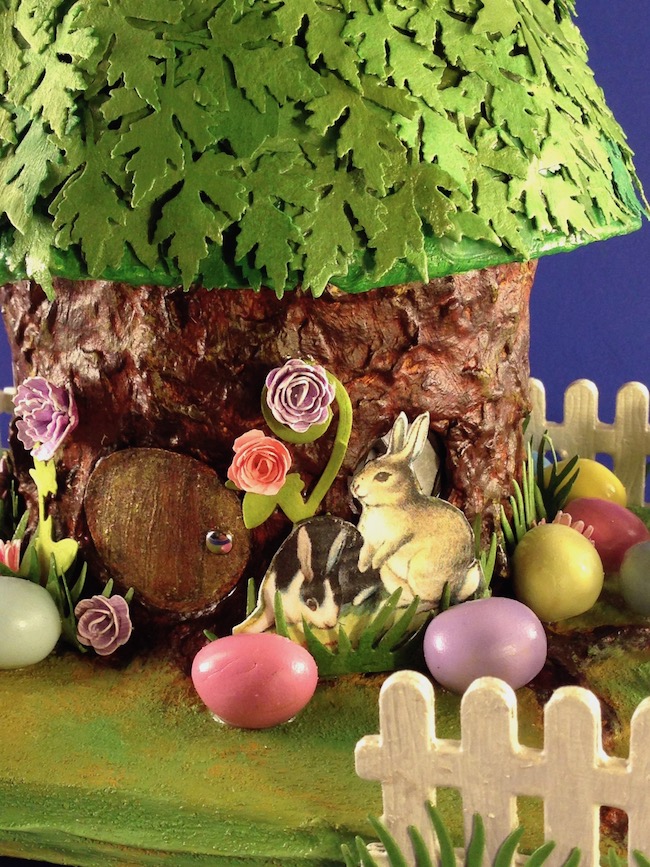 This is a close up of the Two Bunny Maple leaf Easter house. The other bunny is on the other side.
Easter Bunny Graphics
The 2 bunnies are from an Alpha Stamps digital download printed on regular paper then glued to cardstock and cut out. I bent them a little to curve around the base.
Grass and fence around the base of the Easter House
The grass is from a LaLa Land die and glued it around the base of the tree and fence. The fence is also a LaLa Land die. It is the easiest fence to die cut that I have found. I glued together 3 pieces of cardboard to make each section of the fence - that means there were a total of 50 pieces glued together to make the fences for the 4 little houses. I did not extend the fence all the way in the front because I wanted the bunnies and the eggs to be seen better.
Make Miniature Eggs for the Easter Houses
The eggs are Sculpey polymer clay eggs that I made and glued to the base. Just roll a ball of clay into a egg shape, then back according to the directions. Then I coated them with Sculpey glaze just to give them a little shine.
Now make flowers to decorate the base
The flowers are from a couple of dies - one from Impression Obsession and one from Tim Holtz' tattered florals. Make a lot of flowers to decorate Easter houses.
To make the card stock flowers sturdier, I coated them with Mod Podge. That's because I want these houses to last for years.
Here's a full view of the Two Bunny Easter House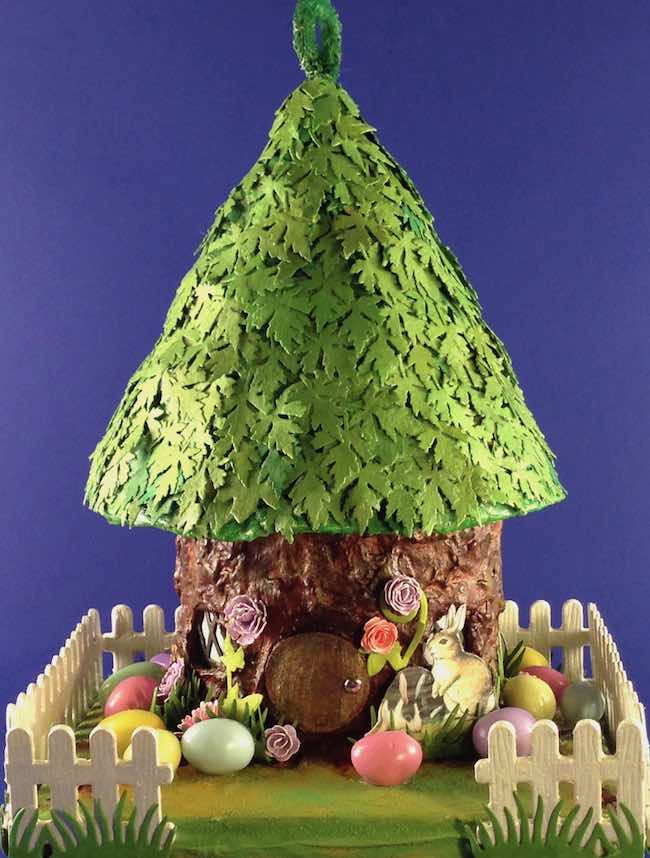 Now the Brown Bunny Oak Leaf house below.
Below you see the bunny portrait within the house.
Finally, here is the Drummer Bunny Oak Leaf house.
There is one more house done, but truthfully, it is drying in the oven. Sometimes to speed up the drying process, I turn on the oven for 5 minutes (ALWAYS with a timer) and then put the little house in there to dry after I turn off the oven. It is also an oak leaf house very similar to the ones above.
I always look at the houses for a few days before I deliver them. I may add a small section of grass to the front and maybe some flowers at the front corners where there is a little gap in the fence. Details, details. I think the kids will like their Easter houses no matter what - but a little extra embellishment can't hurt.
Thank you for stopping by.