What is a Putz House?
Recently I posted one of my little houses on a crafty-oriented Facebook Group and someone asked me a startling question – What is a Putz house? Perhaps I need to start off this blog post with a brief explanation of what a Putz house is. The name for Putz houses evolved from the German word "putzen" which means to clean or to decorate. And the name was gradually acquired by the little houses that were placed around the nativity scene for Christmas decorations in the early 1900s. Yes, these adorable little houses have been around for about 100 years. Designs and materials have varied dramatically over time.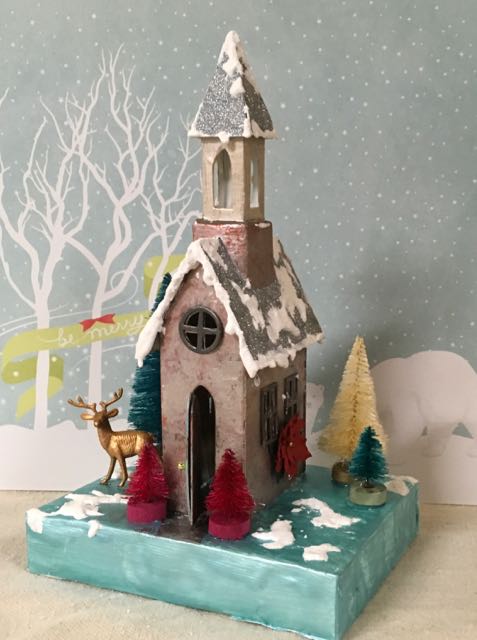 How do you make Putz Houses?
Would you like to see more inspiration and instructions on making Putz or paper houses? There are so many places on the web to read about making these charming little houses in addition to my advice here. First, here is a comprehensive list of the tutorials on my blog, but after that I've listed the best places on the web to read about making little houses. As I find new information, I will update this post so you will have a list of the best information on where to learn how to make Putz houses.
Tutorials below are listed in order of construction:
Tools you need
How to make a pattern
Free patterns on my blog
How to make various bases for your houses
Finally, some of the different texture effects I use on my houses.
8 Essential Tools for Making Your Glitter House
I made a list of the 8 Essential Tools (inexpensive tools) that you need to make your own paper house. It's available free on my paper glitter glue library. Just sign up for the newsletter and you will get instant access to the library and can download the list.
Paper Glitter Glue Tutorials for Making Putz Houses
Patterns and How to Make Patterns:
Easy Paper Houses – Free Pattern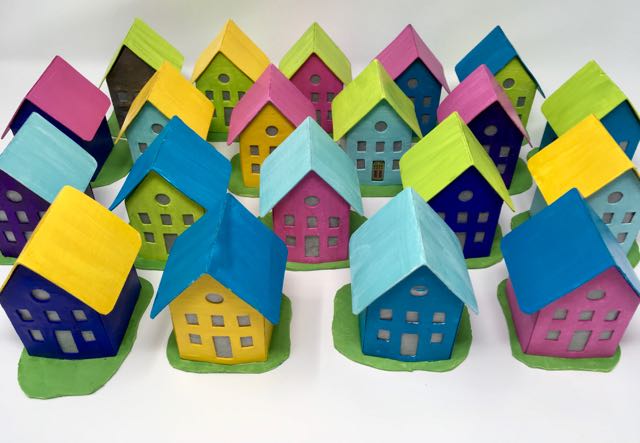 Make Your Own Original Putz House Pattern – Part 1
Make Your Own Original Putz House – Part 2
Candy Corn Putz House Free Pattern
Make an Irish Cottage – Free Pattern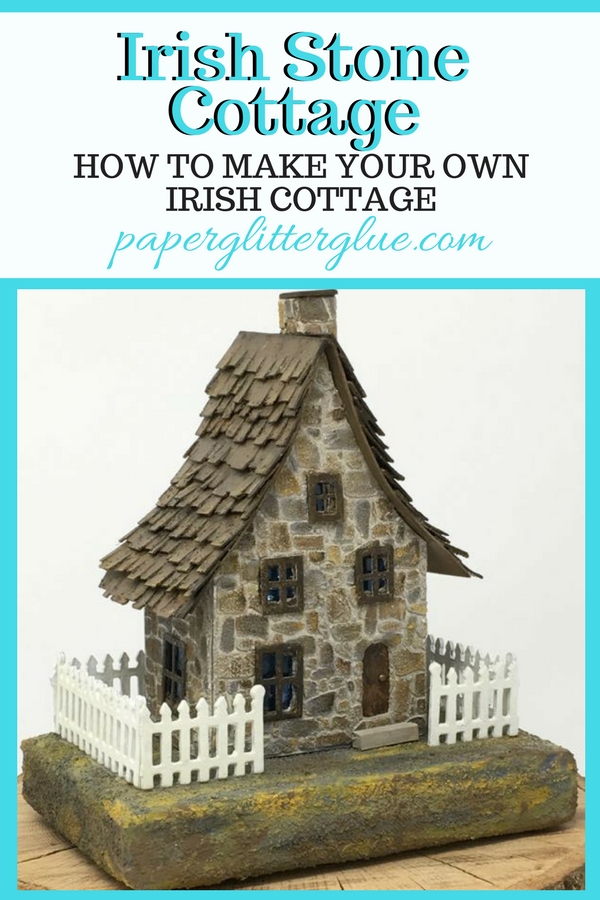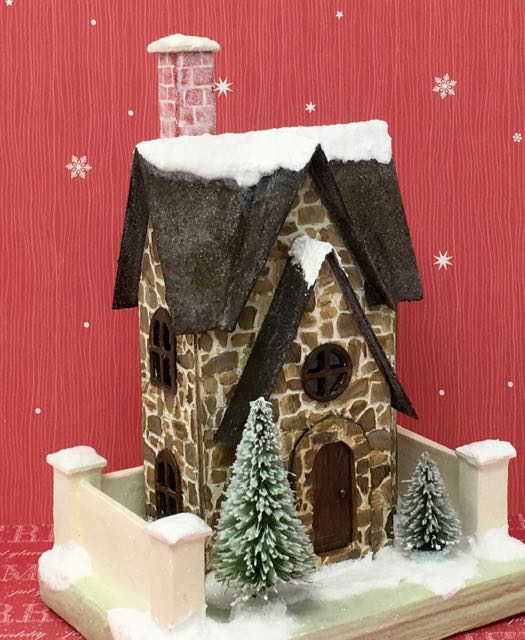 How to Draw a Steeple Pattern for Your Little Houses
How to Draw a Steeple Pattern for Your Little House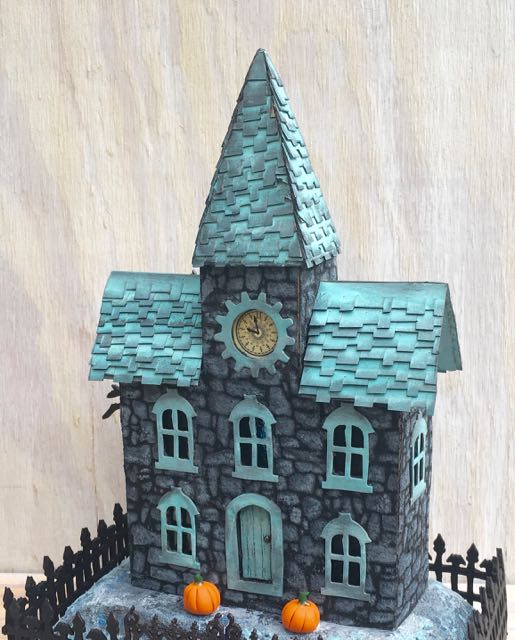 Instructions for How to Make a Base and Add Light to Your Putz House
How to Make a Base for a Little Cardboard House
How to Add Light to Your Little Houses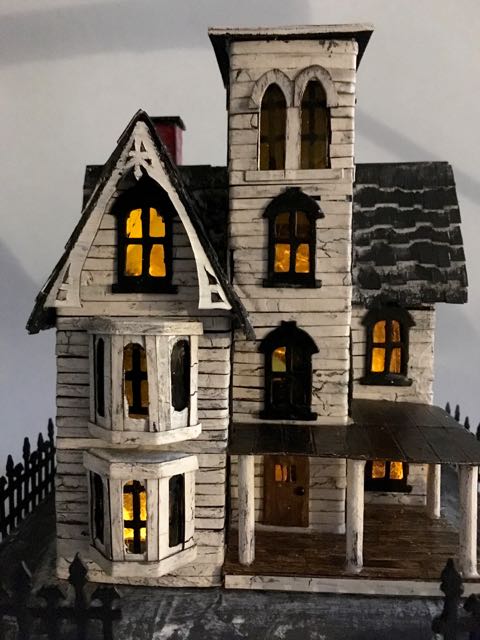 Make a Back Door to light up your Putz house
How to Make a Rusted Roof for Your House Tutorial
Make a Rusted Roof for Your Paper Houses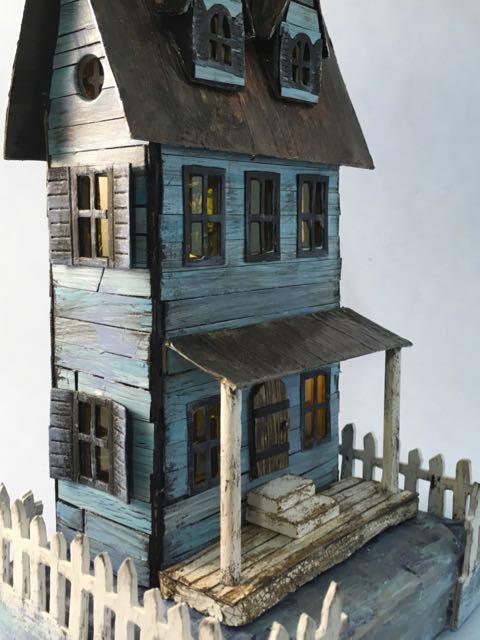 How to Make Unique Bases for Your Little Houses
Making Books for Craft Projects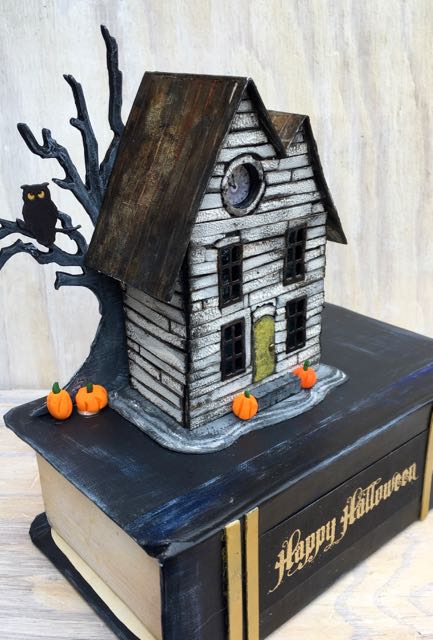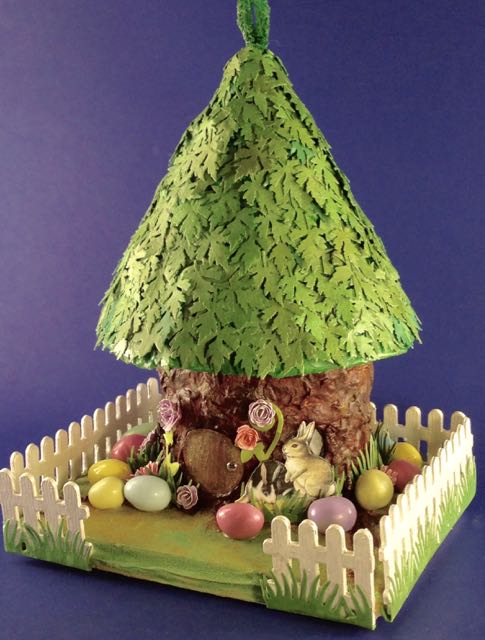 Slippery Slope Bat Wing House Base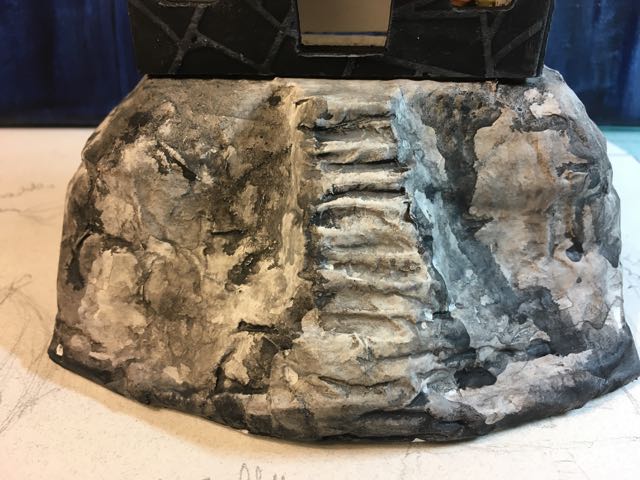 How to add different Textures to Your Houses
Stone Texture – How to Add to Your Papercrafts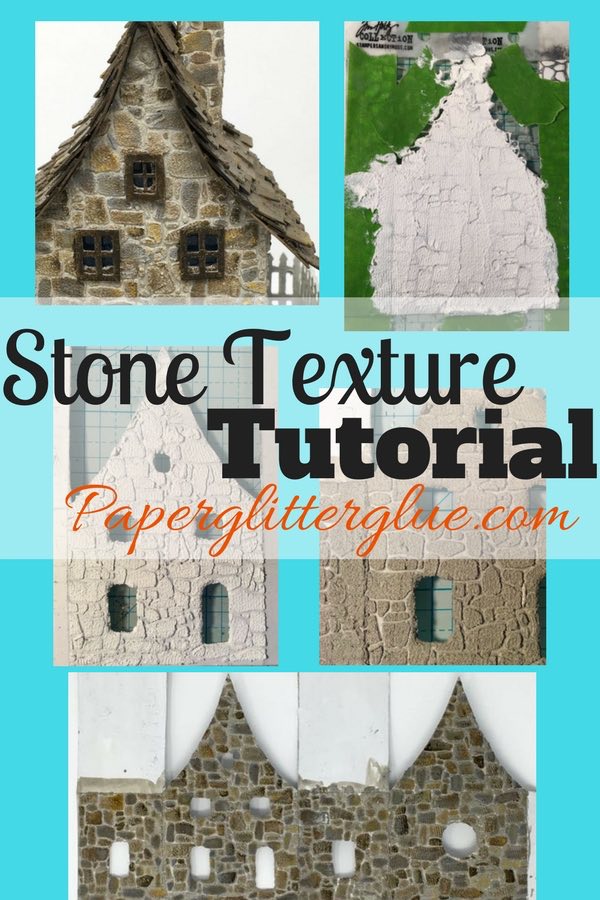 How to Use Crackle Medium for Your Papercrafts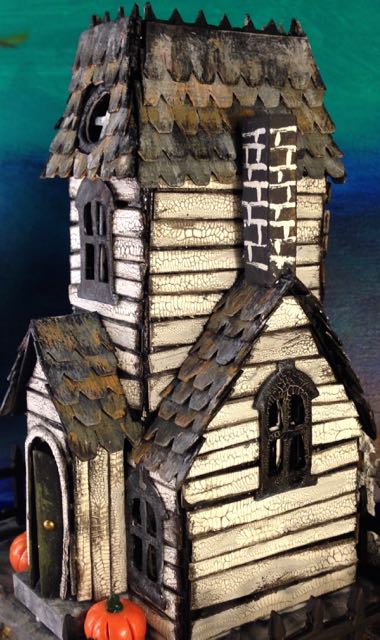 Most of my houses are made for Halloween since I sell them to raise money for an October fundraiser for Habitat for Humanity. They are not the traditional Putz houses, though they are made exactly the same way – just with different decor.
Additional Resources on the Web to Make Putz Houses
Many of the websites listed below are more traditional in the decor of the little houses, but the instructions are wonderful. You will find them to be so inspiring.
Excellent Tutorials for Putz Houses:
Howard Lamey is an incredibly generous builder of Putz houses meaning that he shares his patterns and knowledge freely. His website is littleglitterhouses.com where you find instructions on how to make them. It's not regularly updated, but the basics are incredible. When you go to Pinterest and search for Putz houses or glitter houses – you'll see that many are made are by Howard or that people have used his patterns.
You will find that the Cardboard Christmas forums are an absolute wealth of information on making putz houses. And as a bonus, one of the original members is Howard Lamey who posts regularly and shares his knowledge and patterns there as well. You do not have to be a member to read ALL the posts there. Sign up if you want to be a member and ask questions or reply to posts. There is a nominal cost of $1/month which was initiated to prevent fake sign-ups. It is well worth it.
An additional website associated with the Cardboard Christmas Forums is the Papa Ted's Place where the incredible history of the little houses is preserved. Paul Race hosts both of these sites which is a real gift to the putz-makers of the world.
Christmas Notebook – Building a Putz House 
Rhonda of Christmas Notebook makes lovely glitter houses. She has many tutorials on her website demonstrating steps in making the houses.  As of this writing, she regularly updates her website. She is very active making lots of beautiful Putz houses.
I stumbled upon Cassie Stephen's blog by accident. She is an art teacher in Nashville, TN so the projects are beautifully artistic as you would expect. I am including her website because in one little party, she demonstrates the simplicity and appeal of making the little houses.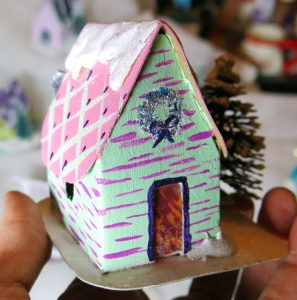 That's about it for now. I will keep this post updated so you can always find new information from my website here. I hope you find this information helpful in your putz house building journey. Let me know if you have any other sources you like to go to. Or let me know if you have any questions, I will be glad to answer them (assuming I know the answer, of course).
Want to remember where you found this article? Then pin to your favorite crafting Pinterest board.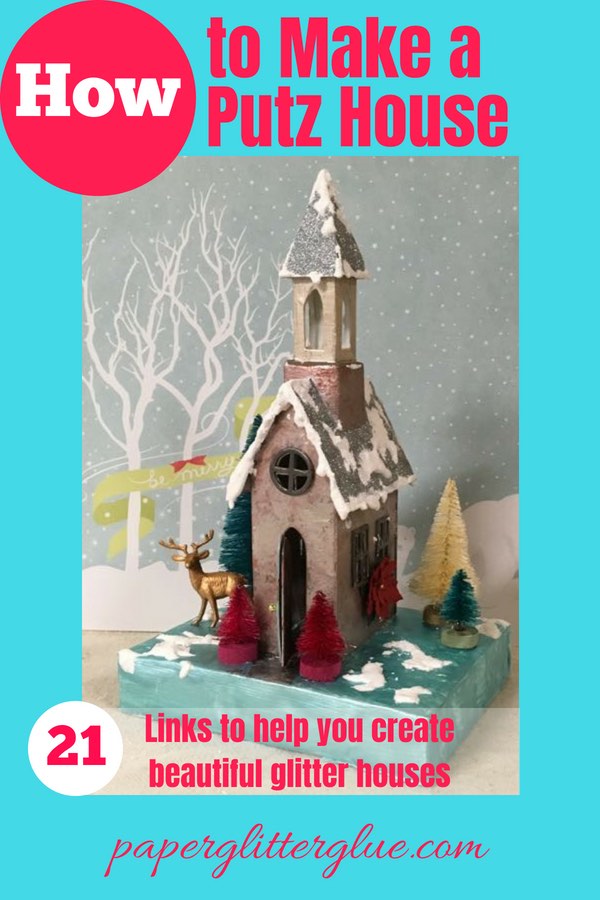 Get the Paper Glitter Glue Newsletter
Subscribe to get my latest newsletter by email. Also get access to the Paper Glitter Glue library. I will send you a newsletter every one to two weeks.