My project this week is a birdhouse cuckoo clock. I like this one very much. It ended up looking more like what I envisioned than the clock houses usually do. I used some Stampendous Stamps for the birds and made the birdhouse out of the same pattern as I made the doghouse in the previous post. I'm experimenting with texture and color so this one is much brighter than most of the things I make.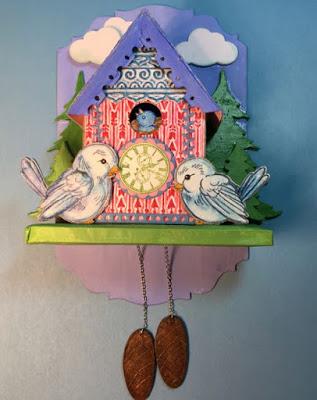 I put it on a blue cardboard background cut from the Sizzix Tim Holtz Plaque and Postage on the edge die.  The house itself I covered with a texture fade die that I colored with the Tim Holtz crayons. The color is so nice and smears so nicely. Smearing color is always fun.
The large trees are from a classic Sizzix Christmas tree die and the small ones are from a new Hero Arts Christmas die.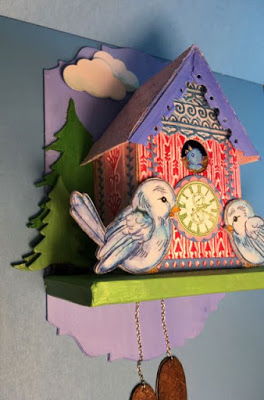 The weights at the bottom of the clock always end up being a challenge for me. I thought about making some hearts to hang below but then I thought that was too cutesy. I considered flowers, but I didn't really have any dies that I thought would work. My friend, Alison, has a great design sense and suggest pine cones which is what real cuckoo clocks have hanging down. She thought a real pine cone would be good, but I am committed to my cardboard to I drew and cut out an abstract pine cone shape. I think that works too.
I made this house with the idea of several of my favorite challenges in mind. I'm sharing with the following online craft challenges:
Simon Says Stamp Wednesday Challenge – The Color of Love
Creative Carte Blanche – Love is in the Air
Mixed Media Mojo – Love is in the Air
Stamps and Stencils – Texture, Crackle and Paint 
Subscribe to get the Paper Glitter Glue Newsletter
Subscribe to get my latest newsletter by email. Also get access to the Paper Glitter Glue library. I will send you a newsletter every one to two weeks.