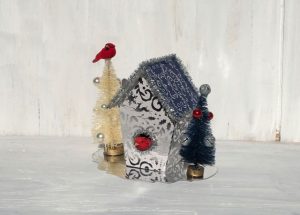 I had lots of birdhouses left over from the party so I decided to use some as gifts. These houses were made for a friend who could not come to the party because her car wouldn't work the first night and then her sister had a baby the second night. This friend has 3 (now 4) nieces so I made a birdhouse for each one.
This is one of my favorite birdhouses. I used some leftover metallic cardboard that I found in some Martha Stewart packaging. It is lovely cardboard. I cut it using a Tim Holtz die called Baroque which works beautifully as a house base. This birdhouse is for my friend who couldn't attend. Oh, the reason I made the girls birdhouses was because they had asked their aunt to make them a birdhouse when she came to the party.
The birdhouse below is made for one of the younger nieces.
And this one is for a younger niece as well. I think the girls are 8, 5, 2 years old and a newborn.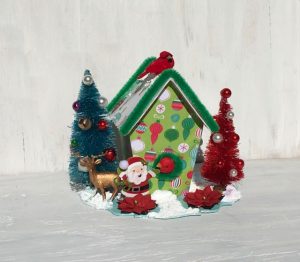 I worry that this one below is too tacky, but maybe a young girl will like it. I still have affection for the ornaments that we had when I was a child - tacky or not.
I think this one is my favorite of this series of birdhouses. I love the fat little yellow bird, the yellow tree and the smaller bird with the red head on the roof.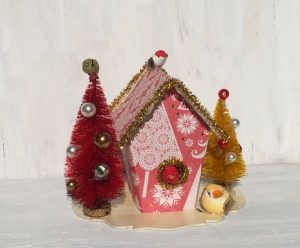 Here are all the girls' birdhouses together.
Many of the trees are from the Tim Holtz Idea-ology line, but I had to order some from Consumer Crafts online because I was afraid I would run out. I wrote a little bit about staining the trees in
this post
. The birdhouse is Eileen Hull's birdhouse die from Sizzix. The birds are from Factory Direct Crafts. I really love all the miniature birds. They were a big hit at the party.
This month's challenge at
A Vintage Journey
is
"Mini Marvels"
. I haven't shared anything with online challenges recently because I've been so busy prepping for the party. I think the little birdhouses count as mini at least because each birdhouse is 4 inches tall and 2 inches wide. The base is 5 inches at its widest so maybe I am stretching the challenge's definition of mini. Whether they are marvels is a different question, but I am going to share them anyway.
Ya'll take care. Thank you for reading.
Subscribe NOW!
Subscribe to get my free newsletter by email. Also get access to all the fun patterns and tutorials in the Paper Glitter Glue library with the secret password. I will send you a newsletter every one to two weeks.