I didn't take of a photo of every house though I meant to. This is the last set of house photos that I have. I hope you enjoy looking at them.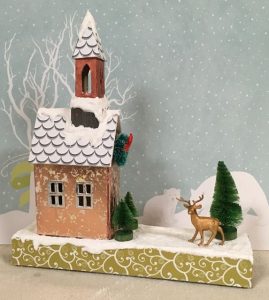 Another beautiful church. I was surprised at how different all the churches were.
The same person did this church as well. I love the color scheme and how beautifully she did the snow. I can't apply Snow Tex nearly as nicely as this.
I love the way she used a ribbon roll as the base. It almost looks like a carousel.
This snow was very well done also. It's a lovely setting for the little house.
Beautiful bird house in the snow. The chimney was not made to fit this house, but it does and it looks nice on the roof.
Another house in a snowy wonderland.
Subscribe to get the Paper Glitter Glue Newsletter
Subscribe to get my latest newsletter by email. Also get access to the Paper Glitter Glue library. I will send you a newsletter every one to two weeks.