How to make a Christmas House Gift Box with a ribbon roll
Most of the things I make are little Putz houses because I love to make them so much. I promised a friend that I would make a Christmas house for her daughter who loved her Easter house with the storage area. I made them out of the cardboard rolls from stickers. And I made the tops removable so a child could put a treasure inside. Well, apparently her daughter thinks it is the greatest thing so I made a Christmas version for her. I also made the base larger for even more treasure storage.
First Make the Little Cardboard House
The house itself is from offcuts from one of my designs that I glued to a cardboard rectangle. Then I covered the house with Christmas scrapbook paper.
I don't have a pattern for this specific Christmas putz house (yet), but you could make one of the houses from either of these challenges - 12 Houses for Christmas Challenge and the 13 Days of Halloween Houses. They are the perfect size for a ribbon roll.
I try to make my houses really sturdy with double layer cardboard walls and coat them with Mod Podge to make them somewhat impervious to elements. So I think this one will survive several Christmases.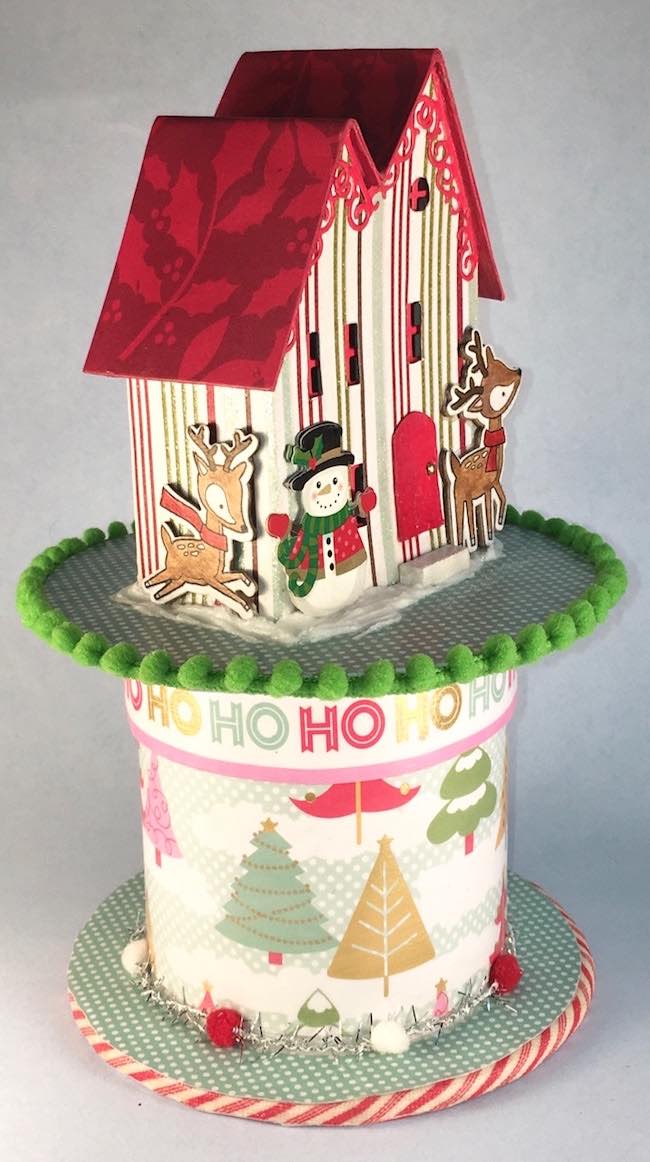 I placed the house in a bed of glue underneath the house and "snow" made of Ranger texture paste and then sprinkled on some glitter. Then I covered it with Mod Podge to try to prevent the glitter from falling off. Because who wants glitter all over their house, right?
Embellishments for the Christmas Gift Box Glitter House
The main embellishments are the snowman which is a cupcake topper and the deer from Poppy stamps Christmas delights die and stamps. Usually I cut out several layers and glued them together to make things sturdier.
How to make the Ribbon Roll Box
To make the gift box from the ribbon roll or a cardboard roll I glue several layers of cardboard circles together. These are 5" Sizzix circles and I use the Eileen Hull Cookie box die to adhere the bottom circle to the ribbon roll or a cardboard roll. And I do that to make sure everything is sturdy enough to be handled by a child.
The top is made by cutting a strip of cardboard that goes loosely around the roll and gluing it to the top circular cardboard base the same way. I find this makes a very substantial container. It's a fair amount of work, but I really like making the bases rather than buying them.
For the edging on this house I used some ribbon left over from last year. I love all 3 of these ribbons because they work very well with the scrapbook papers on the little glitter house.
I am usually pretty happy with the projects I post here, but sometimes a project delights me more than others. This little Christmas Glitter house makes me very happy. I think the young lady who gets the house will be pretty tickled with it. At least I hope so.
Simon Says Stamp Challenge "Christmas Gifts"
Once again I am going to enter a challenge with the house. This week's Monday Simon Says Stamp challenge is Christmas gifts so the little Putz gift house fits the challenge.
If you like this project, be sure to Pin to your favorite Pinterest Board.