Ready for some fun Christmas crafting to make these adorable little houses?
These next twelve days we're going to make 12 Glitter houses starting tomorrow November 27th. So you can make your own Christmas village, a Christmas wreath with little houses nestled in the greenery or even put them on your Christmas tree. These miniature houses are based on the traditional Putz houses which reached their peak popularity in the 1930s but remain very popular to this day.
Most of the designs for these miniature Christmas houses have been inspired by the houses I found on Papa Ted's website - the definitive online history of these miniature houses. You can find the original Putz houses that I used for several of the designs on this page.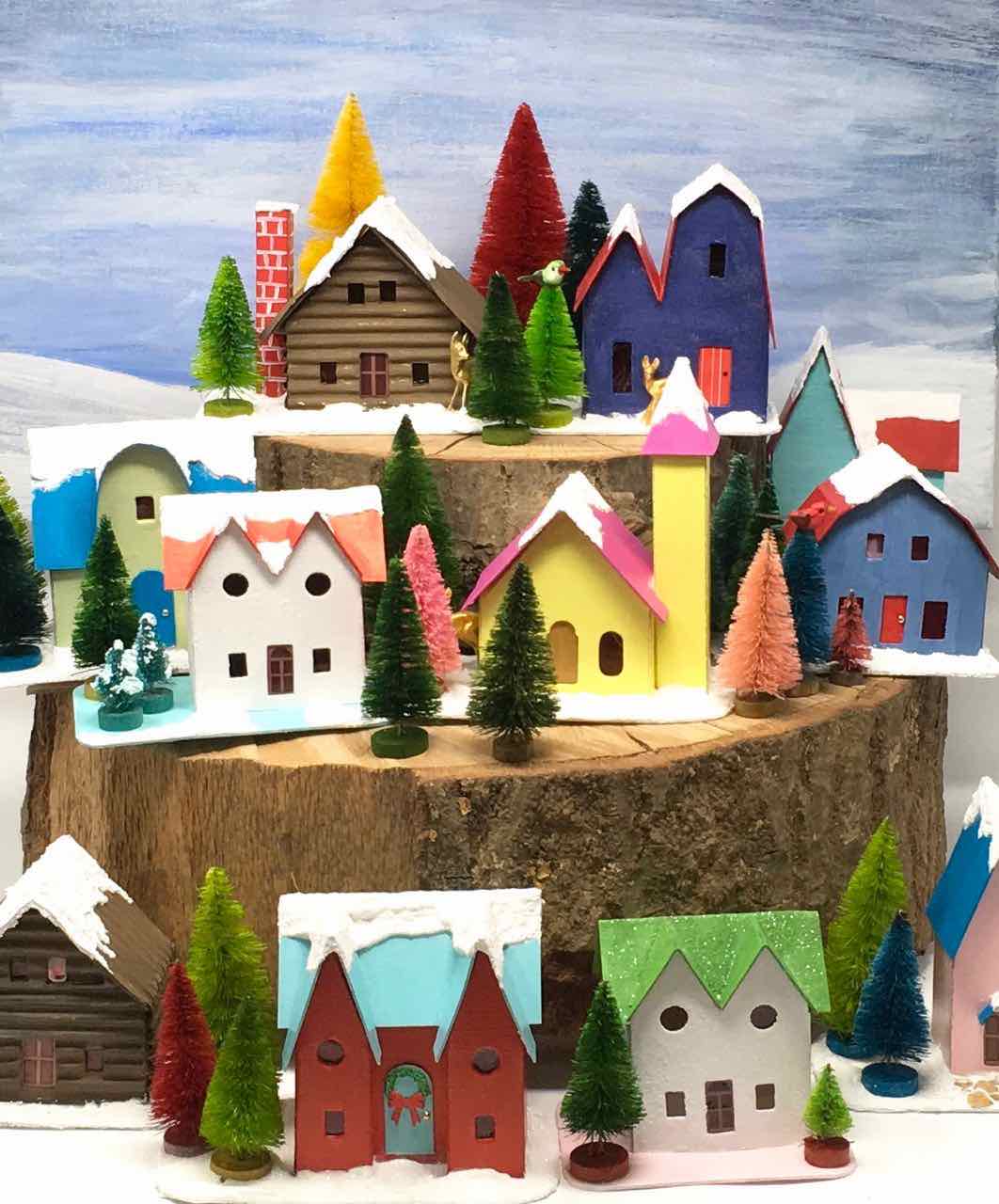 12 Houses of Christmas Challenge Starts November 27th
So starting November 27th, I will post the first house. It's a very interesting little cardboard house with 2 asymmetrical gables in the front shown above. Most of these houses are pretty small so you can fit them easily in your holiday decor - even on a Christmas wreath. And the patterns are simplified (as much as possible) to make it easier to create during this busy holiday season.
A New Pattern and Tutorial Each Day
Each day there will be a new pattern and a tutorial on how to make each house. All the patterns are free. Most of these patterns are in a PDF format, but there are a few that are in an SVG format. Eventually they will all be updated in SVG format for electronic cutting machines like a Cricut Maker. You can find them in my Paper Glitter Glue Library. Just subscribe to get the newsletter in the form below and you will immediately get the password to the library. In the library you can find these patterns and all of my previous patterns as well.
Get ready for some seriously fun Christmas crafting
So get your glue out, find some good cardboard, put a sharp blade in your craft knife (and be sure to subscribe to the newsletter if you haven't already) and we'll get started on the November 27th for 12 days of great crafting.
Here are the links to the 12 Houses for Christmas series (I will add one a day until we have all 12 Christmas houses):
Twin Gable Front House - Christmas Putz House No. 3 pattern is in the library.
Little Church with Side Steeple - Christmas Putz House No. 5
The Frosty Barn - Christmas Putz House No. 6
Round Arch House - Christmas Putz House No. 7
Happy Holiday House - Christmas Putz House No. 8
Swiss Chalet Miniature Christmas House - Christmas Putz House No. 9
The Snowy Church - Christmas Putz House No. 10
The Winter Cottage - Christmas Putz House No. 11
The Split Level Christmas House - Christmas Putz House No. 12
Christmas Winter Village Wreath
Here is a set of little houses that one of my readers made
And here is a set of miniature Christmas houses that Mary (one of my readers) made and gave me permission to share with you. Aren't they beautiful? I love her colors and she made them work so beautifully together. I think there are 2-3 of the little houses that aren't my patterns.
P.S. I have lots of little house patterns throughout my blog - just use the search bar to look for paper houses, putz houses, Christmas houses or whatever holiday appeals to you most.
Many of the patterns are available as both PDF so you can print them or in SVG format for your electronic cutting machines. So I hope you visit for awhile and enjoy the projects at Paper Glitter Glue.
Thank you,
Lucy
Pin to your favorite Pinterest board so you can remember where you found the 12 Houses for Christmas