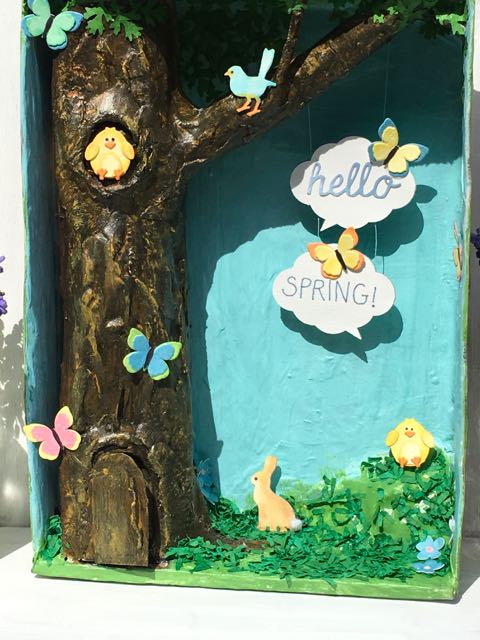 This cardboard project has been a really fun project to make. I wanted to make an easy Easter/Spring project to enter a specific online challenge, the Frilly and Funkie "Get in on the Action" to add an interactive element to your project. I love to make trees so I thought about making a woodland scene with a bunny behind a door that opened and the concept blossomed from there. But I missed the deadline for that challenge. The good news is that the current challenge is "Knock on Wood" so I'm good.
My Hello Spring! Woodland Scene is a continuation in my tree series (Easter houses, Owl Houses and even a Witch's Inn) using the tree as the main design element of a paper crafting project. Another continuing theme is using a cat food box as the foundation. I have access to lots of cat food boxes and they are a good size for things like this.
And then I have been just itching to use some of my new supplies from Tim Holtz – the Springtime Sidekick dies because they are so seriously cute.
Materials List:
Cardboard box as foundation of project
Cardboard for tree
Newspaper
Glue for paper mache and to adhere elements
Thread – buttonhole thread to support the word bubble clouds
Watercolor paper for die cuts
Paints

Gesso – white
Gesso – black
Acrylic paints in ochre, burnt sienna and burnt umber
Distress Paints and Stains:
Distress Inks:

Mowed Lawn
Cracked Pistachio Oxide
Fossilized Amber Oxide
Worn Lipstick Oxide
Broken China Oxide
Spiced Marmalade Oxide
Vintage Photo Oxide
Broken China Oxide

Dies and Punches:

EK Success Large Word Bubble
Tim Holtz Large Bird Punch by Sizzix
Tim Holtz Oak Leaf Punch by Sizzix
Tim Holtz Sidekick Springtime order set by Sizzix
Tim Holtz Funky Flowers Thinlits by Sizzix

Stencil – Tim Holtz Stamper's Anonymous Layer Stencil Leafy
Briefly, here are steps involved in making the Woodland vignette:
Make cardboard tree
Glue tree in box, add hill for chick to sit on
Add bark, limbs to tree
Cover foundation box with torn newspaper
Punch holes to hang clouds
Paint with white gesso
Paint crevasses in tree with black gesso for deep shadows
Paint tree to mimic bark
Paint background colors and sides of the box. Stencil leaf pattern outside of box
Die cut Spring creatures, color with distress inks
Adhere leaves, animals, flowers, leaves in place.
Make word cloud bubbles
Adhere word cloud bubbles to thread
Hang word cloud bubbles
In this post, I'm going to focus on showing you how to make the tree and talk about how to make the hanging Hello Spring! word bubble clouds.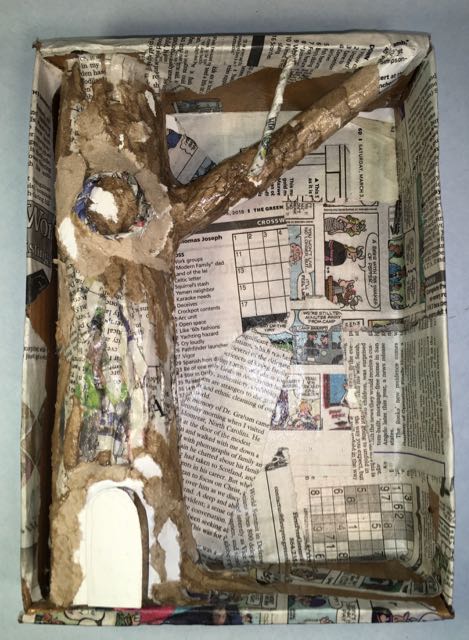 I altered the way I made the tree for this project. Normally, I just roll up a cone of cardboard and then glue on paper mache to make the bark. I wanted this tree to be a more organic, more irregular than the previous cardboard trees. So I soaked the cardboard in water until it was pliable and then rolled it roughly into the shape of a tree. I had to let it dry a little bit because it was too soft to hold its shape. I was also able to flare the bottom of the tree better to make roots.
The tree branch was made the same way as the tree itself. I had to glue strips of newspaper around it to make it hold its shape because it was a little floppy. I added a few side branches on the main branch for extra dimension.
The next thing I discovered by wetting the cardboard was that when I tore it, it made incredible irregular layers that looked like bark. You can see some of that effect on the unpainted tree above. I love this effect which I will be exploring more in the future.
The door is just a piece of cardboard with the door partially cut out. I left one side attached so the door could open. I also curved it slightly to fit on the tree.
The knothole was make by rolling and twisting a strip of newspaper into a circle and gluing it on the tree.
The torn cardboard was then glued around the edges of the knothole and the door. I like how that cardboard merges this knothole and the door into the tree.
After tree was completed, then it was painting time. To simulate bark, I use several different colors. First black in the crevasses of the tree, then burnt umber, then burnt sienna and some Fossilized Amber distress paint on top.
I used my favorite blue for the sky – Tumbled Glass Distress Paint. I love this shade. And the green for the trees and the ground – why, Mowed Lawn, of course.
I cannot remember exactly what order I glued on the figures, but I do know what I waited awhile before I hung the Hello Spring! word bubble. And that's because I am messy and I get paint everywhere. I wanted all the touch-ups done before I put my little signs in place.
Here's how I made the hanging word bubbles. Each word bubble consists of 2 layers of cardboard. You need to use cardboard rather than paper to give it a little heft so it will hang appropriately. I put the two clouds face down and drew 2 lines of glue for the thread.
The thread was placed on the parallel lines of glue and pulled taut enough to straighten out the thread. Then the thread was taped to a solid surface.
A second layer of the word bubble clouds were glued on top. I didn't wait for the glue to dry before I adhered that layer on.
Now you have to let it dry or your hanging cloud will slip and twist and just cause a terrible crooked mess.
When dry, paint the thread and the edges of the word bubble the background color. Don't worry about messing up the face of the cardboard word bubble because the finished word bubble is made from a separate piece of paper glued on as the very last step. Again, I do it this way because I am messy.
Next hang the word bubble by threading a needle with the top half of the thread. I actually threaded 2 needles so I could put put them in place at the same time without re-threading.
Tape the thread to the top of your box and make sure that your word bubble hangs straight, but don't cover the hole and don't glue it until you are sure it is hanging the way you want it to.
When you are satisfied with the placement of the word bubble, put a big blob of glue on the hole in top and paper mache over the hole and the tape.
Paint the top of the box to cover up the paper mache patches for thread.
Cut off the bottom extra length of thread. Glue on your finished word bubble to your cloud.
And that's it. A fun Spring project. I would like to share this project with 3 of my very favorite challenges:
Frilly and Funkie "Knock on Wood"
Simon Says Stamp Monday Challenge "Easter/Spring Inspiration"
Simon Says Stamp Wednesday Challenge "Easter Inspired"
If you have any questions about how to make this project, please let me know.
Get the Paper Glitter Glue Newsletter
Subscribe to get my latest newsletter by email. Also get access to the Paper Glitter Glue library. I will send you a newsletter every one to two weeks.