The latest Halloween house is finished. It's the one with the hip roof and square sides that was inspired by A Vintage Journey's "All Squared Up". Each side is 3" x 3", each window is square, the pathway is made with squares and the fence posts are square. Oh, and the base is a square. Lots of squares.
I found some moss on the side of the road which kind of looks like tumbleweeds. I glued it down here and there.
This is the back of the house with the light hole open. I glued the fence posts in and let them dry for a day before I looped wire around the posts. The best wire I had was silver which needed to be distressed with dark brown and orange alcohol ink as well as some Prima Rust paste in brown and orange.
I made a red door just to give a little surprise color then I figured it was too bright so I toned it down with a little Black Soot distress ink. Better, I think. I made the square stepping stones out of a thick cardboard that one brand of kitty litter comes in. It has such a nice lumpy texture and looks like stone to me.
One of my online blogging buddies, Laney of Sugarplum Patchwork, asked me about what I use for the base of the siding. (Check out her work, she makes such beautiful putz houses.) At first I used the same cardboard that formed the structure of the houses. But lately I've been using 110# black card stock. It works really well with the crackle medium. The siding that is on this house consists of leftovers from a couple of previous houses. That's why there different degrees of crackles and colors. I think works for this abandoned house.
See the straw bundle on your left. I was trying to get the glue to dry with a heat tool so I could take photos and almost set the straw on fire. Sometimes you have to be patient and just let things dry on their own. You can't see the browned bottom edge from this view.
That's about it. I hope you enjoyed this little tour of the Hip Roofed Farmhouse. I'm going to share it with this month's A Vintage Journey challenge.
I have some ideas for the next house. I really have to get a move on because I think I only have 14-15 houses for the sale and I really want to have more than 20 completed. Fall will be here before you know it.
Thank you for stopping by. Be sure to subscribe to my blog newsletter so you can keep up with the fun paper crafts here.
Lucy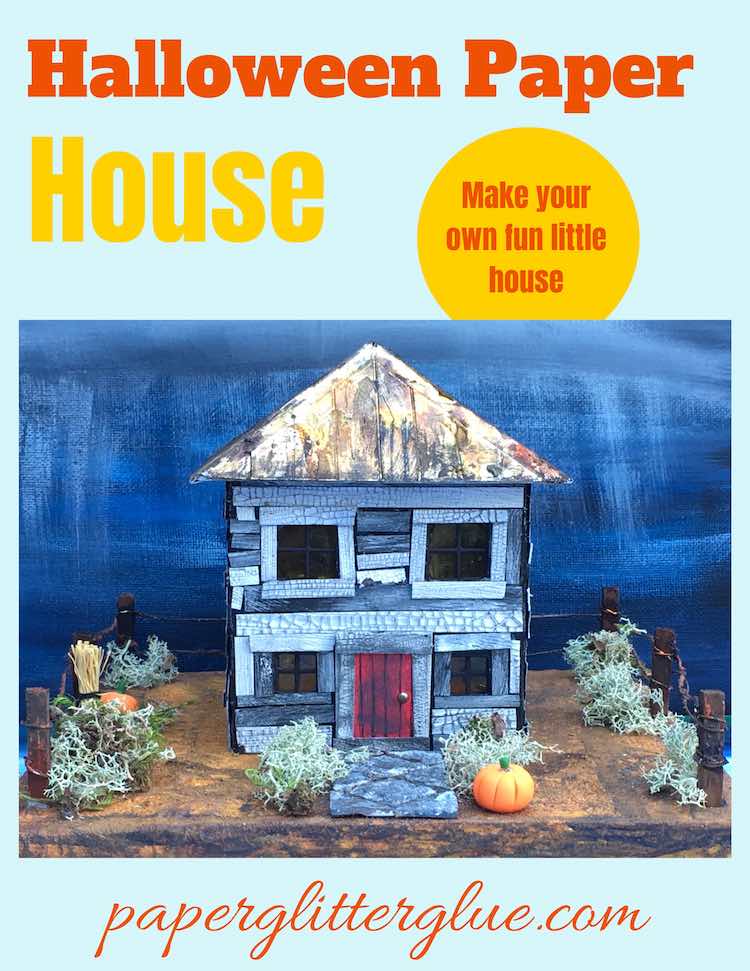 Subscribe NOW!
Subscribe to get my free newsletter by email. Also get access to all the fun patterns and tutorials in the Paper Glitter Glue library with the secret password. I will send you a newsletter every one to two weeks.