Here is the house I basically finished tonight called the Raven's Crest Clock House. The only detail remaining is figuring out what to hang from the pendulum on the clock house. I've got some sculpey bats that I haven't baked yet that I think I'm going to use. Like most of my other clock houses, this house can be hung on a wall from the reinforced hole in the back. It's also got a small, lightweight base.
Once again I used the Tim Holtz Rooftop dies to make the shingles. I am greatly enjoying this set of dies. They give such nice dimension to the roofs on the little houses – as well as making it so easy to cut out lots of shingles.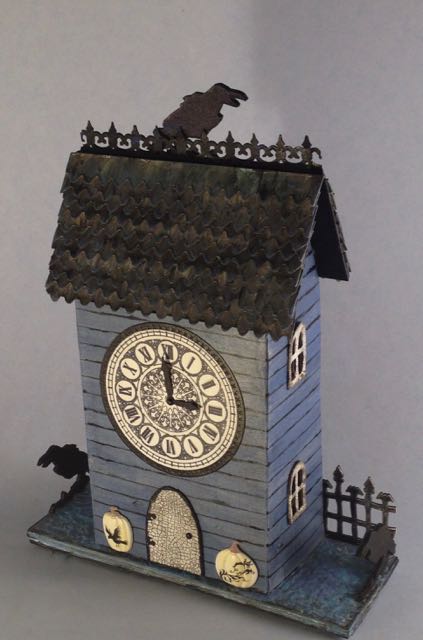 You can't really tell, but the roof tiles have been distressed with a little Faded Jeans distress paint. I even put some blue on the raven on the top to try to mimic the blue iridescence you see on black feathers sometimes.
I am going to enter this in an online challenge on "A Vintage Journey". The theme this month is monochromatic. To my way of thinking, this little house is both vintage in style and monochromatic (even though I am probably going to glue the pumpkins down for that little pop of color).
Subscribe to get the Paper Glitter Glue Newsletter
Subscribe to get my latest newsletter by email. Also get access to the Paper Glitter Glue library. I will send you a newsletter every one to two weeks.