A popular pin on Pinterest inspired this idea to use the new Tim Holtz Seashell die as a Seashell Book. It's perfect for making a little book of seashells. It also fits in with two craft challenges this week which are based on a song. My song for this little book is "Beyond the Sea" a Jazz tune popularized by Bobby Darin in 1959.
Compared to making my little paper or cardboard houses, this project is very quick. Here are the instructions on making a Seashell Book:
Materials:
Seashell Die and texture fade
Cardboard
Paint, Distress Inks
Heavy watercolor paper
Stencils
Sea Life stamps
Mini-clamps
Drill with a small bit
Needle and Thread
Outline of Steps to make the Seashell Book
Cut out cardboard in the shape of the seashell
Emboss the shell shape on the top layer of the shell
Glue cardboard layers for the seashell covers
Paint the sea shell
Apply color to watercolor paper
Stencil watercolor paper
Cut out pages of the seashell book
Decorate pages with sea life stamps
Assemble book, clamp together
Drill holes for the binding
Sew binding
Cut out cardboard in the shape of the seashell
Use the Seashell die to cut out 6 layers of lightweight cardboard for the front and back covers of the book.
Emboss the shell shape on the top layer of the shell
Emboss one layer to form the cover of the book. You can emboss one layer for the back cover as well, but I figured it's not going to show so I only embossed the top layer.
Glue cardboard layers for the seashell covers
Glue 3 layers together to form sturdy front and back covers for your little book.
Paint the sea shell
Paint with primer. When dry, paint in the colors you choose. When it comes to botanical or zoological specimens, I take a literal approach. I usually do a quick search of the subject and try to mimic the colors in nature. For this particular shell, I learned some interesting facts. This shell has that squared off edges called wings or auricles which are found on scallop shells. These wings are enlarged on scallops because unlike most mollusks, scallops are free-living. They don't attach themselves to objects. They actually swim. Interesting to my mind, anyway. For the purposes of our little book, the wings on the shell are a perfect place to drill holes for the book binding.
The colors used on this shell are from watered down Worn Lipstick Distress Oxide ink with Fossilized Amber Distress Paint mixed with white gesso.
Apply color to watercolor paper
Color the pages of the Seashell book with various colors of inks and paints in sea colors - blues and greens and turquoise.
Stencil watercolor paper
Using stencils that mimic waves or sea kelp or netting or really any cool background design, stencil patterns on the watercolor paper for your book pages. I used Distress Oxides because I think these colors are so perfect for the sea.
Cut out pages of the seashell book
Decide how many pages you want in your little book. Cut out a few extra pages so you can experiment with designs and in case you mess up when you are decorating the pages.
Decorate your pages with sea life stamps
Stamp your different sea life stamps on plain paper or tissue paper, color with Distress inks and a water brush or paint. Plan how you want the book to open, what you want to be the top and bottom or left and right. Lay out your stamped pieces to test out the pages. I had to move some lobsters and crabs around so I wouldn't have 2 lobster pages facing each other. Cut out the shapes adhere to shell pages.
Assemble the book pages and covers together and clamp
Put all the arranged pages together in order and add the front and back covers. Play around with the pages so that all the scallops line up together. This is one of the most appealing aspects of the little book - the nicely arranged scallops. Cut 2 extra pieces of cardboard in the scallop seashell shape. These pieces are sacrificial pieces. In other words, when you drill the holes for binding, these pieces are the ones you mark on and if the clamps make any marks, they make marks on your extra cardboard, not on the painted covers themselves.
Clamp the Seashell book together. I used some mini quick clamps from a home improvement store. I think this is an important step to maintain the alignment of the scalloped pages.
Drill Holes for the Binding
After clamping the book together I drilled a small hole all the way through the book with enough room for threading the binding through with a big needle.
Why a drill instead of punching holes in all the pages? With clamps, a drill and a small drill bit I could ensure that the pages stay lined up. Had I used a hole punch, the holes would have been larger which would allow more movement at the binding. Also only a few pages could be punched at a time making it more likely that measurement error would creep in and the pages wouldn't have lined up so nicely. So I recommend a drill, but you can make this little book punching a few pages at a time, but if you use a hole punch, punch the cover cardboard pieces individually first to line everything up accurately.
Bind the book together
You can read tutorial after tutorial on incredible techniques for binding handmade books together. My goal with the Seashell book is to make a quick project so I did not do any of the fancy binding. The simple method is to thread a needle with 2-3 lengths of thread and sew through the holes 2-3 times. Be sure to leave enough room for the book to open before you tie off the thread. Test it 1-2 times before you cut the thread. I just tied several square knots and left a little extra thread to make sure the knots hold well.
The little book opens and closes easily.
It's always fun to finish a quick project like this. There are several online challenges that I would like to share my little book with.
First I would like to share it with the Frilly and Funkie Challenge "Surf's Up". Stop by their website and see the wonderful projects they have listed there.
Since the little book is designed to go along with the song "Beyond the Sea", I'd like to enter it in the A Vintage Journey Challenge for this month "Words and Music". Great design team projects here. Be sure to visit that page.
There is a really cool challenge called the Mini  Album Makers Challenge which I have never entered before because I never have made a little album before. So I would like the enter this little book in their challenge. Some of my very favorite paper crafters are on this design team.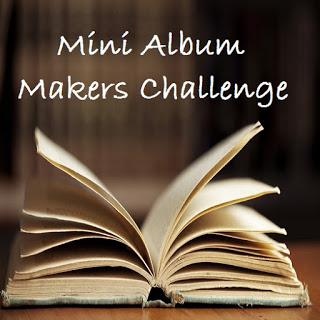 And finally, Simon Says Stamp Monday Challenge this week is "Inspired by a Song". So once again the Seashell Book "Beyond the Sea" fits in this challenge. Lots and lots of great designs here as well.
I hope you found something here that inspires your creative endeavors. Thank you for reading.