The 2023 Easter and Spring Contest winners are listed below.
Grand Prize Winner - No. 8 Gina's Peep Cottage Inn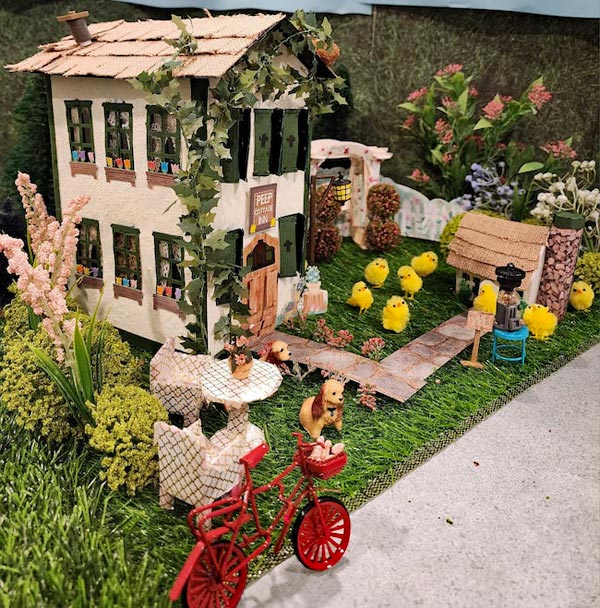 One incredible detail about the Peep Cottage Inn is the Peep Feed stand for 5 cents. It's an adorable touch.
First Place - No. 21 Lori's Purple House by Noru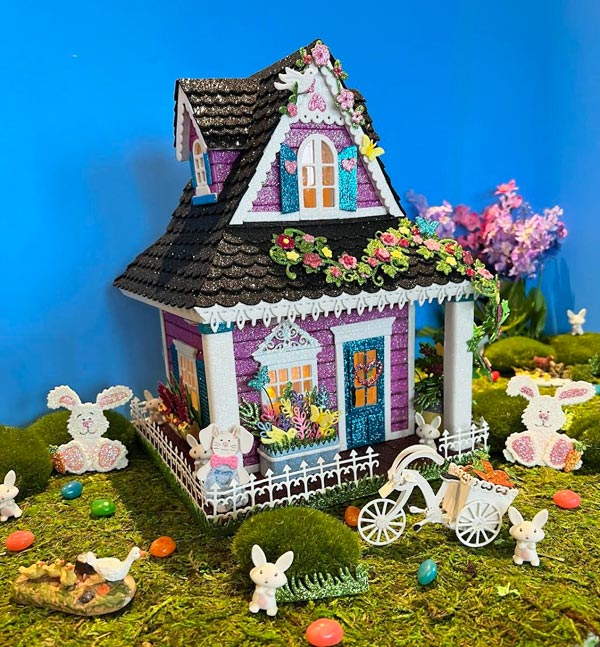 Isn't it lovely?
Second Place - No. 23 Gramsy's Easter Egg Hunt by Judy
I love the colors and distressing and the Easter Egg trees. That is so fun.
Third Place - No. 38 Bunny's Easter Emporium by Kimberly Ann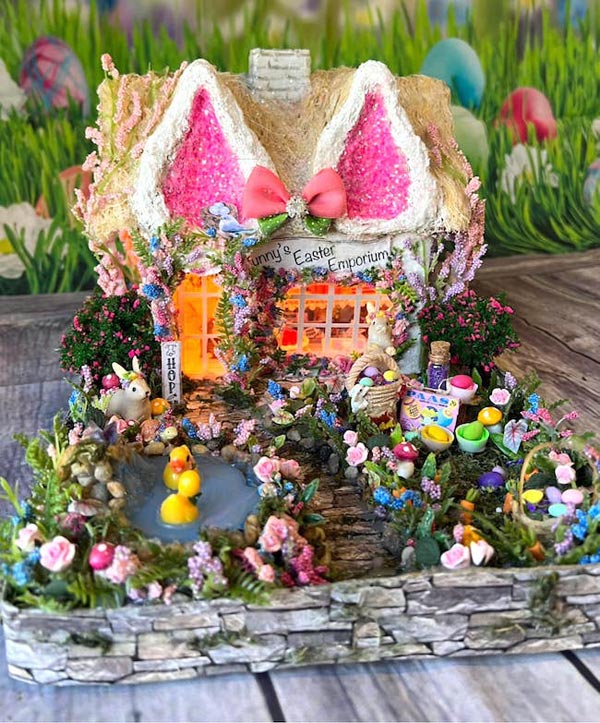 I just adore the pink bunny ears as the dormers on this house. It's very fun.
Most innovative - No. 19 Kathy's Hoppity Hobbit House
The structure of this house is exceptionally creative and enchanting.
Most Whimsical - No. 17 Mini Easter House by Janet
What makes this house so whimsical? Maybe it's the roof texture, all the colors, the incredible little tree, the bunny silhouettes along the roof, etc, etc. Certainly a deserving winner.
The Kids Winners
The three kid's entries will get a gift card. The first place winner is No. 10 Megan's Easter Egg Hunt by Emma (age 7). But I'm sending the other two kids a gift card as well because I appreciate that we have kids making little houses.
Honorable Mentions
Because choosing the winners is always challenging, I'd like to mention the following entries as honorable mentions in random order:
No. 36 Cheryl - Easter Morning
No. 20 Carol - Lacey Cottage
No. 15 Melanie's Old Man McGregor Coffee Cup
No. 28 Nancy - Betsy Bunny's Bed and Breakfast
No. 34 Joyce - EggDar's Eggcellent Easter Village
Check out the YouTube video of all the 2023 entries.
They are only on screen for about 2 seconds so it goes by fast, but certainly fun to look at.
All the Entries for the 2023 Easter Contest (Contest rules below the entries.)
1. Gerard - Easter Mini House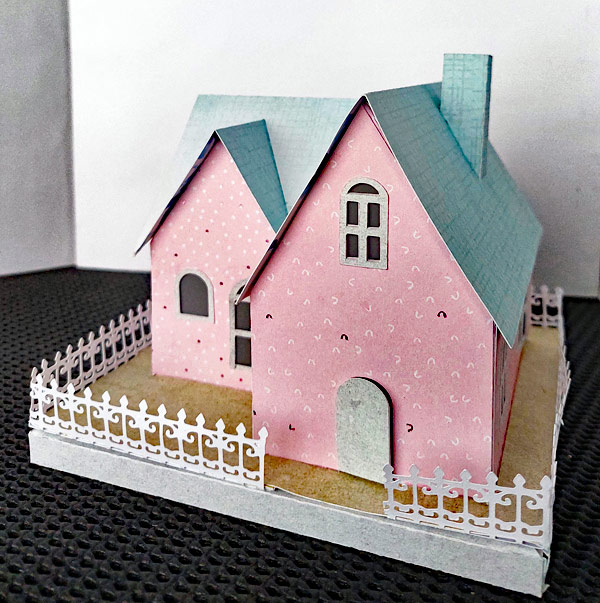 This is Gerard's Easter Mini house, featuring an intricate turquoise roof on a pink house with a lovely fence, surrounding.
2. missmamamoon – The Stirrings of Spring In Fairyland
It's difficult to imagine what detailed craftsmanship went into missmamamoon's Easter creation until you compare it with the Canadian 25 cent piece for size comparison! The roof and chimney are spectacular, along with the birdhouse and foreground vegetation.
3. Alda – An Easter Egg-on-the-Sea
Alda's Easter Egg submission features a stylized ocean, complete with dolphins, seahorses, starfish, coral and so much more! The gulls above the lit structure are another magical touch.
4. Gerard – Easter House with Pointed Roof
Gerard's Easter House with Pointed Roof requires a close-up to see the whimsical dachshunds dancing on the side of the house! The colors on the pitched roof and the unique fencing complete the scene.
5. Gerard – Easter House Double Roof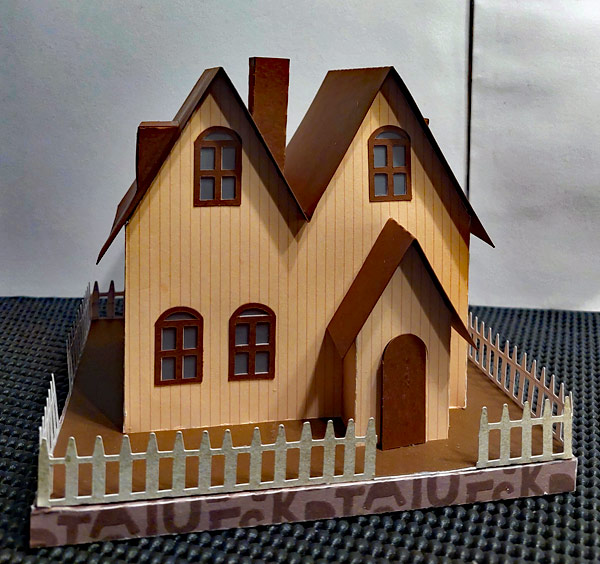 The roof detail surely dominates Gerard's newest Easter submission, with the rich brown complementing the lighter tan of the house front, again with a lovely picket fence.
6. Melanie – Chocolate Bunny Cart Ride
The chocolate bunny and baby bunny certainly highlight Melanie's Easter cart submission! The red wheelbarrow is filled with vegetable treats for the bunny family. The wicker baskets, carrots and garden tools hanging off the cart take the fun factor to another level.
7. Kim – Peggy's Little Garden Cottage
Kim has given us an Easter vision with Peggy's Little Garden Cottage. The ferns, flowers, dragonflies and bunny sit before the remarkable roof on this little house.
8. Gina - Peep Cottage Inn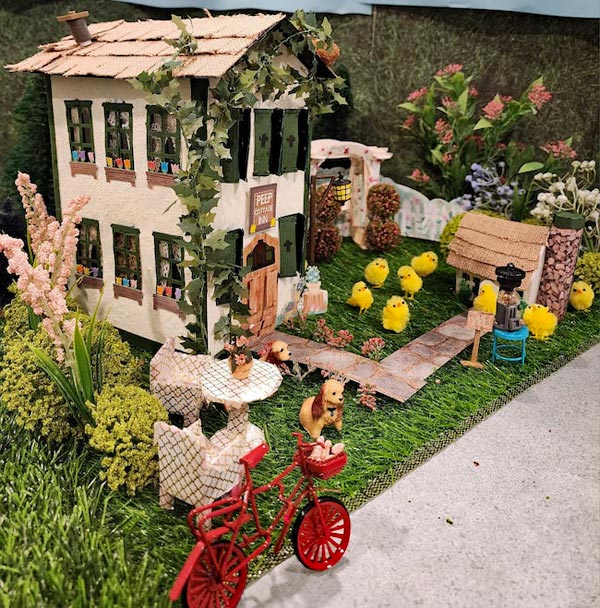 This wonderful Easter submission from Gina features little spaniels and a yard full of chicks to go with this unique house with the shakes on the roof. It is a bit hard to see, but the little turquoise stool by the sidewalk has a little device that lets you purchase feed for the chicks for a nickel! What a lovely little red bike!
9. Terry - Cottontail Cottage
Terry's Easter house has some of the richest colors you will see, including in the wall surface of the house. The flower boxes are exceptional, as is the door wreath, eggs, and the little mailbox filled with Easter cards!
10. Ann - Megan's Easter Egg Hunt by Emma (age 7)
One of our favorite things each contest is seeing the creations of our youngest artists. In this one, Emma has created a colorful little Easter Egg hunt, with the cutest bunnies imaginable, and even a welcoming bunny in the doorway of the egg-shaped house! Creativity has a bright future ahead! Thank you, Emma!
11. Kaysie - Mr. E Bunny's Carrot Camper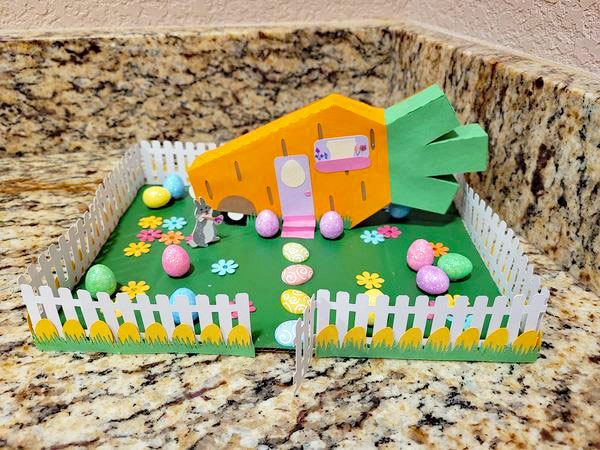 I have seen some unique campers, but perhaps none so delightful and creative as Kaysie's Mr. E Bunny's Carrot Camper. Wouldn't it be remarkable to see that on the road? The scene is completed with flowers, colorful Easter Eggs and stapping stones, hosted by a nice little rabbit.
12. Elizabeth - Hippity Hoppity Lane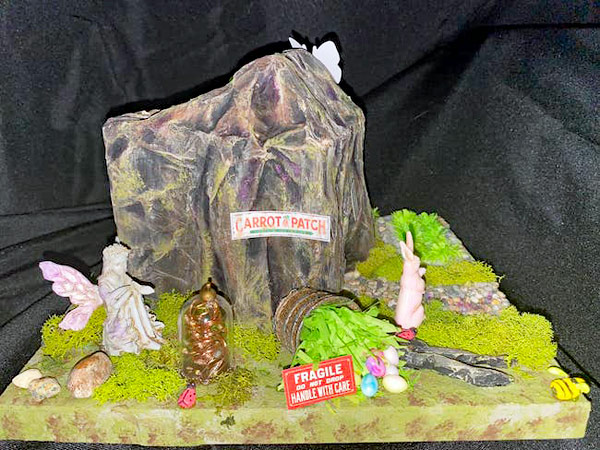 Elizabeth's Hippy Happily Lane Carrot Patch has a scrumptious looking basket of vegetation and Easter Eggs, with bunny and angel statuary in front of the Gibraltar-like backdrop. One of my favorite touches is the bee in the right foreground, for a totally Easter-y scene.
13. Shannon - Wilde Hare Inn
Shannon's Wilde Hair Inn looks like it really does have wild, vegetative hair, not just on the roof, but throughout the landscape, ideal for hiding Easter Eggs! I love the stepping stones and the decorative toadstools, even on the roof!
14. Denise S - Under a Mushroom
What can be cooler than creating an Easter scene set beneath a mushroom! The little family of Cricut Cuties is adorable! What creative ideas!
15. Melanie - Old Man McGregor Coffee Cup
Melanie's super-colorful creation has so many delightful features! The bunnies are so cool and unique, and one of the most striking elements is the see-through cup with colored Easter Eggs inside!
16. Ann - Isabella (age 9) Edward Tulane's Adventure
Once again we have an incredible youth submission, this time from Isabella (9)! Your colors are just wonderful, Isabella! You have done such an excellent job with the eggs and the houses! You are an artist!
17. Mini Easter House by Janet
Please give me a moment, while I count the beautiful colors in Janet's great Mini Easter House. One thousand, two thousand, thirty thousand, one hundred and twenty four thousand, six million ... You know what, I'm going to have to wait to get the count right. I particularly love the little bunnies along the roof peak. But the eggs and carrots and trees would make any Easter scene a welcoming one.
18. Lu - Home 'Tweet' Home
What could be cuter than a little Easter bird house in a coffee cup with such delicious light blue accents? The little blue bird is so lovely, with the toadstool and the little nest of eggs.
19. Kathy - Hoppity Hobbit House
A Hobbit house it is indeed, with the round doors! The house has an earth-shelter aspect, as any Hobbit abode would, with the most beautiful blue stone steps I've ever seen. The submission is complete with little bunnies scampering about, in a yard of color. The chimney looks great, as does the little fenced-in garden in back.
20. Carol - Lacey's Cottage
Lacey's Cottage, by Carol, is a pastel vision. The colors fit together so perfectly, with the beautiful azaleas (I think?) along the foundation of this beautiful Easter House. Such a creative Easter submission!
21. Noru - Lori's Purple House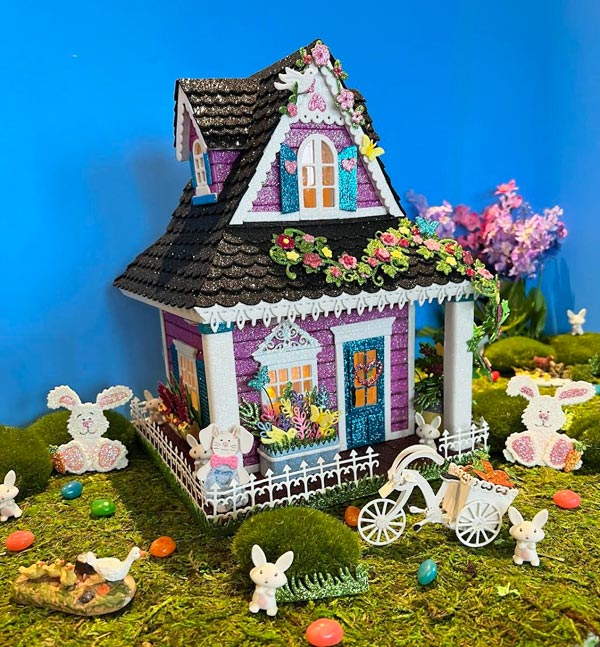 Talk about a vision of Easter color! Bunnies abound, sitting and standing. And when has a contestant made better or more proficient use of glitter? One of my favorite features is the flower train along the roof, though it's hard to overlook the three-wheeled bike with the basket. Magnificent creativity.
22. Ann - The Cottontail Family's Joyful Easter
This Cottontail Family submission is aptly named, conveying a sense of joy that includes the entire family. What is Easter, if it doesn't bring the joy?! I also love the pink flamingos, a unique touch on this Mid-Century Modern Easter House.
23. Judy - Gramsy's Easter Egg Hunt
What an incredible roof tops this beautiful turquoise Easter house! The distressed colors could be used to teach color techniques, I suspect. The flowers dangling from the roof work wonderfully with the little trees and Easter eggs, and there are surely many more eggs we cannot see. I don't recall ever complimenting a doorknob in a submission, but that one is great.
24. Cheryl - Trader Gnome's
I count four Easter-y gnomes, and there must surely be more inside! In a colorful season, this submission is second to none in color richness. The eggs are magnificent, the assembled bunnies compelling and the little chicks finish the scene, back by a delightful tree around which a little pink bench awaits guests. Wow.
25. Joan - Tommy's Treehouse and Festive Easter House
With Tommy's Treehouse, Joan has given us what is, I think, the coolest treehouse since the era of Ewoks! Happy Easter greetings on the fence tell the tale so well, with happy people and bunnies as far as the eye can see. Delightful!
26. Lu - Thumper's Carrot Patch
Oh isn't Thumper a happy lad! Those carrots look delicious, as I think a deer in the background would attest. A pickup truck carrying carrots and goodies is always cool. I really love the red barn and the welcome sign. It's a delightfully welcoming sight.
27. Kaysie - The Egg House by Lilly age 6
It has been a few days since our last youth submission, but this one, from Lilly, was worth the wait. Lilly has given us a lovely oval house with rich color, and thoughtful features throughout. I love the Easter eggs, the flowers, the stepping stones, and what a nice rabbit in front! You did very well, Lilly! Keep making houses, please.
28. Nancy Ann - Betsy Bunny's Bed and Breakfast
Betsy Bunny's bed and Breakfast, by Nancy, has the most unique shape! It's a lovely house with moss roofing and such intriguing window shapes! One of my favorite touches are the beautiful little flowers scattered about the the front yard.
29. Joyce - Juliette and Romeo's Carrot Tower
Joyce has given us one of the most striking towers I can recall, with a carrot-like tower, then actual carrots above the door. It goes so well with the Easter egg-laden tree, and the two white bunnies at the house. The vegetation effects are remarkably creative.
30. Carol - Spring Grove Village
One of the coolest things about submitting an entry with a complete village is the variety one can explore with the houses. Carol's stunning entry has six unique houses, a church and a gazebo! How cool is that? All have a charm all their own, and they illustrate how all human structures depend upon community for their context. The little bunnies are excellent, and can you imagine a lovelier venue for an Easter Egg hunt?
31. Shelley - Cotton Tale Court
Shelly's Cotton Tale Court submission offers two delightful houses with Easter features throughout. There are excellent Easter Egg themes, with a wonderful walkway, and a chorus of chicks in the background! Such fun!
32. Mariella - Rainbow Mini Village
It is no secret that Easter is one of the best holidays for brilliant color, but with her Rainbow Mini Village, Mariella has outfitted that truth with an exclamation point! Alongside the cart in front, we see an Easter Bunny family, with a more idealized pink bunny to the right. But all of the little houses are exquisite, from the teapot to the two more Easter eggy houses in the center and on the right. What a place to visit!
33. Margaret - Watercolor Painted Easter House
Margaret's Watercolor Painted Easter House almost has a church aspect, with a beautiful flower to the right. I love the beautiful stone porch, and the colorful barn in the back leaves me wanting more views. Very creative!
34. Joyce - Egg Dar's Eggcellent Easter Village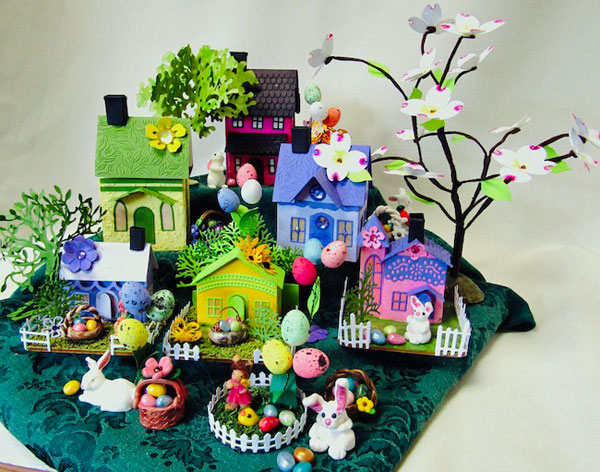 Joyce's Eggcellent Easter Village has too many cool features! Six unique houses fill the colorful scene, with some of the best vegetation effects I have ever seen, including the best dogwood I have ever seen in a creative submission. The bunnies are pure magic, each completely original. The Easter baskets are phenomenal, filled to the brim with colorful eggs. What an amazing, rich submission!
35. Margaret - Simple Easter House
Margaret's 'Simple Easter House' shows that simple is a relative term. It is easy to see why Rejoice is written on the roof, as the entry stimulates rejoicing. I love the little pink bunny, and the glitter effects on the colored eggs is top quality. I really enjoyed experiencing your house, Margaret, and, again, the lovely barn in the back to complement the scene. Nice!
36. Cheryl - Easter Morning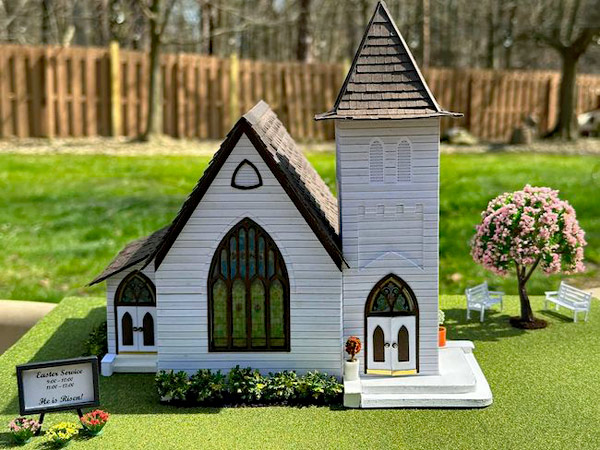 Cheryl has given us one of the coolest churches we have seen in some time. The church has immaculate siding, with a great tower and marvelous roof. I particularly like the benches under the flowering tree in back. Easter Service, indeed.
37. Eileen - Pretty in Pink
Eileen's pink Easter House has two beautiful green trees, with a couple of chicks and a bunny, all ready for the holiday. I really like the decorative wreath above and behind the bench.
38. Kimberly Ann - Bunny's Easter Emporium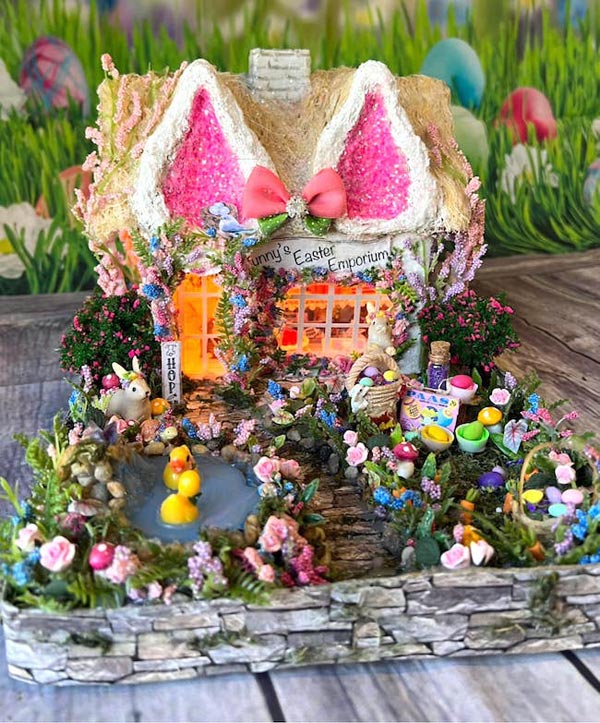 The submissions for this Easter House contest have consistently been the most colorful creations we remember for any contest, but Kimberly Ann's entry takes it to another level. The details for this Easter Emporium are astonishing, with signage, Easter Eggs, baskets, bunnies, bows, chicks, flowers, dormers with bunny ears ... this is a tour de force of Easter spirit and creation.
39. Raquel - Conceição Floripa's Treehouse Village
I have not seen a cooler treehouse village than the one Raquel has given us. The houses are on three levels, with a bridge between the top level and the next lower one, then a beautiful little ladder giving access to the lowest level. The pink bunny and the flower accents are magic.
40. Marsha - Bunny Bungalow
What could be cooler than the bunny ears shadow inside the front door of Marsha's Bunny Bungalow?! The windows are exceptional all around the house, with carrots bracketing the door, and Easter Eggs inviting to the front step. Beautiful.
41. fariegirlkmk - The Basketworks
fariegirlkmk's Bastketworks have rich color, with nearly see-through windows that tantalize the curiosity. What's behind there?! I love the statuesque bunny in the center, and the vegetation and yarn effects are marvelous.
42. Denise F - EB's Spring Vacation Home
This Easter Vacation Home, by Denise, has a lovely Easter Egg walk, to the house itself with its colorful walls. One of the very coolest things is the Easter bunnies in the windows and on the top left, on the second story, outside patio. I really like the straw effects on the roof. To see the bunnies in the backyard, join the Paper Glitter Glue Facebook group, they are so fun.
43. Jackie - Easter Aloha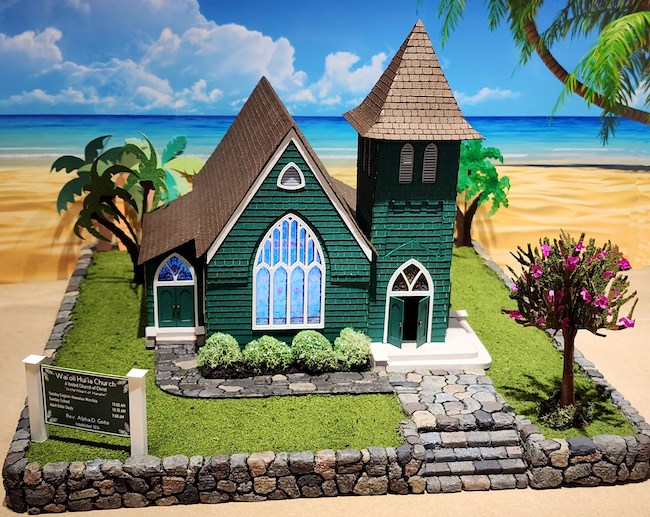 Jackie has done it again with a beautiful church inspired by the Waiʻoli Huiʻia Church in Hanalei, Hawaii. The church, trees and sign made with heavy cover cardstock with the base carved out of foam. Her project has so many wonderful details and looks nearly identical to the Hawaiian church it is inspired by.
44. Brenda Pokorny - Burst of Spring Explosion Box
What is an explosion box? It's a structure that opens flat when you remove the lid. But the incredible thing with this explosion box is that it is a house so when you remove the lid - the roof - the walls fall down and it opens to show a whole other scene with a birdhouse in the center! It is amazing. You can see all the other photos in the Paper Glitter Glue Facebook group.
45. Denise - Under the Mushroom 2
I made a terrible mistake and missed this entry in the Easter and Spring contest, but I love it so much that I need to include it here. Denise made a delightful mushroom house covered with flowers. And below are 2 Cricut Cuties enjoying ice cream. Isn't it adorable?
Prize List for 2023 Easter and Spring House Contest
People's Choice Grand Prize award - $125 Amazon gift card
First Place - $100 Amazon gift card
Second Place - $75 Amazon gift card
Third Place - $50 Amazon gift card
Whimsical* - $25 Amazon gift card (to a submission that characterizes the whimsical side of the holiday)
Innovative* - $25 Amazon gift card (for the submission with the most novel innovation. That can be part of a house or structure, or it can be an embellishment, or anything else super creative you can think of)
Kid's award - $25 Amazon gift card
*The Whimsical and Innovation awards go to submissions that did not win in the top placings category, to expand the winning possibilities.
I reserve the right to expand prize categories and awards.
Subscribe to my newsletter to get more news about this event and all my crafting projects:
Rules for 2023 Easter and Spring House Contest
1. Have Fun
Have fun, really. The entire purpose of this is to have create and enjoy the process.
2. Name Your Design!
It's much better for those viewing your creation if it has a name. Some of the names of the Christmas submissions in December were very creative. It can enhance your submission.
Please also write a sentence or two about your creative process, your inspiration and the like. Many people requested this change because they want to learn from you.
3. Three Ways to Enter the 2023 Miniature Easter House Contest Starting March 9
There are three ways to submit your entry to this contest:
Do remember to name your entry and tell us about how you made it. That helps inspire other people.
1. Post Your House in the Paper Glitter Glue Facebook Group
Post your house in the Paper Glitter Glue Facebook Group with the tag #2023MiniEasterHouse. Please join this group so you can post your entry here. It's the best way to enter.
2. Follow me on Instagram and tag me @LucyF7b
Follow me on Instagram and post your 2023 Easter and Spring house with the tag @LucyF7b. Be sure to give the name of your creation and tell us something about how you made it.
3. Email me a photo
Email me a photo. The address is [email protected]. Please include the title 2023 Easter/Spring House in your email title so I can find the photo easily and include it in the contest. Remember to name your entry and tell us a little bit about it.
4. Permission to Post Your Photo on My Blog and Social Media
In submitting your creations, you give me permission to post a picture or pictures of your project on my blog and social media just like I did for the other house contests last year.
I love to share your projects because they are all so incredible. As we post the submissions for folks to see, our usual practice is to use only first names, unless your surname is included in the house name.
5. Size Requirements for the 2023 Miniature Easter House Contest
Size requirements: The house should be no bigger that these dimensions:
House height - 10 inches tall, house width - 10 inches, house depth 8 inches.
I changed the rule for this contest - no base requirement. You can put your house on any size base you want. You can include a whole village on your base as your entry. Your challenge, though, is that it will be harder to photograph. I do hope this rule change helps you though.
This size limitation actually makes a really a large miniature house. I like to make mine smaller - easier to store and display. So remember that this rule about the size means that the houses CANNOT be any LARGER than 10 inches tall, 10 inches wide, and 8 inches deep.
6. Use any pattern you like and tell us about how you made it
For your entries, you can use your own pattern, my patterns, Tim Holtz houses, or even purchased patterns.
We love to hear more details about your creative process. That inspires everyone.
7. The house must be made of cardboard or card stock
Your house must be paper-based - made out of cardboard or card stock. No wooden houses. But you can use other materials for the base and embellishments.
8. Creativity and Originality are Emphasized
Creativity and originality are important and will be emphasized in judging. Hint: Let the fun shine through!
Also creativity in naming your house helps to make it more special. Please tell us a little bit about your house - how you made it, what inspired it, etc. We all love to read about the creative inspiration behind your projects.
9. You may enter up to 3 houses, but they all must be constructed in 2023
Up to three submissions, all of houses created in this calendar year.
10. Deadline for the 2023 Miniature Easter House Contest - April 4, 2023
We start accepting entries on March 9th, and entries close at midnight on April 4th.
Deadline for photo entries is April 4th and the winners will be announced on April 8th. Generally we expect the entries by midnight on the April 4th, but it can be midnight Pacific standard time.
11. How to Vote for the People's Choice Award for this year's contest
This year you are going to choose the overall winner by voting for your favorite house. You have one vote when you post a comment at the end of this post AFTER ALL THE ENTRIES ARE IN ON APRIL 4TH. And you have another vote on my YouTube channel where we will post a video of all the entries on April 5th. Subscribe to get notifications of when we post the contest video.
GET THE KIDS INVOLVED MAKING A MINIATURE EASTER HOUSE!
We care a great deal that the Easter season is a family season. We would love to see house submissions from your children. Please allow their creativity to flow. The names of the children's submissions will be placed in a hat and drawn randomly. Those submissions aren't - and should not be - competitive. They should have fun with no other concerns!
So that is the Easter/Spring House Contest for this year. Whatever you do, enjoy it! Enjoy making your houses and sharing them. That's what it is all about.