Davenport Green - Halloween House for the Habitat of Greenville Fundraiser in October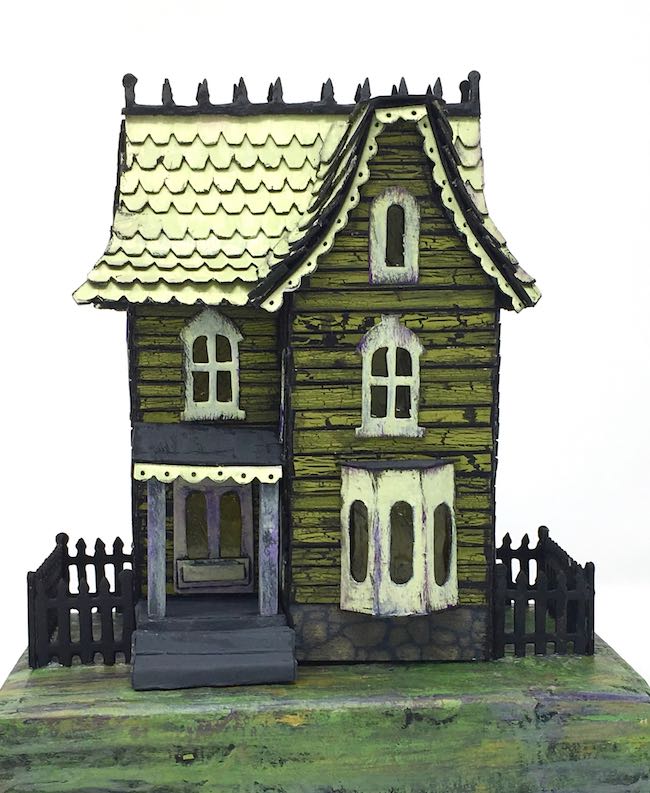 The Beverly Davenport House in Saline, Michigan as the Inspiration for this Halloween House
Latest in the series of Halloween Houses for Habitat fundraiser is the Davenport Green house. It's based on a lovely house in Saline, Michigan called the Beverly Davenport house. I had noticed it on Pinterest for years and finally tracked it down to make it. It was seriously challenging! I didn't think it would be a difficult as it was, but the construction of this little Halloween house made me work my brain. I have another post on taking an inspiration from an idea to a completed project, so I'll go into that concept in a different post. Here I will outline the more basic challenges of constructing this specific Halloween house to help you see what all is involved.
Addendum: I now have a pattern for this house in my library as the Giving Thanks - Thanksgiving Putz house if you want to make this house. The free pattern is in the November 2020 section as Design No. 95 of the Paper Glitter Glue library.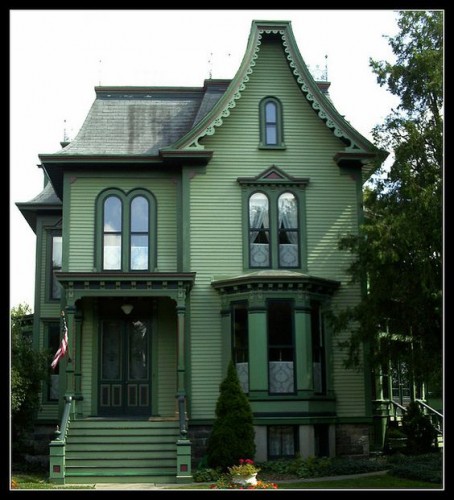 When the house was built, the tower in the front was not included*. Whew! Am I glad about that. I think that would have broken me if I had tried to build that. What I love about this house and what I remembered from pinterest was the curved, flat-topped gable in the front. The side gables are actually built differently, but I made them the same as the front gable to simplify the design or so I thought.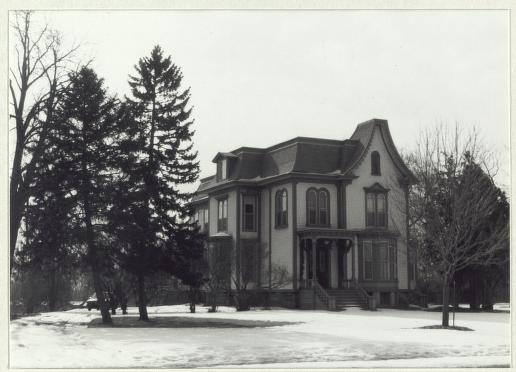 * I did find one ancient photo from the Michigan library image collection  that appeared to show this house WITH A TOWER. Apparently it was removed in 1945.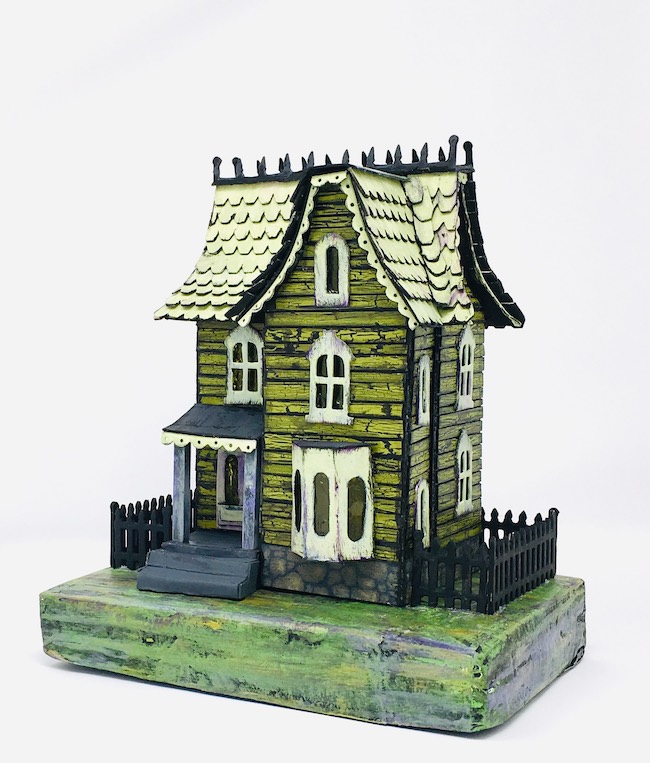 Cardboard Pieces of the Davenport Green Halloween House
The roof above is called an mansard roof where part of the roof itself forms the wall of the upper story of the house. To make the house conform to my idea of a LITTLE Halloween house, I made the sides much narrower and didn't really make a Mansard roof.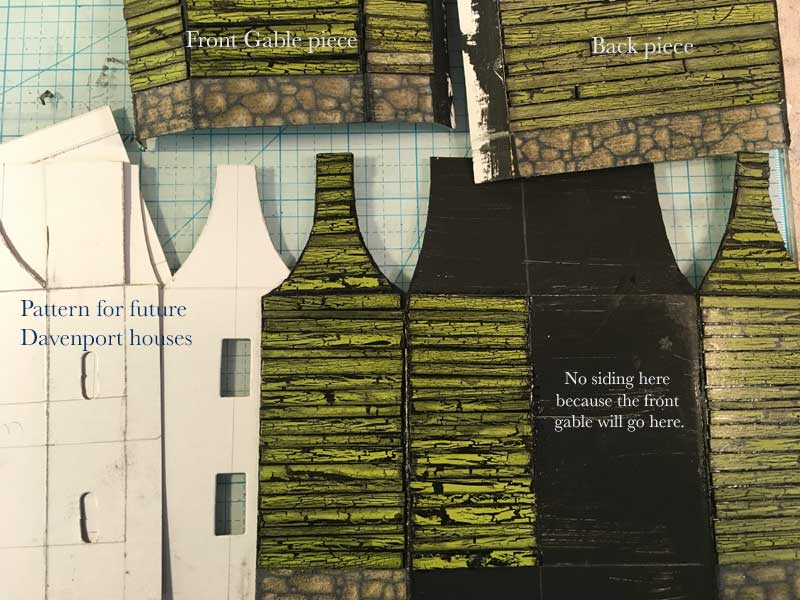 Test Fit the House Pieces together
Because of all the curves, I elected to glue the siding on before I cut out the windows. I am very glad I did that. It was much easier to put all the pieces in place before the windows were cut out. I also stenciled the stone foundation before gluing the house together. That would not have been possible otherwise.
Choose Trim Colors for the Davenport Green Halloween House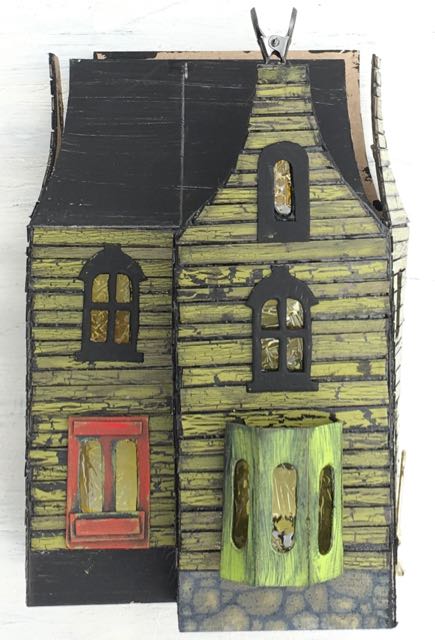 The house trim color choices were a challenge as well. I thought a red door would pop! and be effective as a door, but I really didn't like it. I tried black windows but they didn't show up well. Twisted Citron showed up, but it clashed to my eye. The window material is the same as always - acetate packaging colored with alcohol inks and smeared with glossy accents to make it look like antique wavy glass.
I chose 2 colors that I have never used before. One is a color I actually feel sorry for. How can you feel sorry for a color? Well, when Tim Holtz was putting out sets of distress crayons in his color palette, one color was the odd man out and didn't fit in any of the sets - Bundled Sage. It was sold as one lonely color with no other partners. Ever since then I have felt sorry for this orphan color, but I never knew where to use it. I do like it here though.
And the other color to complement the Bundled Sage is Dusty Concord. Dusty Concord was used mostly as distressing on the Bundled Sage color. I think those colors go pretty well with the Peeled Paint green color on the siding of this Halloween house.
Front Roof Piece has to fit 2 sets of curves - the gable front itself and the roof curve
The gingerbread trim on the arches was made using an On the Edge Scalloped die on heavy watercolor paper where I punched a small hole in each scallop. This trim was adhered to the underside of the roof before gluing it on. The rooftop shingles were added after that.
The base is my usual base of layers of cardboard with a section cut out for LED lights to fit in the bottom.
This post is not really a tutorial of how to make this house; it's more of an outline of the process of making the house in the hopes that it inspires you to when you make little Halloween houses or little houses of any kind.
Next week I will have a full-fledge tutorial on making crackled siding for craft projects because I think it adds such a wonderful detail to these houses.
Remember the link to full tutorial on how to make this house is here - Giving Thanks - Thanksgiving Putz house.