The Irish Stone Cottage emerges from my murky basement craft room. My basement is not really murky, but it is my craft room. I've been working on this little house for about a week. I have a tutorial on making stone textures on little houses so, of course, I needed to make some stone houses. This is the first example that I have finished. You can also find the pattern both in SVG and PDF formats for this house in the library as well.
This cottage will be a part of the Halloween Houses for Habitat fundraiser even though it's doesn't look like Halloween right now. The house is a little drab at this time, but it will be more colorful when I decorate it for fall with brightly colored fall leaves and pumpkins. And I can always perk up the base with more color. Maybe it needs a little walkway as well. Even though it is for the Halloween fundraiser, I don't intend to specifically decorate this little house for Halloween, I'd like to keep it for the fall season rather than specifically for Halloween.
I used the same pattern as the Irish St. Patrick's Day cottage. To avoid too much symmetry, I offset the door to one side for this house. I made it a little bit too small compared to the windows though. The main thing I like about the door is how it is inset in the doorway because it adds a bit of extra depth. (You can find the pattern the Paper Glitter Glue library.)
The roofline on the first Irish cottage was made by cutting individual shakes and gluing them to the roof. I made this stone cottage roof using the offcuts of one of the Tim Holtz Village rooftop dies. I just cut a line for each shingle and adhered the strip to the roof. It makes a much easier roof with a very similar effect.
But the most appealing feature of the Irish Stone Cottage to me, anyway - it's the stone surface. I love the way it looks. It takes time, but I love this technique.
I completed the PDF and SVG patterns for the Irish Cottage. They are available in my paperglitterglue library for free. Just sign up below to get access to the library.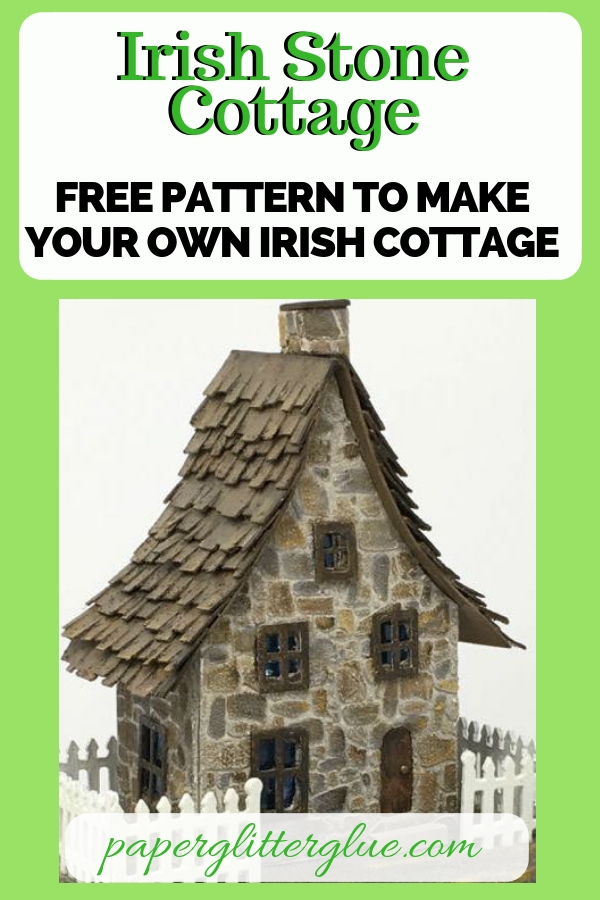 Follow the detailed photos on how I made this house in the Stone Texture tutorial. You can also find a free PDF of the Stone Texture Tutorial in the library as well.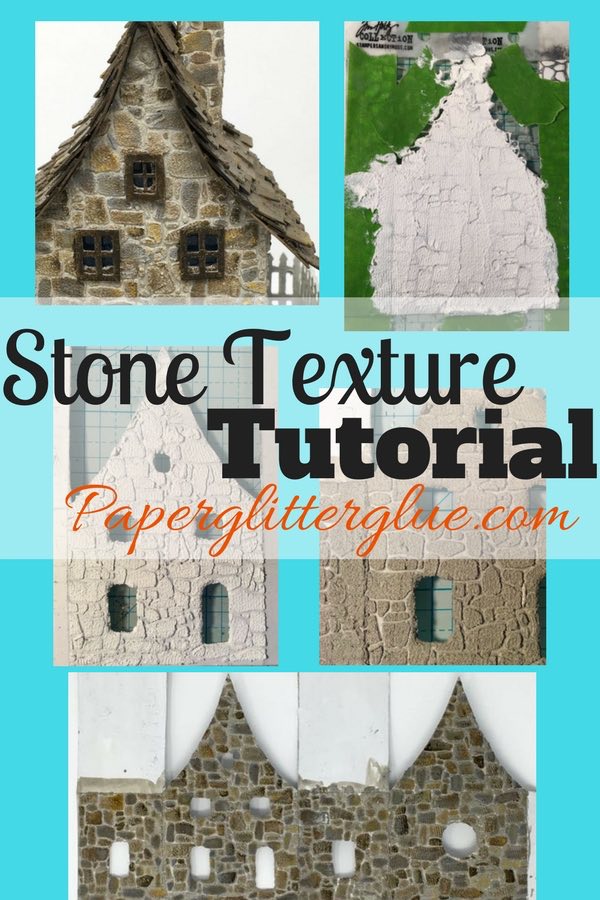 Once again, I found an online challenge I can enter - Simon Says Stamp Wednesday Challenge which is   "Anything Goes". I am happy to be able to enter at least one challenge with my project this week. I love to see what everyone creates for these challenges.
Thank you for stopping by. I love to hear from you. What are you creating this week?
Lucy
Pin to your favorite board if you would like to remember where you've found this little cottage.