Everyone who is going to the Craft and Hobby Association (CHA) show is doing these incredible sneak peeks of the products they are releasing and the projects they've done with them. Well, I'm not going (I have to figure out how to be a member so I can go, currently I don't qualify as I don't make a living on my crafts, though I love them and live to make them). But I do have a sneak peek.
Two years ago one of my friends mentioned that I should have an art show of my little halloween houses which I thought would be a really fun idea. I've been thinking about it ever since and I am going to try to make it happen this year especially since I'm not going on any dramatic trips this year. My plan is to make some sample Halloween houses and go to Habitat for Humanity to get their permission to be the beneficiary of the sale of the houses. Then go to some galleries or cafes where they display art for sale and display the Halloween houses for the month of October and sell or auction the pieces for Habitat for Humanity.
I need a nice dramatic house to sell Habitat on the concept. If that organization is not interested, then I will find another organization to support. I just think the house concept works so perfectly with Habitat and I love that nonprofit because I love to build houses – cardboard or real ones even.
Ok, so above is the inspiration for my house. It's an Italianate house in Coudersport, Pennsylvania that has been abandoned for a number of years. I first became aware of the house on a facebook post where it said, "If money was no object, would you fix up this old house?" My answer is "Yes, I would love to restore that house!" As money is an object, but cardboard is not, I decided to make a cardboard version – of the unrestored house, of course. It's perfect for Halloween.
Here are a few photos of the house in process. I am really happy about the way it is turning out.
The pieces are shown above – the many windows to be glued on, the back piece with the hole for a light source, the support for the tower, the front gable with bay windows and the basic house piece. The front gable and the basic house piece are from the custom die I had made by Accucut.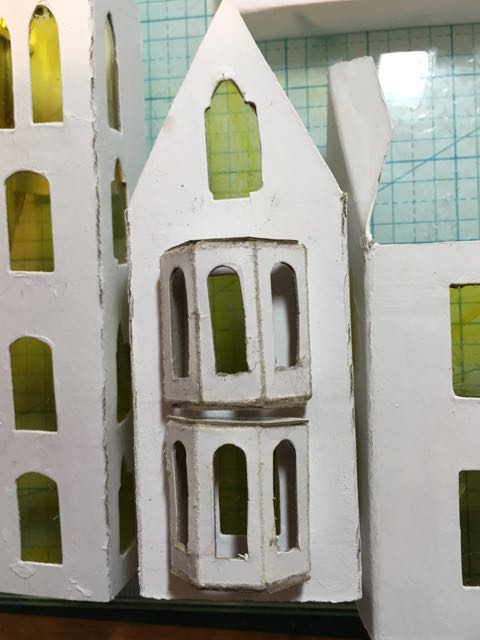 Here you can see the front gable with the bay windows a little closer. The bay window are a bit of struggle – mainly because I am a mess with glue. I get glue balls stuck all over the house especially on little tiny pieces. It's one reason I like Halloween houses because I am so messy and it doesn't matter on Halloween houses.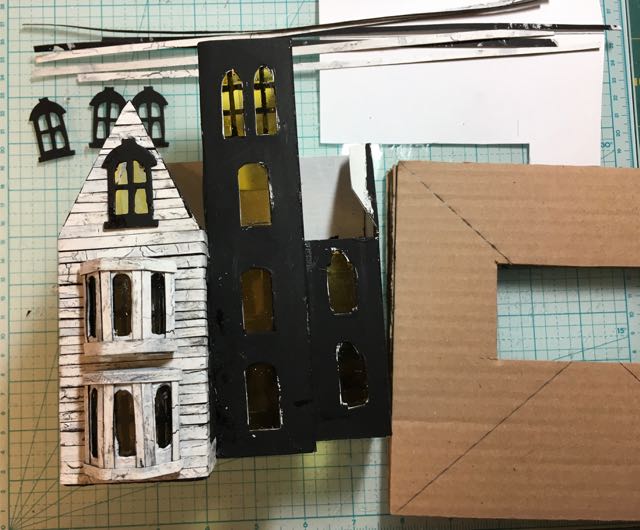 Here is the sneak peek of the house mostly assembled. I decided to put the siding on before I glue on the roof so it would be easier to get in all the corners. The bay windows are not glued on yet. I decided to make an open base so there could be at least 2 lights inserted in the house for a more effective spooky effect.
Well, that's my only sneak peek. I think I can finish it this week and hope to meet with someone from Habitat next week. I will let you know.
Subscribe NOW!
Subscribe to get my free newsletter by email. Also get access to all the fun patterns and tutorials in the Paper Glitter Glue library with the secret password. I will send you a newsletter every one to two weeks.