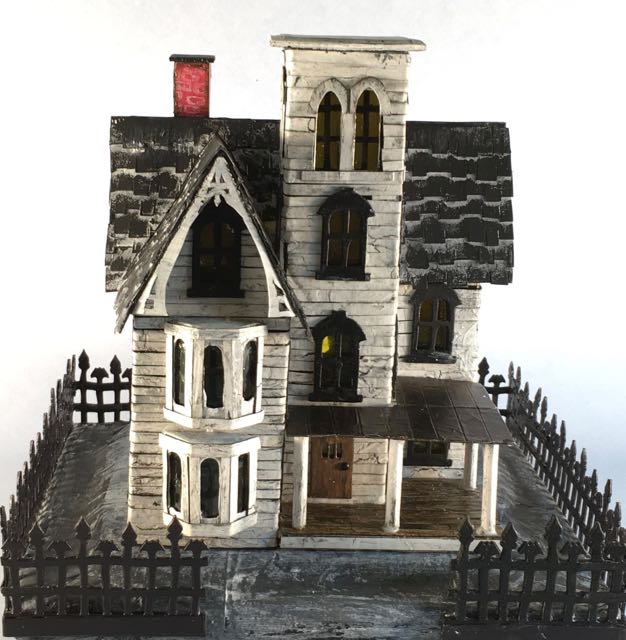 The Making of the Abandoned Italianate Mansion – a Halloween Putz House
The Abandoned Italianate Mansion is a Halloween Putz house based on a real house in Pennsylvania. It's made of cardboard and glue and paint. Now there is a free pattern for it in my library called the "Faded Mansion". So now you can make your own version of the Abandoned Italianate Mansion.
This post contains some affiliate links for your convenience. Click here to read my full disclosure policy.
The pattern is available as a PDF file and an SVG file if you have an automatic cutting machine like a Cricut or a Silhouette. Just subscribe below if you haven't already to get my newsletter and updates on the fun things that I made on this blog.

This house was made as a demonstration model to show to Habitat for Humanity to get their permission to sell the houses for Habitat as a fundraiser. Fortunately, they agreed that it was a good fit.
I am going to share it with the Simon Says Stamp Wednesday challenge which is "Anything but a Card". Thank goodness my house is not a card so it fits well with this theme and I don't really have to apologize for posting a house – again. I only have about an hour to get it in for this challenge.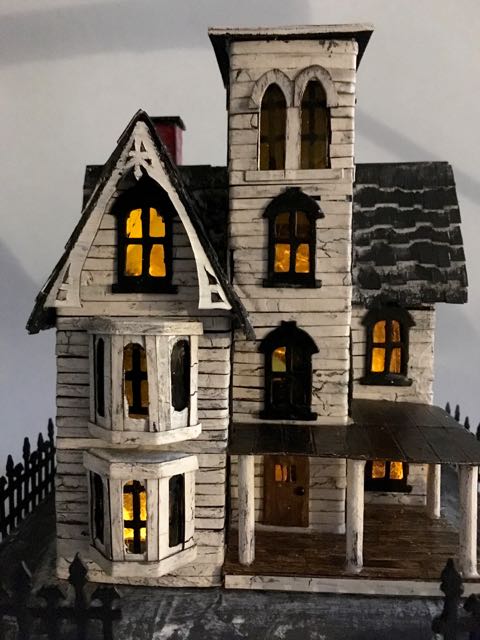 Construction of the Abandoned Italianate Mansion Halloween House – Basic Structure
I made this house with a custom die I designed, but it could easily be done with some of the Tim Holtz dies – particularly the Village Brownstone. Also the pattern
I used for Jack's house
 is basically the same pattern. The Italianate tower in the front is simply a square with the angle cut out where it meets the front of the house and the roofline. The front piece is simply half of the house put on the front as an ell. The porch floor is a piece of corrugated cardboard covered with individual strips of cardstock painted brown. I used a plain piece of cardboard for the metal roof covered with metallic duct tape from a home improvement store. The metallic tape was colored with multiple alcohol inks to give it that rusted look. You can read about making a rusted roof in a tutorial you can download from the
paper glitter glue library
or
at this blog post here
.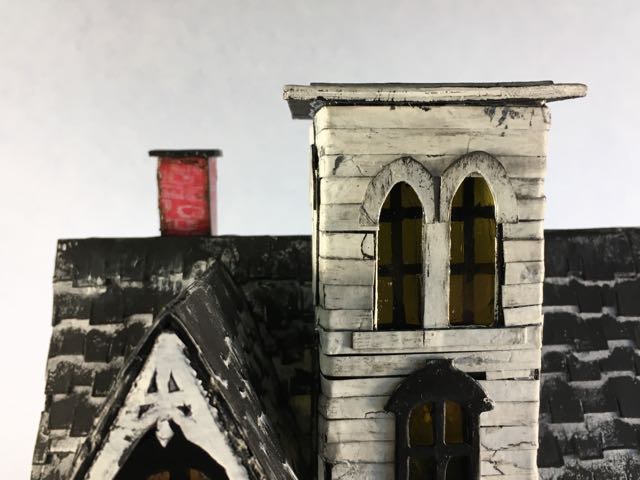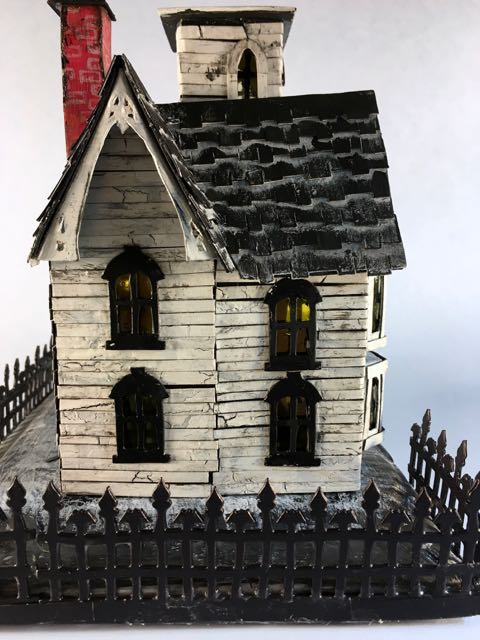 Windows and Siding on the Abandoned Italianate Mansion Halloween House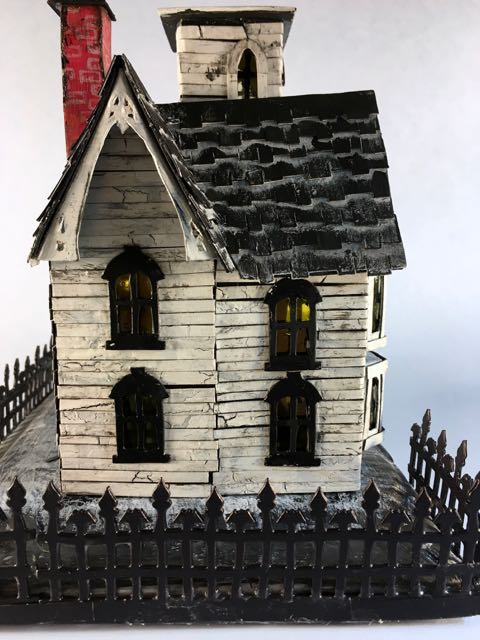 The bay windows were probably the hardest thing to make because I used on piece of acetate behind them that was hard to bend. It was kind of a pain.
Then I glued the siding on piece by piece, but I am going to do it a different way next time. I am going to glue the siding pieces on BEFORE I cut out the windows next time. That will save me a lot of time "measuring" (really, roughly estimating by trial and error) the individual pieces to fit around the windows and the door.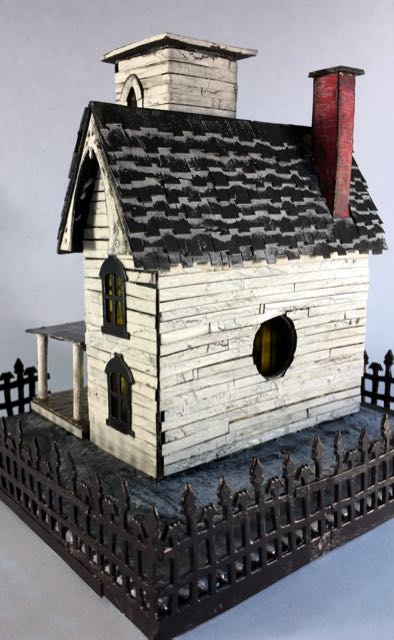 I had to make my own crackle paint because they don't make my favorite Distress Picket Fence crackle paint any more. I coated a piece of black cardstock with glue then painted it with white gesso, then repeated the process. The paint really does look like old peeling paint on an abandoned house so it worked out, but it took a long time. Then I cut thin strips on my guillotine paper cutter.
Cardboard Base for LED Lights
The base is my normal base of multiple layers of corrugated cardboard glued together and covered with paper mache.  I finally remembered to cut out a place for LED tea lights. See how nicely the house lights up. There is also a hole in the back if someone wants to add more light to the house.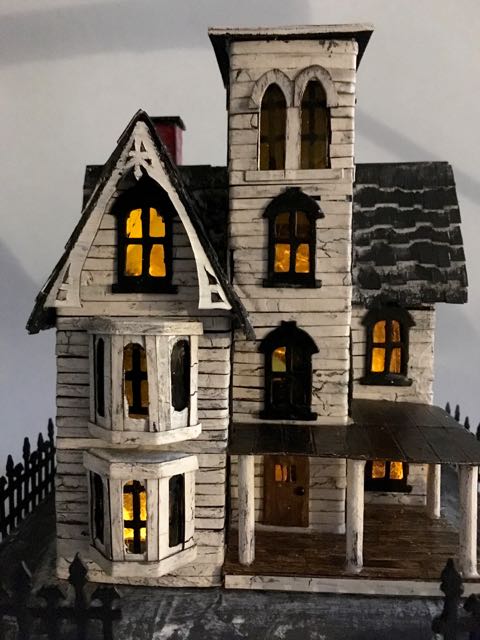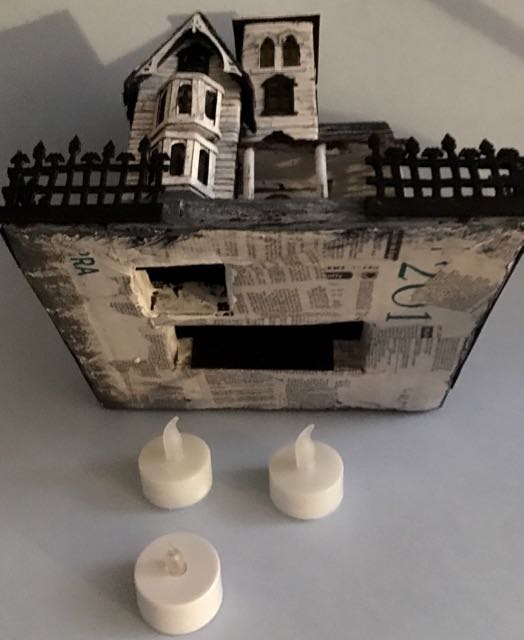 That's the first Halloween house of 2017 for me. I am really happy about how this one turned out. I can't wait to add others to the collection.
Pin to your favorite pinterest board!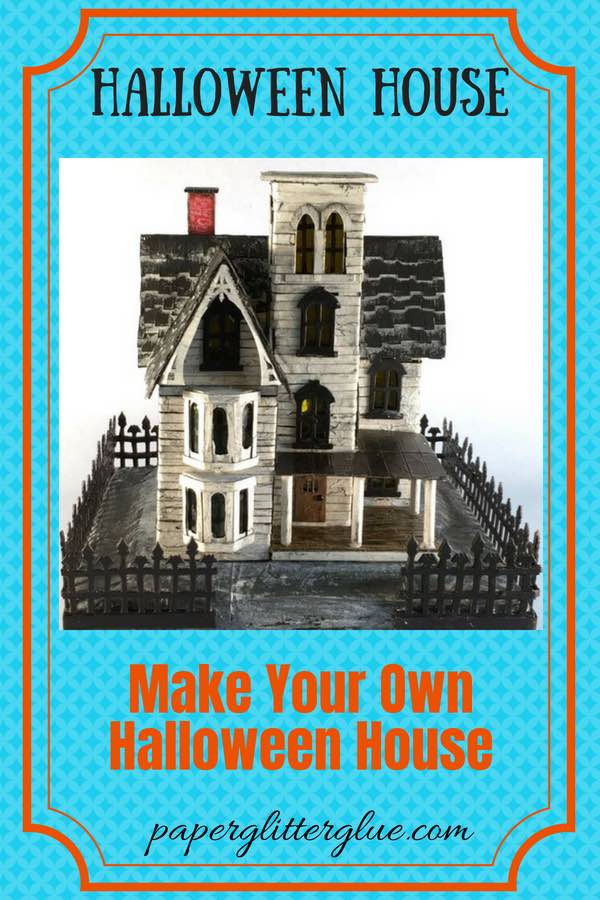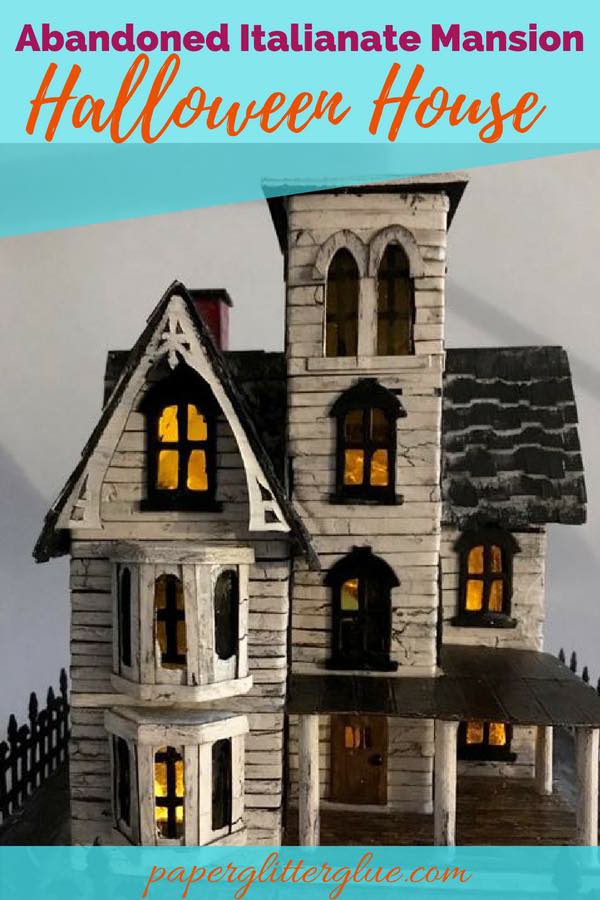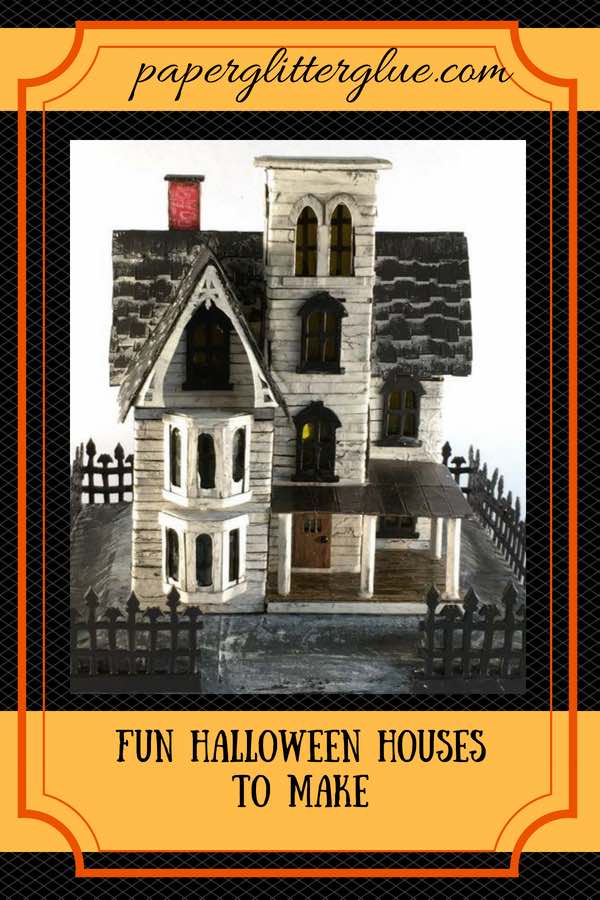 Subscribe to get the Paper Glitter Glue Newsletter
Subscribe to get my latest newsletter by email. Also get access to the Paper Glitter Glue library. I will send you a newsletter every one to two weeks.