The Halloween Village Dwellings for Haunted Holtzville are almost finished. Though some of the houses still need more spooky decor.
So the 3 houses for Haunted Holtzville are the Spiky Shingled House, the Rough Sawn Plank House and my favorite - the Haunted Manor.
This post contains some affiliate links for your convenience at no cost to you. Click here to read my full disclosure policy.

Materials used to make these Halloween Village houses:
Halloween Village Dwellings - The Spiky Shingled House
For the Spiky Shingled house, I made a pumpkin tree. Since I needed more color for this house I made a bottle brush tree out of sisal rope. Then I used various distress inks to give it a dark color. And I made little tiny polymer clay pumpkins and glued them to the tree. Kind of silly, I know, but I think it looks cool. The pumpkin tree provides this very monochromatic house some much needed color. To make the Spiky Shingled House I just used the basic Sizzix Village Dwelling die.
Here is the Spiky Shingled House.
I scattered some pumpkins below the tree to look they have fallen off the tree, but I haven't glued them down yet. I may add an owl or a bat or another bird at some point. The roof is made from the off cuts of one of the set of shingles on the Village Rooftops die. I think it looks a little more menacing that the other dies.
You can also see the branches from the Sizzix Bird Branch die that I used at the porch supports. For the brick wall I used a Tim Holtz brick stencil.
Here the Sizzix Bird Branch shows up a little better as the porch support on this view.
Tim Holtz Village Manor of the Halloween Village Dwellings
Now for the Village Manor - I had the base and the basic Village dwelling house made weeks before the die arrived because I couldn't wait to make this little house. I made the base to look like a rocky outcropping.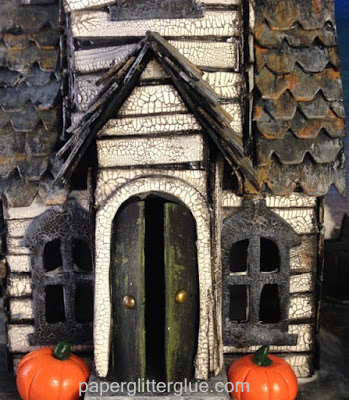 So that's all for now. More details about how to make this Halloween Village Dwelling tomorrow.