I made a second house on request based on the Amsterdam house pattern. I changed up the facade a little bit and used a different fence. I also learned to cover-up the seams on the house better by painting a thick layer of paint with sand in it. It worked really well.
Update: Now there is a free SVG and PDF pattern to make this little house.
Just subscribe to my newsletter below and get the password to download the pattern from the
Paper Glitter Glue library
. It is listed in the library as Amsterdam Canal House Putz houses. The posts are listed chronologically - it is from April 2019. Also you can read the detailed tutorial to make this little cardboard house at this post -
Amsterdam Canal Paper Houses for Rainbow Row
.
Once again I made the bottle brush tree. I generally make long trunks so the tree doesn't obscure the house so much. I was going to use 2 trees, but it made the base too messy-looking. I think this combination looks somewhat elegant and more timeless. And you can always put a little Santa figure on the lawn.
Most of the windows are from an Elizabeth Craft die, but the larger top center window is from Tim Holtz Village Dwelling Bell Tower which I cut out of cardboard and glittered. I cut out a frame for the door and recessed the door to give it more dimension. The chimney actually looks better in real life. My photos are looking downward so it doesn't show that the chimney extends above the roofline very much. Still working on designing chimneys for this type house.
I am very pleased with this house. When I was first making this house, I didn't think it was going to be anything special, but now that it's done I think it is a really handsome little house. I hope the person it goes to will agree.
Thank you for taking a look at my blog.
Now there is a free pattern for making Amsterdam canal houses that you can download. Here is the link to the post about making these cool Dutch-inspired houses.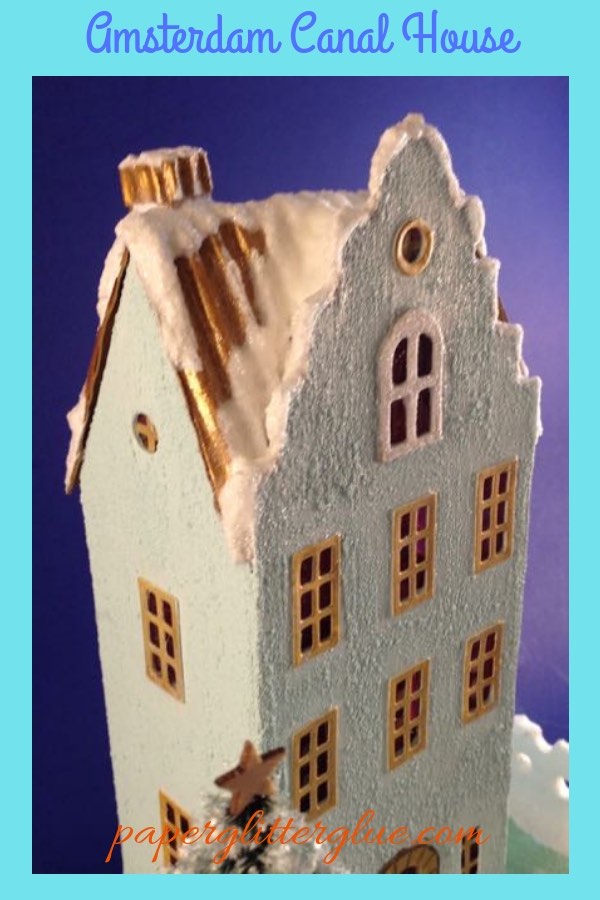 Subscribe NOW!
Subscribe to get my free newsletter by email. Also get access to all the fun patterns and tutorials in the Paper Glitter Glue library with the secret password. I will send you a newsletter every one to two weeks.