Here is the finished Amsterdam Canal Paper House that I talked about in this post. Compared to some of the houses I've made this one is relatively easy. I think this is one of my very favorite houses. I had fun making it and I love how it looks.
Update: I now have PDF and SVG patterns for this fun paper house in the Paper Glitter Glue library.
All you have to do is subscribe to my newsletter so you get the password to the library, then download the pattern. There are 3 different variations for this little Amsterdam Canal Paper House in this post.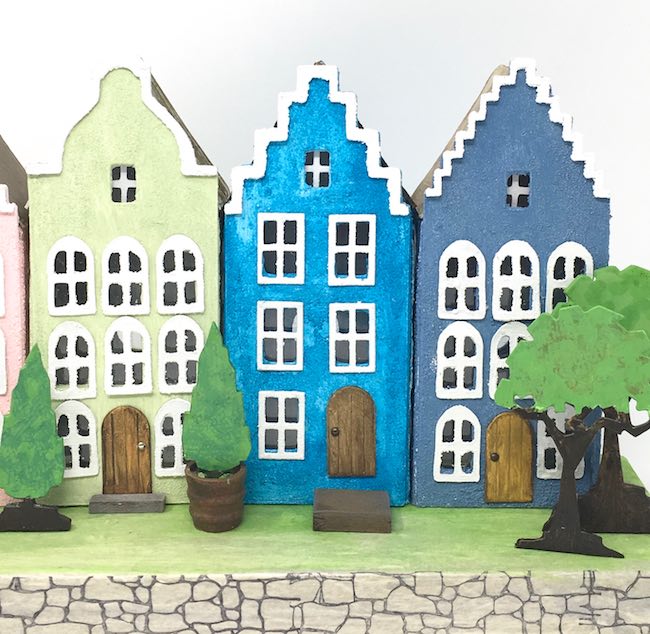 This post contains some affiliate links for your convenience. Click here to read my full disclosure policy.
I made this house for a friend of mine who is an exceptionally kind therapist. The dove is a tribute to the gentle personality of this person. I made the tree out of sisal rope based on instructions I found online. Here is the tutorial on how to make these bottle brush trees.
Pastel colors give this Putz house a wintry feel. The house is painted with an acrylic paint from Martha Stewart called "Surf". I mixed the paint with sand to make it look more like stucco. The roof is painted gold as are the window frames and the chimneys.
The fence is based on drawings I've seen by Maud and Miska Petersham who illustrated a book that I fondly remember from my childhood called "Tales Told in Holland". They often suggest a brick wall by drawing a few random bricks scattered about. I really like the look so I copied it for the fence.
Thank you for visiting my blog. I hope you have a wonderful Christmas holiday. Take care.
Now there is a pattern for 3 variations of the Amsterdam house that you can download.
Subscribe NOW!
Subscribe to get my free newsletter by email. Also get access to all the fun patterns and tutorials in the Paper Glitter Glue library with the secret password. I will send you a newsletter every one to two weeks.