Want to learn how to make SVG cut files? Want to learn how to better express your creativity? Or even learn how to make your own patterns to sell?
Do you want to make your own personal patterns and designs for your cutting machine? Have you wanted to learn how to create your very own SVG cut files? Cut files that are specific and exactly what you envision. Or do you want to make designs, patterns, and printables that you can share or sell? Here's my journey and the solution I found so I could express my creative side more effectively. It will work for you too.
One major thing I struggled with when I first started writing this blog was figuring out how to make patterns. I knew how to draw them by hand, but I didn't know how to draw them so they would look nice when people downloaded them from their computer. What I needed to learn was how to make SVGs - Scalable Vector Graphics.
First, I made hand-drawn patterns
Here's an example of an early pattern - the initial hand drawn sketch and pattern for Easy Paper Houses.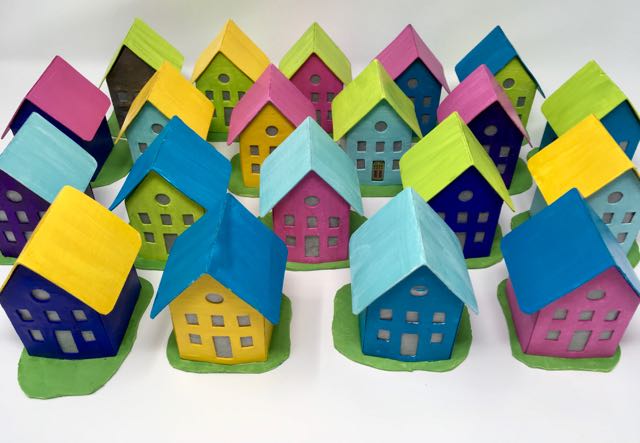 So what do you need to do to make patterns on your computer?
You need to be able to make SVGs - Scalable Vector Graphics. And what does that mean? SVGs have the advantage of being scalable, meaning you can make them larger or smaller without losing details because they are based on mathematical formulas rather than individual pixels. That's a big deal when you are making patterns because people can choose the size they want.
If you have an automatic cutting machine, SVGs are the best files that you can upload and share.
Here is the Irish Cottage pattern template, my very first hand-drawn PDF pattern. I imported the hand-drawn pattern into Photoshop elements. Then I erased pixels around the pencil lines to make them sharper. It took forever!! After I learned how to make computerized SVG patterns, I've updated this pattern for one of my most popular little houses.
What Illustration Software Programs Make SVG patterns and cut files?
The two main illustration software programs for drawing SVG patterns are Adobe Illustrator which is pretty pricey per month (ranging from about $20/month to over $50/month) and Inkscape - a free open source program that you can download for free online.
One of my online buddies makes patterns using a program called QCAD which is has a free version and an inexpensive professional version for about $40. Yes, $40 for the entire program - not per month. As I understand it, you can export the pattern in SVG format as well, but I've never tried to use it.
For my graphic design goals Inkscape is the way to go.
So how do you get Inkscape? It is surprisingly easy. Even on a Mac. Inkscape is designed to work with Windows-based computers so if you have a Mac, you have to download a windows-based framework called XQuartz. That has to be open first before you can run Inkscape. Here's the Inkscape download.
Now that you have Inkscape or another Illustration software, where do you go from here?
Yes, that's the real issue. Where do you go from this point? How do you learn to use your software without going bald from pulling your hair out? We are all busy and we want to get things done quickly. We want to start crafting, not just sit around figuring out the nuances of computer program.
First, I tried Inkscape tutorials which are nice and somewhat helpful. Truthfully, I got tired of learning to draw a snowman. But to get real skills it would take me weeks to learn how to make little house patterns with these online tutorials. WEEKS! Also the specific skills I was looking for really weren't online. Most of the tutorials are for making either graphics or flat patterns for vinyl cut outs or printables. I needed to learn how to make 3-D patterns and templates that can be uploaded to cutting machines.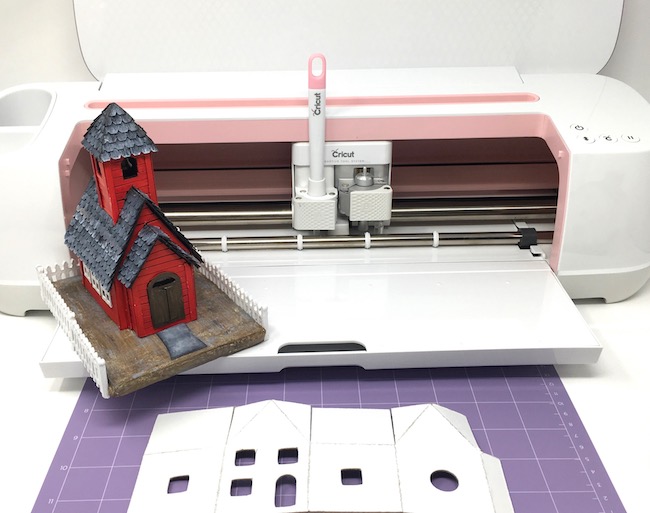 The information I needed was impossible for me to find until I found JenniferMaker's A Cut Above Design Course.
What is remarkable about this course is how fast it gets you up to speed on making your own real designs. That is exactly what I needed to get started on my templates for my little houses and other paper crafts.
How is the course organized?
Welcome Sequence
First, you get a 163 page downloadable binder with all the information you need to design your own SVG cut files for sharing or selling.
And second, you get access to Jennifer's private Facebook group exclusively for A Cut Above students. Another remarkable aspect to this Facebook group is that Jennifer actually goes in and answers questions. She even researches the questions she does not know the answer to so she can help each and every student. I've taken classes which have an associated Facebook group, but the teacher is rarely there to answer questions. That is not true for Jennifer. In addition she has experienced alumni of the course ready to help as well.
You'll find useful information in the welcome section such as supplies needed and definitions of design terms.
The Joys of SVGs
Then there is a section devoted to helping you understand how to use SVGs and how to upload them to Cricut Design Space. Jennifer is a devoted fan of Cricut so most of her designs she uploads to Cricut Design Space. Based on her experience I bought a Cricut to test my patterns and templates.
Then you get into the real work of the course
Starting with Unit One where Jennifer gives you an easy introduction to both Adobe Illustrator and Inkscape and how to install them. How nice is that? Sometimes the first step using a new program is the worst. I often ask myself how to get the program up and running. But there is no problem with that here.
The course starts with simple projects, manipulating shapes into functional things like cards or cut outs.  Then it moves to more complicated projects such as a pop-up card and more complicated drawings.
And the last project? A paper house. I was so excited to see that as the finale of the course. Truthfully, at first I skipped a couple of sections just to get to the last one.
The Major Advantage to the Course?
Really, it's that you are making projects as you go along. And if crafting is what you love to do, this is the way to learn. Instead of watching tedious video after video, you get a gentle, interesting, and very informative introduction to the techniques of making SVGs.
My current level of Expertise
Since I've taken Jennifer's course I have progressed from my first simple SVG house pattern to my most complicated design, the Faded Mansion (7 pages of patterns).
Below are two photos of the Faded Mansion PDF patterns just to show the complexity of the pattern.
I'm not a pro by any means, but I sure have improved. And now I can serve you, my readers, better.
Why am I telling you all this?
If you want to learn to design and make your own SVG cut files, then this is THE COURSE. So if you are interested in taking a course to learn how to make your own SVG cut files and patterns, now is the time to enroll in the CUT ABOVE SVG Design Course. 
The course requires an investment - both in your time and money. That's true, but it has been a game changer for me. I cannot thank Jennifer enough for making this course and her individualized help in her private Facebook group. You'll enjoy the same benefits when you take this course.