Welcome to the 2021 Miniature Christmas House Contest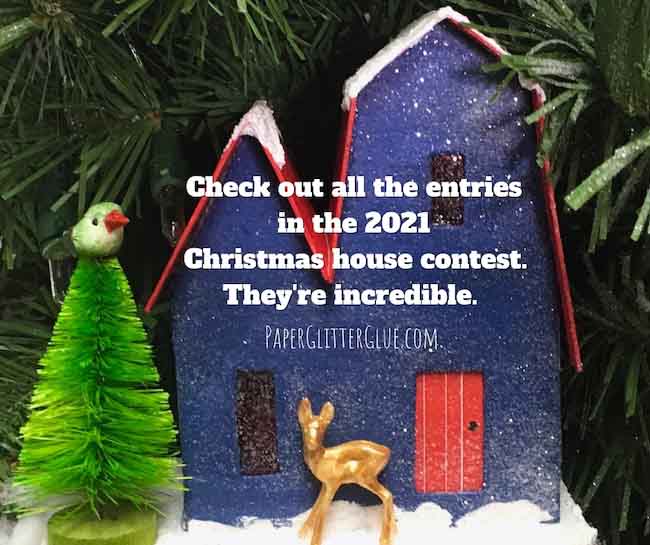 Whew!! All the judges struggled to pick out what they liked the best. It was seriously challenging.
Here are the winners:
1. Sheera's entry no. 94 - Santa's Spirits Shoppe
2. Melanie's entry no. 15 - Double Decker Miniature Gingerbread House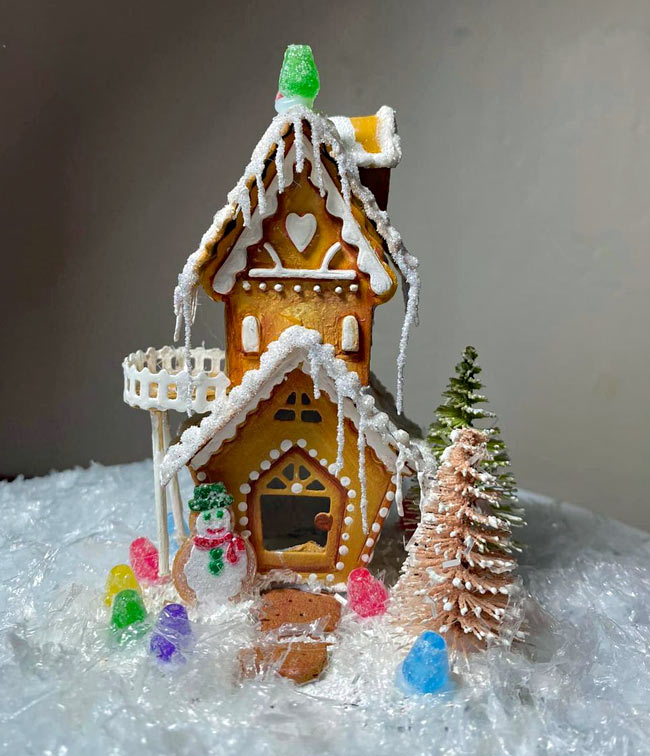 3. Iris's entry no. 77 - My Home in Indiana Christmas House
The Whimsical award - Debi's entry no. 5 - Little Elf Treehouse
The Innovative award - Maureen's entry no. 14 - Maple Memory Lane
What is so innovative about this house is the way the house was set into the hill. Also the little footprints in the snow is a great detail.
Judge's Awards:
1. Carol's entry no. 33 - Christmas Eve at Santa's Workshop
As well as the toys in the front window, the judges loved the scene with the Santa in the front, and the sleigh filled with packages.
2. Joyce's entry no. 50 - Country Mouse Christmas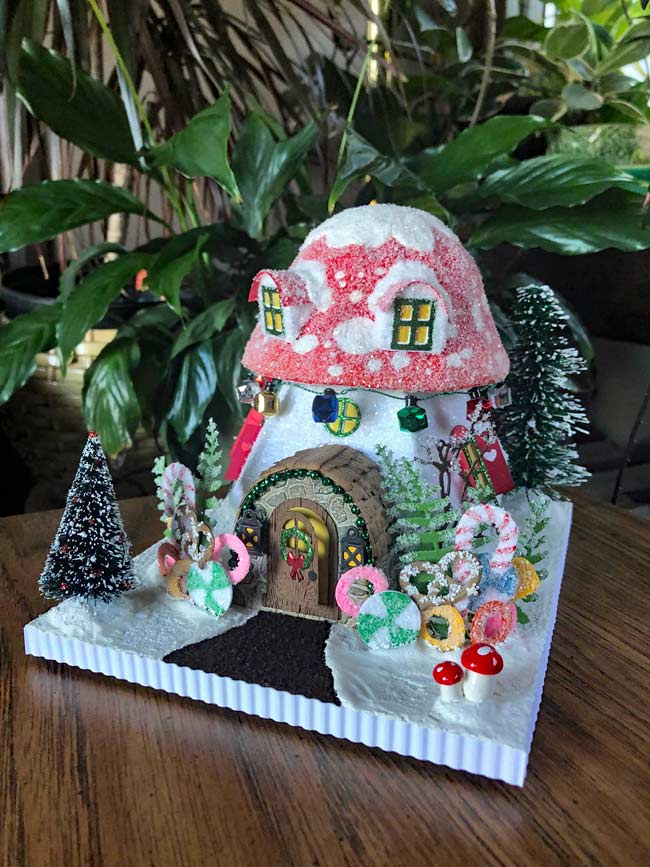 Mostly it is the unique structure of this house that the judges noticed and appreciated it, but it is also beautifully decorated.
3. Terry's entry no. 93 - Mt. Vernon at Christmas
Mt. Vernon at Christmas was chosen because of the imagination of using a famous historical house as the Christmas house.
PRIZE LIST for the 2021 Miniature Christmas House Contest:
First place - $100 Amazon gift card
Second place - $75 Amazon gift card
Third place - $50 Amazon gift card
Three Judges discretion awards - $25 Amazon gift cards (because the judges really wanted to award more prizes since they love the entries so much)
Whimsical award - $50, to a submission that characterizes the playful nature of Christmas
Innovation award - $50, for the submission with the most novel innovation. That can be part of a house or structure, or it can be an embellishment, or anything else super creative you can think of
(The Whimsical and Innovation awards will go to submissions that did not win in the top placings category, to expand the winning possibilities.)
I reserve the right to expand prize categories.
All the rules are at the bottom of this post after all the entries.
The 2021 Christmas House submissions!
1. Cheryl's Bringing Home the Christmas Tree House
What I love about this particular Christmas house is the spotted house and the spotted base. And then the trim on the porch is so beautifully done.
2. Cheryl's Deer Cottage
Deer cottage is placed in the perfect setting. Also I like how Cheryl placed the deer around the cottage itself.
3. Cheryl's Christmas at Black Bear Cabin
You can see the bear cub on the Christmas house roof better in this view. The mama bear is telling the baby bear to get off the roof - because she said so - that's why.
4. Debi's Green Meadow Church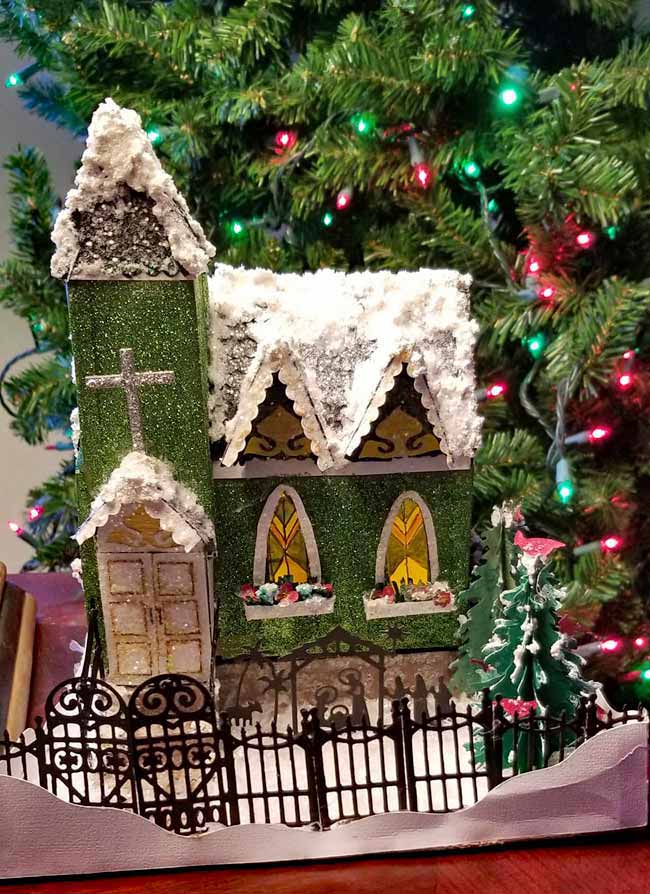 This is a unique design and interesting shape for a church that I like very much.
5. Debi's Little Elf Treehouse
How fun is that with the little vintage pine cone elves sitting about?
6. Howard's Brick Printie Christmas House with Tree
7. Jackie's Curve Portico Christmas House
For more information on this little house, you can check it out on Jackie's website - A Cottage in the Forest.
8. Joyce's Forced-perspective of Christmas Eve on Aurora Lane
Here's another view to show how the houses are larger in the front and smaller in the back to give a sense of depth.
9. Lee Lee's Cozy Green Christmas House
This is a better front view of the Cozy Green Christmas House. It is a warm and inviting little house.
10. Mary Ann's 'Love me some pink' Christmas House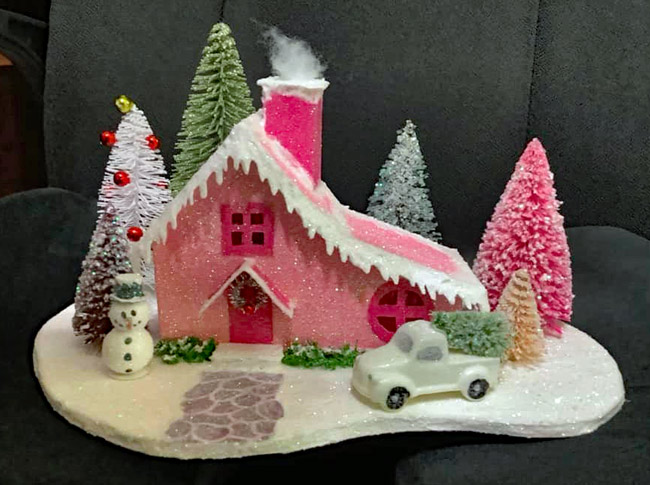 I do love this little pink house surrounded by a forest of multi-colored bottle brush trees. And the little truck in front is fun, too.
11. Mary Ann's Grandma House
Grandma has a very cool house, don't you think? I love these Craftsman-style houses.
12. Mary Ann's Candy Cane Lane House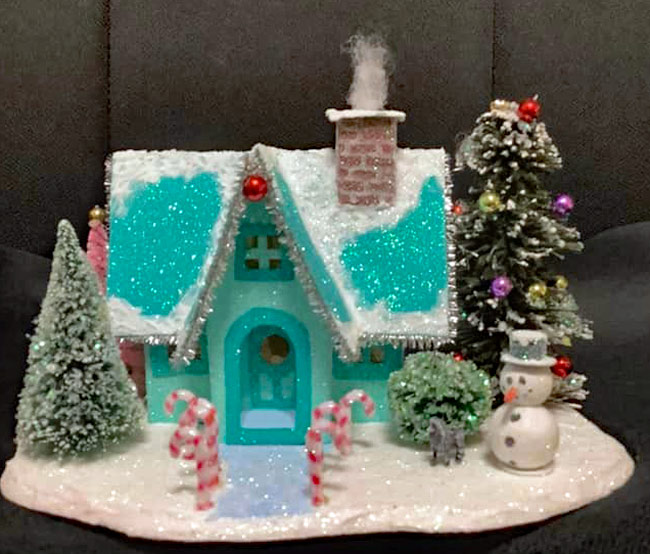 This teal color is just wonderful and looks so good with the candy canes as a pop of red.
13. Maureen's Rebecca's Fantasy Brick House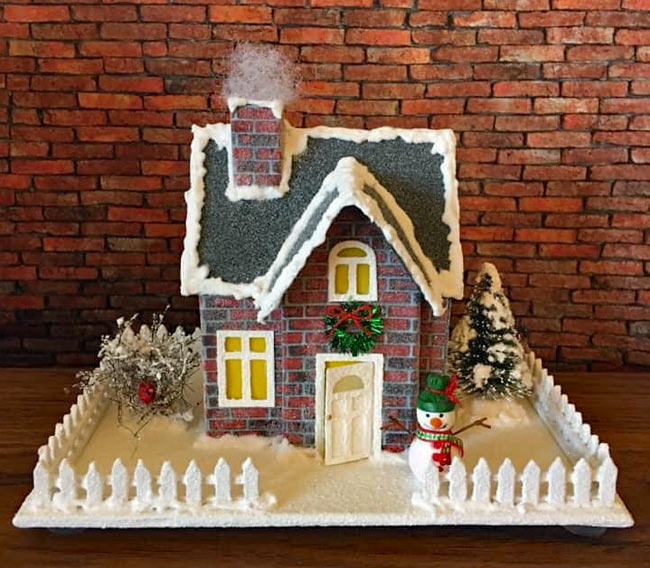 What great brick siding for this paper Christmas house.
14. Maureen's Maple Memory Lane Cabin
Maureen made this Christmas house based on her uncle's A-frame cabin. Also, one detail I really like is how she fit the house into the landscaped hill.
15. Melanie's Double-Decker Miniature Gingerbread House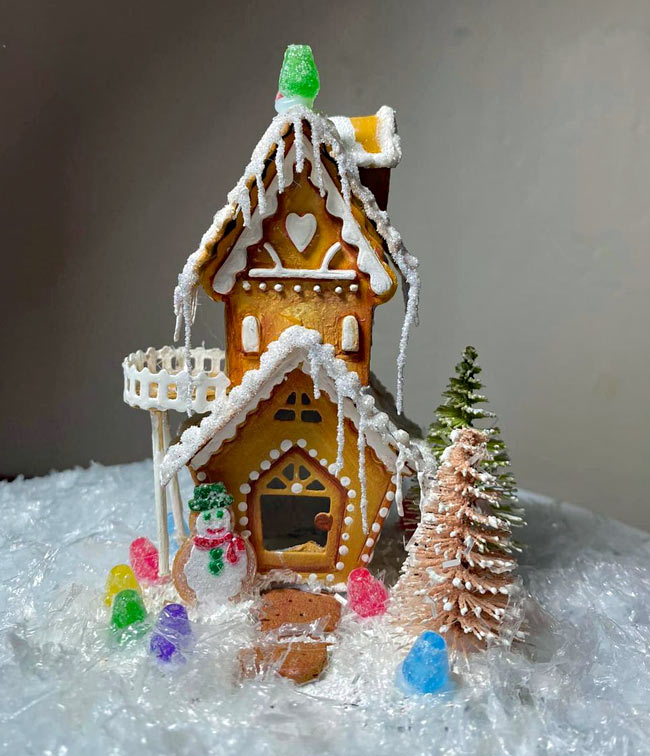 I am very impressed with Melanie's construction of this little paper gingerbread house.
16. Pam's Elegant Christmas House
In this house, I do love the elegant simplicity.
17. Pam's Red House with Hipped Roof
And here is another elegant paper Christmas house.
18. Pam's Striped Christmas House
What a unique choice of paper for this Christmas house. I love the striped design as the siding.
19. Pam's White Christmas House with red windows
You really can't top a white Christmas house with red windows and tiny gingerbread men along the walkway.
20. Kim's Winter in the Shire House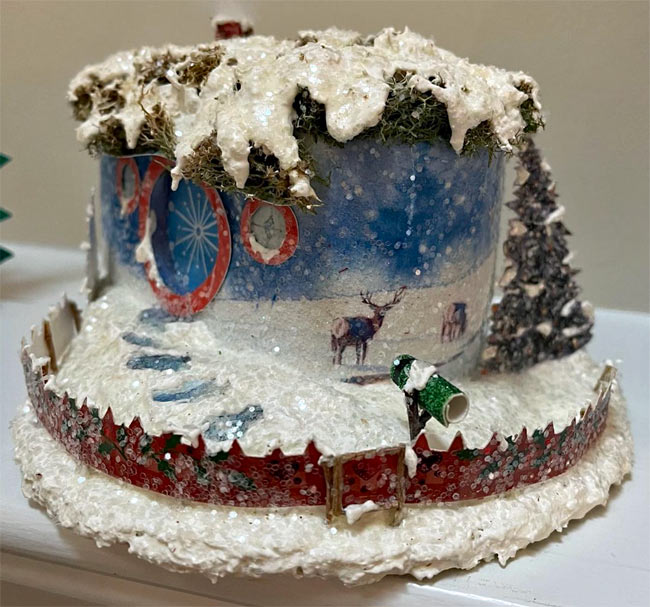 Based on the Hobbit and Lord of the Rings, the round door for the house in the shire is so fun.
21. Kim's Cow Barn and Silo
Here I just love the tiny cows and the silo.
22. Nick's Tree Lot by Deb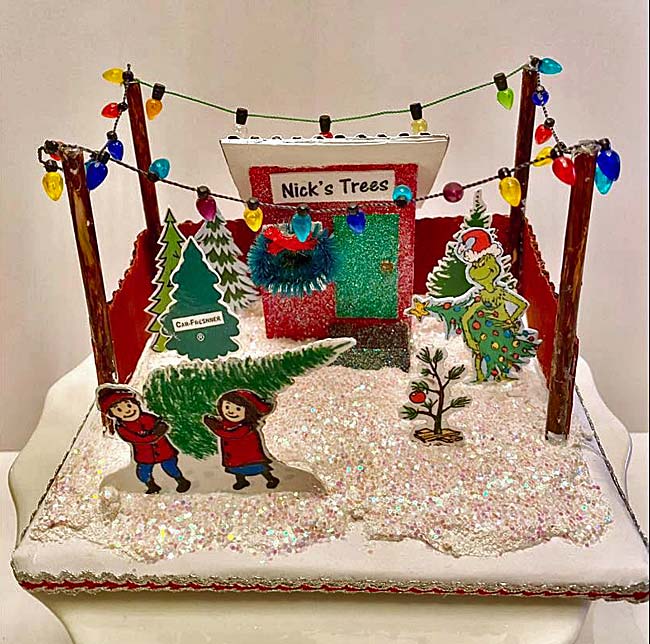 How perfect is a Charlie Brown tree in Nick's Tree lot. I love that detail.
23. Mary Ann's 'Look at that fence' House
I don't think I've ever done a round fence, but I like this curved green fence surrounding the pink house.
24. Sabrina's Christmas Lights House
25. Rick's Cozy Manor
What a beautiful golden manor!
26. Rick's 1950's-themed House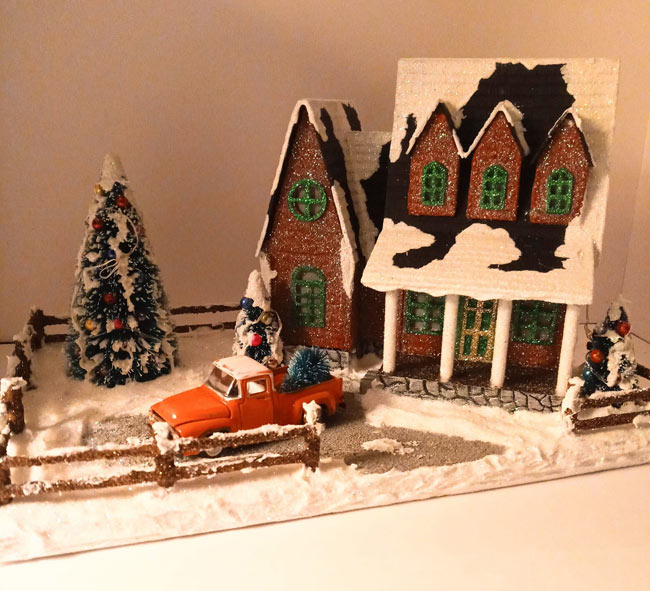 In this great house, I love how beautifully the truck fits in with the Rick's creation.
27. Rick's Christmas Eve Church
Rick's house is wonderful in this setting.
28. Peggy's Log Cottage Christmas House
For me, this log cabin just makes me dream of a white Christmas.
29. Mikki's Gabled Christmas House
Really, this delicate green is dreamy. In addition, I love the how this house is constructed.
30. Mikki's 'In the Pink" House
What a beautiful Christmas scene!
31. Mikki's Recycled Box Golden Church
Mikki noted that she made this from a toothpaste box as well as box of eyedrops. Seriously! That is so cool.
32. Carol's Christmas Eve at Pine Grove Church
What an elegant church!
33. Carol's Christmas Eve at Santa's Workshop
My favorite detail in this delightful workshop is the toy window. I just love that.
34. Joan's Wintry Cabin in the Woods
35. Joan's Red Wagon Cabin
36. Jennifer's Cozy Cottage
37. Jennifer's Plaid Schoolhouse
38. Jennifer's Holy Family Church
39. Amy's Lafayette Square Christmas House
Doesn't this house take you back to New Orleans? It's a great design.
40. Connie's Beautiful Birdhouse
Oh my! Isn't this just the sweetest little bird house. When I see the tiny bird and the pine cone scales for the roof, I just love it.
41. Elizabeth's Comfort and Joy House
42. Manfred's Christmas at Mistletoe Cottage
Manfred always sets such a wonderful scene in his work. I love the feel that this house.
43. Manfred's Old World Christmas House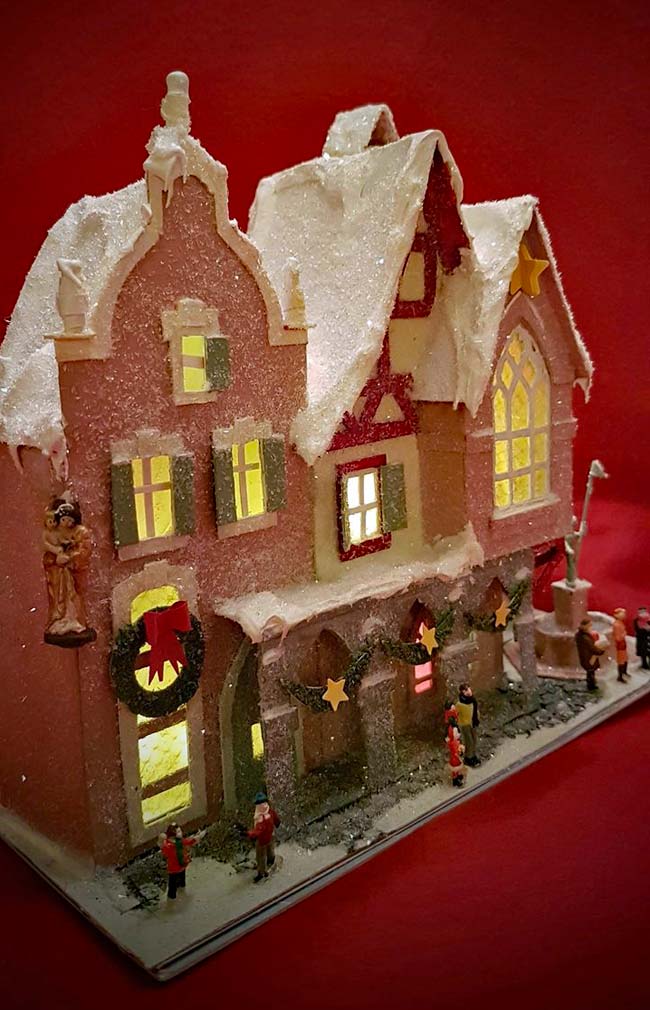 You may be able to see the composition of this Christmas house better from this view.
The juxtaposition of these houses is just beautiful.
44. Gerry's Christmas Houses
What cool little houses! I love the way they sit together.
45. Jan's Cajun Country Cabin
After visiting New Orleans, I have come to appreciate the intriguing architecture. Jan's Cajun Country Cabin so clearly evokes the spirit of Louisiana.
46. Jan's Creole Cottage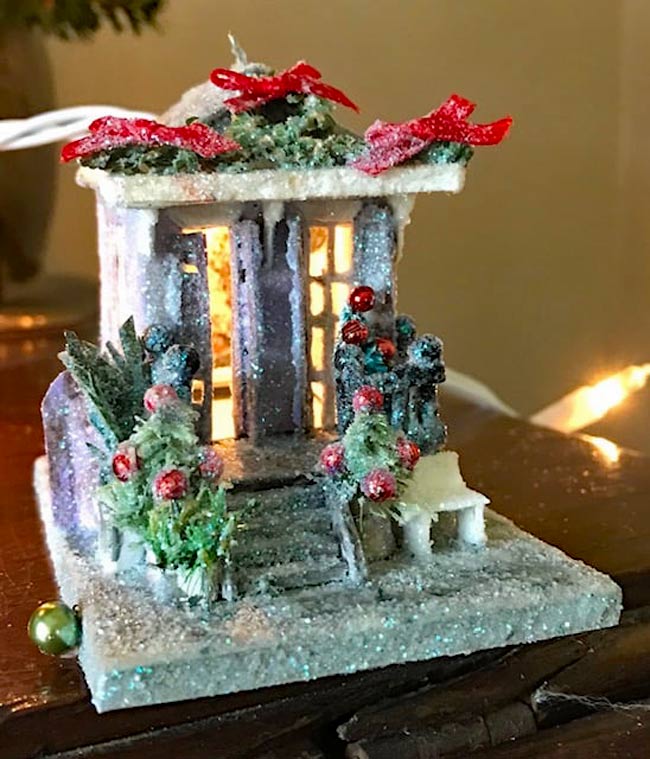 And the Creole cottage has the same effect as her Cajun Cottage. Just delightful.
47. Ann's Groovy Christmas Party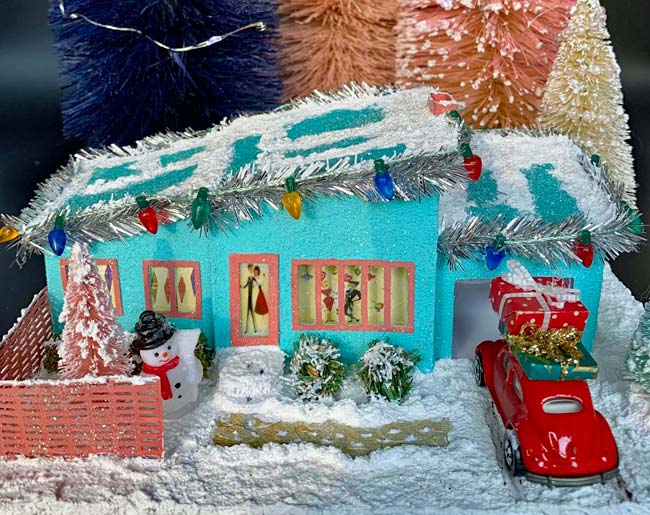 If you like Mid-Century Modern, this is the house for you. Really, the colors, the vintage automobile, and graphics in the windows are just so charming.
48. Ann's Santa Toy Shop
The Nutcrackers standing guard in the front, the Santa in the open doorway, and the little lamp just frame this house off so perfectly.
49. Ann's Christmas Eve Wedding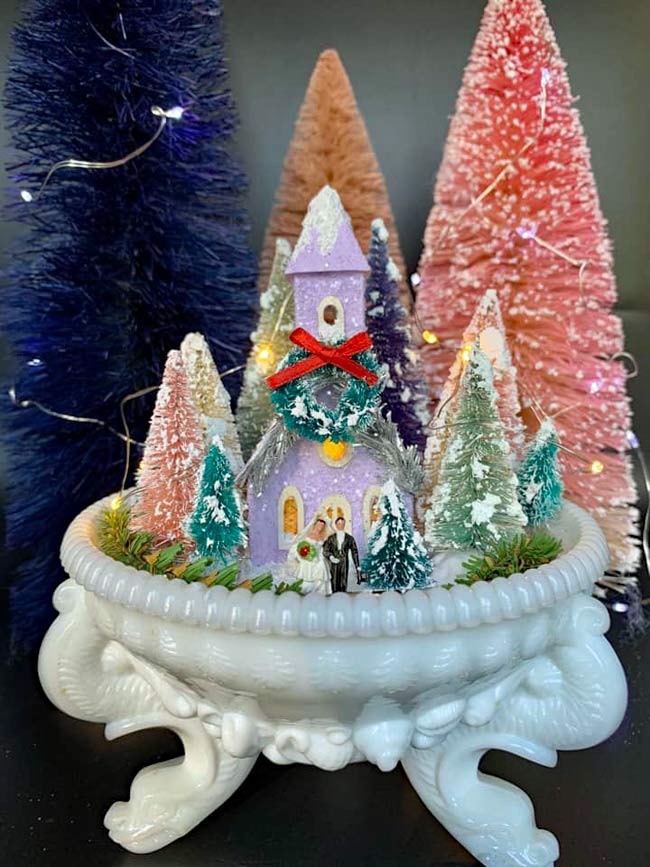 I think this is such a delightful setting for a wedding vignette.
50. Joyce's Country Mouse Christmas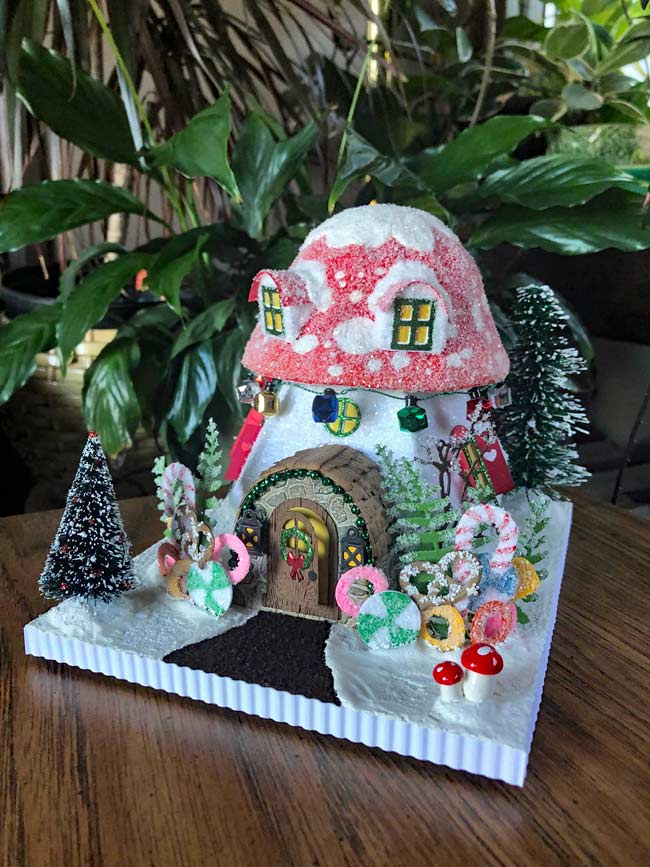 Doesn't the Country Mouse have a delightful house?
51. Lu's Mini Chapel with color-changing light
This church design reminds me of vintage putz churches, but with beautiful modern details like the lights and the rich color for the glitter.
52. Lu's Santa's Reindeer Flight School
For this Christmas house, Lu set a wonderful scene. And the name fits the scene so well.
53. Kim's To Grandmother's House We Go House
To Grandmother's house we go, what a great name for a little house (or bridge).
54. Amanda's Baker Christmas House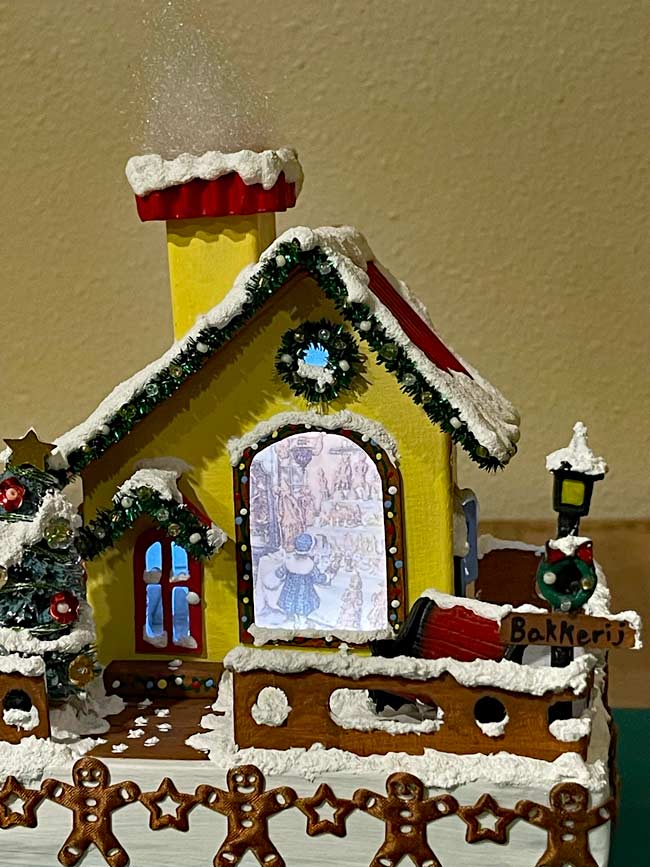 Amanda's house is also shaped as a traditional putz house, but the decor is very different and delightful.
55. Kim's Christmas Castle
After seeing this imaginative castle, I think I need to make a castle. Or many castles.
56. Teal's Gingerbread House with Snowman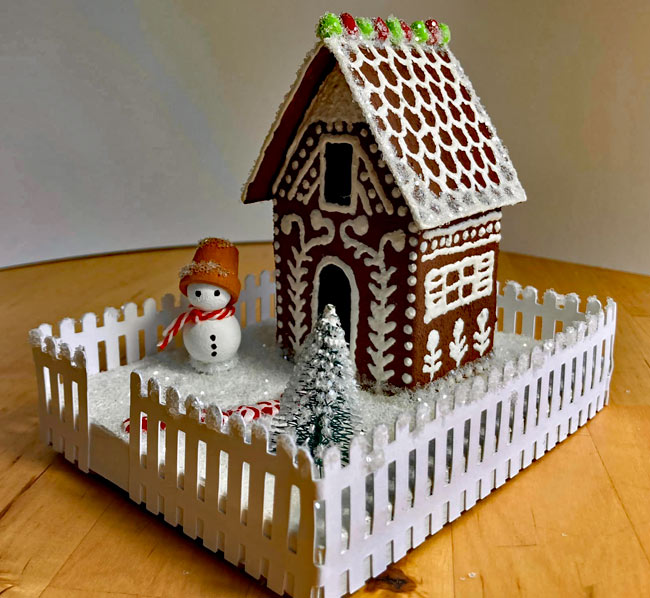 When one of the judges saw this house, he asked if I was allowing gingerbread houses in the contest. He thought this was a real gingerbread house. Another exception detail Teal added is the sweet snowman with a pot as the hat.
57. Rick's Dinner at the Pastor's House
One of Rick's major artistic talents is landscaping. For example, his sculpted base fits the Pastor's house perfectly.
58. Christina's Woodland Ice Palace
When Christina named this house "the Woodland Ice Palace" she hit on the perfect name. It reminds me of Frozen with the frosty blue colors and frosty trees.
59. Christina's Holiday Haus - Ode to Germany
In addition, Christina gave this German house a great name based on the Half-Timbered technique of building with timbers on the exterior. Truly it is one of my favorite types of little houses to make. Also, the colorful trees and greenery make this house special.
60. Nancy's Southern California MCM Houses
For this set of houses, I counted them as one entry because the Mid-Century Modern style was so similar. I find them to be delightful little houses with great colors and desert landscaping. What a great set of ornaments.

If you are interested in making a Mid-Century Modern house, I do have one pattern in the Paper Glitter Glue library in the May 2021 section of the library.
61. Melanie's Hot Chocolate and Gingerbread House
The judges raved about his house because of the paper teacup, the chocolate swirl in the cup and the little house sitting on the side.
62. Kathy's Snowy House with Smiling Snowman
Another little house that beautifully fits the base and landscaping. And the smiling Snowman makes me smile when I see him.
63. Kathy's All the Little Things House
The stone work on this house is exception. In fact, Kathy added lots of great texture to the "All the Little Things" House.
64. Kathy's Little House on Wooden Box
And here is another beautifully textured house by Kathy.
65. Kathy's Lit Church in a Lantern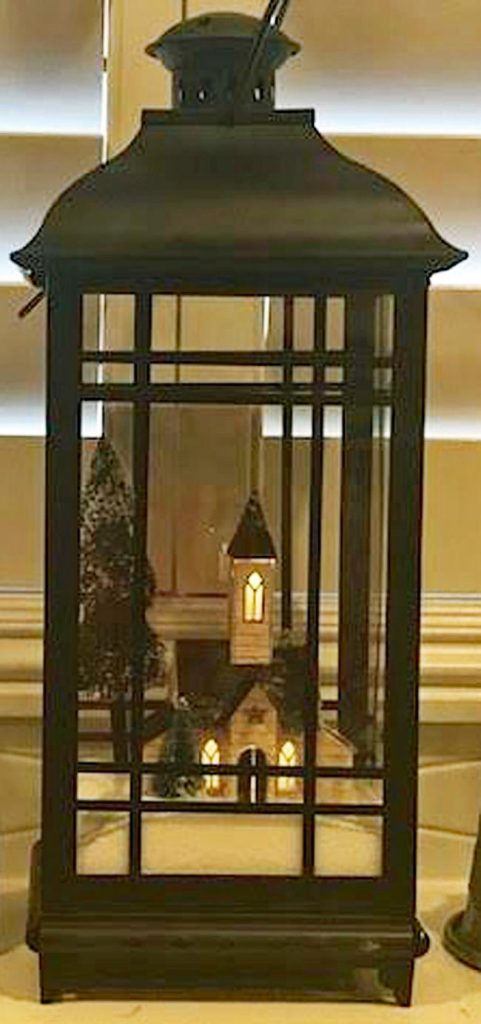 I would love to have this church in a lantern on display at my house. It's lovely.
65. Kathy's Little Church by Itself
Here's another of Kathy's houses with beautiful texture on the side. And the lighting is great as well.
66. Audrey's Christmas Eve Inn
67. Connie's Walk in the Woods House
68. Jan's Mint Roof Gingerbread House
69. Jan's Gingerbread House
70. Rhonda's Gingerbread Candy House
71. Brian's Carolers Church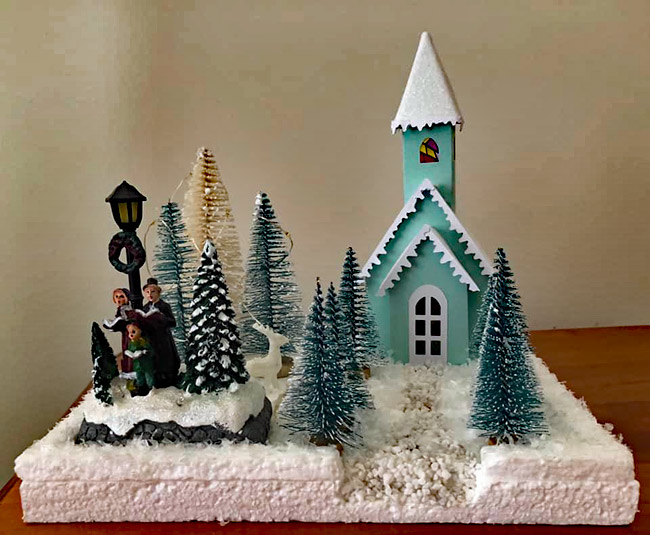 72. Linda's Grandma's House
73. Linda's Blue Christmas House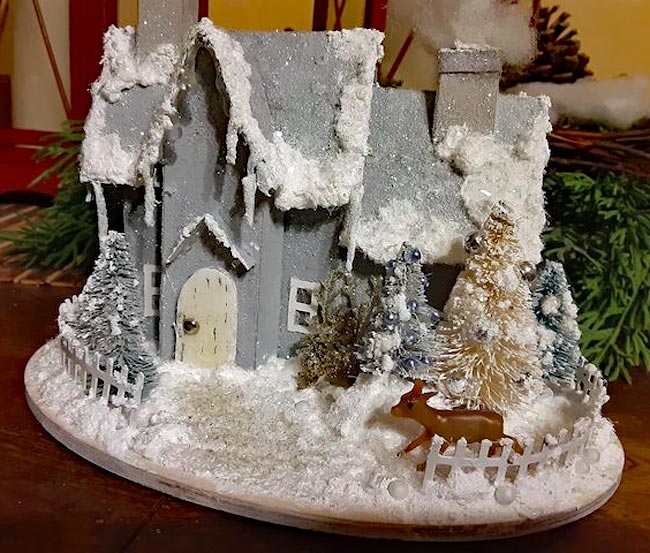 74. Linda's Christmas House/Jay's Grocery
75. Joan's A Tudor Christmas House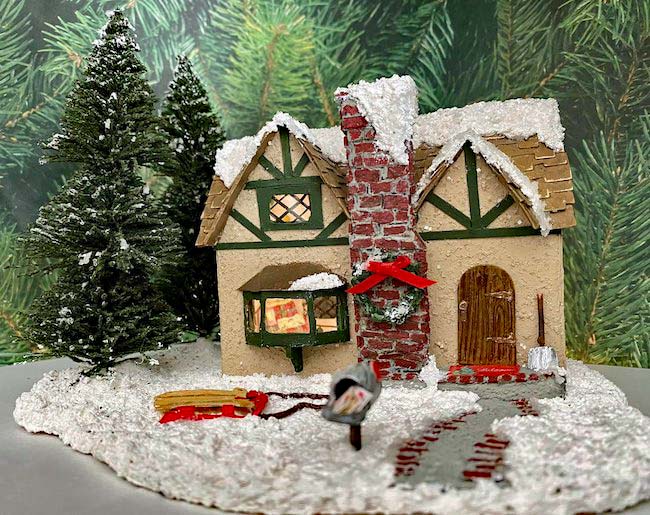 76. Iris's Italian Villa Holiday House
77. Iris' My Home in Indiana Christmas House
78. A Rogers' Christmas Houses with Flowers and Fencing (She's 6 years old)
79. Melanie's Poinsettia Christmas House
80. Manfred's A Very Mini Christmas Houses
81. Elizabeth's Candy Cane Lane House
82. Elizabeth's Comfortable Tiny House
83. Cheryl's Christmas Teacup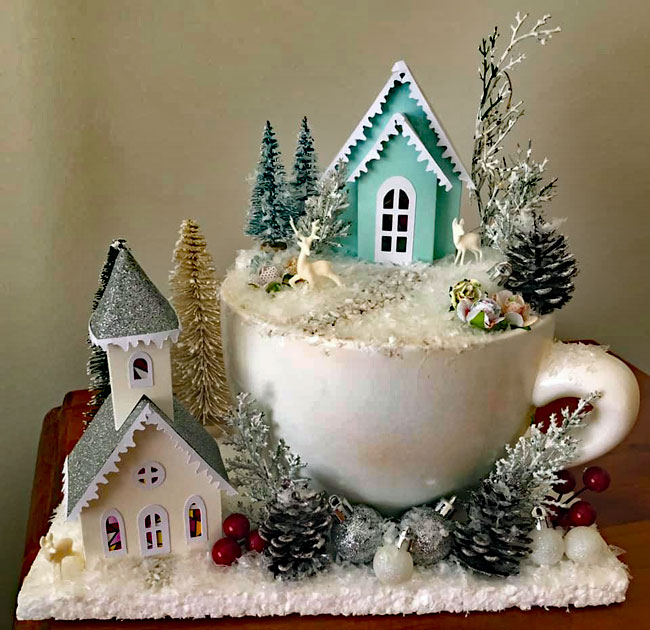 84. Sylvia's Christmas Cabin in the Snow
85. Claire's Robin's Rest Christmas House
86. Rick's Visiting the Family Chateau
87. Rick's Townhouse Apartment at Christmas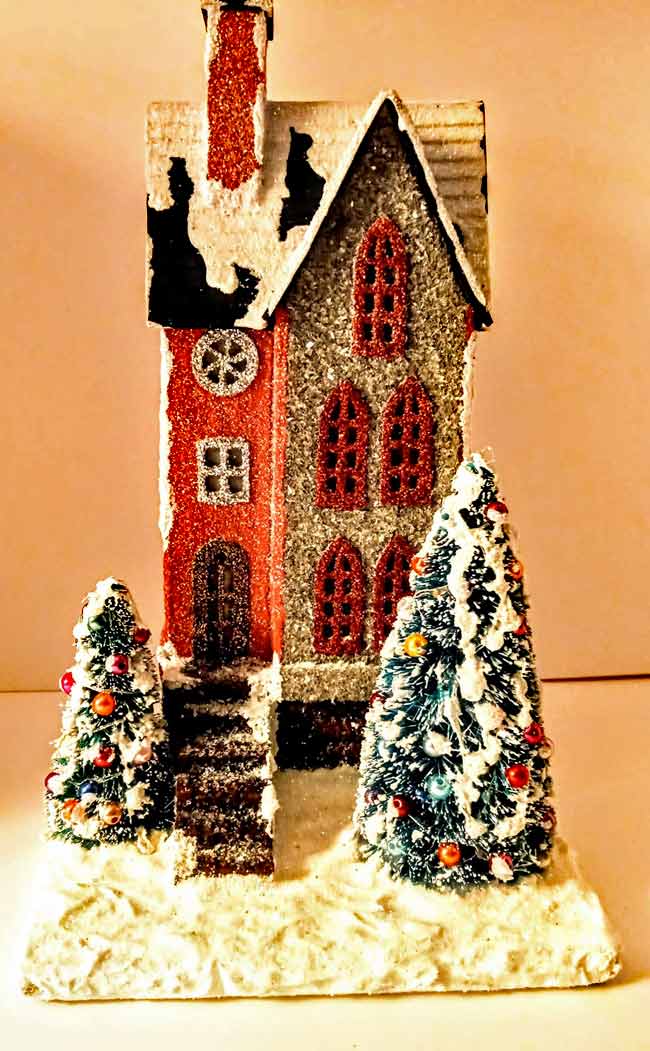 88. Christina's Nativity Scene
89. TrippyTink's Snowed-In Inn
90. TrippyTink's Glitz & Glory Mini-Church
91. Terry's Christmas Barn
92. Terry's Cozy Candy Cane Cabin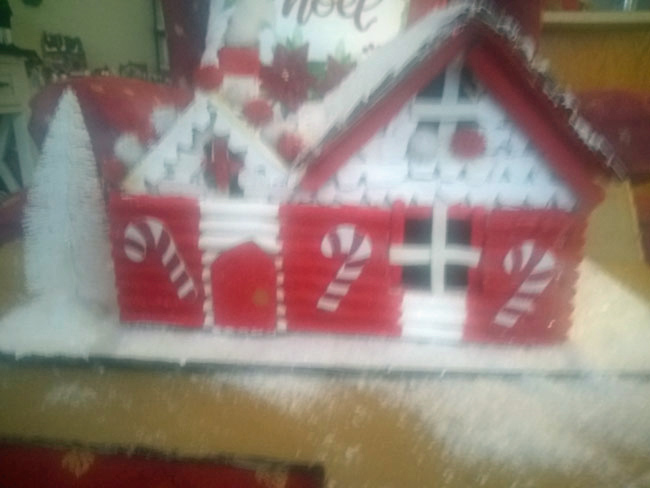 93. Terry's Mt. Vernon at Christmas
94. Sheera's Santa's Spirits Shoppe
95. Sheera's Clauses Caribbean Cottage
96. Patricia's Mini-Mini Christmas House
97. Mira's Lovely Christmas Chapel
98. Liz's House with Snowgirl w Hat and Sisal Trees
99. Kathy's Christmas Manor on a Snowflake
100. Kari's Five & Dime Christmas Store
101. Joanna's On the Road to St. Albans Christmas Church
102. Cheryl's Mini Houses with Merry Christmas Banners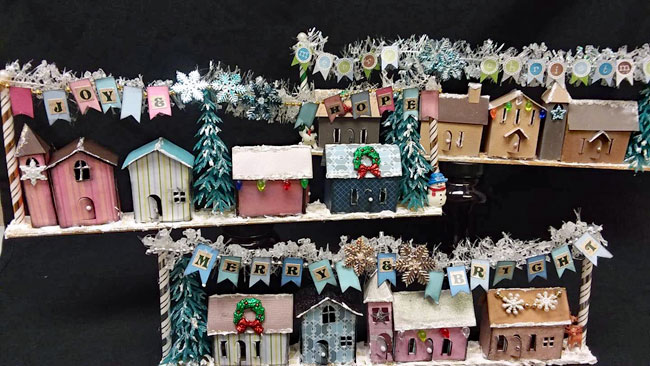 103. Becky's Five & Dime Store
104. Joel's Miniature Oval Christmas House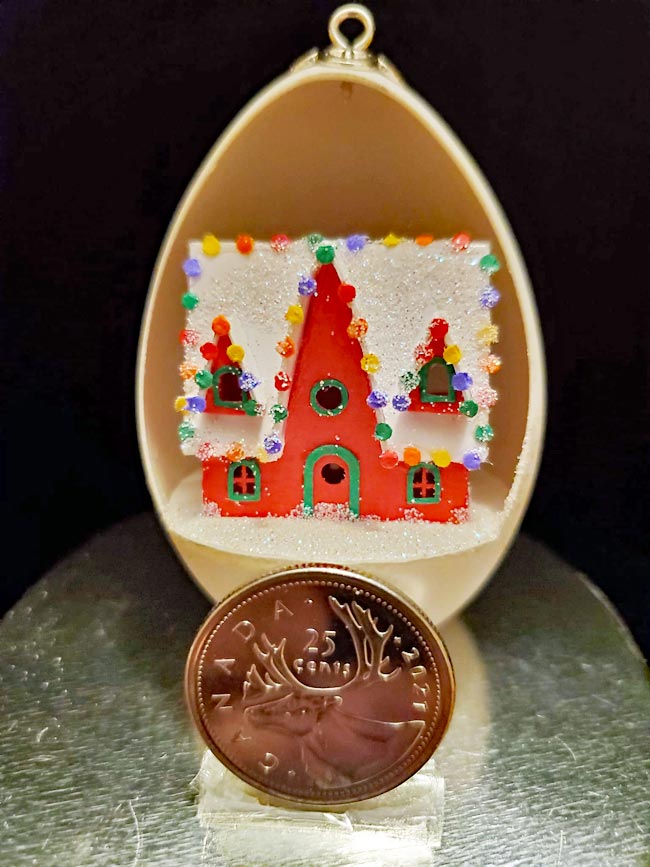 105. Joel's Miniature Christmas House Scene
106. Pam's Country Church
107. Pam's the Workshop Christmas House
RULES for the 2021 Miniature Christmas House Contest:
1. Have fun
Please include a name for your submission. This really helps us with the collection. Thanks so much!
2. Three ways to enter the 2021 Miniature Christmas House contest:
There are 3 ways enter a house in the 2021 Miniature Christmas House contest:
a) Post your design in the Paper Glitter Glue Facebook group with the tag #2021MiniChristmasHouse. But you do have to be a member of the group to enter that way.
b) Follow me on Instagram and post your house with the tag #2021MiniChristmasHouse
c) Email me a good quality photo. The address is [email protected] Please include the title 2021 Mini Christmas House in your email title so I can find the photo easily.
3. Permission to post photo on my blog
In submitting your creations, you are giving me permission to post a picture or pictures of your project on my blog just like I did for the Halloween house contest earlier this year. I love to share your projects because they are all so incredible.
4. Size requirements for the 2021 Miniature Christmas House contest
Size requirements - The base can be 8 inches deep x 12 inches wide. House height - up to 10 inches tall, house width - up to 10 inches wide, house depth 7 inches. That's really a large miniature house.
5. Use any pattern you like
For your entries, you can use your own pattern, my patterns, Tim Holtz houses, or even a purchased pattern.
6. The house must be made of cardboard
The house needs to be made out of cardboard. No wooden houses. But you can use other materials for the base and embellishments.
7. Creativity and originality are emphasized
Creativity and originality are important and will be emphasized in judging. Hint: Let the fun shine through!
8. You may enter more than once, but the houses must be constructed in 2021
And you may enter more than once, but the house must have been made in this calendar year - 2021.
Deadline for the 2021 Miniature Christmas House Contest - December 18
Deadline for photo entries is December 18th and the winner will be announced on December 23rd.
Good luck and have fun creating. Thank you for joining us.