Here are this year's incredible contest submissions! Now the winners are in. The judges had a challenging time finding their favorites and then listing them in order. I assigned points based on their choices, then added them up to determine the winners. But remember, these incredibly creative houses are all winners because they bring so much joy to the creator and the people who see them. Thank you so much for joining us here.
And the winners are:

1st place - Joan's Witches Brew Cafe (no. 22)
2nd place - Joyce's Castle (no. 2)
3rd place (tie) - Rick's Haunted Place (no. 16) and Carol's Myers House (no. 9)

Innovation award - Audrey's Spooky Vibe (no. 20)
Whimsical - Denyse's Halloween Boot House (no. 28)

Judge's Discretionary Awards:
Tracy's Spooky House (no. 4)
Brian's Green Halloween House (no. 13)
Joyce's Witch House (no. 12)
Melanie's House of Hidden Child (no. 14)
1. Jackie's Purple Halloween House
Jackie Smith has her own website and makes incredible patterns. She made her house from the Janky Farmhouse pattern.
One of the things I look for in these magical houses is color and customization. This delightful purple house has many fine features, a spider, a ghost, pumpkins, a cat, a witch and more! So creative!
2. Joyce's Castle
Joyce writes this about her make, "This is Frankenstein's castle. It's perched upon a dark, craggy mountaintop. I wasn't sure what direction I was going when I sat down to play with different buildings, but when I spied the 2 little metal things on my craft desk, it all came together. They are some kind of fishing lure weights (I think?) that I collected from in between the cracks of a wooden deck at a cabin I camped at this year. I knew I could use them for something. They represent Frankie's head bolts."
Joyce's Castle with the brilliant green, metallic roof is a Halloween vision!I love how it's poised on a rock outcropping, and I like the flame effects best of all! Hi Frankenstein!
3. Lee's Halloween House
Lee made a beautifully elegant Halloween house from one of Howard Lamey's patterns from the Cardboard Christmas forum.
Lee's Halloween House welcomes with a fine bright interior! So welcoming! But my favorite feature is the rich texture on the house's facing, and the snow-like effects in the tree. Well done!
4. Tracy's Spooky House
Amazingly, this is Tracy's first house. She writes, "This is my first time posting but I love creating mini houses! Here is my entry, hope you enjoy."
Tracy's house abounds with spooky features. Happy Halloween! There's a grim reaper in one window! One of my favorite features is the magnificent front yard inside a lovely fence and wrought-iron gate! The little wagons are magical!
5. Ann's Ghost Creation
Ann made this incredible mansion with a Cat bench in the front yard. With a cauldron of bats circling the house, it's even spookier. Geek note - I just found out that a group of bats is called a colony or a camp or even a cauldron of bats.
Ann's Ghostly creation has phenomenal detail! There is a unique graphic is every window, and a chainsaw-wielding antagonist in the front door! The ravens are spooktacular, and the front bench with the cat supports stunning!
6. Charity's Faded Mansion
I just love the bright colors and the tree and leaves in this mansion. What a great spooky mansion.
Charity's purple mansion has a delightful slate roof, but my favorite features are the picket fence and the color contrast conferred by the brilliant leaves. Lovely Halloween scene!
7. Hannah's Cemetery Cottage
Don't you love all the details on this house? I think the pattern is the Stone House with 3 Gables.
Hannah's Cemetery Cottage is surrounded by a group of unique headstones. The vines are lovely, and the pumpkins and the coffin really set it all off!
8. Ann's Bat House
Ann's Bat House has stunning detail everywhere you look, but the elves and fairies add an element of Halloween delight. My favorite feature is the little pumpkin baskets held by the skeleton figures to the right of the door. What could they be carrying?!
9. Carol's Myers House
Carol's House has some of the most realistic features in the contest, with crackled paint, a broken gutter and moss on the shingles. The No Trespassing sign is compelling and convincing, and the cross and the spooky background is a particularly nice touch!
10. 31 Carol House
The 31 Carol House has some of the finest, brightest pumpkins in the contest, with much finer detail in the magical background behind the house. I love the ghosts and the bats and the gravestones. So well done!
11. Debi's Lit House
Debi's fine Halloween House jumps out, for me, because of its incredible lighting. It shines through the windows and the door, and illuminates the Halloween spirit of the scene. Thank you for this, Debi!
12. Joyce's Witch House
Joyce writes, "This is my first cardboard house, and will not be my last. I say good crafting to all of you as your houses are interesting, great workmanship and many hours of crafting."

What an impressive start to making little houses! And the polymer figures are just so much fun.
One of my favorite things about these houses is open doors. This one offers a glimpse of a roaring fire inside. Amazing. But the feature I like best is the almost Muppet-like quality of the Halloween pumpkins. The charred aspect of the house and the eccentric roof peak are also a delight.
13. Brian's Green Halloween House
You can tell someone has engaged with the challenge of the contest when they create a scene as complete as Brian's. The carousel is terrific in front of the house, but the attention to adjacent property is unique, and a cauldron in the far back! Love the crooked front gate!
14. Melanie's House of Hidden Child
Melanie's house is one of my favorite houses, with the tower and the remarkable roofs, with the rich color! I also love the yard and the white fence!
15. Lisa H's Owl House
Lisa's house in the owl planter is one of the most joyful creations I have seen. The house is not complex, but it sets off the scene perfectly, and emphasizes the harvest aspect of the season as well as any submission could. I'd love to have this on my table!
16. Rick's Haunted Place
The idea of superimposing a moon in the Halloween scene is inspired. The house has magnificent features, with holes in the roof, entreating us to turn back now! Love the station wagon and the brilliant fall foliage in the trees!
17. Lisa G's Colorful Halloween House
Lisa's Halloween House has truly lovely color and style. I love the blue colors and the Mouseketeer-like accents on the front gate!
18. Linda's Beware House
There are a lot of really delightful features to Linda's House of Beware. The house itself is wonderful, with rich trees, a harvest emphasis, and an almost luminous skull to the right of the front door.
19. Linda's Halloween House
Linda's Halloween House is exceptionally well done, with a terrific metallic bronze roof, super realistic steppingstones to the door and a skull in the background with a hand over its mouth! Amazing! Wonderful! Halloweenie!
20. Audrey's Spooky Vibe House
The spooky house is based on the Front Tower Clock House pattern. Because I liked this pattern so much, I made several examples such as the Haunted Schoolhouse.
Audrey's House has a truly spooky vibe, with colors accented by bright lighting, abundant bats and delightful smoke from the chimney! Some of the finest staging in this round of submissions.
21. Audrey's Asylum House
Audrey writes, "My submission is inspired by classic rock song "Hotel California", by the Eagles. I followed the lore/legend and speculation that is attached to the song lyrics. It is "said" that the inspiration for the song was the state mental hospital in California, located out in the desert. It is now an abandoned building. I found photos of several locations and was struck by one. I loved how run down, unkept and institutional it looked."
Audrey's Asylum House has palm trees in front! Once again the lighting is magical, along the dark desert highway, Route 66. What will emerge when the saloon doors crack open?!
22. Joan's Witches Brew Cafe
Hey, witches love a good cup of coffee (or an elixir or potion) to keep them going on All Hallow's Eve.
There's even a Fly Thru Window for those witches on the go! Joan describes her work perfectly. Really?? A Fly Thru Window - what great imagination.
Joan's Witches Brew Café has really thought of everything, with a 'fly-through' window (I'm not flying through there! Too scary!) and broom parking out front! What a delicious idea for a Halloween Café!
23. Jeanne's Haunted Church
Jeanne describes her house "My design and hand cut from chipboard. Siding was embossed and painted then hand sliced into ⅛" strips and applied. It has resin windows that I left pieces undone or broke out and frames are cardstock. Gravestones are cut on silhouette and are ½" to ¾, coffin is 1". Church measures 3 x 4" and 7"h. Base is 8x10."

Jeanne's Haunted Church is more ominous with the front door ajar, and the open casket in the left foreground! The walkway to the church and the really fine roof are particularly nice touches! This is a nice scene.
24. Candace's Scooby Doo-inspired House
What fun! A Scooby-do inspired house. How cool is that?
I like the bright green bay window at the front of Candace's Scooby Mansion, but the tree is very well done, and my eyes are drawn to the cemetery plots on the left. Watch Your Step, indeed!
25. Marcy's Abandoned Mansion
My favorite thing about Marcy's Abandoned Mansion is how incredible the tree debris looks on the roof and how magnificently distressed the house paint is. The fence looks precarious and rusted, just what one might expect from a scary Halloween mansion!
26. Marcy's Owl Mansion
The Owl Mansion has a number of terrific touches: the excellent black trees, the amazing stone walkway leading to the front steps, the owl at the very top. But I find my eyes drawn to the striking color contrast of the late fall leaves. It's a special house, Marcy!
27. Marcy's Spider Mansion
Marcy's Spider Mansion stood out for me because of the terrific architectural features of the house. The circular front entrance is topped by a delightful tower. Once again, the textured roof has collected wonderful fall leaves and debris, and then look at the spiders and pumpkins!
28. Denyse's Halloween Boot House
Kindergarten and Elementary School Student Entries.
Keep in mind, the remaining house submissions are ALL from kindergarten or elementary school students! So creative! Their grade is beside their name.
29. Maddy's Halloween House
The thing I like best about Maddy's Halloween House is the rich blue at the lower two stories of the house. The windows are all askew and the cat, spiders and bat make for a scary house, indeed! Wonderful job, Maddy!
30. Noah's Bat House
Noah's house has a huge bat, and stands out because of the rich purple and the contrast of the orange windows! You've made a wonderful Halloween House, Noah! Keep making these!
31. Lucy's Halloween House
Lucy's (young Lucy!) house highlights a number of colors that come from the finest Halloween tradition, red, orange, black and white! They were applied with passion and conviction, which are the most important things we love to see in budding artists.
32. Winter's ghost House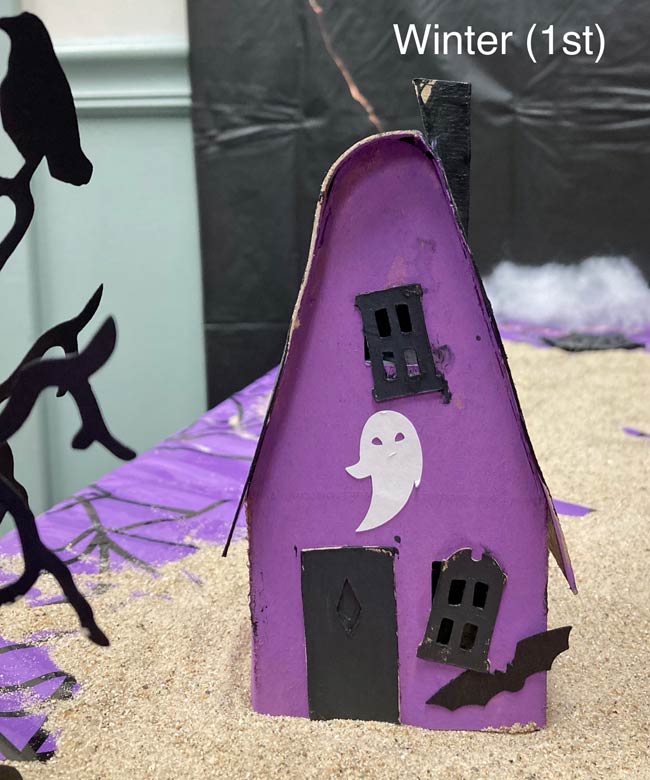 Winter's purple house has a chimney, a bat AND a ghost! That's a Halloween ensemble to be proud of! Very nice, indeed, Winter!
33. Riley's Spider House
One of the things I love best about Riley's house is the cardboard windows. The upstairs windows even have their own shutters. Beware the bat when entering the door! Scary, Riley! Thank you for sharing this with us!
34. Gavin's Skull and Crossbones House
Gavin's house is scary because of the skull and crossbones superimposed on a house of black. And behold the bat flying past the downstairs window! Just excellent, Gavin!
35. Eugene's Scary House
Eugene has gone for more detail in his scary house! The windows are super colorful,, but the vampire bat oversees all and is balanced in this Halloween scene by the placement of the fine tree.
36. Nolan's Cat Bat House
I really like Nolan's house because of the huge bat and the lovely cat, balancing the scene down low. The skull and crossbones above the entrance make a particularly scary touch!
37. Ally's Halloween Face House
Ally's fine bat-shaped house has a face aspect, with particularly colorful windows of red and blue! The spider, the cat, ans the skulls only add to the dramatic effect! Thank you, Ally!
38. Samantha's Cat Spider House
Samantha's lovely Halloween house has a super scary spider and TWO cats! The spider stands out most dramatically on a white background. You take your life in your hands entering this house!
39. Mackenzie's Colorful House
One of my favorite things about Mackenzie's house is the blue and red on the roof! I think the middle-most window is being eaten by a scary spider! You really know Halloween, Mackenzie!
40. Siiri's Crow Bat House
I like the stark black and white colors of Siiri's house! The bat on the left side of the roof is particularly scary! I would be too afraid to even knock on the door!
41. Tommy's Halloween House
Tommy's house has incredible orange windows that really make this house stand out, along with a very scary skull and crossbones at the top! You have done a good job with this house, Tommy!
42. Cora's Tower Entry House
I love the tower at the entrance to Cora's house. The dark windows are very scary, and the cat is a wonderful touch! Once again we see a house with nice shutters on the windows!
43. Ainsley's Orange Windowed Halloween House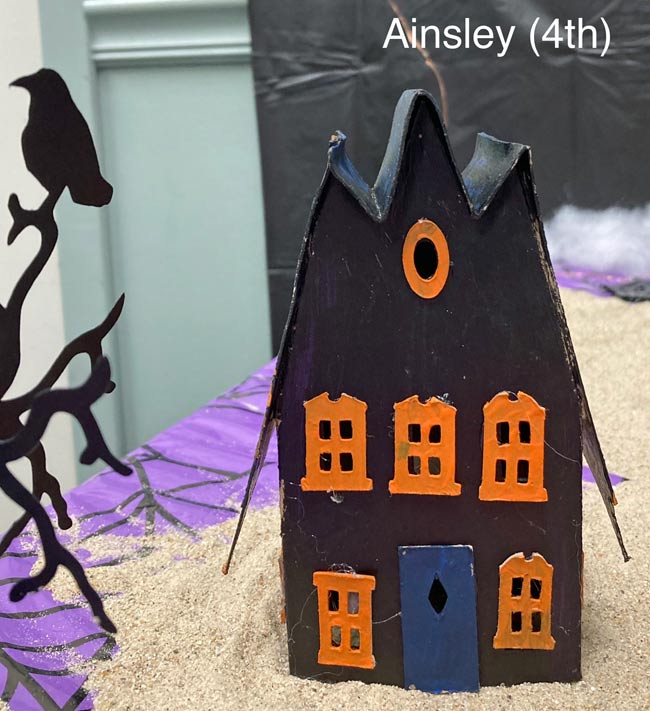 Ainsley's wonderful Halloween House shows just how well the orange windows work with the dark background of the front of the house. I particularly like the orange port hole at the top! Such a nice touch! Most appreciated, Ainsley!
44. Aaliyah's Orange Halloween House
I really like how Aaliyah's house combines the dark windows with the orange house and purple roof and door. Quite Halloweenie, indeed, Aaliyah, and thank you for it!
45. Milla's Bright Halloween House
Milla's House is so bright and joyful, with a cat guardian at the front door! Very nice, Milla!
46. Kayden's Big Bat House
Kayden's House is a tale of two bats! One huge one up high and another smaller one at the top-most front window! Scary!
Final Judge Remarks
I am in awe of the creativity of the members of this group. The human imagination is truly infinite, as the stream of ideas in these submissions proves. Lucy cited having fun as the FIRST rule in the contest, and fun is what shined through most, for me, in these submissions. They give fun to those viewing the houses, and fun is much needed these days. Of particular note was the participation of an entire group of kindergarten and elementary students! It is inspiring that they engaged in this contest with their energy, enthusiasm and creativity. The creative mantle will be in excellent hands in the coming generation! Special thanks to the teacher who involved them in the contest. It is a brilliant idea, and a gift to us all! I hope more teachers follow your lead!
Finally I would like to thank all contestants for making the evaluation of your submissions into such a blessed challenge. Every creation had its genius and magic, and sharing that with us was an amazing gift. Every contributor is a winner! We judges are very much in your debt. Godspeed in all your creative endeavors!
To see the 2020 Halloween House entries, click here.
For more information, please read the rules below.
The contest closes at midnight on October 25. And thanks in advance for entering.
PRIZE LIST for the 2021 Miniature Halloween House Contest:
First place - $100 Amazon gift card
Second place - $75 Amazon gift card
Third place - $50 Amazon gift card
Three Judges discretion awards - $25 Amazon gift cards (because the judges really wanted to award more prizes since they loved the entries so much)
Whimsical award - $75, to a submission that characterizes the playful nature of Halloween
Innovation award - $75, for the submission with the most novel innovation. That can be part of a house or structure, or it can be an embellishment, or anything else super creative you can think of
(The Whimsical and Innovation awards will go to submissions that did not win in the top placings category, to expand the winning possibilities.)
I reserve the right to expand prize categories.
RULES for the 2021 Miniature Halloween House Contest:
1. Have fun
Have fun. Really, the entire purpose of this is to have fun.
2. Three ways to enter the 2021 Miniature Halloween House contest
There are 3 ways enter a house in the 2021 Miniature Halloween House contest:
a) Post your design in the Paper Glitter Glue Facebook group with the tag #2021MiniHalloweenHouse. But you do have to be a member of the group to enter that way.
b) Follow me on Instagram and post your house with the tag #2021MiniHalloweenHouse
c) Email me a photo. The address is [email protected]. Please include the title 2021 Mini Halloween House in your email title so I can find the photo easily.
3. Permission to post photo on my blog
In submitting your creations, you are giving me permission to post a picture or pictures of your project on my blog just like I did for the Halloween house contest last year. I love to share your projects because they are all so incredible.
4. Size requirements for the 2021 Miniature Halloween House contest
Size requirements - I have made the size requirements bigger to allow for steeples and taller houses and more landscaping. The base can be 8 inches deep x 12 inches wide. House height - 10 inches tall, house width - 10 inches, house depth 7 inches. That's really a large miniature house.
5. No bloody or gory parts
But I don't want to see gory or bloody. No bloody body parts or scary deformed creatures. Creepy and spooky are good, but not gross or gory. I think bones and skulls are ok.
6. Use any pattern you like
For your entries, you can use your own pattern, my patterns, Tim Holtz houses, or even a purchased pattern.
7. The house must be made of cardboard
The house needs to be made out of cardboard. No wooden houses. But you can use other materials for the base and embellishments.
8. Creativity and originality are emphasized
Creativity and originality are important and will be emphasized in judging. Hint: Let the fun shine through!
9. You may enter more than once, but the houses must be constructed in 2021
And you may enter more than once, but the house must have been made in this calendar year - 2021.
Deadline for the 2021 Miniature Halloween House Contest - October 25
Deadline for photo entries is October 25th and the winner will be announced on October 28th.
Get the kids involved making a miniature Halloween house
And I have one final request. Last year, a number of contestants involved children in the creation of their projects. That is some of the happiest Halloween news I could hope to hear. If you are involving your children in your creations, would you please let me know? It brightens the season immeasurably!
So that is the Mini Halloween House Contest for this year. I will let you know about the Christmas contest in late November. If you have any questions, please email me at [email protected].
Lucy