How to Make Fall Paper Leaves - it's so much fun and easy! I've had a great time making these colorful Autumn Paper Leaves to add to my seasonal crafts this year. There are so many great color effects that you can get with sprays or even diluted acrylic paint. With this technique you can make incredibly realistic paper leaves or go as wild with color - whatever you want.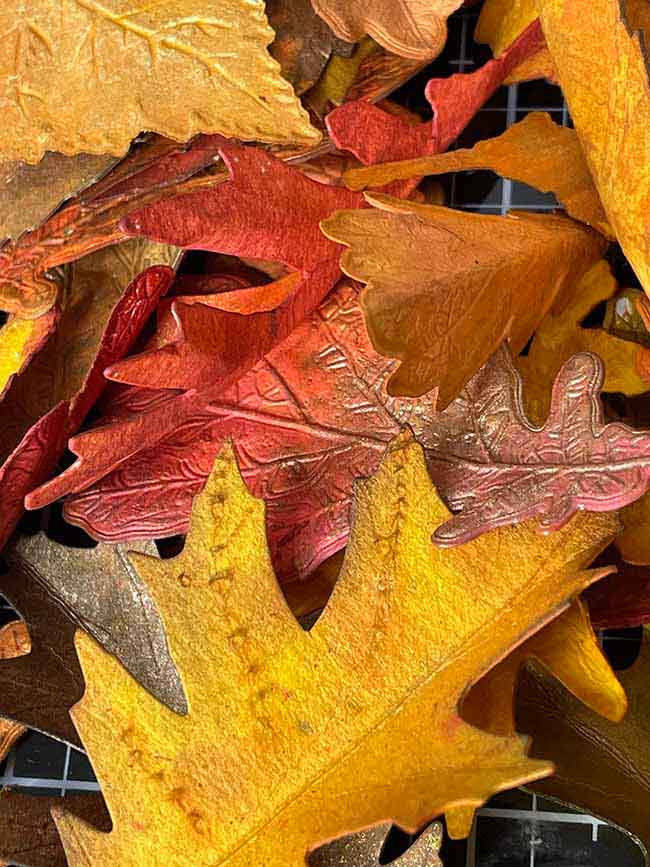 And the nice thing is that you don't need much to make great-looking fall paper leaves - some kind of paper (watercolor paper is my favorite), paint or stain and that is it.

You can turn them into a beautiful Autumn wreath or Fall garland or decorate spooky crafts for Halloween.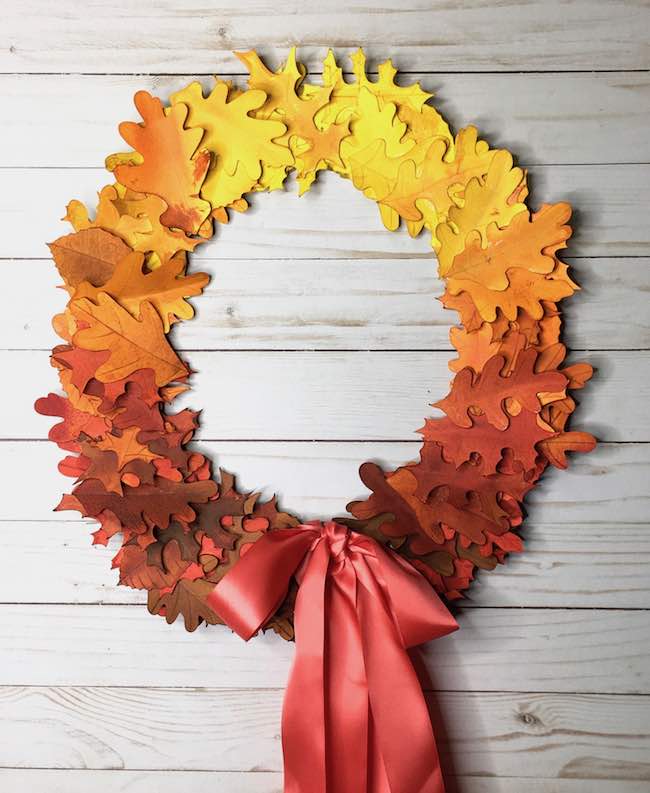 As you might expect, decorating for Halloween is how I am going to use these leaves.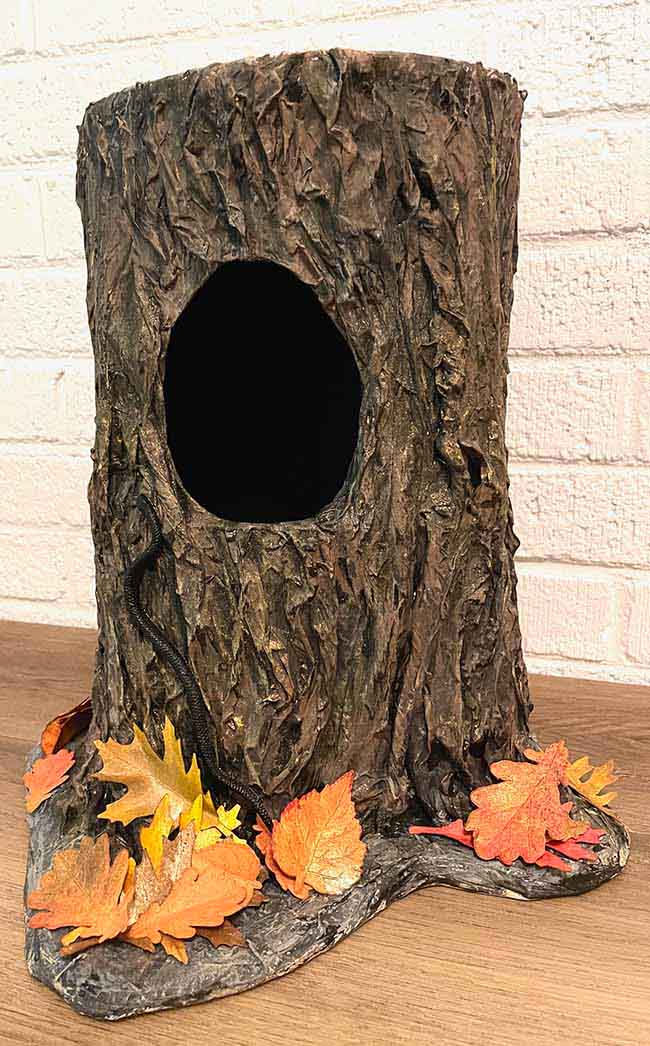 Ok, let's go over how to make the Fall Paper Leaves.
This post contains some affiliate links for your convenience. Click here to read my full disclosure policy.
Materials to Make Fall Paper Leaves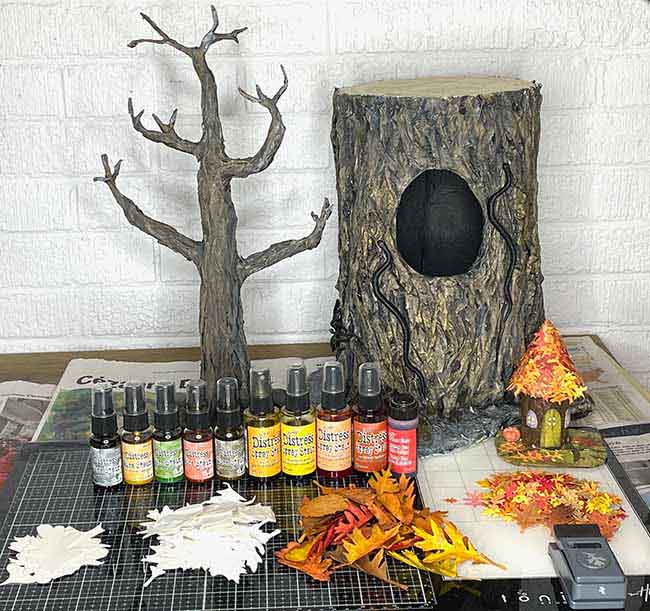 How to Make Colorful Fall Paper Leaves:
Cut out the leaves
Add more texture by crumpling paper or drawing veins on leaves with stylus
Color the leaves with desired colors
Decorate with your beautiful Fall Paper Leaves
For more specific details on how to make the fall paper leaves, I've written more specific lessons below including a video showing you how to make the leaves.
1. Cut Out the Fall Paper Leaves
You have numerous options for how to cut out the paper leaves as listed below.
Use the free leaf patterns (No. 122 in the August 2021 section) from the Paper Glitter Glue library
Leaf dies that used with a die cutting machine like the Sizzix Big Shot
Cut the leaf patterns out by hand
Leaf paper punches
Use the free leaf patterns from the Paper Glitter Glue library
To make things easy for you, I've made a couple of leaf patterns that you can use with your cutting machine.
If you don't have the password, you can subscribe to my Paper Glitter Glue newsletter and get the password right away by filling out the form below.
The patterns are located in the August 2021 section of the Paper Glitter Glue library. The file is No. 122 in the library.
There are two versions of these SVG patterns (for cutting machines) - one with score lines for the leaf veins and one without.
Here's the version with out if you don't want to bother with score lines.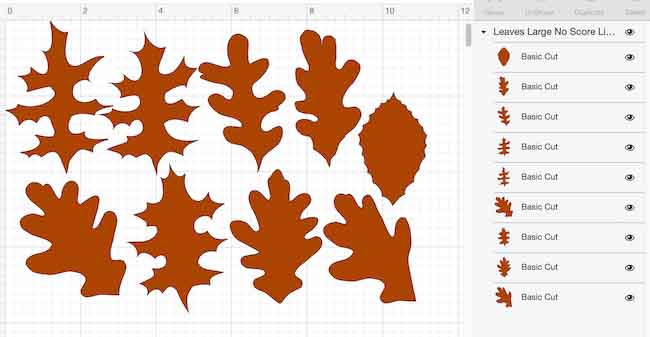 So if you have a Maker and want to deboss the leaf veins, it works very well. The scoring tool works, but just not as deep as the debossing tip does.
With a recent Cricut Design Space update, designers have lost the ability to designate and attach score lines for you. So you have to go to each individual leaf design (there are only 8 of them) and change to either score or deboss in Cricut's Design Space, then attach the pattern to the leaf.

The small leaves do not have score lines. They are easy to cut, but they do take some time just because there are a lot of them.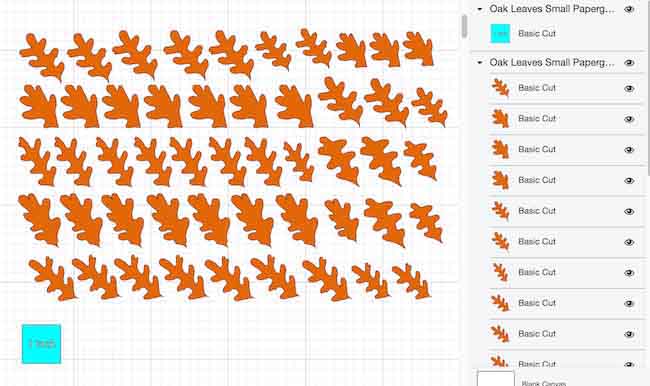 Make Paper Leaves with Die Cutting Machines like Sizzix Big Shot
Before I started using my Cricut cutting machine, I cut a lot of materials with my Sizzix Big Shot die cutter. The nice thing about it is that there are a large number of leaf dies to choose from. For this project, I used a number of dies.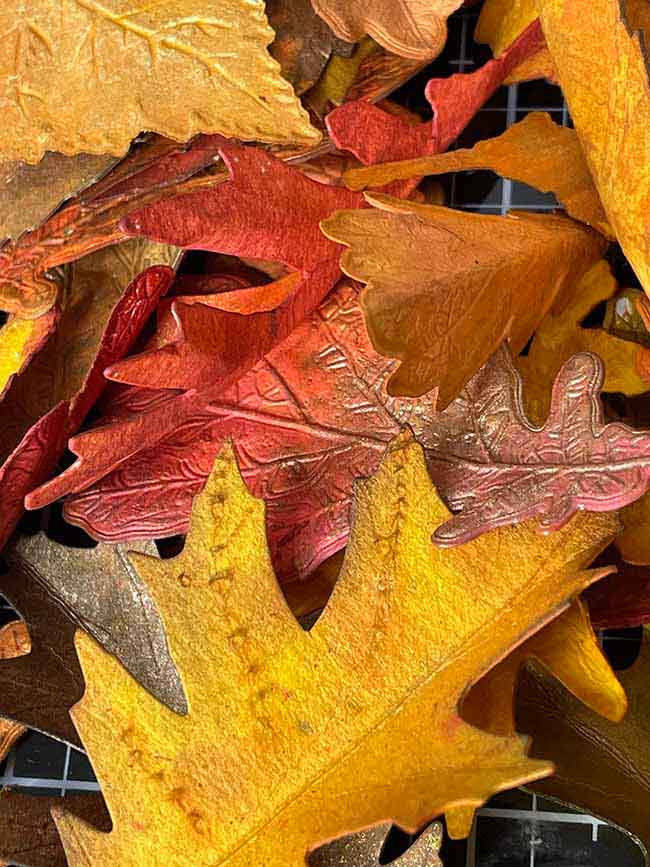 And one nice thing about these dies is that may emboss as well as seen in the example below.
These are easy to use with any of your paper crafts.
Cut the Fall Paper Leaves by Hand
Fortunately, It is relatively easy to cut out the larger leaves by hand. The free printable PDF patterns in the Paper Glitter Glue library are not that challenging. Sometimes repetitive activities like that can be kind of meditative and relaxing. Sometimes.
All of the printable PDF files are plain with no color. That way you can print them on any color card stock you choose or color them with the spray stains.
Use Paper Punches for Cutting Leaves
One quick way to cut out leaves, especially the small ones, is to use paper punches. You can punch out a lot of leaves in a very short period of time.
But I've found that you have to make sure the paper is not too thick. For example, my preferred paper for leaves is 140 lb. watercolor paper which will not work with many of the paper punches. So that means you have to use a thinner paper, but it works fine for the tiny leaves.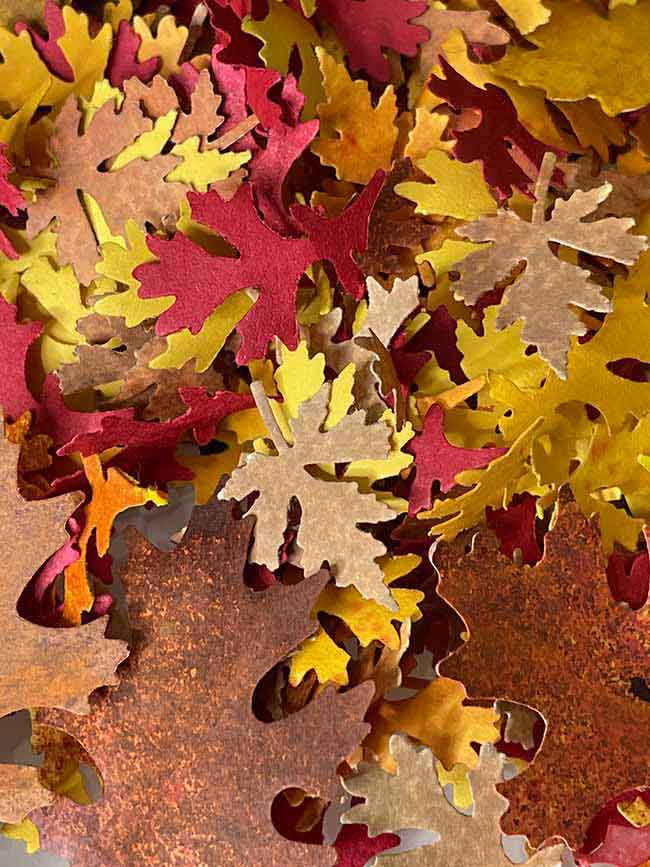 2. Add Texture to Your Leaves
To make your paper leaves look great and realistic, adding texture makes all the difference.
For the SVG leaves, you can use the score lines to add veins to the leaves. In the photo below, the lines have been debossed using the debossing tip on my Cricut Maker.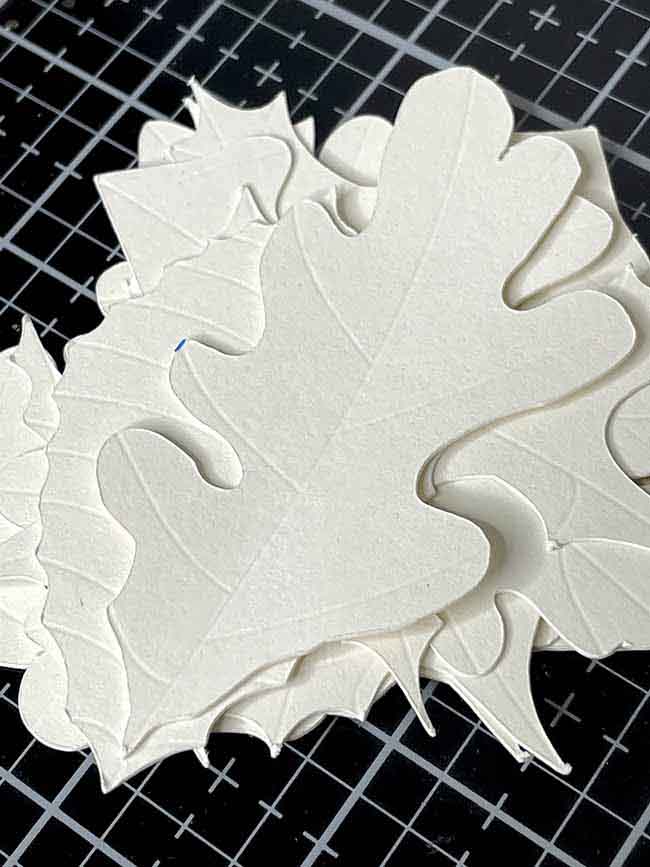 And there other ways to add texture.
For example, you can wrinkle the paper. On watercolor paper, sometimes I spritz it with water first so the paper is more flexible. See the example below.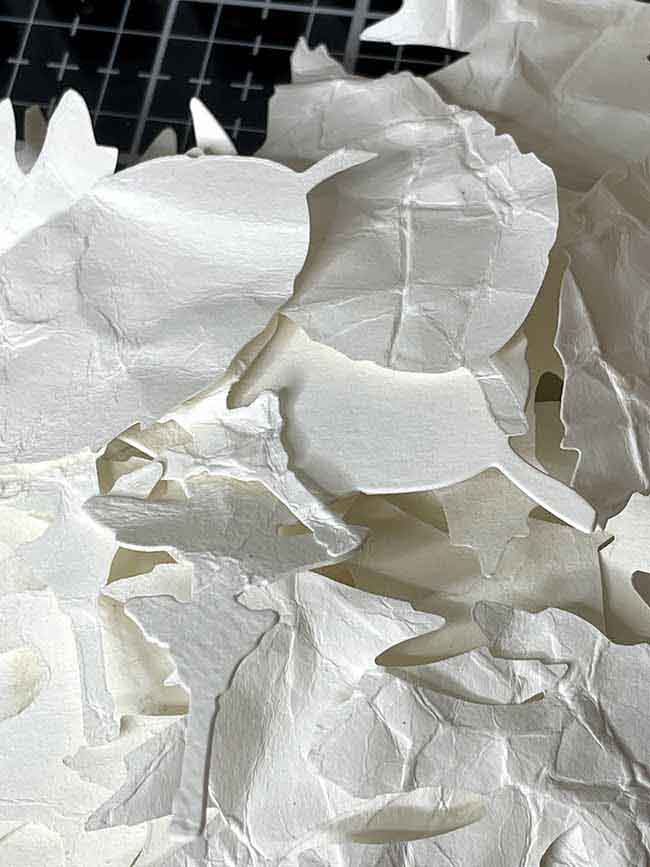 Another way is to use a stylus or an empty ball point pen to draw veins on the leaves. I did that on a number of leaves such as the yellow one below.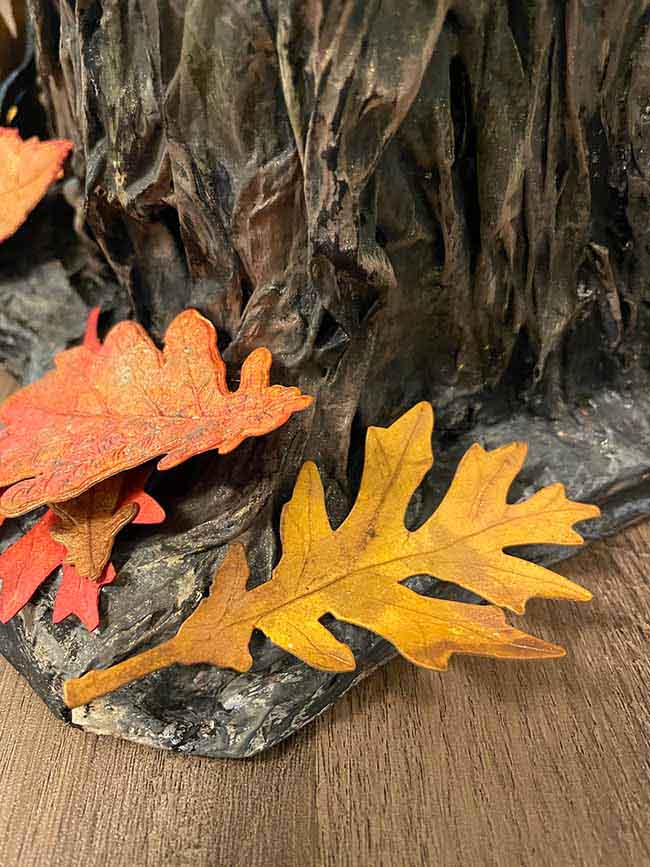 Then you can fold along the middle vein to give dimension as well. Often I do that when I glue the leaves to my project.
3. Color the Your Leaves
Now we get to the fun (and messy) part. Or at least it is the fun part for me - coloring the leaves. Along with adding dimension, this step gives life to your leaves so they don't look like paper anymore.
By far, the easiest way to color your leaves is with spray stains. Yes, it can be messy, but it gives such an organic look to your leaves. If you look at autumn leaves, you see that they are not a flat color, but have a tremendous variation in the colors within each leaf.
Even though leaves haven't yet changed to fall colors in my part of the world, I found a few fallen leaves as examples. These leaves above demonstrate the color variation on real leaves.

So to spray the leaves, you can spray them on a nonporous surface, like a glass mat or spray them in a splat box.
What is a splat box? it is simply a cardboard box big enough to catch the overspray. You can make your own with a good-sized box or you can actually purchase a reusable, folding splat box.
For the video, I just sprayed the stain on my glass media mat as that was easiest way to see the application of color.
Simply spritz some color onto the leave or the mat, smear it around, add some water, smear your leaf around some more until you get a leaf color you like. Add additional colors that you like.

Just recently, I purchased some mica sprays which add a subtle shine to the leaves. I love the effect.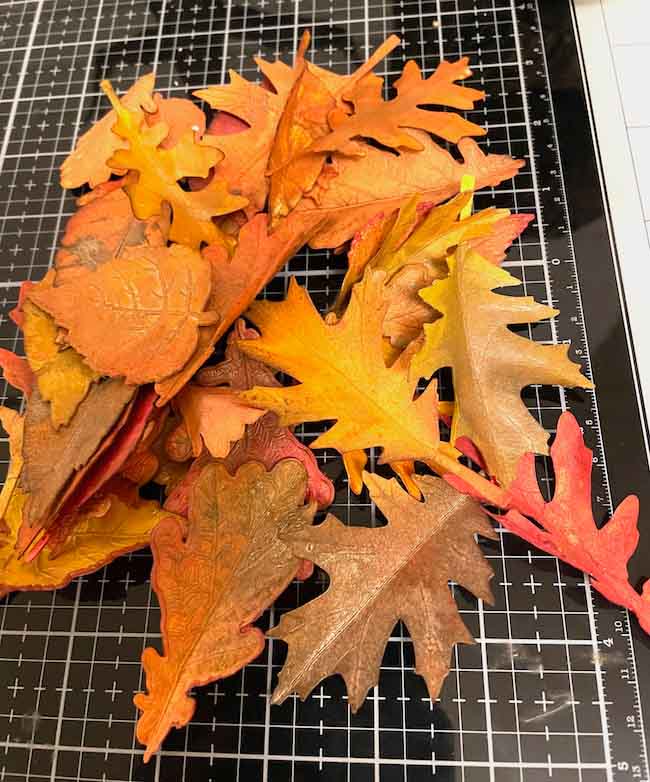 Finally, allow your paper leaves to dry completely before you use them.
4. Decorate Your Crafts with these Great Paper Leaves
Now that you have these beautifully colored fall leaves, use them for your incredible crafts.

I have two main projects I need leaves for - a spooky tree which needs leaves at the base and for a creepy crawly tree stump candy bowl. Sounds weird, doesn't it? But it is so fun. I'll share those completed projects a little later.
So that's how you make Colorful Paper Leaves for the Fall
I hope you will try it because it is so fun and creative.

Thank you for stopping by.

Lucy
P.S. Be sure to pin to your favorite Pinterest board so you can remember where you found this paper craft.