In a previous post, I talked about making a custom DIY stencil using a die and Yupo waterproof paper. Well, this is where I used the stencil – the Starry Patriotic House. I love the roof on this little house. The stencil worked great! I will be making more, especially from dies that come in a strip like these stars.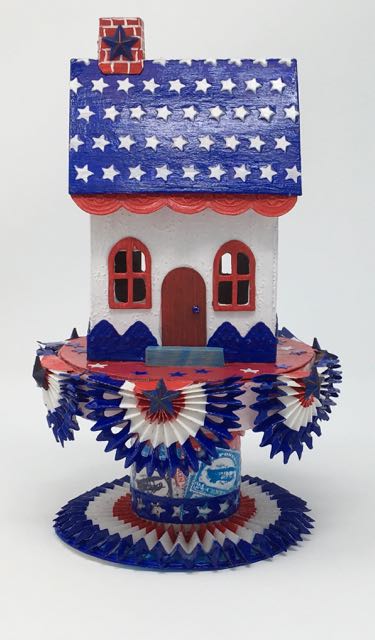 Modifications on the Tim Holtz Sizzix Village Brownstone House
More about how to make the Starry Patriotic House. The base structure is the Tim Holtz Sizzix Village Brownstone with a few modifications. To keep the house from looking like a church, I covered up the tall door with another side piece.
Normally, I would make these alterations before the house was glued together. It's much simpler that way, but this house was a spare one that was just sitting around.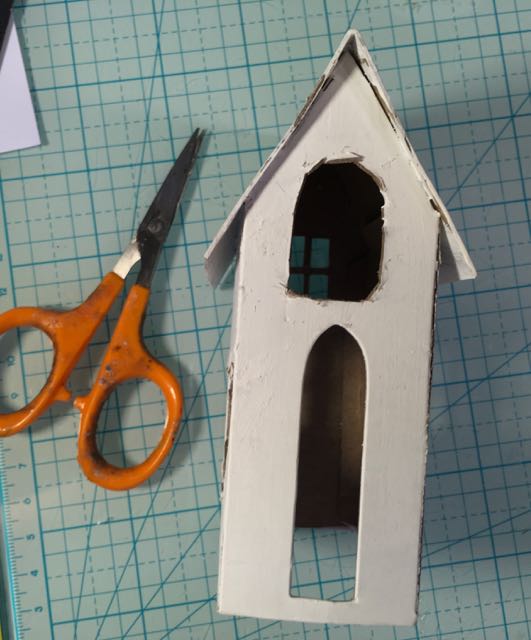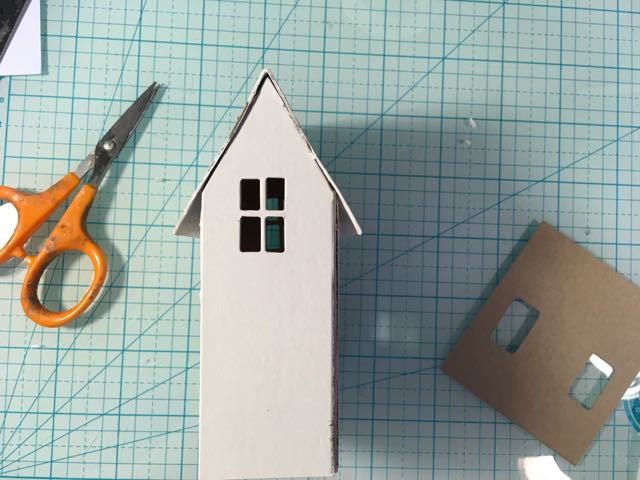 I covered the new front with a piece of cardboard and moved the windows over for a door to fit in the middle. The photos demonstrate this better than wordy descriptions.
Altering the Starry Patriotic House for a new Front Door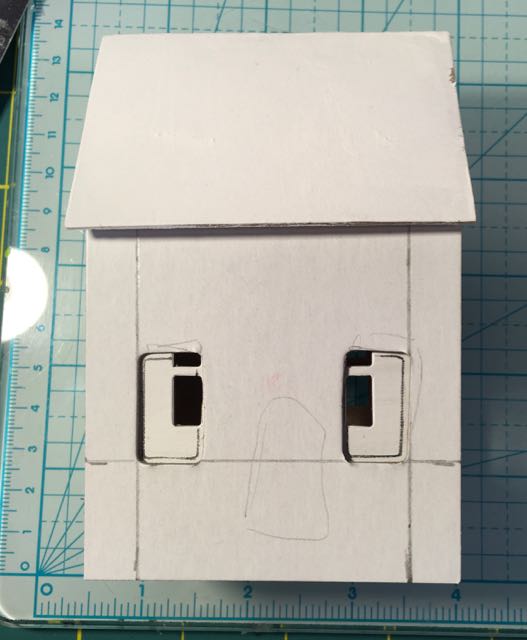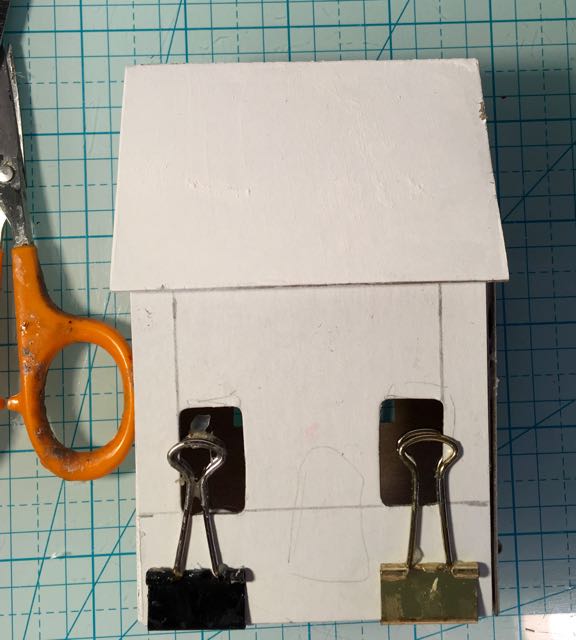 Ribbon Roll Base for the Starry Patriotic House
I have lots of ribbon rolls left over from making Christmas bows for an annual wreath-making party. Each year I save them for making bases for the little houses because they show off the houses so nicely and provide great areas for decoration.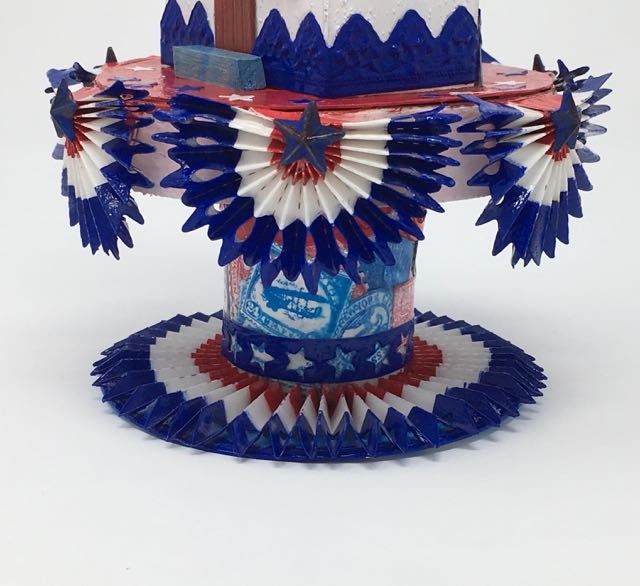 Truthfully, I think I went overboard with the details on the base. What do you think? Too busy? I would make a number of modifications next time. I'd use the small rosette die with a matching background and make sure the circular edge of the base overlaps the top of the rosette bunting to make them more secure. Also I'm not enthused about the red base below the house. I am just not a red person.
More Views of the Starry Patriotic House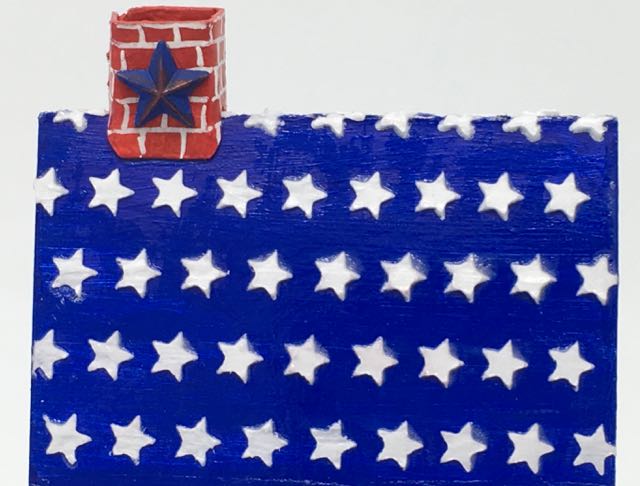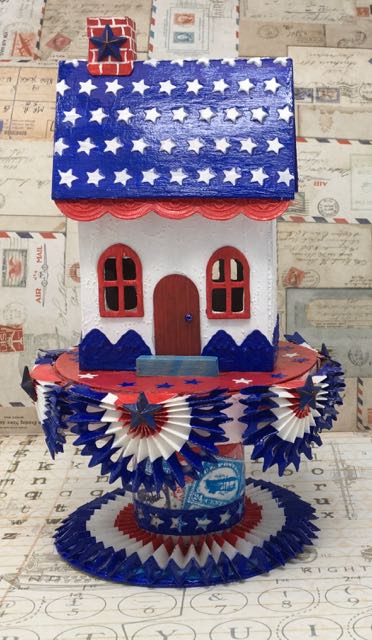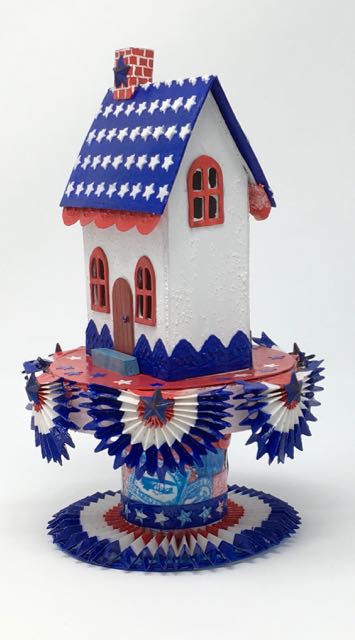 One reason I added the stamps at the base was so I could fit in the Frilly and Funkie Challenge "By Airmail". The light blue airmail stamp is actually from a Tiny Things collection, but most of the stamps are from the new Stamp Collector stamps.
I also wanted to enter in A Vintage Journey's "Stencil It" challenge because of the stenciling on the roof.
Please be safe for the upcoming holiday week. You may know that I work in the emergency department and it is always a busy week because of accidents. Take care of yourselves – wear seatbelts, helmets, stay away from firecrackers, use sunscreen, drink lots of water,no texting while driving, etc. etc. You know the drill. Thank you for reading.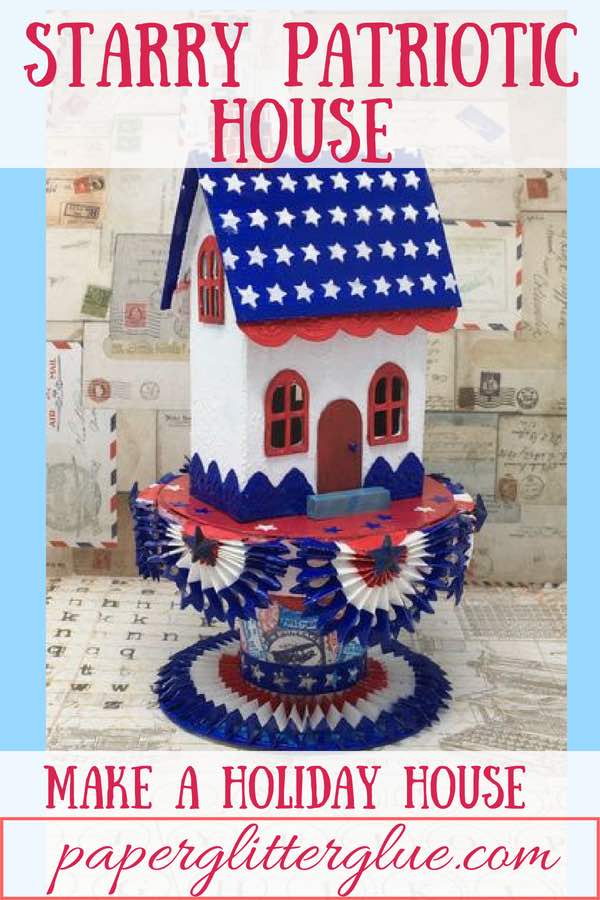 Subscribe to get the Paper Glitter Glue Newsletter
Subscribe to get my latest newsletter by email. Also get access to the Paper Glitter Glue library. I will send you a newsletter every one to two weeks.