Everyone who makes putz houses or glitter houses is faced with one particular challenge - cutting out windows and doors. If you want windows that let the light shine through, you have to make interior cuts on your house.
So this post has tips on how to make Putz house windows, specifically how to cut them out when you cut them by hand (meaning without an automatic cutting machine like a Cricut or a Silhouette).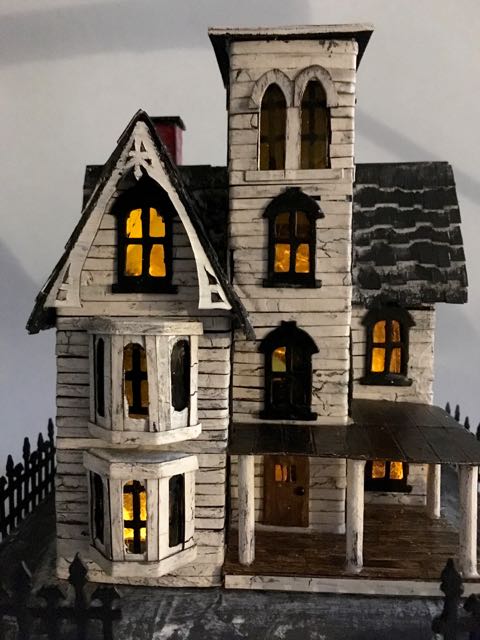 This post contains some affiliate links for your convenience. That means if you make a purchase after clicking an affiliate link, I will earn a small commission at no cost to you. Click here to read my full disclosure policy.
Mark the location of windows and doors with a custom template
One of the best tips I've learned about cutting out windows and doors is to use a specific template to mark the opening. I have several templates of doors and windows in various sizes that I use to mark where I want the door or window to go.
Best way to hand cut windows and doors accurately
This method on the Cardboard Christmas forum described by one of my Putz-making friends works by using a push pin to mark the corners. You then make several passes with a craft knife to complete the cuts. It's very impressive and quite precise.
Use Leather Punches (Dies) to cut out windows and doors
These dies are leather craft dies. They come in a set of 39 (which helps you know that it is the right thing to buy). Here is a link for the leather crafting dies on Amazon.
The Amazon description also describes how to use the dies with a mallet so you don't need an arbor press like I describe below.
Use Arbor Press to cut out windows and doors
Before I got my Cricut cutting machine, I used an arbor press to cut out the windows. It seemed a little like cheating because I didn't cut the windows out by hand. A reader asked me about the set-up and I thought other Putz house makers might benefit from seeing how to cut out the windows and doors using this tool.
First, here is the set-up of the arbor press and the stand. My brother made a plywood stand to surround the base of the arbor press which supports the white polyethylene cutting board effectively. It also has 2 cubbies where I can store the dies I use and toss the cutouts that I might use later on some other paper craft.
Anatomy of an Arbor Press
The 2 main pieces you need to know on an arbor press are the rotating lever arm on the right and the ram - the square vertical piece that applies the pressure. This particular arbor press is a one ton arbor press because it applies one TON of pressure - clearly sufficient for cutting through a couple of layers of cardboard.
You can find the arbor press online or at a tool store like Harbor Freight tools. You can also use a drill press, but the ones I saw were more expensive and my brother won't let me use his. The dies I use come in a set of 39 dies which can be purchased inexpensively.
Use a plastic cutting board to cut on
Choose the size die you want to cut out a window or door
Apply pressure by rotating the lever arm of the arbor press. The force is transferred to the ram and then the die to cut through the cardboard
The arbor press makes nice cuts through the cardboard
These dies are leather craft dies. And they come in a set of 39 (which helps you find them). Here is a link for these leather crafting dies on Amazon. One thing nice about this Amazon photo is that it shows you how to use them with a mallet so you don't need an arbor press like I use.
Here's a list of the Tim Holtz windows from the Village Dwelling series:
That's the overview of using an arbor press to help you with your putz-making process. If you are making lots of houses or have arthritis in your hands, I think it is clearly worth the investment. But if you only make a few every year or you make your houses from card stock, it's probably not worth the money. In any case, I hope this gives you some information you can use.
Stay safe. Drink lots of water. Sunscreen always.
Happy Fourth of July.