It's that time of year again - the 2022 Miniature Christmas House Contest. Time to start thinking about making a miniature house for the annual Miniature Christmas House contest. Submit your entries starting November 27th.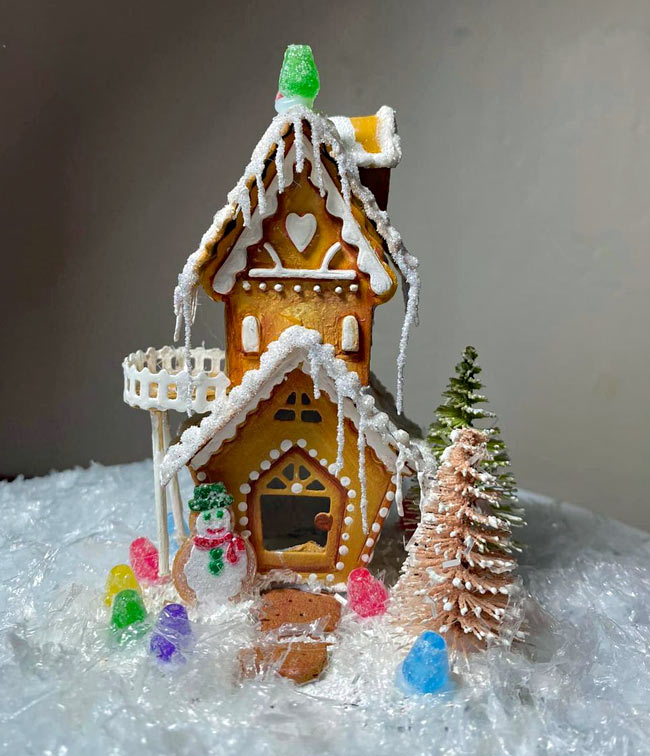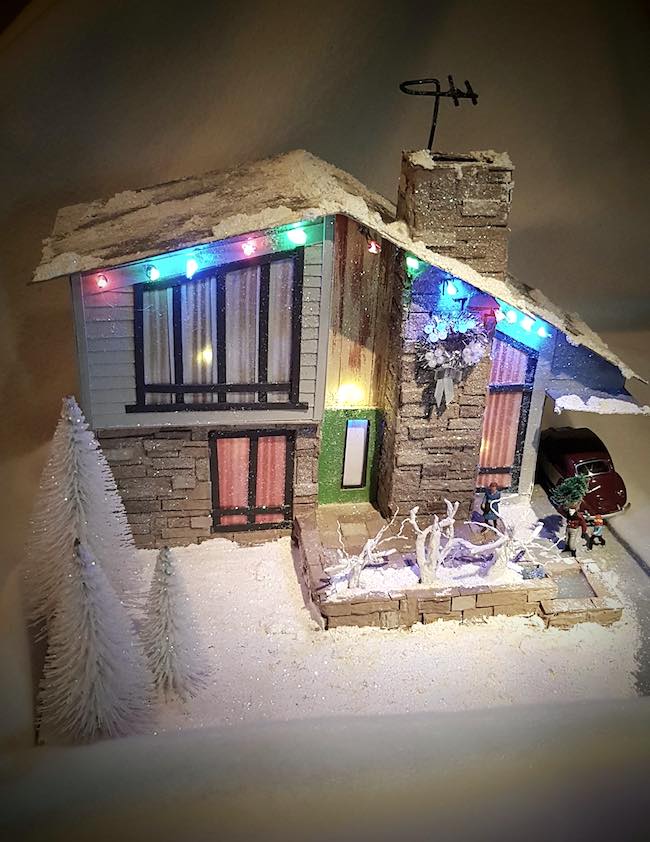 For more information, please read the rules below.
You can start sending your entries to me on November 27th.
The 2022 Miniature Christmas House contest closes at midnight on December 17. Prize awards will be announced by midnight on December 23. And thanks in advance for entering. This is going to be FUN! That is the purpose of the contest, and I sincerely hope that will be your experience!
For inspiration, check out the 2021 Christmas house entries.
And if you are new to making little houses (also known as Putz houses) here is a good article to start with.
PRIZE LIST FOR THE 2022 MINIATURE CHRISTMAS HOUSE CONTEST:
People's Choice Grand Prize award - $125 Amazon gift card
First Place - $100 Amazon gift card
Second Place - $75 Amazon gift card
Third Place - $50 Amazon gift card
Whimsical* - $50 Amazon gift card (to a submission that characterizes the whimsical side of the holiday)
Innovative* - $50 Amazon gift card (for the submission with the most novel innovation. That can be part of a house or structure, or it can be an embellishment, or anything else super creative you can think of)
Kid's awards - $25 Amazon gift card
(*The Whimsical and Innovation awards go to submissions that did not win in the top placings category, to expand the winning possibilities.)
I reserve the right to expand prize categories and awards.
RULES FOR THE 2022 MINIATURE CHRISTMAS HOUSE CONTEST
1. HAVE FUN
Have fun, really. The entire purpose of this is to have fun.
2. NAME YOUR DESIGN!
It's much better for those viewing your creation if it has a name. Some of the names of the Halloween submissions in October were actually very creative, which can enhance your submission.
If you can, please also write a sentence or two about your creative process, your inspiration and the like. Many people requested this change because they want to learn from you.
3. THREE WAYS TO ENTER THE 2022 MINIATURE CHRISTMAS HOUSE CONTEST STARTING ON NOVEMBER 27.
There are three ways to submit your entry to this contest:
a) Post your house in the Paper Glitter Glue Facebook Group with the tag #2022MiniChristmasHouse. Please join this group so you can post your entry here. It's the best way to enter.
b) Follow me on Instagram and post your 2022 Christmas house with the tag @LucyF7b or #2022MiniChristmasHouse.
c). Email me a photo. The address is [email protected] Please include the title 2022 Mini Christmas House in your email title so I can find the photo easily and include it in the contest.
4. PERMISSION TO POST PHOTO ON MY BLOG AND SOCIAL MEDIA
In submitting your creations, you give me permission to post a picture or pictures of your project on my blog and social media just like I did for the Halloween house contest this year.
I love to share your projects because they are all so incredible. As we post the submissions for folks to see, our usual practice is to use only first names, unless your surname is included in the house name.
5. SIZE REQUIREMENTS FOR THE 2022 MINIATURE CHRISTMAS HOUSE CONTEST
Size requirements - I made the size requirements slightly bigger than I did at first to allow for steeples and taller houses and more landscaping.
The base can be 8 inches deep x 12 inches wide. House height - 10 inches tall, house width - 10 inches, house depth 7 inches.
That's really a large miniature house. However, I like to make mine smaller - easier to store and display.
6. USE ANY PATTERN YOU LIKE
For your entries, you can use your own pattern, my patterns, Tim Holtz houses, or even purchased patterns.
7. THE HOUSE MUST BE MADE OF CARDBOARD OR CARD STOCK
Your house must be paper-based - made out of cardboard or card stock. No wooden houses. But you can use other materials for the base and embellishments.
8. CREATIVITY AND ORIGINALITY ARE EMPHASIZED
Creativity and originality are important and will be emphasized in judging. Hint: Let the fun shine through!
Also creativity in naming your house helps to make it more special.
9. YOU MAY ENTER UP TO 3 HOUSES, BUT THE HOUSES MUST BE CONSTRUCTED IN 2022
Up to three submissions, all of houses created in this calendar year.
DEADLINE FOR SUBMISSIONS TO THE 2022 MINIATURE CHRISTMAS HOUSE CONTEST - DECEMBER 17
We start accepting entries on November 27th.
Deadline for photo entries is December 17th and the winners will be announced on December 23rd. Generally we expect the entries by midnight on the 17th, but it can be midnight Pacific standard time.
GET THE KIDS INVOLVED MAKING A MINIATURE CHRISTMAS HOUSE!
We care a great deal that the Christmas season is a family season. We would love to see house submissions from your children. Please allow their creativity to flow. The names of the children's submissions will be placed in a hat and drawn randomly. Those submissions aren't - and should not be - competitive. They should have fun with no other concerns!
So that is the Mini Christmas House Contest for this year. Whatever you so, enjoy it! Enjoy the process of making your house or houses. That's what it is about.
If you have any questions, please email me at [email protected]
Lucy