I finally received my Tim Holtz Vintage Dwelling die which I pre-ordered in July, I think. It's a nice die that actually makes a sturdy little house. I always alter things because, as you know, I am a rule-breaker. Here are some photos from my first attempt with this die.
The photo above shows the die on the book base with polymer clay pumpkins, a polymer skeleton hand made from a Martha Stewart silicone mold, and a Tim Holtz spooky branch tree.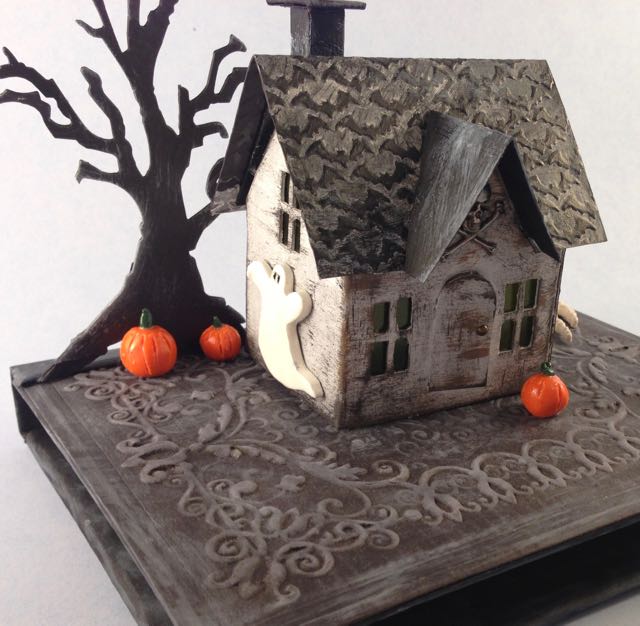 You can see the little clay ghost that I made on this side. It was made using a small cookie cutter. Roll polymer clay to between 1/8 and 1/4 inch thick and cut out the ghost with the cookie cutter. Easy. I also altered the Tim Holtz branch tree a little bit to make the bottom flat so it will stand up ok on the side of the book base.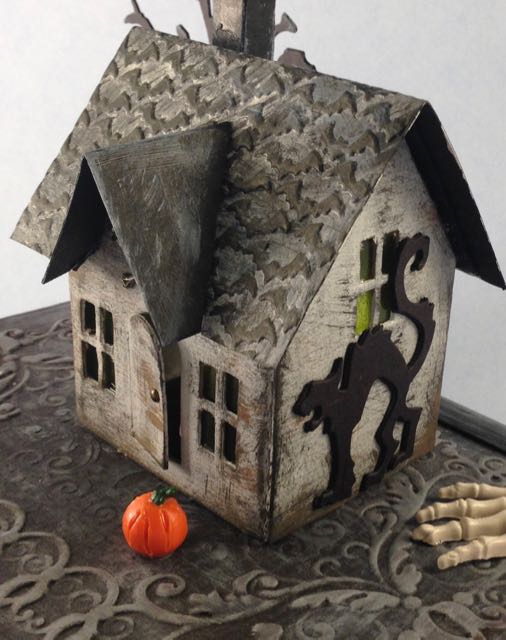 This view shows the green tinted windows and the Tim Holtz scary cat on the side.
I used a Tim Holtz Idea-ology skull and crossbones above the front door. The skeletal hand is from an old Martha Stewart mold. It makes a pretty creepy looking hand, don't you think?
Ok, so here is how I altered this house to make it a little more Halloween-like. The roof on the house die does not have any overhang at all. I adhered the roof that came with the die and overlaid it with a sheet of black card stock that had been embossed with the Tim Holtz "Batground" embossing folder. This piece of card stock overhangs the house by about 1/2 inch on each side. I think the overhang makes every house look a little more complete. I also extended the gable roof and didn't make the porch on the vintage dwelling. Those are the main alterations on structure of the house.
The book base is made from a Spellbinders European tapestry embossing folder that was distressed with picket fence distress paint. Basically I covered 2 pieces of cardboard for the front and back of the book and glued them to a stack of smaller pieces of cardboard which were covered with a tea-stained paper to look like the side of pages. The spine of the book is cardboard covered as well.
Subscribe to get the Paper Glitter Glue Newsletter
Subscribe to get my latest newsletter by email. Also get access to the Paper Glitter Glue library. I will send you a newsletter every one to two weeks.