It's that time of year again - the 2022 Miniature Christmas House Contest. Congratulations to everyone who entered the contest and for sharing your incredible creations with us.
The results are in for the 2022 Miniature Christmas House Contest
The People's Choice Grand Prize Award - No. 22 Joan's Winter Wonderland
First Place - No. 55 Jackie's Ye Old Toy Shoppe
Second Place - 42. Iris' The Tipsy Elf Tavern and Lodge
Third Place - No. 7 Manfred's Pear St. No. 10 Getting Ready for the Holiday
Whimsical Award - No. 18 Elizabeth's The 26th House
Innovative Award - No. 4 Lu's "RV There Yet"
Kids Awards - No. 35 Lex's Christmas Wonderland Surprise and No. 50 Annalise's Elves Winter Cottage
Since we only had 2 entries from kids, I am sending both of them a $25 Amazon Gift Card.
Please contact me at Lucy@paperglitterglue so I can order your Amazon gift card.
2022 Miniature Christmas House Contest Submissions
1. Elizabeth's 1962 Florida Christmas
Christmas Trees, Reindeer rides, hot chocolate and sweets! What more could one want?
2. Melanie's Cottage Love Christmas
So much to love! A present, beautiful walkway stones, holly border, Frosty and snowballs, just a delightful Christmas scene!
3. Maggie's Christmas Mansion
What a fine stone mansion to welcome in the holiday season! The trees, the snowman with the scarf, the lovely bow, who could want for more?
4. Lu's "RV There Yet?"
Just because a house is ornament-sized doesn't mean it can't capture the full spirit of Christmas! The snow is beautiful, the RV inspired and the little Santa welcomes to all!
5. Susan's Paper House Wreath
This submission features an entire village worth of houses magically perched on a Christmas wreath! What a wealth of colors and inspiration!
6. Gary's Diner by Becky
If you are away from home during the holiday, and you need a meal, wouldn't Gary's Diner and some warm food be a welcoming refuge!
7. Manfred's Pear St. No. 10 Getting Ready for the Holiday
Ready for the holiday, indeed! What a festive Christmas scene, with magical detail and even a trolley!
8. Paulette's Christmas House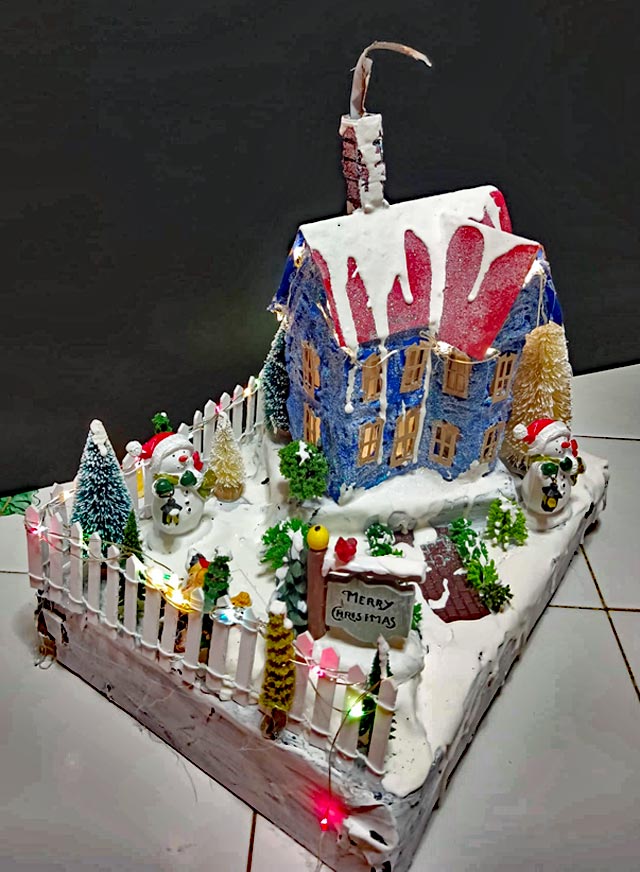 Here is a Christmas scene of holiday delight! The fence surrounds snowmen, Christmas greetings and such a lovely house with the beautiful colors!
9. Miriam's Mid-Century Winter Wonderland
Wreaths, snow, a fawn and colorful Christmas trees! Such a lovely scene!
10. Judy's Tinsel Town Shopping
This scene is like the town square in a Dicken's Christmas novel! So pretty! And look at the tree in the center! How is that for a spectrum of magical holiday color!
11. Bev's Lilliputian Books
Speaking for myself, my first stop for Christmas shopping is always a bookstore, and this one is the most inviting I can imagine! The glitter, the trees, the lamp, the snowman, it all draws me in. Best hide my wallet!
12. Amy's Days Gone By
This Christmas vision has it all, trees, reindeer, skaters ... it is a Wonderland, indeed! Season's Greetings!
13. Maggie's Little Church in the Pines
This is a seriously beautiful Christmas Church. The snow, the trees, the tower, the bell, the bow, the Snow! Who wouldn't want to celebrate the season in such a place!
14. Pam's Country Church
Pam's Country Church has such beautiful woodwork! It looks distressed, but it makes a wonderful centerpiece to a snowy scene with its wreath bow above the door and the attached tower.
15. Santa's-Special-Cup from Melanie
he little houses in this little cup village from Melanie are special, indeed! The colors are vibrant, the trees and snow beautiful, and the holly and poinsettia decoration, below, are magical!
16. Joan's Candy Cottage
Joan's Candy Cottage highlights candy canes as handrails to the entrance and two more in the beautiful decoration above the door! The scene has a lovely Christmas tree and Santa to complete the submission!
17. Lu's North Pole Hot Cocoa Shoppe
Lu's North Pole Hot Cocoa Shoppe has the most delicious-looking roof I have ever seen! And does the bread-carrying chef, outside, look like he came directly from a Muppets broadcast?!
18. Elizabeth's The 26th House
Don't tell ME that a surfin' Santa can't be great! Look at those swim trunks! Merry Christmas, Flip Flop Zone Santa! We're glad you are taking it easier on the 26th.
19. Debi's The Christmas Story
I think the idea of placing a Christmas house in a Christmas music book is an inspired idea! And what a lovely little house, with a beautiful bow and wreath to go with the snow and tower.
20. Nancy Ann's Evergreen Church
Before these contests, I had no idea how well the color blue could go with Christmas-themed creations. But it sets off Nancy Ann's Evergreen Church quite perfectly, with its delightful trees and manger scene.
21. Mary's Gingerbread House
I don't know which I like best about Mary's Gingerbread House, the delightful garland on the handrail or the bows! The windows look just great, and I would have to taste this one to see if it was chocolate or gingerbread! (I take Mary's word.)
22. Joan's A Winter Wonderland at Christmas
There are so many things to love about Joan's Wonderland, but what draws me in most powerfully is the simple sense of community this landscape provides. Homes house us, but the spirit comes from the people, and the people here are fantastic, particularly with the great colors and the horse-drawn sleigh.
23. Mary's Kindergarten Schoolhouse
Just because kids get a vacation at Christmas doesn't mean that knowledge isn't waiting in our learning establishments. I can hear the bell ringing now, to resume! Past the tree and through the snow! Merry Christmas!
24. Judy's Snowy Village
More than any other year, this year's submissions have shown some really beautiful village submissions. All of the structures in this village are beautiful, the trees are exquisite, and the snow magnificent! What a wonderful scene!
25. Pam's Gingerbread Lane Cottage
Also this year we have seen more micro-scenes. Pam's Gingerbread Lane Cottage is a magical submission, with the candy roof, the candy canes in front of the door, the glorious trees and the gingerbread man, himself to the right. Wow.
26. Mary's Chocolate Christmas Mansion
Snow and lovely, decorative designs for Christmas! Mary's Chocolate Christmas Mansion is so stylish! Plus, chocolate! Can't miss!
27. Nancy Ann's Town Hall
There is so much to like about Nancy Ann's Town Hall! The bows and wreaths fit so well with the remarkable abode! The snow and gold ornamentation complement each other so well, and I really love the clock! Time for Christmas, indeed!
28. Margaret's Golden Christmas
How wonderful is it when deer come to celebrate the holiday with you in a snowy, golden scene! The trees set off the chapel, with Frosty providing the fun!
29. Shannon's Peppamint Frost Candle Shoppe
Shannon's Candle Shoppe has a convincing peppamint theme, indeed! What a festive picture! One of the coolest things is the white Christmas tree on the left! Just beautiful!
30. Cheryl's Ghosts of Christmas Past
Cheryl's Ghosts of Christmas Past has just a spectacular ice rink surrounding the lovely red, brightly lit cottage. The green skates above the entrance are a nice touch! I worry for the skater holding up his partner, however! We'll hope she didn't overindulge on the turkey!
31. Joe's Home for the Holidays
Joe's cute stone cabin fits so well in this Christmas offering, with happy Christmas trees all around, young carolers regaling us in front, a happy snowman crew back on the left, and skaters enjoying a small rink on the right. It's all about the people and the seasonal joy.
And did I mention the great stonework?
32. Michael's A Snow Opening at the Mug Coffee Shop
In a land of chain coffee establishments, The Mug Coffee Shop stands apart, oozing character and tradition, human warmth and welcome. What I wouldn't give for a ginger latte at this cozy little place!
33. Mariella's Christmas in a Book
All my life I have looked to books for surprise and wonder. But what about when the surprise in the book is artistic and creative, and not from the original offering, as in this beautiful Christmas in a book from Mariella? Mounted on Italian classics to boot!
34. Joyce's Christmas Globe with Putz-House-&-Snowman-Hat
In the three years of these Christmas contests, I have never seen more imaginative settings. Look at the magical glitter on the house, the pickup and the poinsettia-mount top hat in Joyce's creation!
35. Lex's Christmas Wonderland Surprise (age 13)
If this beautiful scene is what we have to look forward to from younger creators, I say bring it! What a beautiful submission, Lex! Well done! You have a talent for this! Don't stop! You must be proud, Sonja!
36. Mariella's Christmas Church in-a-book
Once again Mariella created magic with this awesome chapel in a book, this time atop craft books that Mariella clearly mastered! From our hearts to yours.
37. Ann's Christmas Eve in the Conservatory
I have seen beautiful conservatories, but never one decorated so finely for Christmas! The trees, the mangers, the Santa sleigh, the details, and a snowman and a snowdog?! Wow.
38. Joyce's Christmas Village in the Valley
Joyce's village scene is a beautiful one, with gorgeous houses above the stone wall and the church and skating rink below … I particularly love the stylized Christmas tree and the snowman with the warm scarf!
39. Terry's Gingerbread House on Candy-Cane Lane
If anyone wonders how much candy cane goodness one can put into a Christmas house submission, wonder no more! Just cast your eyes on Terry's colorful creation!
40. Nora's Blue Gingerbread House
I don't think anyone has mixed incredible color and glitter any better than Nora has, with this blue gingerbread house! The detail and effects are terrific.
41. Mikki's How Sweet it is House
It is easy to mission wonderful the snow is in Nikki's tasty submission. Rudolph is beautiful, standing in front of Santa, the sleigh is lovely and I think I spy a nutcracker by the curlicued tree in back!
42. Iris's The Tipsy Elf Tavern and Lodge
I have said before how well I think blue fits in the Christmas landscapes, here, Iris's green colors work equally well! A tavern, a lodge, and signs to Santa's workshop and the Elf Village off-site! I want some cocoa!
43. Mariella's Christmas Village
Mariella's Christmas Village features some of the most beautiful village houses I have ever seen, with a gazebo and trees. The lighting works perfectly! What a warm place!
44. Susan's God Bless America
Patriotism and Christmas! What lovely little chapel!
45. Michael's Mobile Auto Repair by Melody
Turtles carry their residences, people do the same! Merry Mobile Christmas!
46. Charlie Brown's Tree Lot by Lisa
It's a picnic basket Christmas wonderland! Probably the friendliest snowman this season! Just a lovely 25th!
47. Susan's Ready for Christmas
The family that celebrates Christmas together stays together! Outdoorsy joy in this family, for sure, with exceptional Christmas accents!
48. Terry's Christmas with the Jeffersons at Monticello
A Jeffersonian Christmas! How delightful! Lovely Christmas plantation. Monticelebration!
49. Melanie's Home 4 the Holidays
Such a wonderful gravity effect with the Christmas tree atop the residentiall trailer! These colors are just great in this festive scene.
50. Annalise's Elves Winter Cottage- age 11
Children have such talent! Annalise's Elves Cottage is so beautiful, with such a cool snowman! The elves and the tree are darling!
51. Nancy's A Colonial Christmas
Nancy shows how magnificent a well-decorated colonial mansion can show off Christmas! Look at the brilliant red bows! The garland and snow effects are terrific, and howdy, dear Santa!
52. Jennifer's Snow Angel House
Jennifer has given us one of the brightest, shiniest snow angels of the year! The sparkles in the house walls go perfectly with the white Christmas trees!
53. Jack Frost friend's Snips House (by Krickett)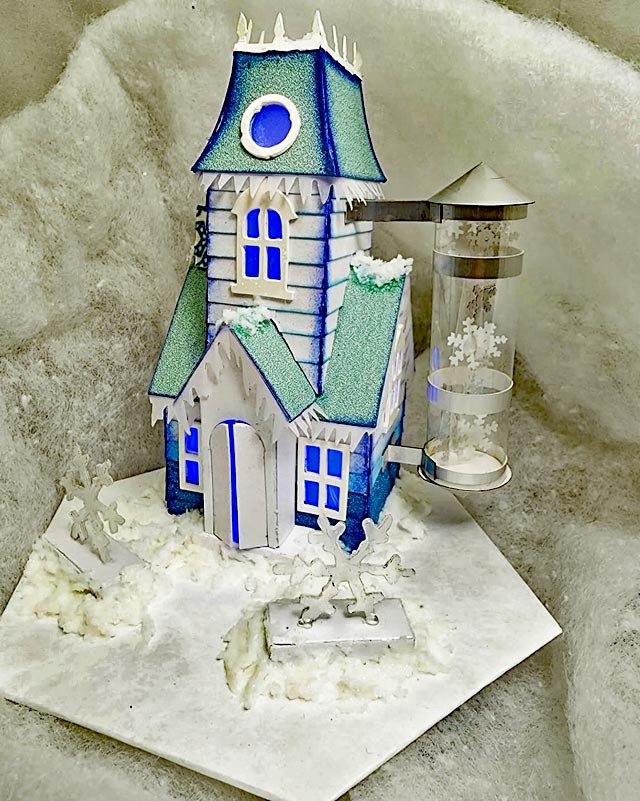 Jack Frost's house is just beautiful, with the snowflake sculptures out front and the see-through tower on the side. It's just full of snow decorations. The colors are really nice for this combination.
54. Winter's Dream by Nancy
My favorite things on this Winter's Dream cottage are the beautiful snowman, the trees and the exquisite winter pattern effects on the face of the house. Nicely done!
55. Jackie's Ye Old Toy Shoppe
Lovely Old World house with Nutcracker guards and a little gingerbread man on the lamppost! The brick is extraordinary, and the colors just work so well! Excellent submission!
56. Carol's Twas the Night Before Christmas
Carol's Night Before Christmas House shows Santa already on site with his lovely sleigh parked on the roof! The trees and poinsettias and garland and fence make this a complete and beautiful Christmas scene, indeed!
57. Margaret's Gingerbread Time
Margaret's Gingerbread Time is s lovely house on a box, with a gingerbread man Christmas tree and gum drops lining what appear to be chocolate steps! Merry Christmas!
58. Margaret's Christmas Town
Margaret's Christmas Town features three lovely and very different houses decorated for the season. Wonderful trees, happy Frosty and just general wintry goodness!
The rules are listed below.
All the entries are in now.
And thank you for entering. Fun is the purpose of the contest, and I sincerely hope that is your experience!
For inspiration, check out the 2021 Christmas house entries.
And if you are new to making little houses (also known as Putz houses) here is a good article to start with.
Prize List for the 2022 Christmas House Contest
People's Choice Grand Prize award - $125 Amazon gift card
First Place - $100 Amazon gift card
Second Place - $75 Amazon gift card
Third Place - $50 Amazon gift card
Whimsical* - $50 Amazon gift card (to a submission that characterizes the whimsical side of the holiday)
Innovative* - $50 Amazon gift card (for the submission with the most novel innovation. That can be part of a house or structure, or it can be an embellishment, or anything else super creative you can think of)
Kid's awards - $25 Amazon gift card
*The Whimsical and Innovation awards go to submissions that did not win in the top placings category, to expand the winning possibilities.
I reserve the right to expand prize categories and awards.
Rules for the 2022 Christmas House Contest
1. Have Fun
Have fun, really. The entire purpose of this is to have create and enjoy the process.
2. Name Your Design!
It's much better for those viewing your creation if it has a name. Some of the names of the Halloween submissions in October were actually very creative, which can enhance your submission.
Please also write a sentence or two about your creative process, your inspiration and the like. Many people requested this change because they want to learn from you.
3. Three Ways to Enter the 2022 Miniature Christmas House Contest Starting November 27.
There are three ways to submit your entry to this contest:
1) Post your house in the Paper Glitter Glue Facebook Group with the tag #2022MiniChristmasHouse. Please join this group so you can post your entry here. It's the best way to enter.
2) Follow me on Instagram and post your 2022 Christmas house with the tag @LucyF7b. Be sure to give the name of your creation.
3). Email me a photo. The address is [email protected]. Please include the title 2022 Mini Christmas House in your email title so I can find the photo easily and include it in the contest. Remember to name your entry and tell us a little bit about it.
4. Permission to Post Your Photo on My Blog and Social Media
In submitting your creations, you give me permission to post a picture or pictures of your project on my blog and social media just like I did for the Halloween house contest this year.
I love to share your projects because they are all so incredible. As we post the submissions for folks to see, our usual practice is to use only first names, unless your surname is included in the house name.
5. Size Limitations for the 2022 Miniature Christmas House Contest
Size limitations - I made the size requirements slightly bigger than I did at first to allow for steeples and taller houses and more landscaping.
The base can be no larger than 8 inches deep x 12 inches wide. House height no taller than 10 inches tall, house width no wider than 10 inches, house depth no deeper than 7 inches.
That's really a large miniature house. However, I like to make mine smaller - easier to store and display.
6. Use any pattern you like
For your entries, you can use your own pattern, my patterns, Tim Holtz houses, or even purchased patterns.
7. The house must be made of cardboard or card stock
Your house must be paper-based - made out of cardboard or card stock. No wooden houses. But you can use other materials for the base and embellishments.
8. Creativity and Originality are Emphasized
Creativity and originality are important and will be emphasized in judging. Hint: Let the fun shine through!
Also creativity in naming your house helps to make it more special.
9. You may enter up to 3 houses, but they all must be constructed in 2022
Up to three submissions, all of houses created in this calendar year.
10. Deadline for the 2022 Miniature Christmas House Contest - December 17th
We start accepting entries on November 27th.
Deadline for photo entries is December 17th and the winners will be announced on December 23rd. Generally we expect the entries by midnight on the 17th, but it can be midnight Pacific standard time.
11. How to Vote for the People's Choice Award for this year's contest
This year you are going to choose the overall winner by voting for your favorite house. You have one vote when you post a comment at the end of this post. And you have another vote on my YouTube channel where we will post a video of all the entries on December 19th.
GET THE KIDS INVOLVED MAKING A MINIATURE CHRISTMAS HOUSE!
We care a great deal that the Christmas season is a family season. We would love to see house submissions from your children. Please allow their creativity to flow. The names of the children's submissions will be placed in a hat and drawn randomly. Those submissions aren't - and should not be - competitive. They should have fun with no other concerns!
So that is the Mini Christmas House Contest for this year. Whatever you so, enjoy it! Enjoy the process of making your house or houses. That's what it is all about.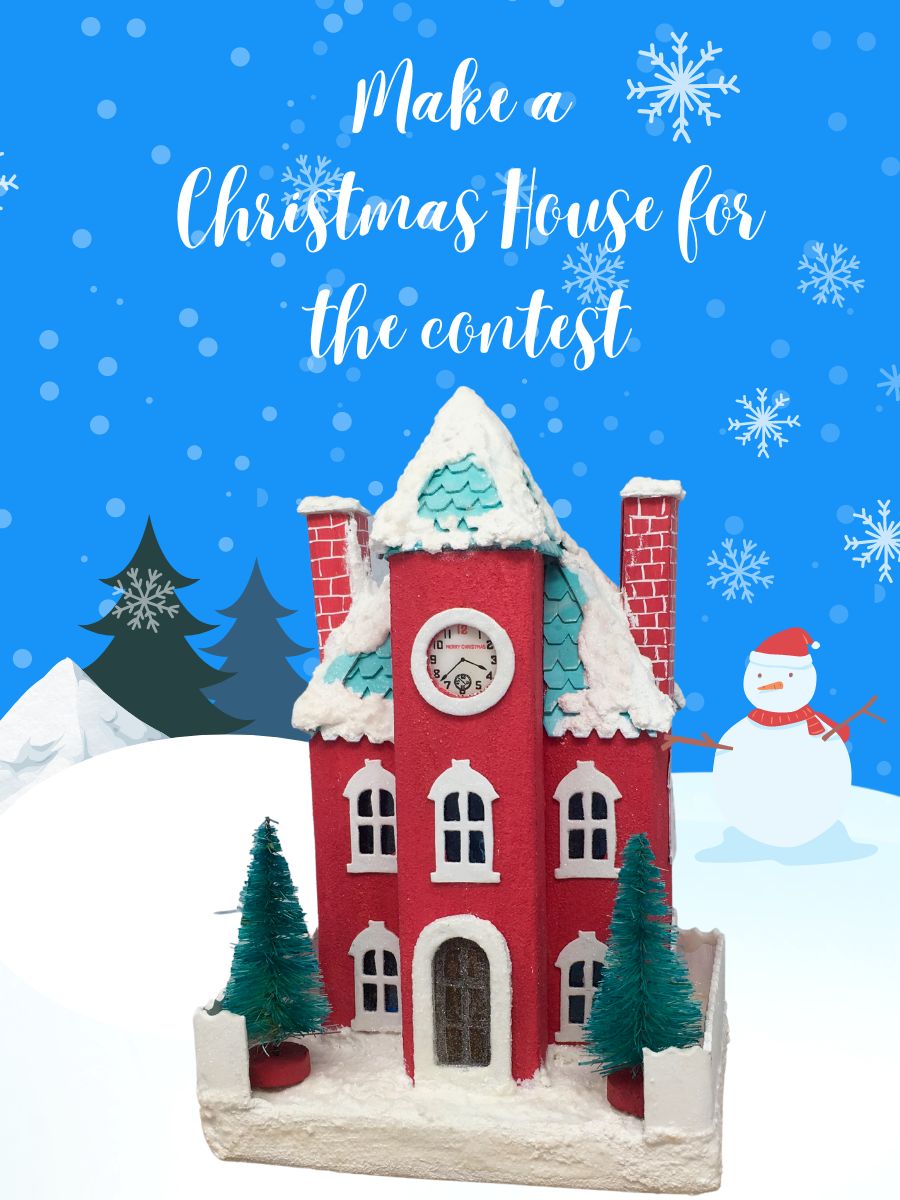 If you have any questions, please email me at [email protected].
Lucy