Welcome to this year's Christmas House contest!
This lovely house by Joan (Joan's Winter Wonderland) was chosen by group members as the winning house for the 2022 Miniature Christmas House Contest. Isn't that delightful?
Sign up below to get all the news about the contest along with free projects.
Get your free Christmas Village House Now!
Subscribe to get my newsletter by email with access to the pattern in the library. Once you subscribe, I will send you a newsletter every one to two weeks with details about my new patterns and tips and printables.
And here is a short video featuring all of the houses in last year's Christmas House contest.
ENTRIES FOR THE 2023 HALLOWEEN HOUSE CONTEST (CONTEST RULES BELOW THE ENTRIES.)
1 Manfred's Magical Christmas House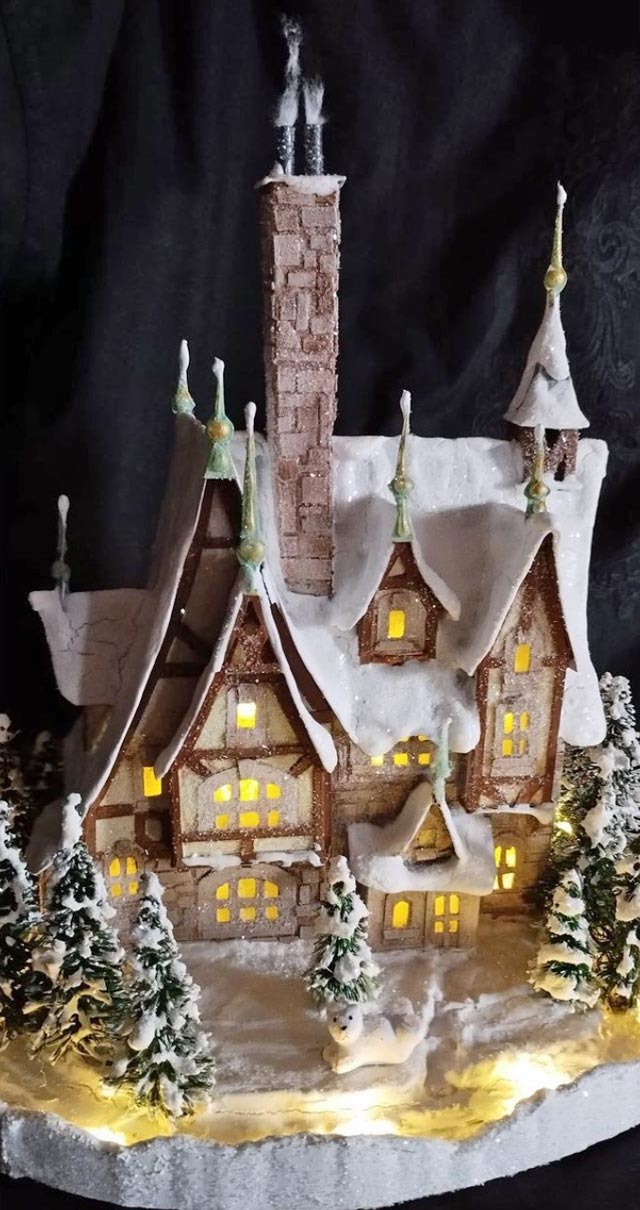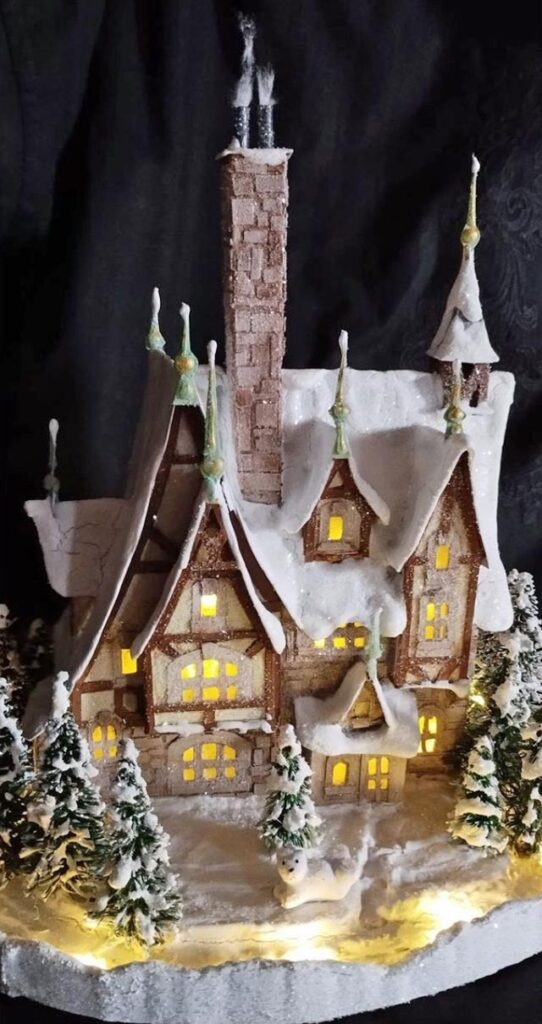 If you look in the dictionary under 'style,' you may well find a picture of Manfred's wonderful house! The colors, the structure of the house itself, the snow effects, just a great Christmas scene! Who wouldn't want to party here?
2 Lu's Gnome for the Holidays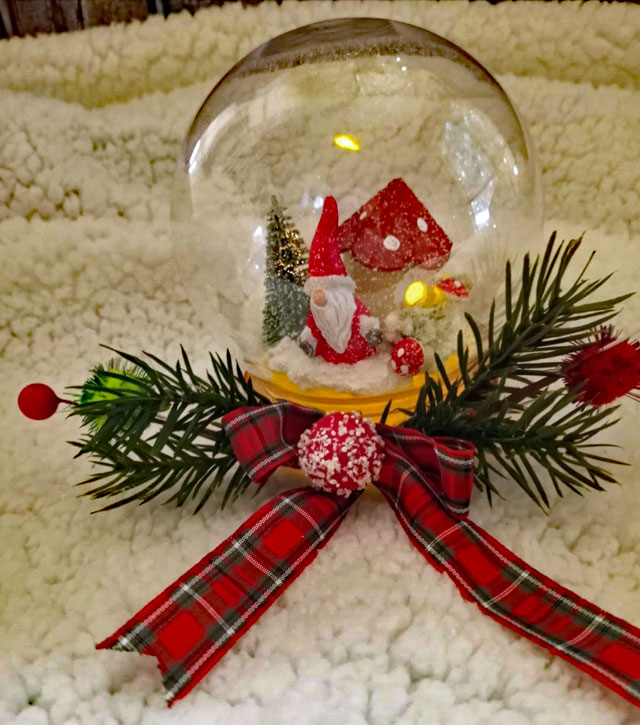 Every Christmas season, some of the most delightful submissions are miniature Christmas houses in ornaments. Lu's is one of the finest examples you will see. Great work!
3 Alda's Christmas Antique Shop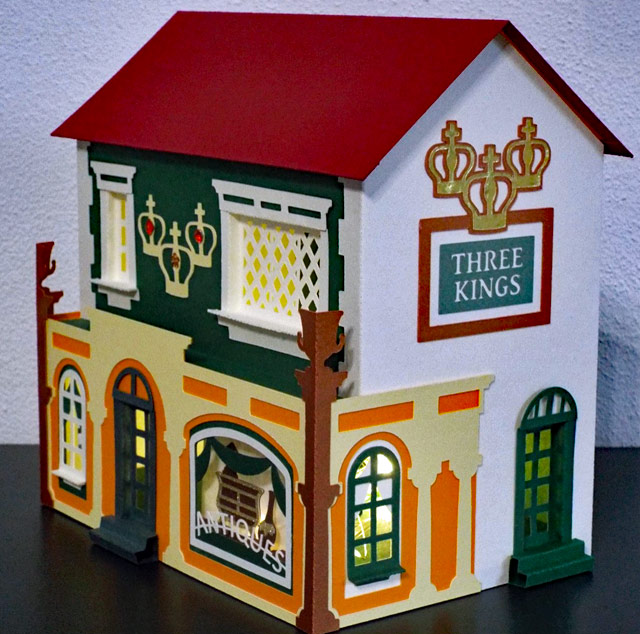 Alda's Three Kings Antique Shop is a feast of seasonal color. The house is a beautiful one, with great doors on the front and side. These colors typify what is so magical about Christmas.
4 Julia Ann's Sparkly Christmas House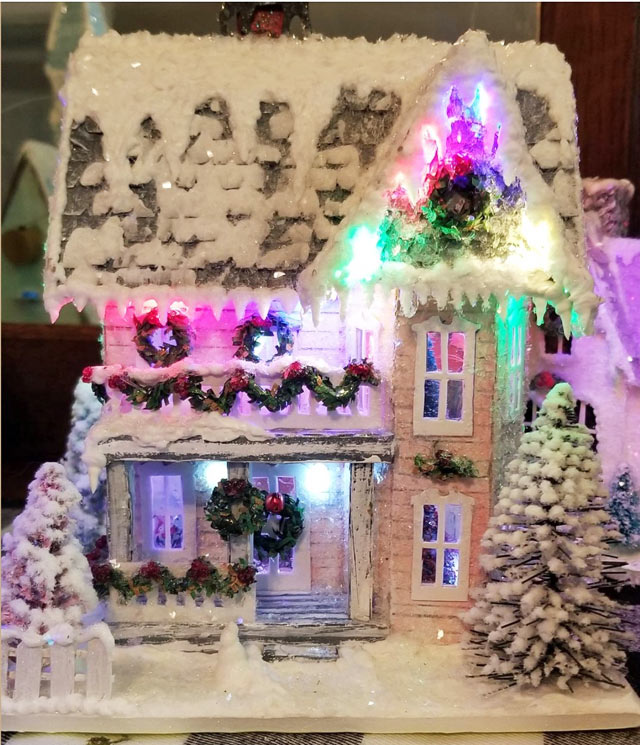 We often see great snow effects in Christmas-themed houses, but no one does better at it that Julia Ann has done with this house. The garland, the wreaths, the trees, the colors ... so festive and pretty!
5 Adrienne's If it Snowed in Palm Springs House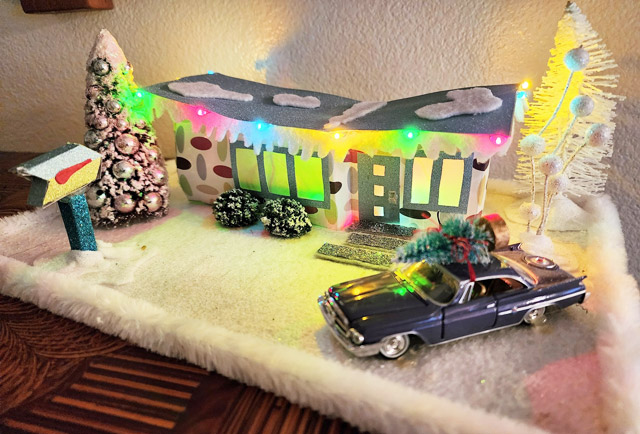 Who would have thought that a Palm Springs snow scene could work so well? As Adrienne so clearly shows, Christmas is Christmas, everywhere.
6 Lu's German Mini Chalet in Marzipan Suitcase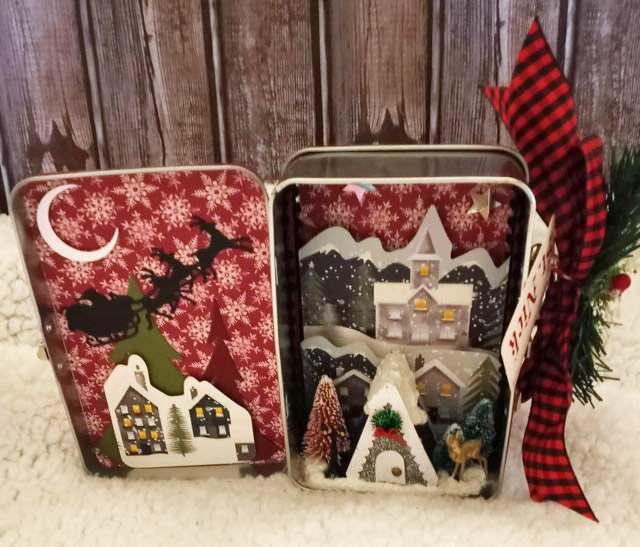 I just love this little house in the marzipan suitcase! Lu did a terrific job with it, and look at Santa and his sleigh beneath the sliver of moon! Please no one eat the marzipan before the contest ends.
7 Manfred's Thatched English Cottage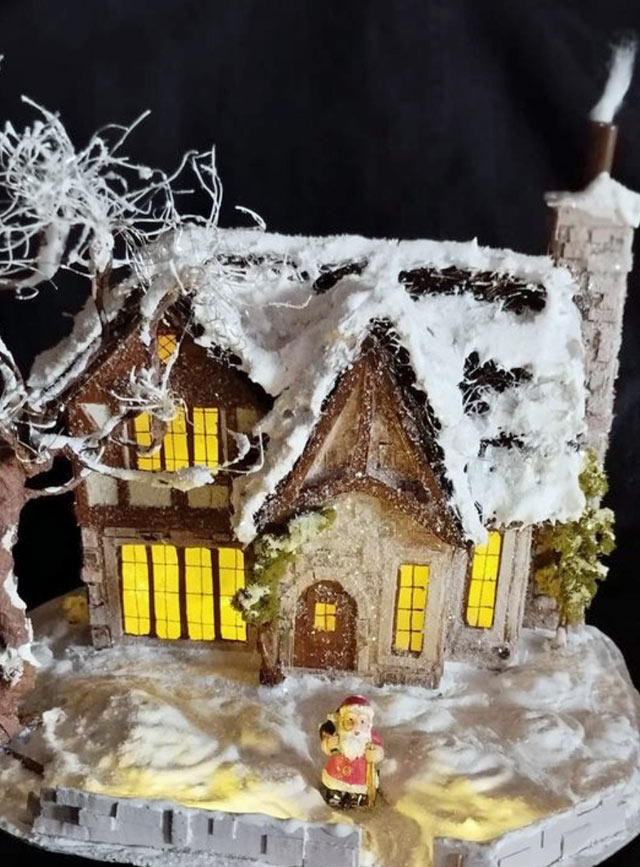 Howdy, Santa in the snow! In Manfred's house, you couldn't have picked a more delightful backdrop for your selfies!
8 Adrienne's If I were Mrs Don Draper House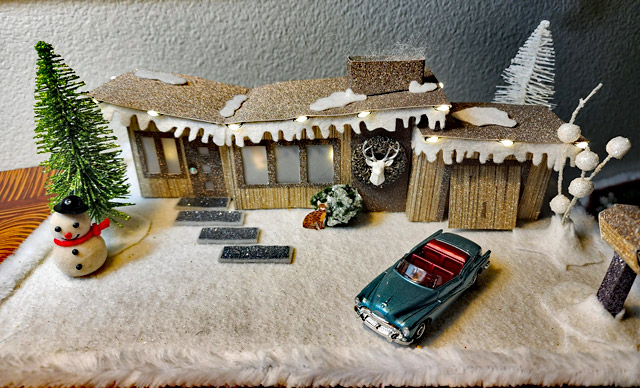 Adrienne's Christmas scene includes a cat, a car and a snowman! The trees really add to the ensemble, as does the deer antlers mounted in the middle.
9 Debi's Sweet Little Country Church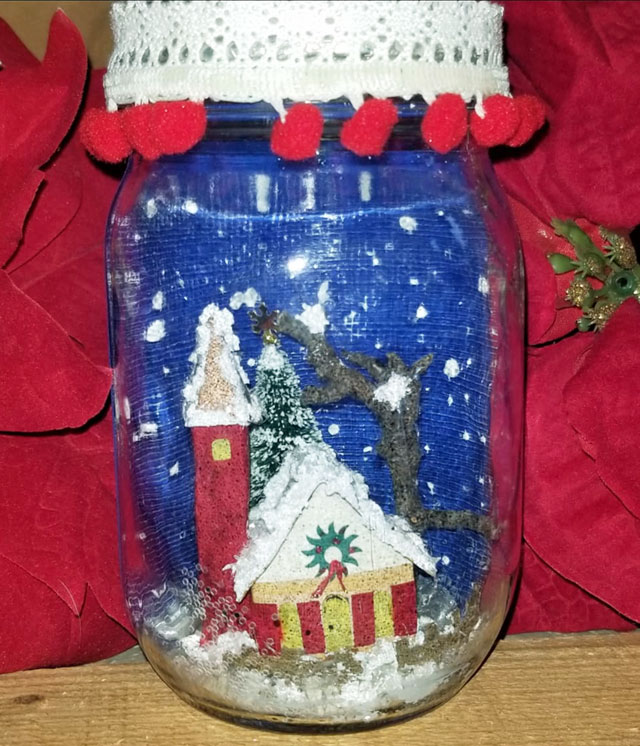 Such a beautiful little church under glass! It's a great way to highlight the spirit of the season.
10 Judy's Twinkly Lane Christmas House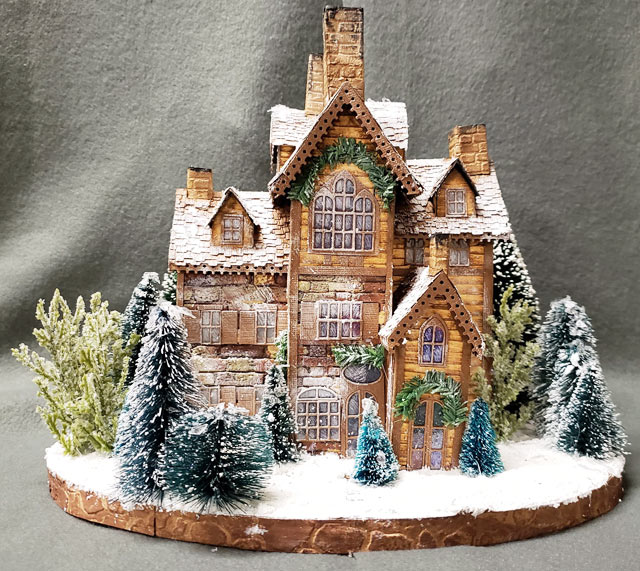 There's a special place in my heart for beautiful wooden houses (even if they are cardboard). This one has has spectacular trees, garland and snow effects to boot. So pretty!
11 Mary's Putztown Christmas Village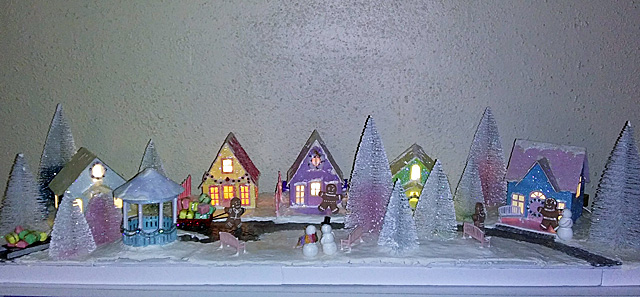 One of the best things about village scenes is their focus on the social nature of the holiday. This lovely little village has that in spades, with awesome glitter effects.
12 Lu's Peace on Earth Micro Mini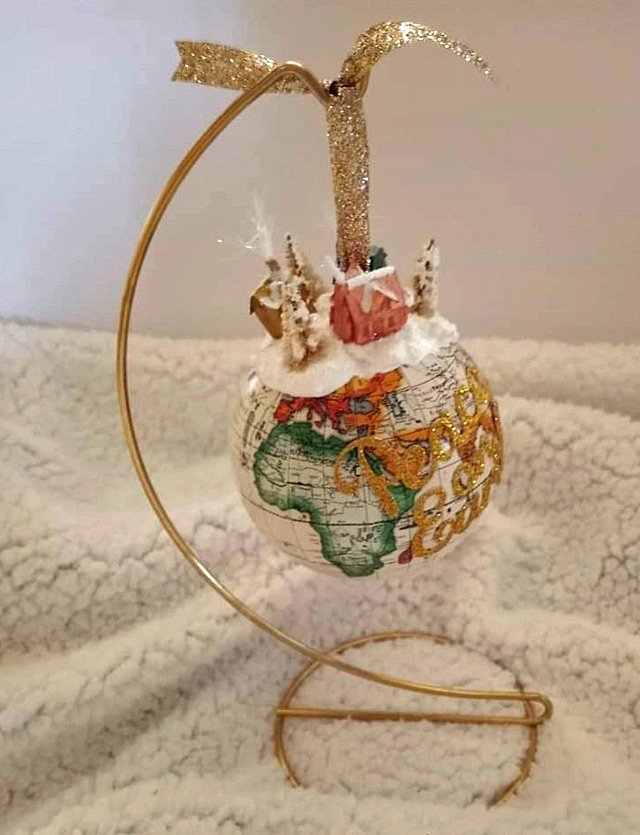 In one of the most imaginative settings yet, Lu's Peace on Earth displays a pretty little house atop a suspended globe. Magnificent!
13 Adrienne's Meowy Catmas House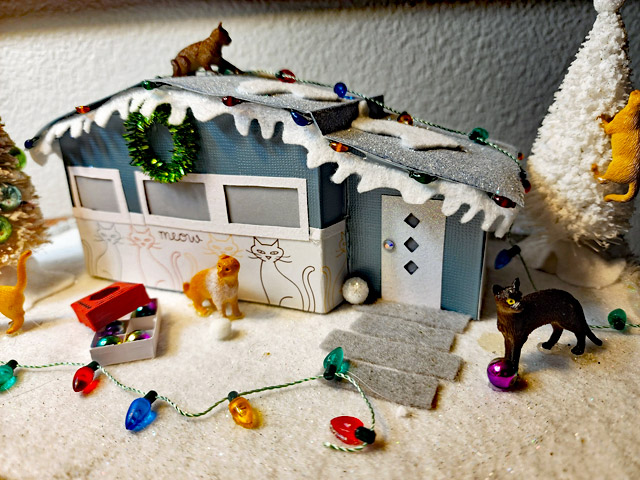 We saw some playful themes in earlier contests, but they have nothing on Adrienne's Meowy Catmas House! Cats can clearly have great Christmas fun along with the rest of us! Love the cats.
14 Sheera's Beautiful Christmas Church
Contest introduction and rules. Enjoy! Fun is what it's about!
The first day of the contest is December 1. The contest closes at midnight on December 17. Prize awards will be announced by noon on December 22. We don't anticipate changing the date, but, with Christmas, it's hard to guarantee.
And thanks in advance for entering. This is going to be FUN!
PRIZE LIST FOR THE 2023 MINIATURE CHRISTMAS HOUSE CONTEST:
First place - $100 Amazon gift card
Second place - $75 Amazon gift card
Third place - $50 Amazon gift card
People's Choice award - $25 Amazon gift card
Whimsical award - $25, to a submission that characterizes the playful nature of Christmas
Innovation award - $25, for the submission with the most novel innovation. That can be part of a house or structure, or it can be an embellishment, or anything else super creative you can think of.
Kid's award (16 and under) - $25 Amazon gift card
(The Whimsical and Innovation awards will go to submissions that did not win in the top placings category, to expand the winning possibilities.)
I reserve the right to expand prize categories and awards. (For the Halloween Contest in October, I added the following: Funniest House, Best Name, Best Street Scene, Creative Concepts, Corniest Entries ... expect a few special awards similar to these - not the same ones, but something that stands out to me and the judges.)
Subscribe to keep up with all the paper crafting news here on Paper Glitter Glue.
RULES FOR THE 2023 MINIATURE CHRISTMAS HOUSE CONTEST
1. HAVE FUN
Have fun. Really, the entire purpose of this is to have fun and to share the fun. Simply make a house that expresses a Christmas theme or atmosphere and enjoy the process.
2. Name Your Design
First NAME YOUR DESIGN! This helps the judges (and contest visitors) remember each design. It also adds to the design.
It's much better for those viewing your creation if it has a name. Some of the names of the previous submissions are incredibly creative. Naming your design enhances your submission, and is an avenue of creative expression in its own right.
Please write a sentence or two about your creative process as well, your inspiration and the like. Many people request this because they want to learn from you.
3. THREE WAYS TO ENTER THE 2023 MINIATURE CHRISTMAS HOUSE CONTEST
a) Post your house in the Paper Glitter Glue Facebook group with the tag #2023MiniChristmasHouse. Please join this Facebook group so you can enter here. It's the best way to enter. (This is safest to insure your submission is captured without issue.)
b) Follow me on Instagram and post your 2023 Christmas house tag me @lucyf7b on Instagram.
c) Email me a photo on or after December 1st. The address is [email protected]. Please include the title 2023 Mini Christmas House in your email title so I can find the photo easily and include it as an official submission.
A note about submissions. It often happens that folks share their houses prior to the beginning of the contest. That is fine, just please remember to either re-post it once the contest opens, or send me an email with a link to the submission.
4. PERMISSION TO POST YOUR HOUSE PHOTO ON MY BLOG AND SOCIAL MEDIA
In submitting your creations, you are giving me permission to post a picture or pictures of your project on my website and social media just like I did for the Christmas house contest last year. I love to share your projects because they are all so incredible. This allows all site visitors and guests to see your creations. Our usual convention is to post only first names with the house names.
5. SIZE LIMITATION FOR THE 2023 MINIATURE CHRISTMAS HOUSE CONTEST
Here are the size limitations:
Base - no limitation on the base so you can landscape as much as you want, but the size of the house does have limitations
House height - no taller than 10 inches tall
House width - no wider than 10 inches
Depth of the House - no deeper than 8 inches
Villages or small groups of houses are welcome as long as each house is no bigger than the measurements listed above.
6. USE ANY PATTERN YOU LIKE
For your entries, you can use your own pattern, my patterns, Jackie's patterns from A Cottage in the Forest, Tim Holtz houses, or even a purchased pattern.
Subscribe with the form below to get my newsletter and the password for all the free patterns in the PaperGlitterGlue library.
Get your free Christmas Village House Now!
Subscribe to get my newsletter by email with access to the pattern in the library. Once you subscribe, I will send you a newsletter every one to two weeks with details about my new patterns and tips and printables.
7. THE HOUSE MUST BE MADE OF CARDBOARD or CARD STOCK
Your house needs to be paper-based - made out of cardboard or card stock. No wooden houses. But you can use other materials for the base, landscape, and embellishments.
8. CREATIVITY AND ORIGINALITY ARE EMPHASIZED
Creativity and originality are important and will be emphasized in judging. Hint: Let the fun shine through!
Also creativity in naming your house helps to make it more special. Please tell us a little bit about your house - how you made it, what inspired it, etc. We all love to read about the creative inspiration behind your projects.
9. YOU MAY ENTER UP TO 3 HOUSES, BUT THE HOUSES MUST BE UNIQUE AND CONSTRUCTED IN 2023
Up to three submissions, all of houses created in this calendar year.
10. HOW TO VOTE FOR THE PEOPLE'S CHOICE AWARD FOR THIS YEAR'S CONTEST
You have one vote when you post a comment at the end of this post AFTER ALL THE ENTRIES ARE IN ON DECEMBER 17th. And you have another vote on my YouTube channel where we will post a video of all the entries on December rd. Subscribe to get notifications of when we post the contest video. Please note this is intended to be about fun and creativity, not competition. Vote for your choices, but please don't 'stuff the ballot box.'
GET THE KIDS INVOLVED MAKING A MINIATURE CHRISTMAS HOUSE!
The Christmas season is a family season. We would love to see house submissions from your children (ages 16 & under, and please note their age with the submission). Please allow their creativity to flow. The names of the children's submissions will be placed in a hat and drawn randomly. Those submissions aren't - and should not be - competitive. They should have fun with no other concerns!
Note: Winners in children's submissions will be by random drawing. No creative pressure!
So that is the Christmas House Contest for this year. Whatever you do, enjoy it! Enjoy making your houses and sharing them. That's what it is all about.
FOR INSPIRATION
If you would like to consult the past two Christmas contests for inspiration, those may be found here.