How do you make a paper house with a Cricut? Do you have a Cricut Maker or Cricut Explore Air? And do you want to make little glitter houses or putz houses? Well, having a cutting machine like a Cricut certainly makes it easier to make little houses out of cardboard or card stock. But sometimes using a cutting machine can be intimidating. I'm going to address some of these issues to make it easier for you to make little houses.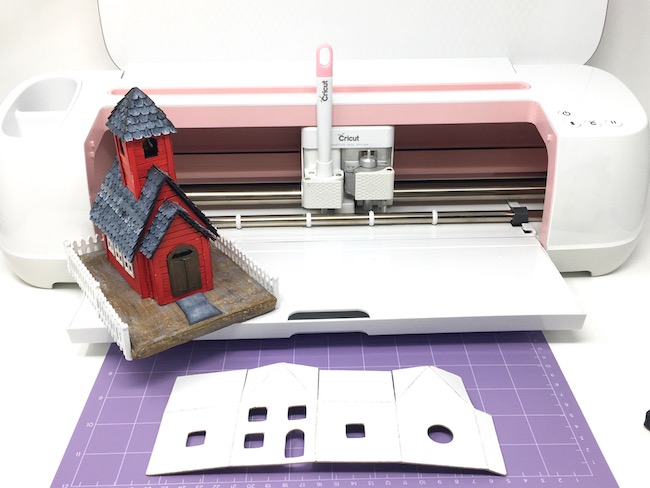 First, here are the topics we'll cover here:
Which Cricut machine do I need?
What additional tools are needed?
Do I need a computer? Or can I make it with my phone or tablet?
What kind of files do I need to make little houses? What are SVG files?
Where do I get SVG cut files to make little houses?
How to upload files to Cricut Design Space?
What do I have to do to make the files work properly?
What materials work with the Cricut?
How do I set the machine so it cuts deeply enough?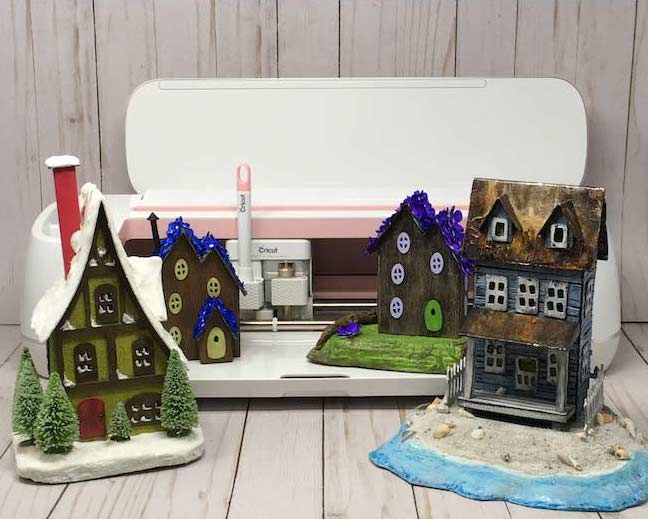 This post contains some affiliate links for your convenience. Click here to read my full disclosure policy.
What Cricut machine do I need to make little houses?
The truth is that you can easily make little houses with either the Cricut Maker and the Cricut Explore Air 2. The new Cricut Maker 3 and Cricut Explore Air 3 work great as well.

The Cricut Joy is much smaller and can't really make score lines so I don't think it is a good option for making little houses.

What you have to do to decide is what else are you are going to make with your Cricut. Here is my easy recommendation for deciding which Cricut you are going to buy:

If you are going to cut materials like fabric, thick chipboard, mat board, wood veneer (up to 3/32 inch thick), or engrave metal then you need the Cricut Maker because it cuts thicker materials.

If you just want to cut thin to medium cardboard, vinyl, paper, card stock, then the Cricut Explore Air works perfectly and it costs over $100 less.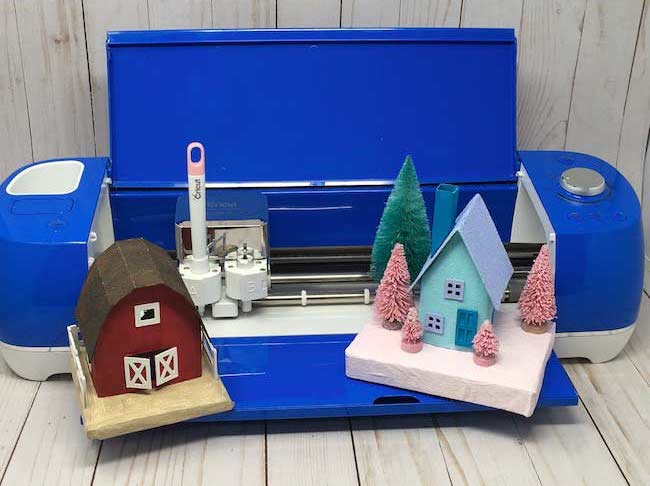 So what this really means is that you have to ask yourself what you want make or what different materials do you want to use.
What additional tools are needed?
Do I need a computer? Or can I make it with a phone or a tablet?
I connect the Cricut to my laptop computer, but you can download the Cricut Design Space App on your phone or tablet and make your project from there. If you are doing heavy work on the Cricut such as engraving, you do need to use a computer rather than a phone or a tablet. That's because it takes a long time to do detailed engraving and the phone or tablet would shut off before it could finish.
But if you are making something like a little house cut from cardboard, the answer is that you can use your phone or tablet to run your Cricut.
Be sure to download the free Cricut Design Space software from Cricut. Here are Cricut's instructions on how to do that.
What kind of files do I need to make little houses with a Cricut? What are SVG files?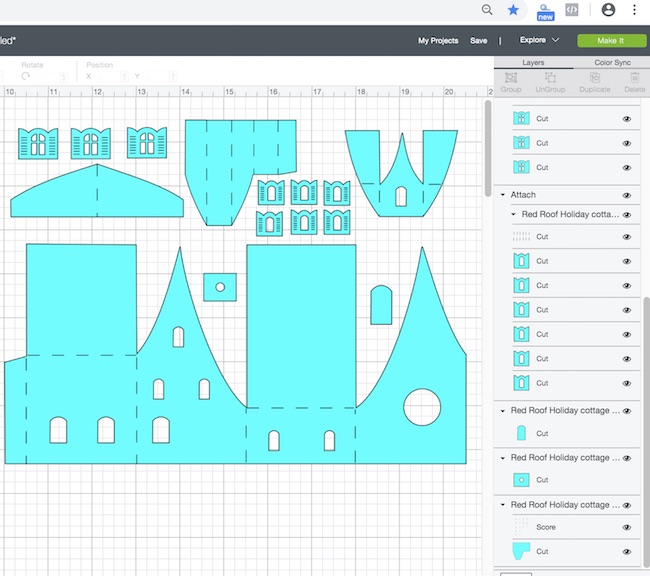 To make a 3D project like a glitter or putz house with your Cricut, you need SVG cut files. SVG stands for scalable vector graphics which means that the resolution of the files stays the same no matter what the size. In other words, it is scalable unlike a photo, for example, which loses resolution (and looks pixelated) when it is enlarged.
Here's another SVG pattern as an example. This is the Thanksgiving Putz house with all its pieces.
When you download an SVG file, it is usually in a zipped or compressed format. On a Mac computer simply click on the file and it will be unzipped. On a Windows computer, you have to extract the file.
Where do I get SVG cut files to make little houses?
There are lots of places to get SVG cut files. I have a number of them for free in the Paper Glitter Glue library.

For example, this is one of my favorites - the 2019 Habitat for Halloween House that I auctioned off for Habitat.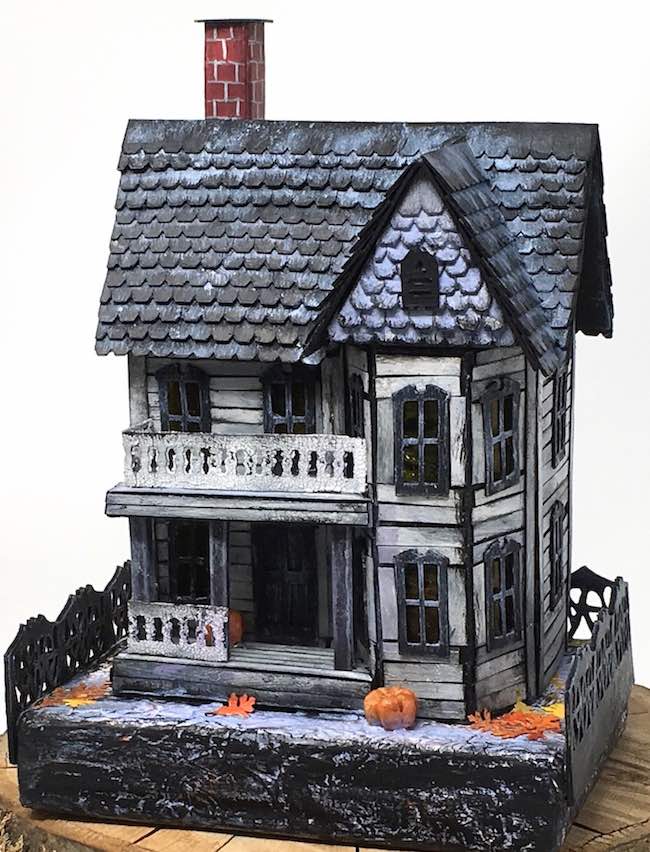 Two of my friends have websites where they have both free and paid versions of little houses - A Cottage in the Forest and The Covered Chipboard.

You can also buy SVG patterns online on Etsy.
How to upload files to Cricut Design Space?
First, download a pattern from the internet. Almost always these files are kept in a zipped folder. So in order to use them, you have unzip the folder. On a Mac, you simply click on the zipped folder and it will be unzipped automatically.

On a Windows-based machine, you have to extract the file. Here are instructions from Microsoft.
To unzip files on a Windows-based folder
Open File Explorer and find the zipped folder.
To unzip the entire folder, right-click to select Extract All, and then follow the instructions.
To unzip a single file or folder, double-click the zipped folder to open it. Then, drag or copy the item from the zipped folder to a new location.
Now that you have the file, it is time to upload it to Cricut's Design Space.
Open Cricut Design Space and click new project.
Now you have the blank canvas. Click browse.
Browse will bring up your folder or desktop. Select the SVG file that you want to make. Click Open.
That opens up the file within Cricut Design Space.
Click Save - the button on the lower right hand corner.
Now you have the file in the Recent Uploads.
Click the file you want to make. The SVG file that you chose has a highlighted border around it, when it is selected.
Click Insert Images.
That takes you to the Design Space Canvas with the file in place.
What do I have to do to make the files work properly?
For making 3D files, you have to make it clear to your Cricut machine what is a score line and what is a cut line. That can be a little tricky at times.

In my patterns, I always try to combine the score lines and make them red. Unfortunately they don't show up as red on the Design Space canvas. You only see the red color when you choose operation (it used to be linetype, now called operation which includes cut, draw, and score) in the upper right hand side of the canvas.

UPDATED: As of 2021, all of my new files have score lines already designated and attached. I am gradually going back and updating older files.
I wrote a blog post about selecting score lines and attaching them to the proper pattern pieces. That post has more details on making score lines. Remember that since 2021, my new SVG files have the score lines already attached for Cricut Design Space.
What materials work with the Cricut?
That is what is amazing about these cutting machines - you can cut so many materials with them EASILY.

Before I used a cutting machine, I would often go to sleep with my left hand (my cutting hand) propped up on a pillow at night because it hurt so bad.

In terms of making little houses, I use 30 pt medium weight chipboard as I mentioned above. But you can use so many different materials and the Cricut can likely cut whatever you choose for making your little house. The only exception is corrugated cardboard because it needs to be less than 3.0 mm to fit in the machine.
Tape cardboard to your cutting mat
I always tape my cardboard to the cutting mat helps to hold the machine cut properly. Use painter's tape.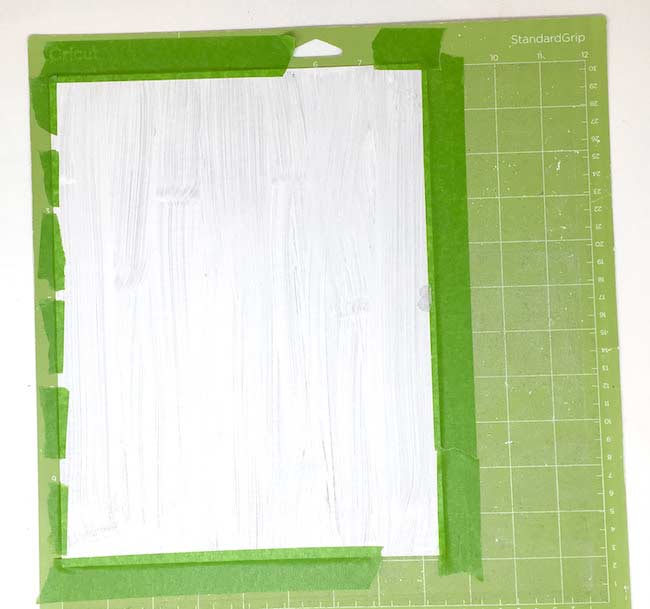 How do I set the machine so it cuts deeply enough?
Cricut really helps us with this part of making little houses. First, go to either Art Board or Paper choices in materials and pick what most closely fits your material.

Since I make my houses out of medium weight chipboard I choose "light chipboard - 0.55mm" because it best matches my materials. These are the choices I have as my favorites.
So this is an outline of how I cut out my houses with my Cricut.

In addition, I almost always run the mat through my Cricut twice to make sure that it cuts through completely. Also, if you run it through your Cricut twice the score lines are deeper.

I hope this helps you to use a Cricut when you make little houses. Please let me know if you have any questions.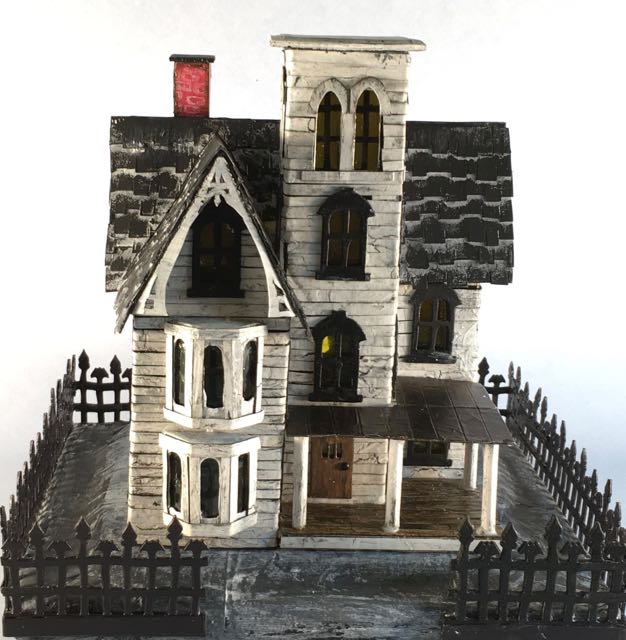 Thank you for stopping by.
Lucy