Just completed the 12 Day Craft-Along for this year. I hope you will join me in making some of these fun little crafts. Most of them are easy and quick so you can complete them in time for the holidays. Also all of them are paper crafts because paper in some form is my favorite medium. Plus everyone has access to paper or recycled cardboard and glue.
So for day one, I designed an Autumn Wreath made with paper leaves. To give a more realistic look to the paper leaves, I used spray stains on watercolor. I love this effect. But if you don't have spray stains, you could use colored cardstock or paper painted with diluted acrylic paint. See. What do you think of the leaves? All the patterns for a variety of leaves - mostly oak leaves - are available in the Paper Glitter Glue library. All of the files in this 12 Day Craft-Along Series are available as SVG cut files for a cutting machine like a Cricut and as printable PDF files.
For Day no. 2, I made a Tiny Church Ornament. After making a Tiny House a few days before the 12 Day Craft-Along series started, I decided a Tiny Church was definitely needed. There are two versions - small and tiny, but I love the tiny version the best.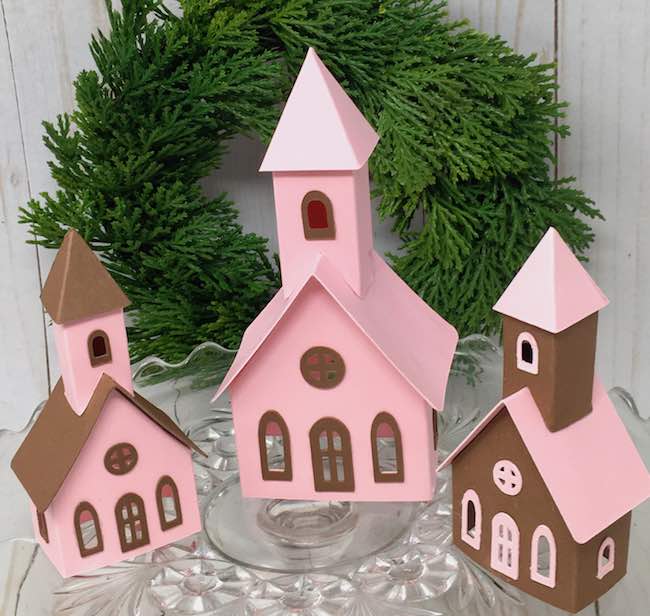 The church is just under 2 inches wide across the front, 1 inch deep and about 4 inches tall. Truly, it makes the cutest little ornament. And since it is made from cardstock, you can put it together in no time. Really.
Of course, I did embellish it in a way that takes a bit of time, but I just love how it looks. For one version of the Tiny Church Ornament, I cut it out in brown cardstock and decorated the surface with a white Uniball Signo pen. To me, it looks a bit like gingerbread. It is my favorite version of the tiny church. Kid's can color the church and decorate it with glitter as another option.
Day no. 3 is another variation on the tiny theme - the Tiny Paper Cottage Ornament. It is another very simple, very quick craft. And it works so well for the tiny village that you are creating.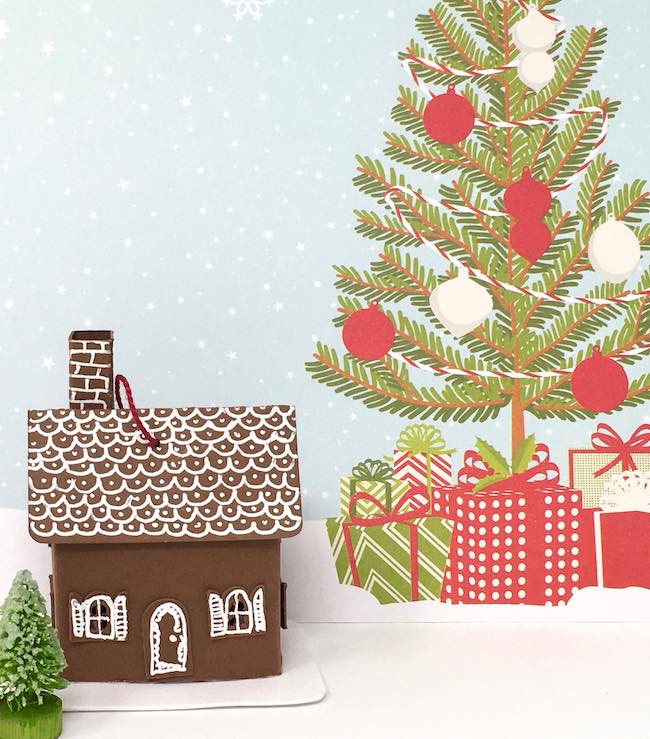 The free pattern in the Paper Glitter Glue library is available in two versions, small and tiny. Just like the tiny church, this one is a great project for kids to color and decorate. Another quick and easy crafting win.
After the Tiny Cottage, I thought, "What does a tiny village need?" A barn, yes, a Tiny Barn. I just love this little barn. What do you think? In the photo below, you see the small version and the tiny version. Once again, the tiny version is my favorite. So this craft is for Day No. 4 in the 12 Day Craft-Along.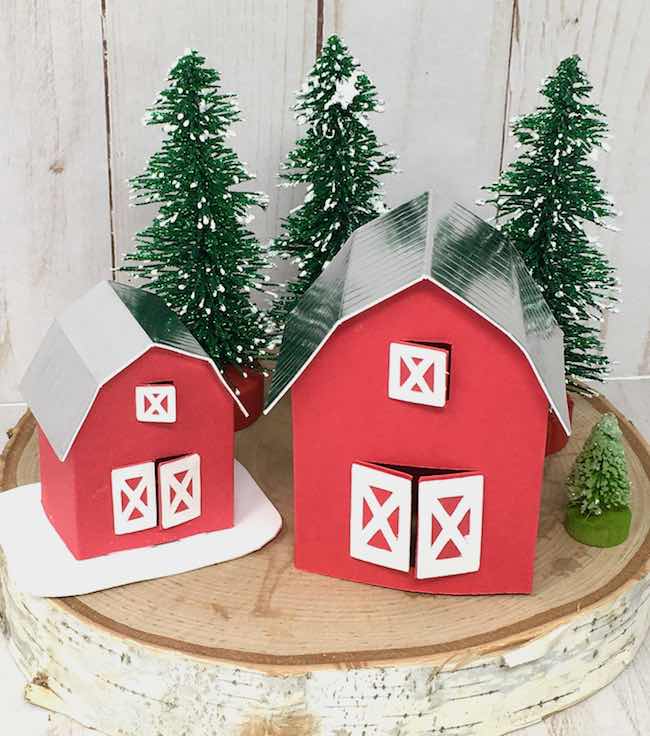 I even made a "gingerbread version" of the tiny barn which you will see on the Tiny House Garland in Day no. 6 of the 12 Day Craft-Along.
Even the gingerbread version is cute, right?
And that brings us to the Tiny Paper Swiss Chalet Ornament. I've made several little houses with a similar design to this because it appeals to me so much. But the tiny version just stands out.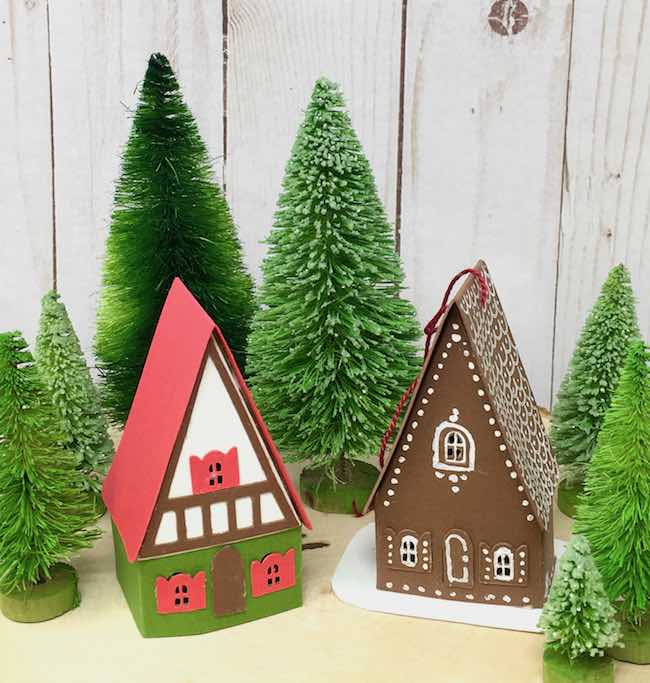 Now, you have all these cute little paper ornaments, what to do with them? How about a Tiny House Holiday Garland? What a great way to display your little houses! And they can be safe from little hands that might be a bit destructive with the paper houses. The little houses just look so cute hanging on a garland. Maybe even as an advent display if you make enough of them. Read all about making the garland in the craft tutorial.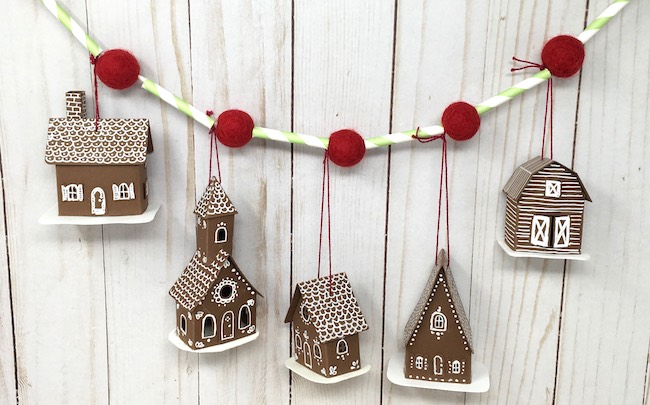 And what else can you do with the Little Cottage? Turn it into a pop-up card, of course. So I modified the pattern for the little cottage so you can make it into a pop-up card. In addition there is a snowman and trees you can use to decorate the card. That's no. 7 in the 12 Day Craft-Along.
This is what the inside of the card looks like. I added the bottlebrush trees for extra decor.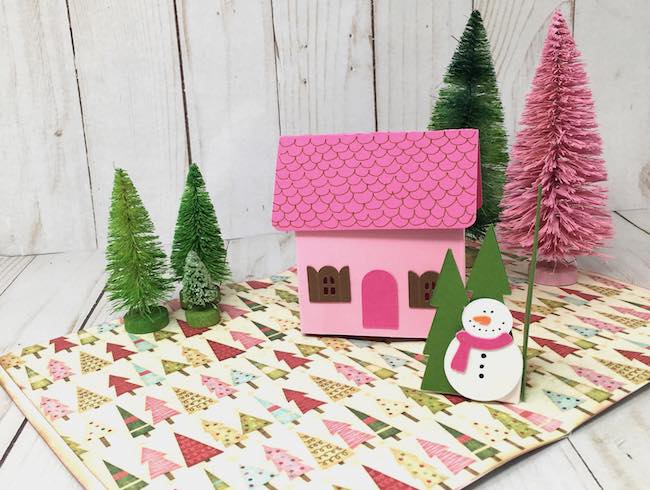 After I made the Autumn leaf wreath, I decided I needed a Christmas Holiday wreath for the 12 Day Craft-Along. And what would be better than one made with Holly and Ivy? So I traced some holly and ivy leaves from my yard and designed some paper versions. Those patterns are in the Paper Glitter Glue library as SVG cut files or as printable PDF files.
This is a fun variation on a little house - the Christmas Fairy House. The petals on the roof are made with crepe paper and the base of the house is a simple tube with window and door cutouts. And one detail I really like it the wire stem on the roof so you can pick up the top and put candy or a tiny gift inside. I think this is another fun option for a possible Advent calendar. So the Christmas Fairy House is number 9 in the 12 Day Craft-Along.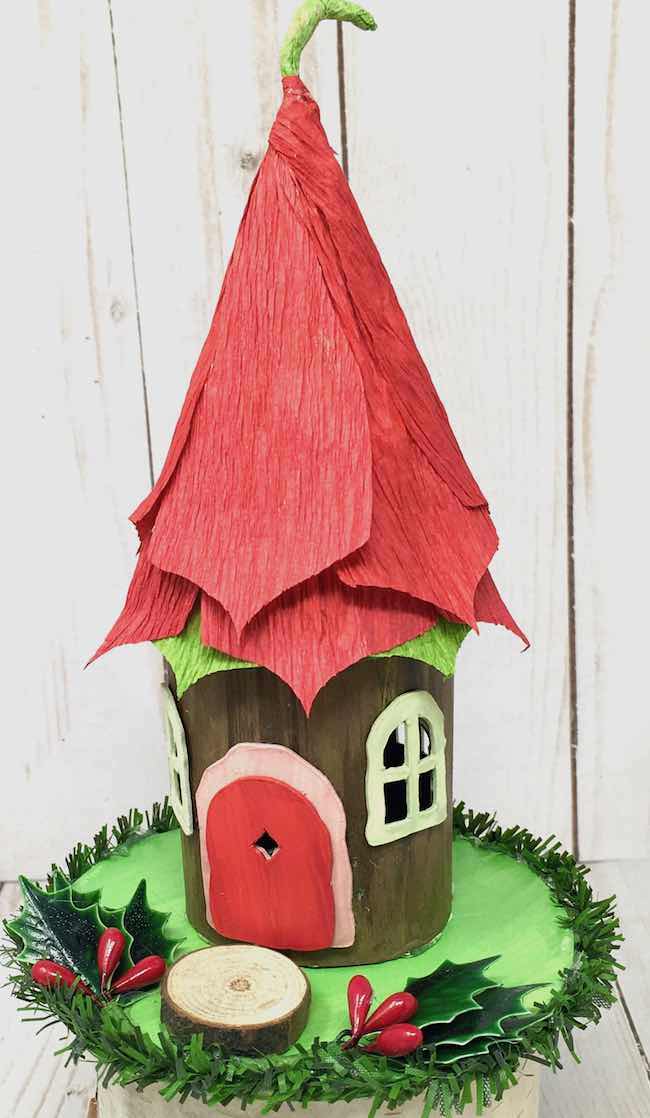 To tell you the truth, this is my favorite project in the 12 Day Craft-Along Series. It's the most traditional little cardboard house in line with Putz houses. But even after publishing the blog post several days ago, I am still debating about the color choice. That's no big deal though, because I can always make another one in a different color which is probably what I am going to do. Still I like this house very much. For one thing, I covered the entire roof with a thick layer of snow - it looks like frosting.
For something easy to do, you can make these little gift tags based on the Snowman I made for the Little Cottage Pop-Up card and the Scotty Dog Gift box I made last Christmas. This is another good craft for kids.
As my final gift in the 12 Day Craft-Along, I designed some gift tags based on the Tiny House series. For the included designs, I actually used the small version, but you can easily reduce the size by 80% to make them in the tiny size. I think the church is especially appealing. Once again, I used my white pen on dark brown cardstock for a gingerbread effect.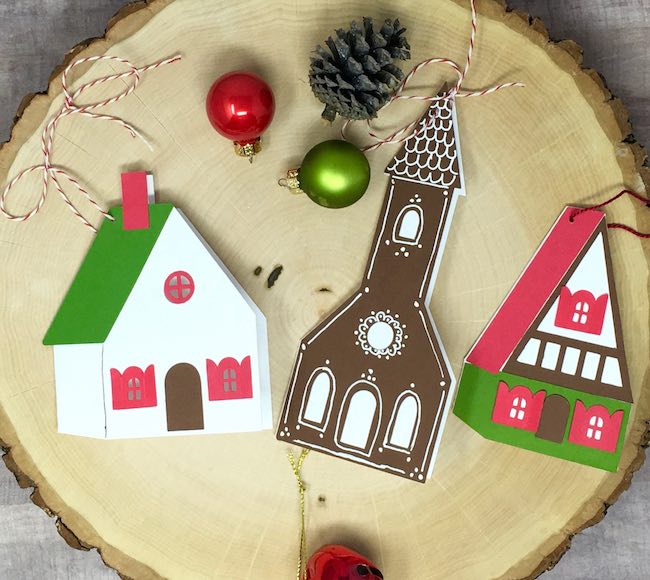 So that is it - all the crafts in the 12 Day Craft-Along. I'll be back doing the same thing next November and December. But in the meantime, I am always coming up with more and more ideas for you to make.
If you have any questions, please email me at [email protected] And thank you for reading. I hope you have fun crafting.
Lucy
P.S. Feel free to pin any of these images to your favorite Pinterest board.