Check out all the incredible entries and winners for the 2022 Easter House Contest. It's the first Easter House contest that we have hosted. Once again, we have been stunned by the creativity and imagination.
The rules are listed at the bottom of page.
And the Winners are:
1. Melanie's Chacas Cozy Cottage - no. 39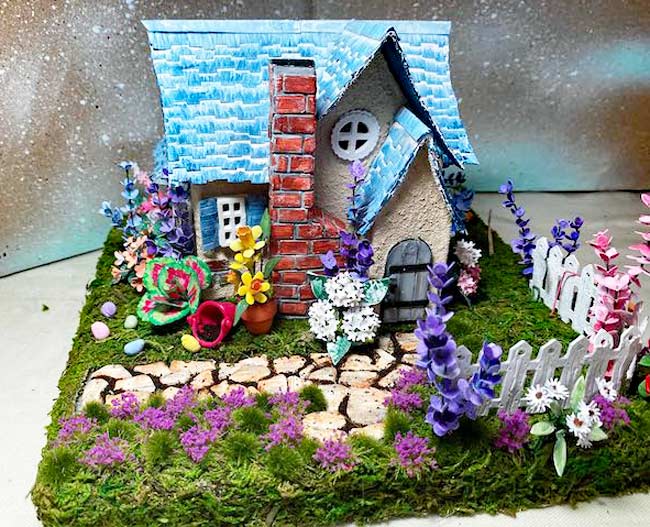 Melanie wrote that she made everything on this little house except for the red pail in the front. She described making it as a labor of love. I love it. And so did the judges. Melanie wins a $100 Amazon gift certificate.
2. Carol's Peep Family Portrait - no. 3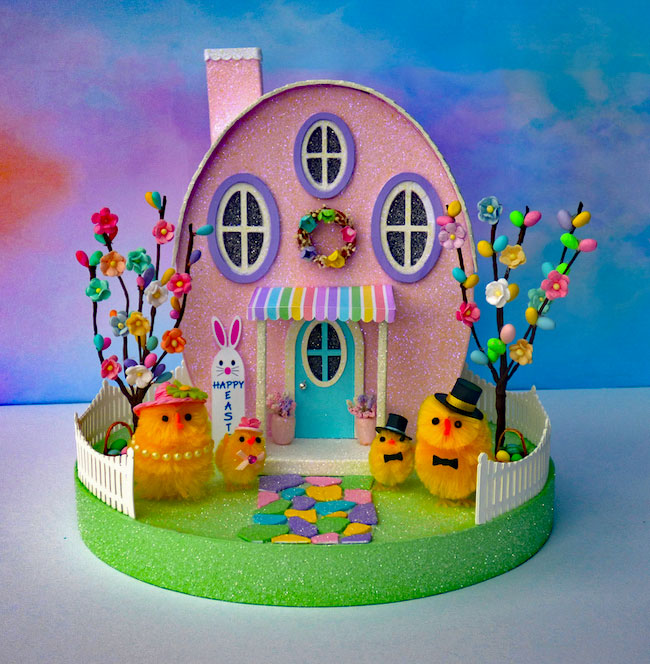 I just love this concept of the little Peeps family posing for a family portrait in front of their egg-shaped house. Carol wins a $75 Amazon gift certificate
3. Christina's Paskbyn Easter Village - no. 23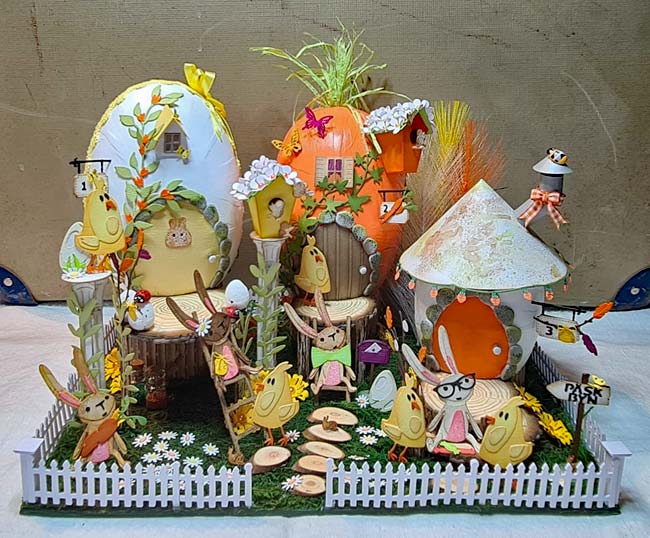 And the judges love this Easter village composed of egg-shaped house inhabited by chicks and bunnies. Christina wins a $50 Amazon gift certificate.
The Whimsical Award goes to no. 45 - FairyGirlkmk's The Speckled Egg Factory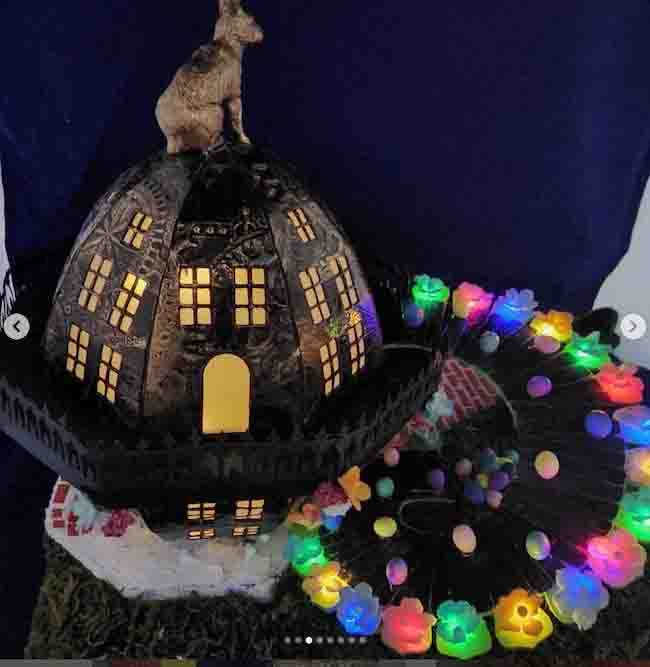 Because I only post one photo per house for the judges, I thought you might like to see this alternate view of the no. 45 Speckled Egg factory to see its unique spectacular features. FairyGirl wins a $50 Amazon gift certificate.
Honorable Mentions
Since so many entries stand out, I added 5 honorable mentions. Each one receives at $25 Amazon gift certificate.
No. 9 Vicki's Cottontail Cottage
No. 15. Nancy Ann's Cottontail Bungalow
No. 22 Joyce's Happy Easter from Gnome Village
No. 28 Judy's Easter Egg Hunt
No. 44 John's Mrs. Blubell's Rooming House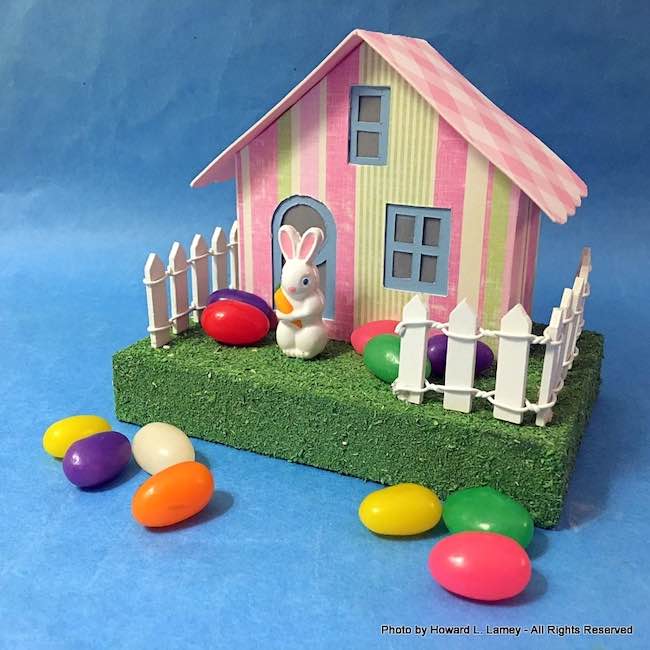 Prize List for the 2022 Easter House Contest:
First place - $100 Amazon gift card
Second place - $75 Amazon gift card
Third place - $50 Amazon gift card
Whimsical award - $50, to a submission that characterizes the whimsy of Easter
Here are this year's magnificent entries! Enjoy!
1. Linda's Easter Fun House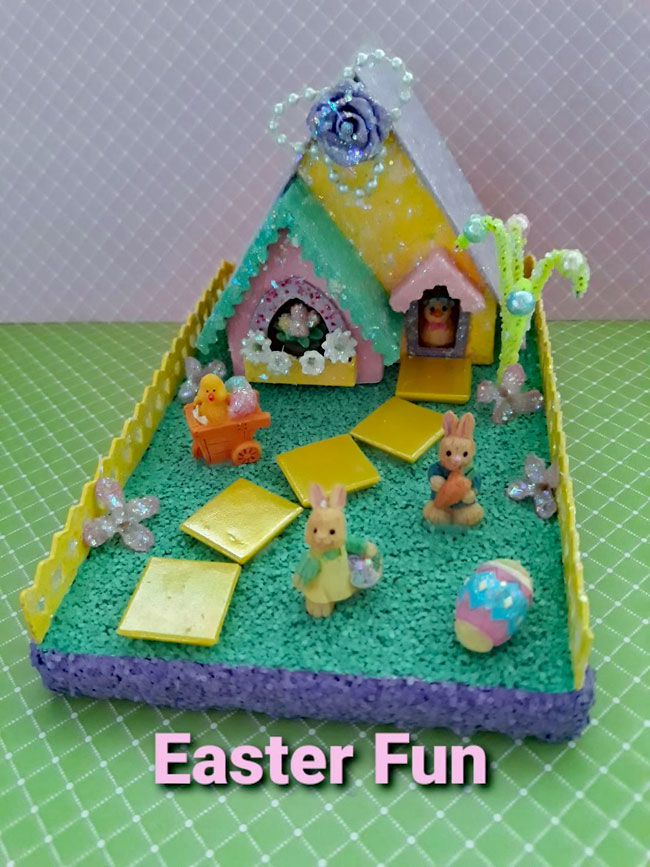 Oh dear! All the colors and little figures work so perfectly with this little Easter fun house.
Linda says that she has been making glitter houses for several years now. Interestingly, she draws her templates on graph paper and cuts them out by hand.
2. Ammie's Pink Paisley Easter House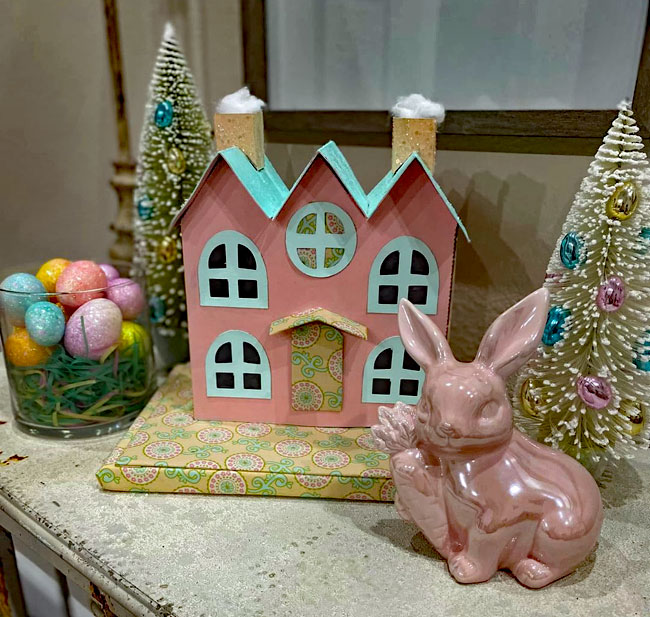 The matching patterned paper on the front door and the base contrast beautifully with the pink of the house and the bluish color for the roof and the window frames.
3. Carol's Peep Family Portrait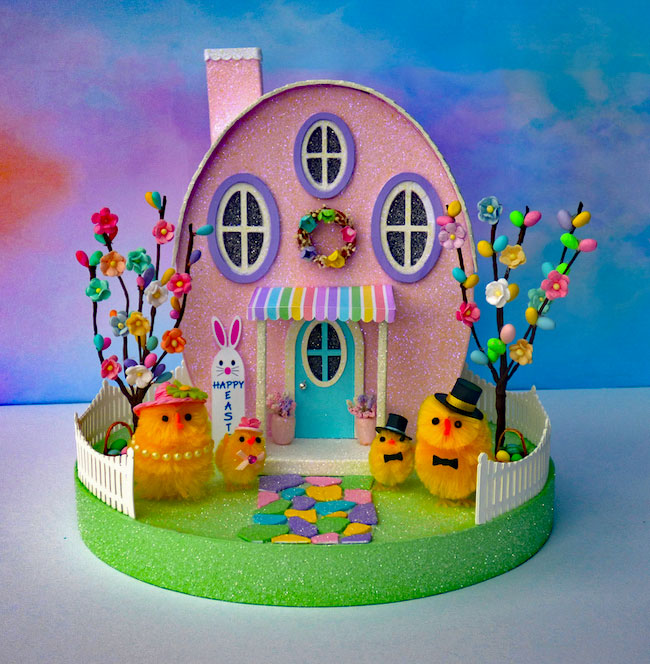 A few days before Easter, the Peep family are on their way to the Easter Parade, all dressed up in their finest apparel. Before they go to the parade they pose in front of their egg shaped house for their annual Easter family photo.
Carol made this house, walkway and fence out of heavy cardstock. It sits on a 9" circle base made out of cardboard and chipboard. Additionally, the house is her own design.
Honestly, Peeps dressed in their finish apparel just kills me. I love the concept.
4. Carol's 417 Spring Garden Lane House
Carol explains the story about this house:

It's a beautiful, sunny Easter Sunday morning on Spring Garden Lane. The spring flowers are in bloom and the house and yard are decorated for Easter. Everything is set up in the gazebo for the Easter Brunch, which will be followed by the annual egg hunt in the yard where the Easter Bunny has already started to hide the eggs.
Just as she did with the Peeps Family Portrait, Carol made this design. I am amazed at all the incredible details here.
5. Manfred's Tiny Easter Chapel for the Easter House Contest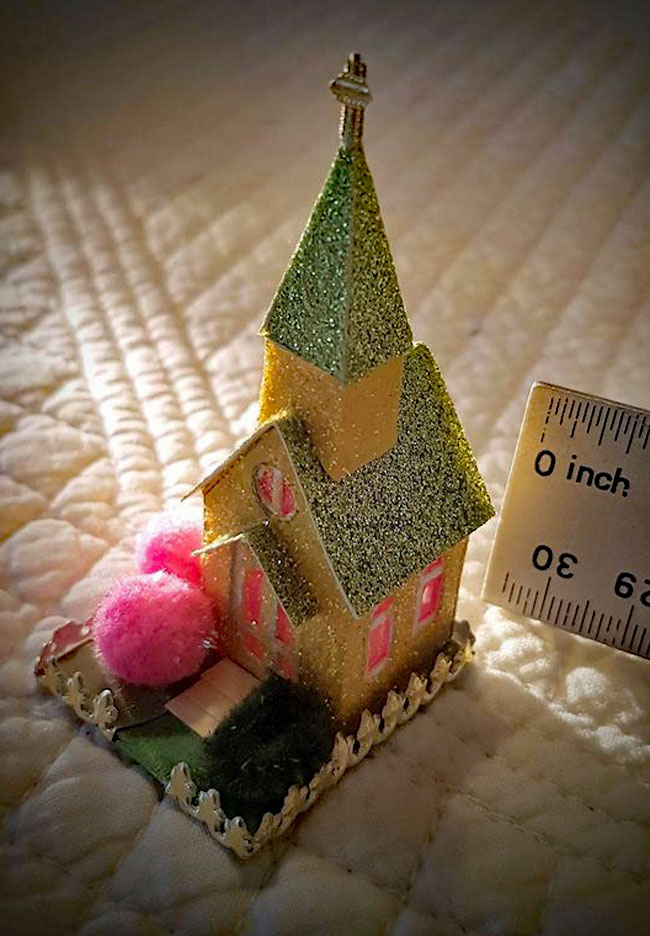 Whenever Manfred shares one of his incredible creations, prepare to be amazed. This tiny, tiny house amazes me with the precision and details.
6. Manfred's Dutch Easter Egg Mill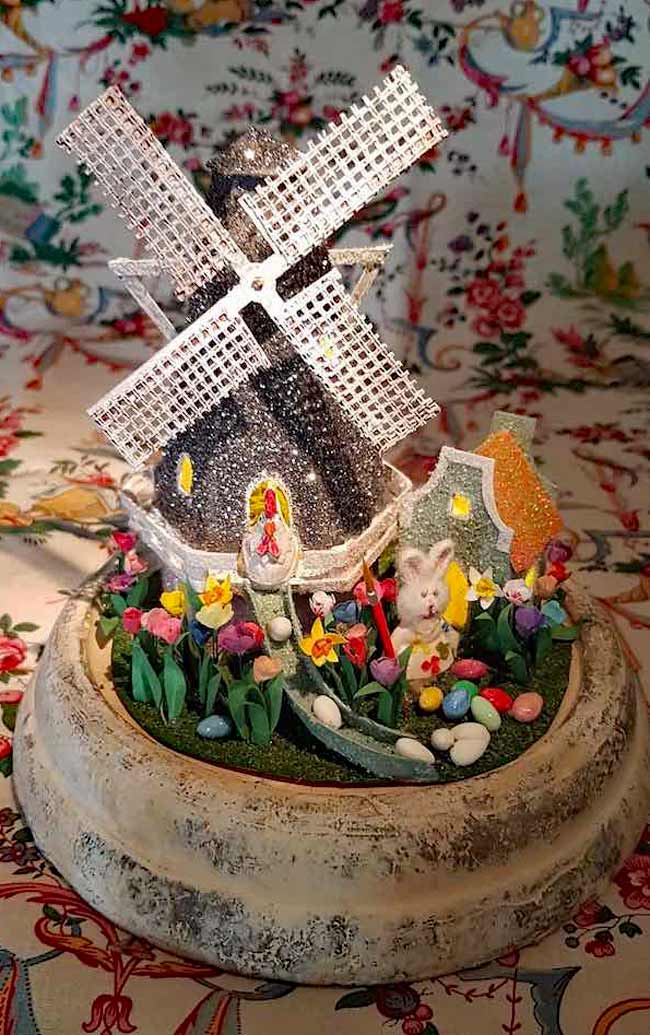 Often Manfred takes one design and modifies it to make it his own unique creation. For example, he used my Paper Windmill pattern and totally elevated it. And as a genius idea, he used stiff cross stitch fabric for the windmill blades. How perfect.
7. Manfred's Monsieur Lapins Belgium Chocolate Easter Egg Stand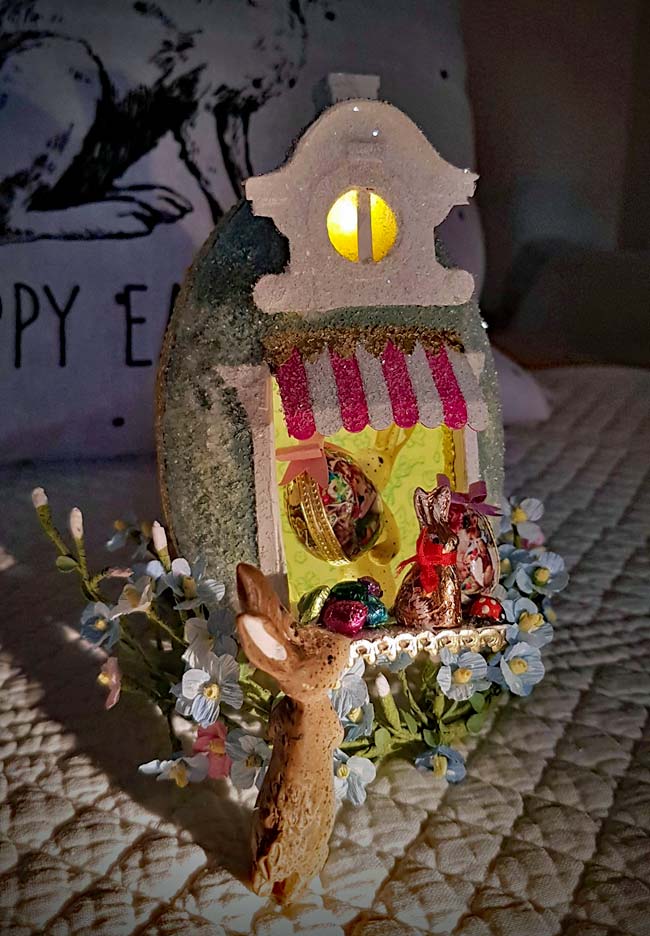 Oh my, I just love the paper mache egg with all the bunny details throughout. And then the title makes me want to find some really good Belgium chocolate.
8. Artyparrot's Spring Cottage Egg Hunt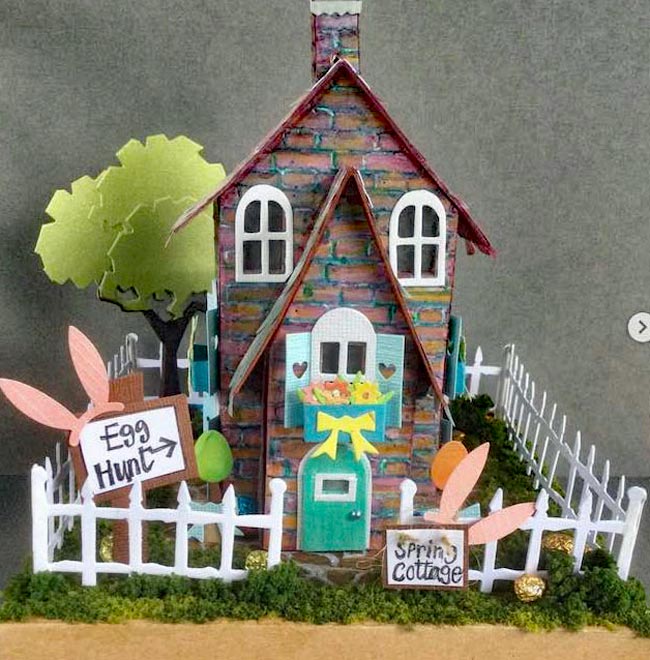 Spring Cottage hosts its annual egg hunt.
Katrina notes that she loves to make paper houses and has a growing Christmas village but this is her first Easter house. For the Spring Cottage she used the Tim Holtz tiny house die for the base and then windows and door from his other houses as well as the tree from his trees dies. Finally, the bricks and cobbles are his new 3d embossing dies, embossed and then painted.
What a great place to search for eggs!
9. Vicki's Cottontail Cottage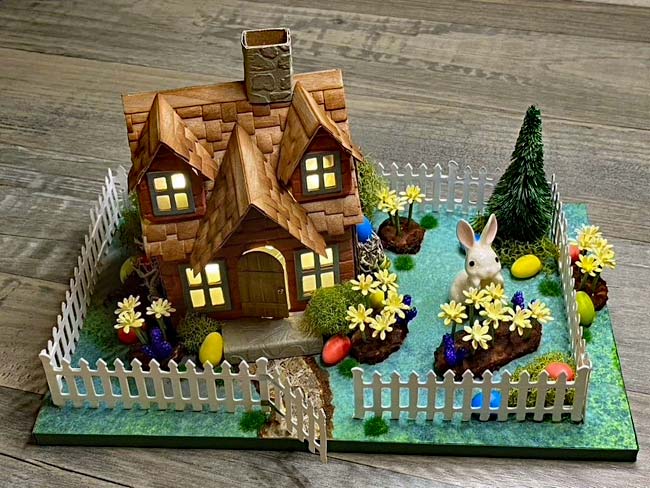 Vicki wrote the most adorable story to accompany her house which is shared below.
Peter found himself in quite a bind this year, what with the shipping delays, and the labor shortage at the egg farm (the chickens were demanding better pay and a more favorable work-life balance). With no other options, Peter employed the help of his younger brother, Snowball. You see, Snowball is a Good Bunny, but Snowball suffers from Attention Deficit Disorder, and is easily distracted.
Nevertheless, Peter gave Snowball crystal clear instructions, and his own delivery route. Everything was going fine, until Snowball happened upon Cottontail Cottage. As the daffodils were in full bloom, and so very pretty! Snowball found himself mesmerized by the beautiful yellow flowers and their enchanting fragrance. Hastily, he hid the Easter eggs, many of them in plain view. While he was taking in the breathtaking flowers, he thought about what they might taste like! Will Snowball take a bite? Will the rest of the Easter eggs get delivered? And will the chickens get a raise and weekends off? Will Peter ever ask his brother to help again? Tune in next year to see what happened!
Well, now I can't wait to see Vicki's house for next year.
10. Bobbi's Miss Cottontail Easter House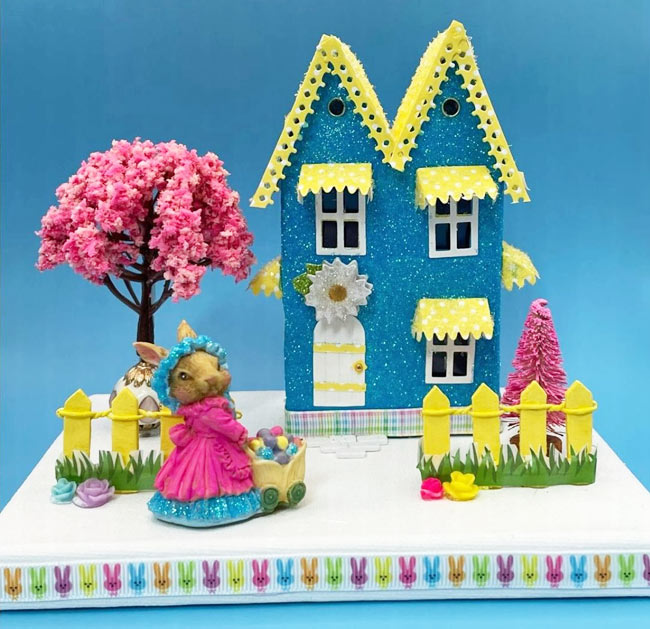 What a delightful Twin Peaks house design. I love so many details on this house - Miss Cottontail turned to face us with a carriage full of eggs, the bright colors, the yellow fence and the bunny tape all around the egg. Truly delightful.
11. Diane's Hey Mr Rabbit MOW YOUR LAWN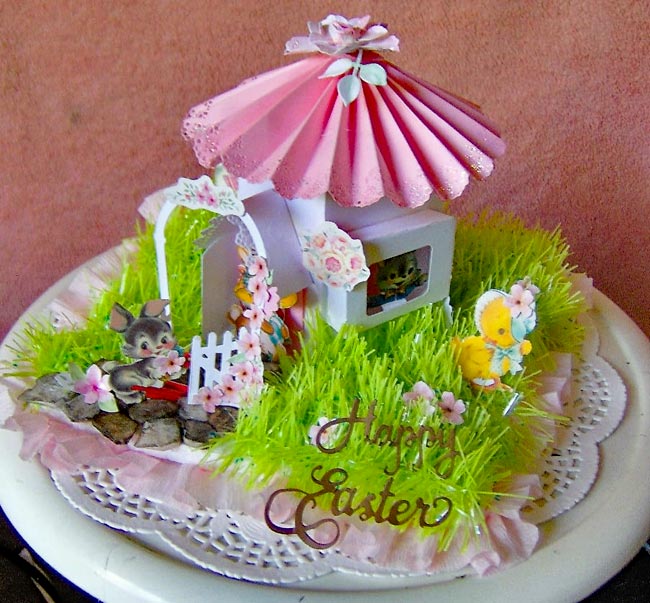 With thick green grass and delightful vintage figures, Diane's house makes a beautiful and unique Easter statement.
12. Brenda's Third Time's a Charm Little House
Brenda tells us that this is the third house that she made. For a third house, I find it very impressive.
13. Julie's Easter Egg Inn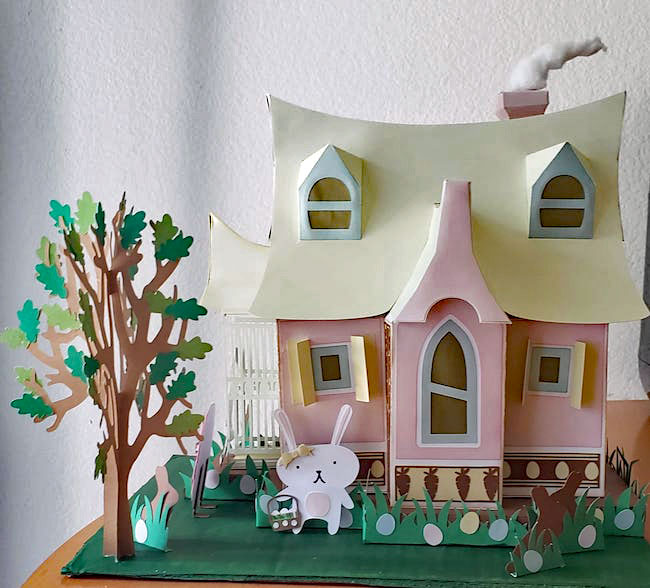 Julie says this is her first time making a house and she loved the process of seeing it come together.
She couldn't resist putting cotton tails on the rabbits. And the house has chocolate accents because she wanted to capture the candy aspect of Easter with the pastel colors.
So welcome to Easter Egg Inn, where you can scurry to from all the hustle and bustle. You'll find an assortment of colored eggs growing everywhere, Chocolate bunny's playing in the fields, and the lovely duo Mr. and Mrs. Hop making your stay one to remember. Enjoy Mrs. Hop's famous easter bread and Mr. Hop's egg-stravagant hunt for wild chocolate bunny's. Visit Easter Egg Inn a place for all things egg-citing!
How fun is that?
14. Nancy Ann's Floppy's Farm House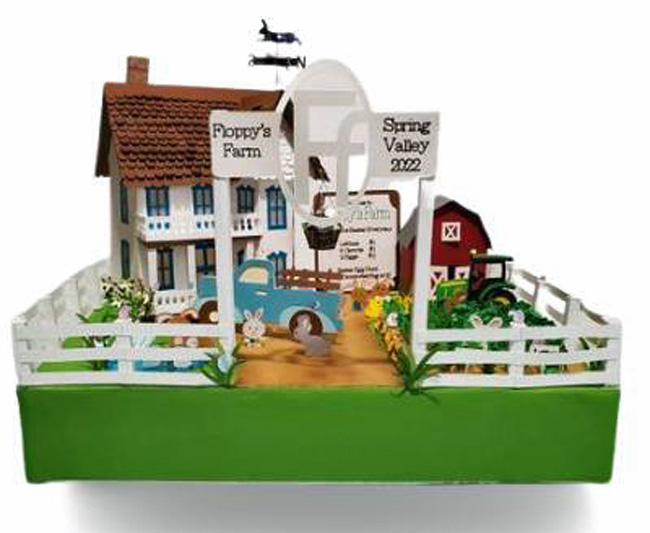 Nancy tells us the history of Floppy's Farm:
One of this new residence of Spring Valley is Floppy and his family. Floppy moved to Spring Valley this past January, and this is his first Easter Season in Spring Valley. Floppy opened a farm to help produce more eggs, carrots and lettuce for the residents of Spring Valley.
Since he is such a fan of Easter he decided to have Easter events on his farm daily for all the little hares. He has egg coloring, Easter Egg Hunt, sack races and many more activities. In addition, he provides food for the little hares to feed the swans, ducks and chicks that are on the farm.
For extra fun, Nancy says there are 21 Easter Eggs hidden on the farm not including the ones that the bunnies are already holding, see if you can find them.
Wouldn't you love to see them in person to count all the eggs?
I believe she made this house from the Spooky Miniature Halloween House for Habitat pattern.
15. Nancy Ann's Cottontail Bungalow for the Easter house contest
One of the many residences of Spring Valley is yet another popular hare. He believes he is only popular because of his relationship to the Easter Bunny though many children love him just as much. His name is Peter Cottontail. He tends to be a loner living on the outskirts of Spring Valley in his little bungalow shaped as a carrot. He enjoys the family gatherings at the House of Hares. Peter wishes he could spend more time with his busy cousin.
16. Nancy Ann's House of Hares
Read the story of Nancy's House of Hares.
Nestled in between the mountain ranges, there lies a bountiful valley called Spring Valley. Spring Valley is named such because it is Spring there all year round. Located in the valley is a very popular and busy hare. This hare has a task very similar to Santa Claus in that he has a naughty and nice list. And every Easter brings the good boys and girls colored eggs, candy, and sometimes toys. This very busy hare is called the Easter Bunny.
The Easter Bunny spends many days and sometimes nights working in his Egg Factory (the egg on right side of the photo). While the Easter Bunny works in the Egg Factory, his wife, Donna takes care of their many children as they frolic during the day and spend nights dreaming of their merriment of the next day.
17. Susan's 123 Bunny Hop Lane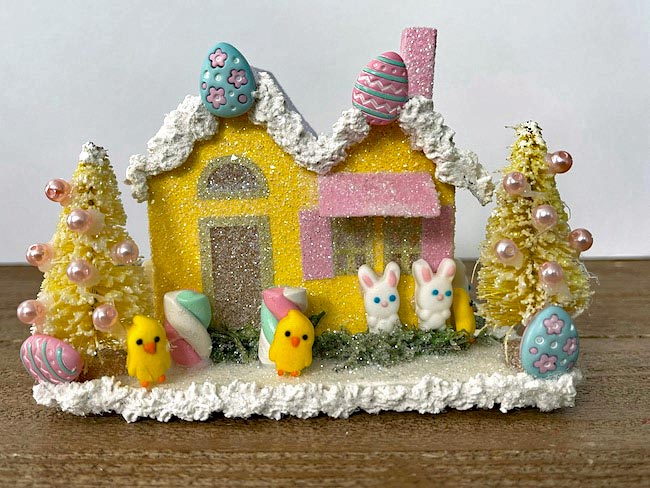 Susan says she fell in love with making little houses this year. That makes me happy because she shared this lovely little Easter house with us.
18. Cheryl's Do Hop Inn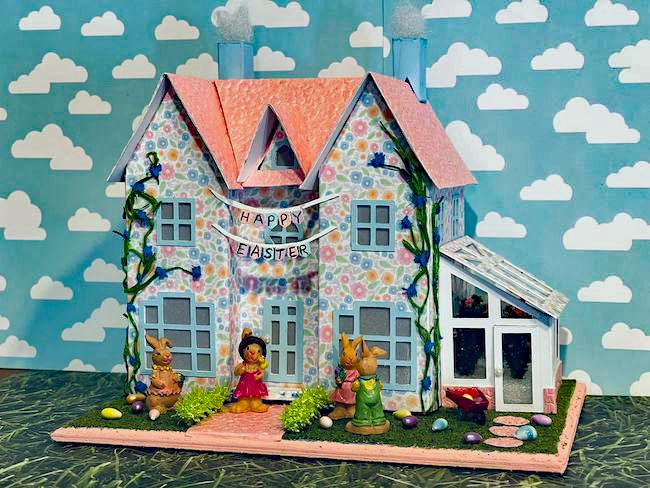 So many houses in this year's contest have great names, but I think "Do Hop Inn" takes the cake.
Based on Jackie from A Cottage in the Forest, you can get the free pattern here.
19. Terry's Peter Rabbit Cottage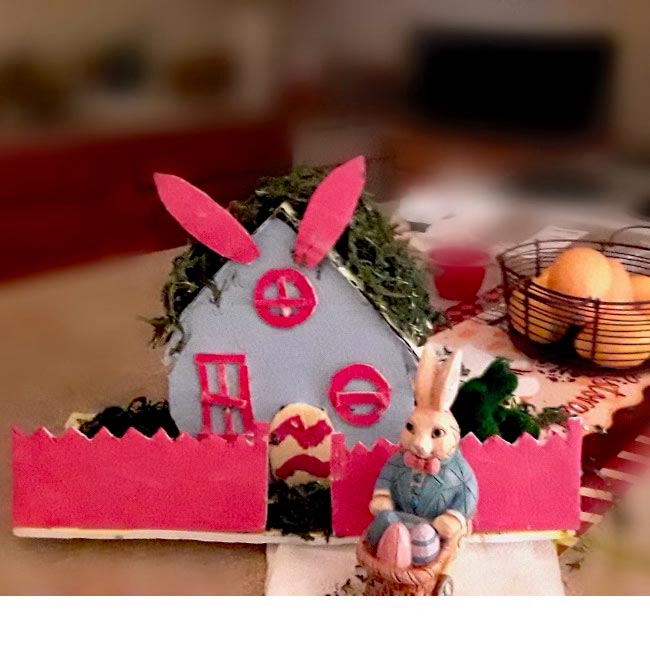 What I love the most about this house - the bunny ears on the house and the brilliant pink colors. In addition, I always appreciate a house that is hand cut.
20. Candace's Mr Bunny's House of Egg-cellence
Candace made the house with paper mâché. And she used Easter Basket grass to make the border. She said that it makes her smile. Well, it makes me smile, too.
21. Joyce's He is Risen Chapel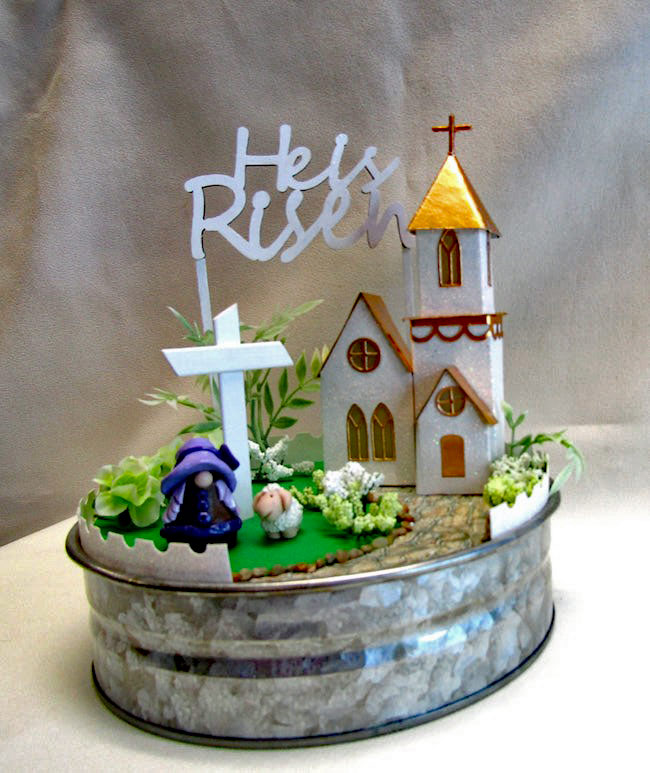 Joyce writes, "He Is Risen and it is Easter morning! Missy is at the foot of the cross with the Lamb of God knowing she is a child of God and loved!"
Joyce made the church from a free pattern adapted from the internet, hand cut from white glitter paper. She used foil paper for the steeple, roof and trim. To make the windows and door, she used Tim Holtz village dwelling dies. She composed the walkway with embossed and painted 110# white card stock.
To give the walkway a more anchored feel, she glued small, natural stones in place. For the delicate fence, she used hand cut paper. Both the cross in the front and on the church are painted wood. And polymer clay makes up the gnome and the sheep. She purchased the "He is Risen" wooden sign.
What a lovely composition.
22. Joyce's Happy Easter from Gnome Village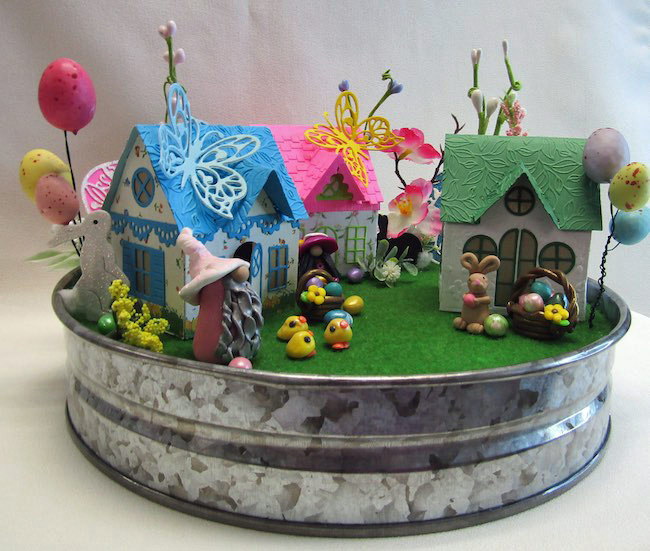 Easter morning at Gnome Village where the Mister watches the new baby chicks waiting to see if more will hatch!
Missy looks around in wonder, ready to attend church. The little bunny with the egg… is he collecting eggs for the basket or placing them for the egg hunt? And look for the white glitter Easter Bunny, wait what do I see? Is there a black bunny wandering in the background, do you see him???
For the houses, all are die cut Tim Holtz dies. Joyce says that the pink and blue homes started with white 110# card stock adding siding of tiny floral printed from the internet on regular sheet paper. Also the green home is white 110# embossed card stock. Finally, the butterflies, the large and medium eggs are also die cut, along with the white glitter Easter bunny and the black rabbit. But my favorites - the gnomes, chicks, eggs on the ground, Easter baskets and bunny with the egg are handcrafted polymer clay. She finished with purchased egg trees and floral pieces. Amazing village.
23. Christina's Paskbyn Easter Village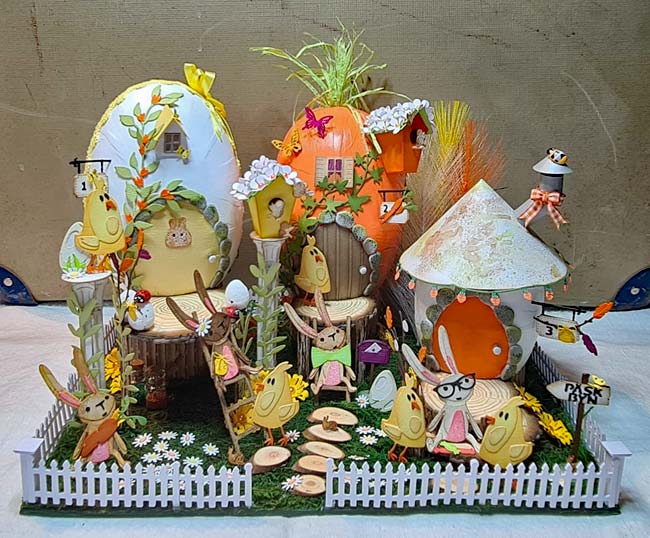 Påskbyn means Eastern village. Christina that writes that her entry is a small village where Bunnies
and Chicks
live a colorful life together. What a fun village.
24. Christina's House of Happy Hens
Christina said that she had no plan to make more houses for the 2022 Easter House contest. But then she made this small henhouse today - the house of Happy Hens. It makes me happy, too. And I am so glad she changed her mind.
25. Lisa's Kiki's Bunny Bungalow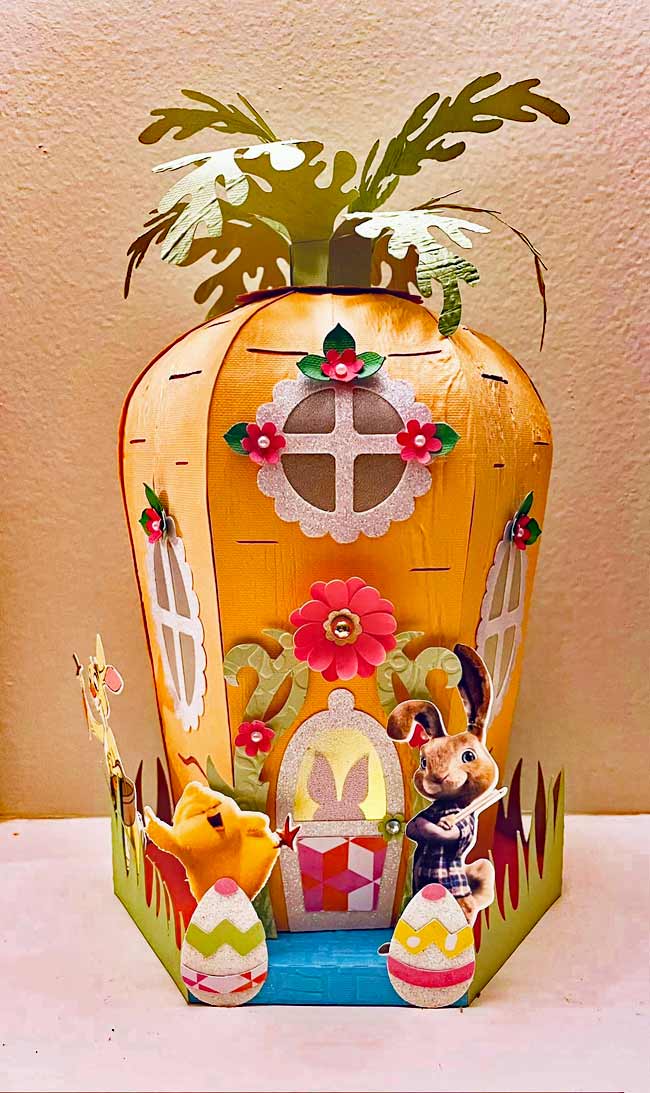 The bunny and chick cutouts definitely bring a smile to your face in Kiki's Bunny Bungalow.
Linda says she has two (real live) bunnies Cinnamon and Peter Cottontail Cuddly Bunny that approve this house and if left unattended, they would probably chew it to pieces.
26. Dana's Bumblebee Fairy House Luminary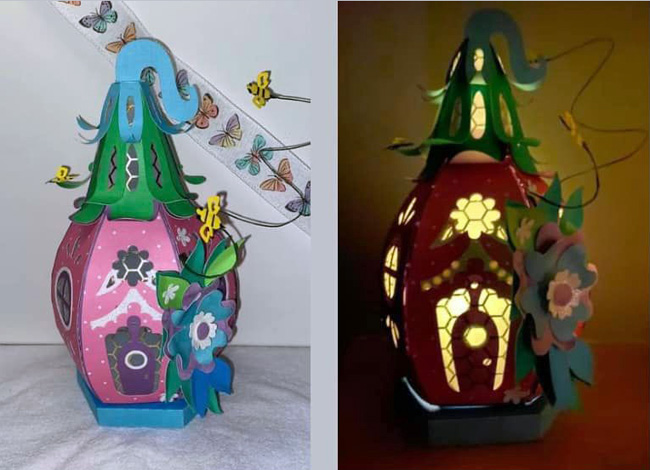 I love the shape of this little Easter house.
27. Dana's Bunny Bungalow
Another beautifully decorated bunny luminary.
28. Judy's Easter Egg hunt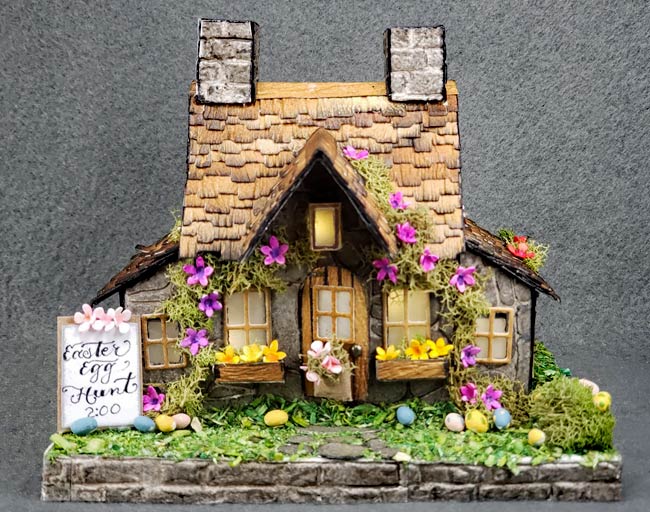 Judy made this beautifully decorated Easter house using a set of dies from Tim Holtz Village dwelling series. But what amazes me is how skillfully,
29. JoanH's Victorian Easter Inn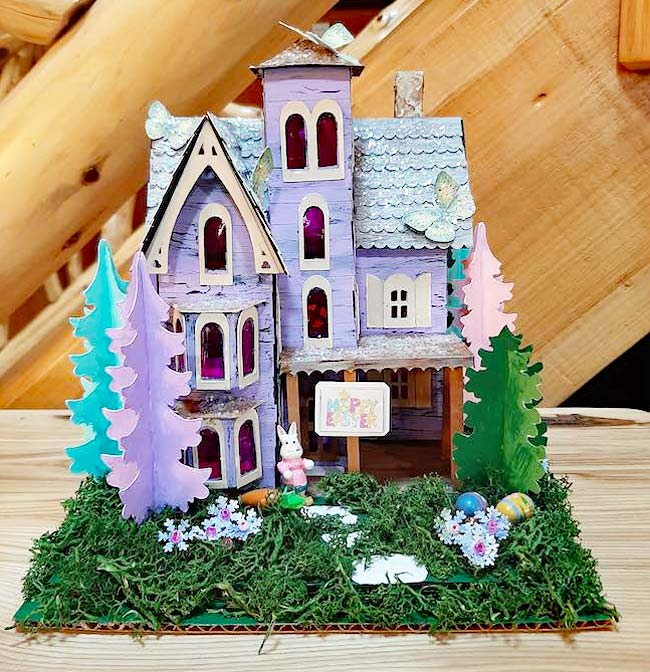 I love this pastel version of the Faded Mansion. I've never imagined it this way. Joan totally elevated the design. If you want to see a spooky version, check it out here. That way you can see how creatively she adapted the design.
30. ldybg93's Carrot Cote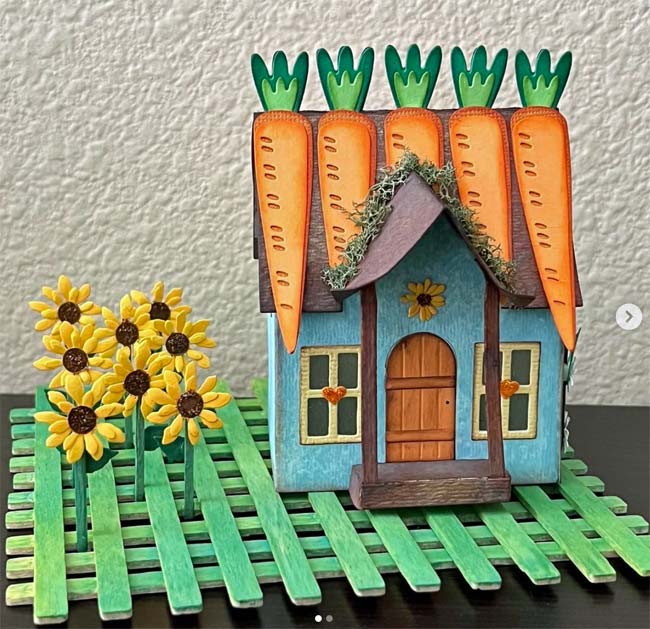 LadyBug notes that she used Tim Holtz and Sizzix dies to make this adorable house with a field of sunflowers in honor of the people of Ukraine.
31. ldybg93's Briar Patch Lane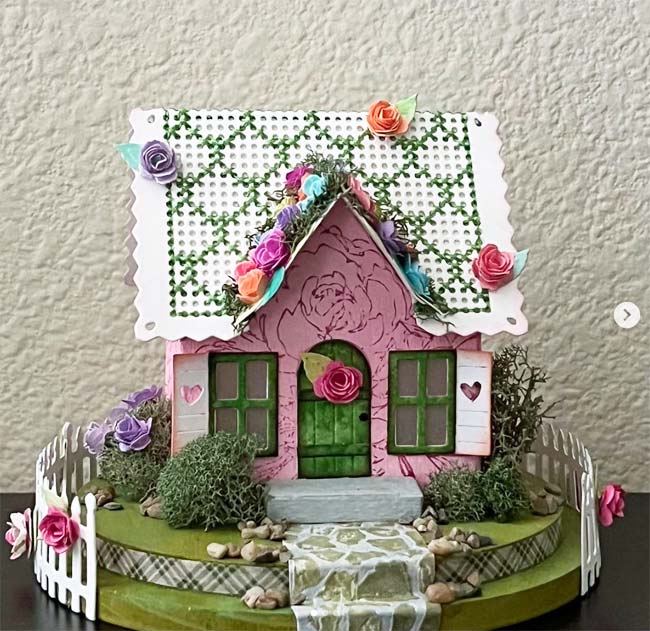 And for this house she used multiple Tim Holtz and Sizzix dies to create the scene and embellishments. Then she stitched the roof shingles using a stitching die from Waffle Flower Craft - what an amazing detail. She stamped the housewith a Stampers Anonymous stamp on top of Rnager's Distress paint siding.
32. ldybg93's Easter Tea at Bunny Harbor
I just think the name of this delightful project says it all - Easter Tea at Bunny Arbor. She designed the entire structure as well the tiny furniture, all cut out on her Cricut. For embellishments, she used several Tim Holtz and Sizzix dies and as well as products.
For me, the colors and airiness stand out as design elements - pure delight and whimsy.
33. JoanS's O'Hare Easter Egg Farm
Really? A thatched roof? How awesome!
Joan tells us the story of O'Hare's Easter Egg Farm:
At this time of year the O'Hares give new meaning to the term cottage industry — Mom rocks the babies while painting eggs, Dad has his bucket full for the passing customer, Gramps checks the sign out front, while Grandma has her baskets of eggs at the ready while knitting. Can't forget the girls in the coop, Mildred and Lucille work overtime to give the O'Hares a steady supply!
Joan used an altered TH Village Dwelling based on a cottage picture. She used Jackie's garden light post pattern from A Cottage in the Forest.
34 Ourcreativesoul's Easter Fairy House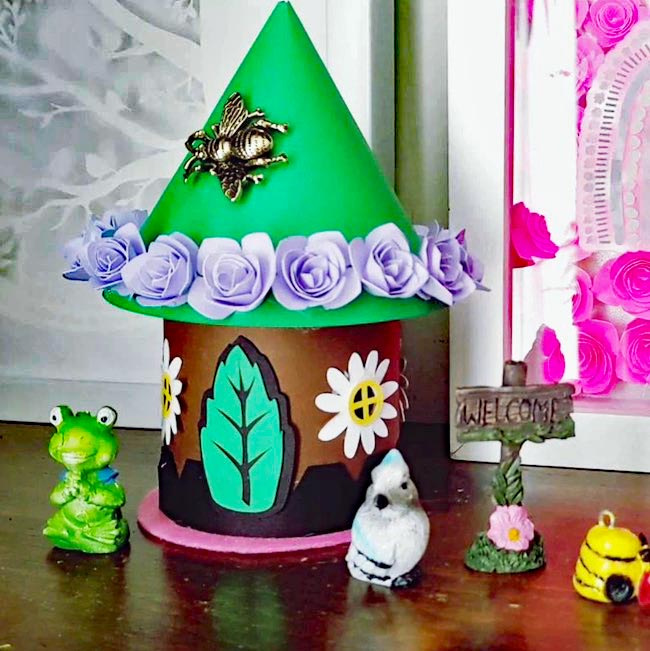 Ourcreativesouls posted this little Easter house from Instagram. She used a pattern I made for the Cricut Craftfest. An updated pattern will be available in June on my blog.
35 Kim's Peter Rabbit's Easter House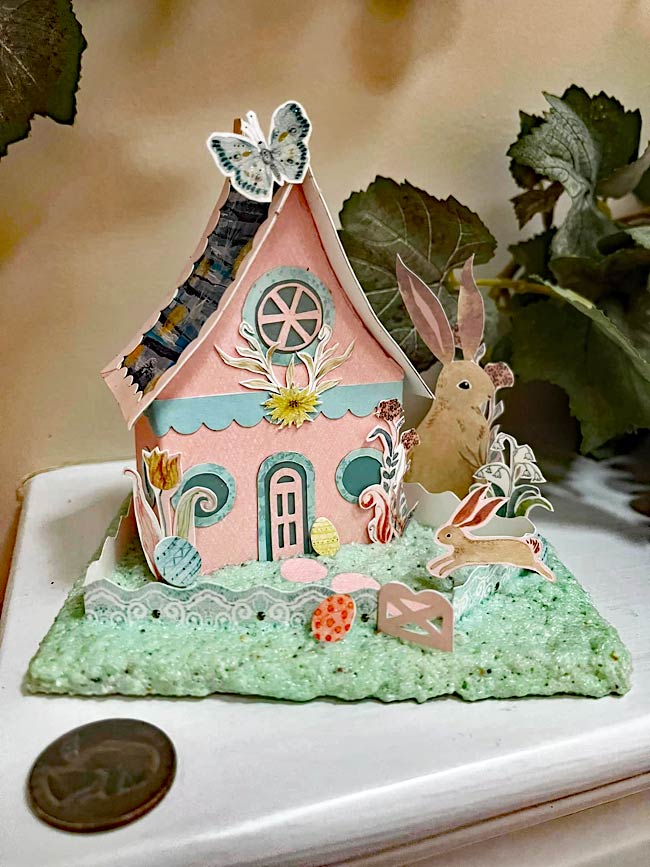 Peter Rabbit's Easter House made from 2 easter greeting cards. Check out all the details that give this little house so much personality.
36 K's Hoppy Heights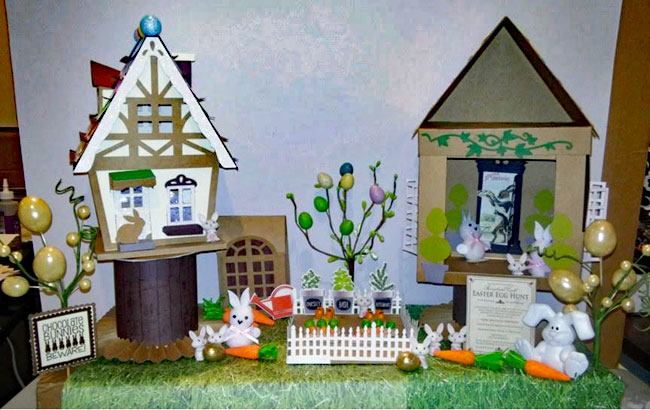 I love the sign that says "Chocolate Bunnies Beware!" And the title Hoppy Heights works perfectly.
37. K's Eggselent Acres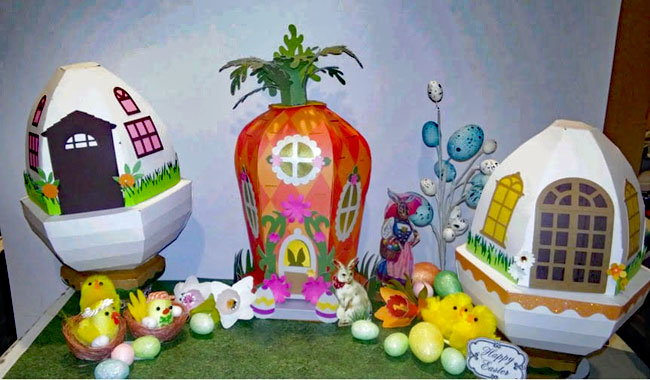 I do agree with the title because Eggselent Acres fits these egg-shaped houses beautifully.
38. Melanie's Easter Greeting Bunny O'Hare
In this adorable little setting, Bunny O'Hare and her pal wait for the children after rolling the eggs on the lawn. Now isn't that a perfect Easter setting for a little putz house.
39. Melanie's Chacas Cozy Cottage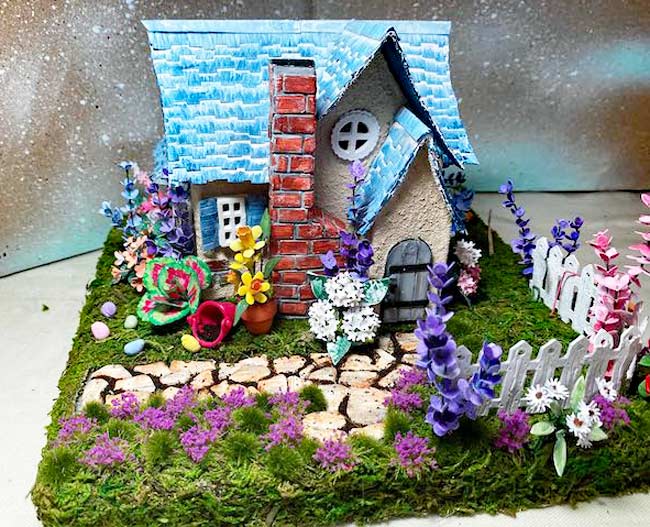 Melanie gives us some more detail about this house.
She tells us the size is 5 x 51/2 x 43/4. In addition, the house is entirely handmade along with the flowers, a labor of love. The only thing not handmade - the red little pail in front. Melanie made some of the pots that hold flowers from quilled paper. She used air dried clay for the stepping stones, while coffee grounds form the grout. She cut the bricks individually for the chimney. Lastly, the eggs on lawn are paper clay and bunny on side of the house is made from paper & wire. Talk about creative!!
40. Jackie's Bunny X-ing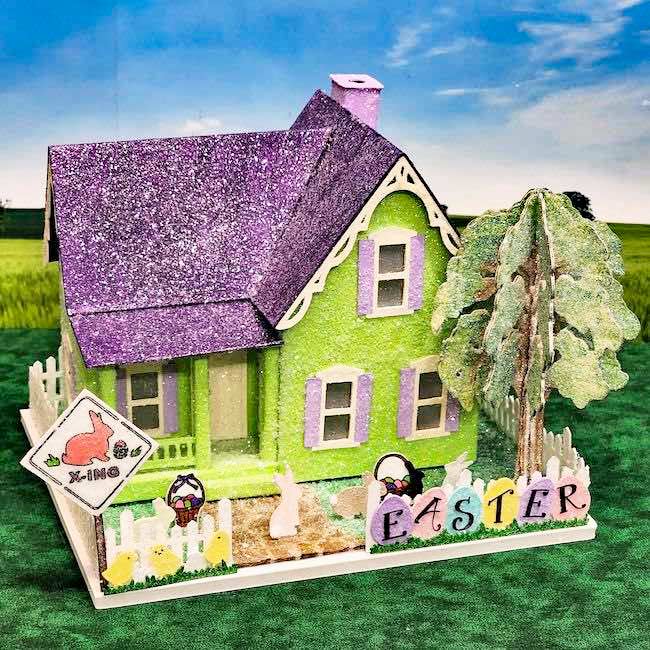 My friend and fellow little house creator, Jackie, made this with her pattern called Cheryl's Place. You can get it free on her website - A Cottage in the Forest.
41. Cheryl's Mary's Greenhouse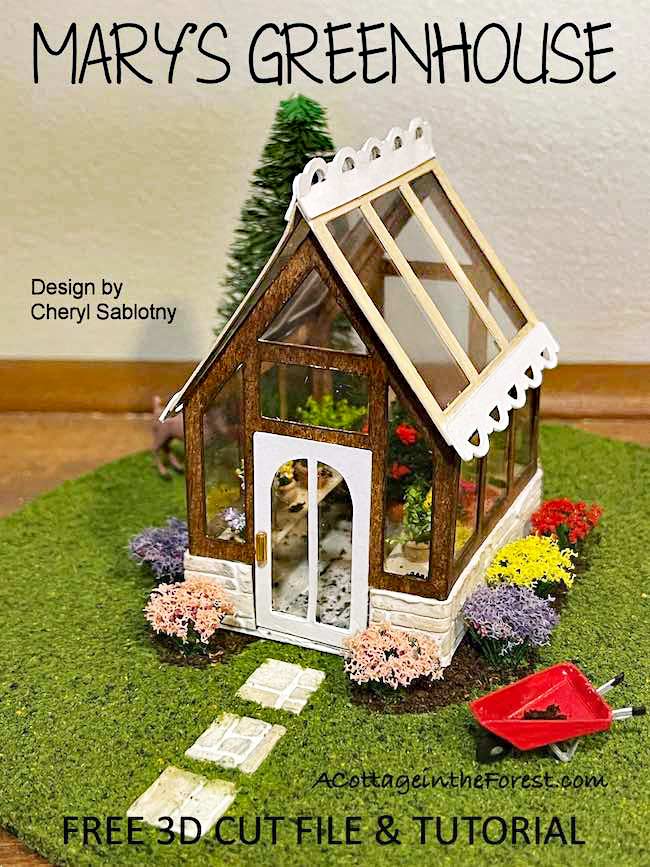 Cheryl designed this adorable Spring greenhouse. And what a delightful design. If you want to make it, get the free design at A Cottage in the Forest.
42. Kari's Easter Basket Inn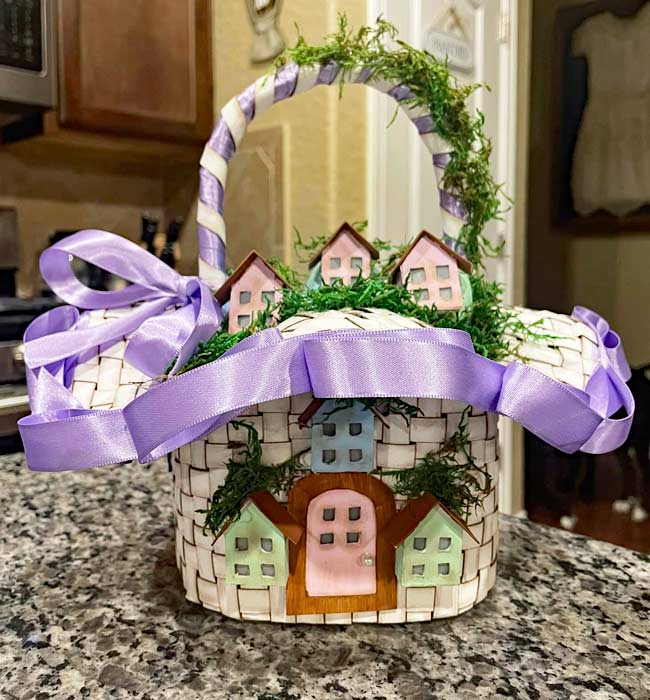 Kari tells us that the basket was woven out of painted and distressed card stock. It holds three paper mache eggs that have windows. And she notes that she wanted the windows to look like birdhouses. In my opinion, she certainly succeeded with this incredibly creative design.
43. Linda's Bunny Bungalow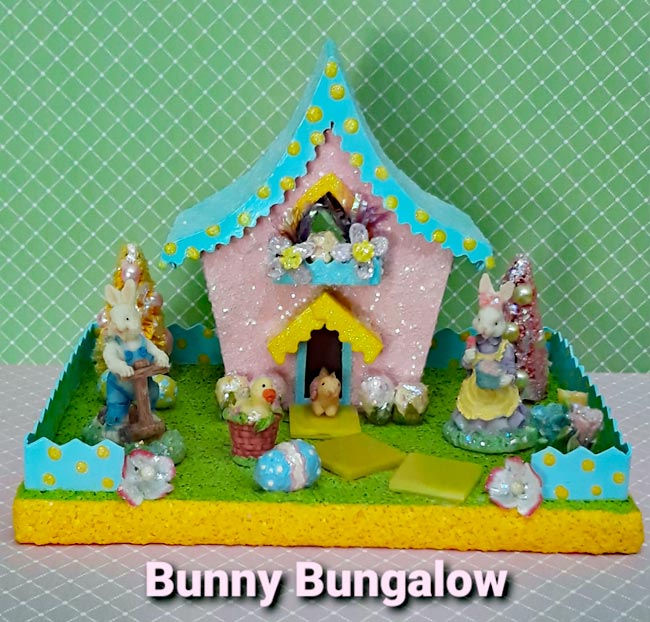 When Linda posted this incredible little house in a Facebook group, she worried that her house just wasn't as immaculate as some others she saw. But I want to reassure her in that regard. Her Bunny Bungalow brings delight to anyone who sees it. And it looks pretty perfect to me.
44 John's Mrs. Blubell's Rooming House
John built it from cereal boxes and patterned it after a drawing of a house he liked. It stands 5 inches high sits on a 3 ½ inch square base of foam core. Additionally, he cut the the Batman-style picket fence and the shingles from cereal box cardboard. Very impressive. I just love all the layers and dimension.
45. Fairygirlkmk The Speckled Egg Foundry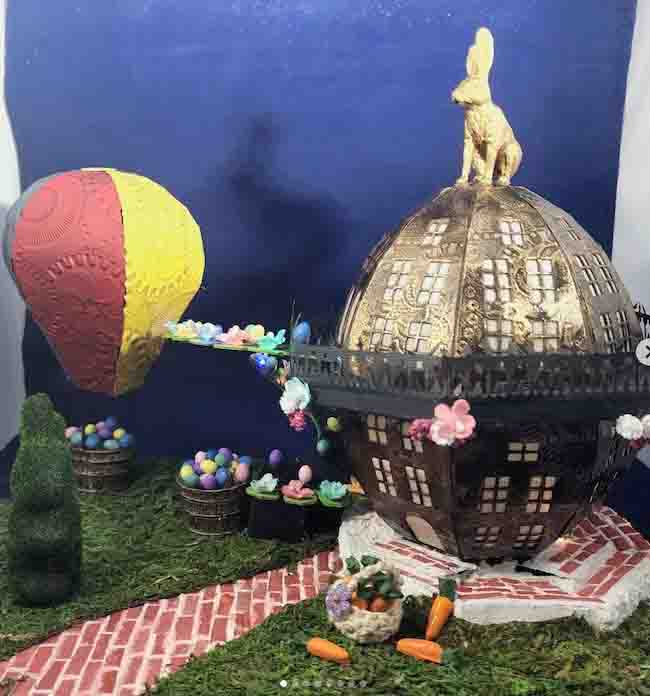 Fairy Girl made this unbelievable creation with a delightful backstory.
The Easter Bunny has just called over to the Speckled Egg Foundry and requested 100 Dozen speckled chocolate eggs be delivered post haste. Immediately, the engineers dropped their carrot lunch and got to work in their chocolate foundry. To speed up the work they installed a conveyor belt to help fill the big tubs, and then use hot air balloons to deliver their work to the distribution hub.
See what I mean? Tremendous imagination and creativity.
The winners will be announced April 17, 2022 probably around midnight.
RULES for the 2022 Easter House Contest:
1. Have fun
Remember that fun is the name of the game.
2. Important - Name Your Easter House
Please include a name for your submission. This really helps us when we gather the entries for the judges. It also helps the judges understand a little bit more about your project.
Thanks so much!
3. Three ways to enter the 2022 Easter House Contest:
There are 3 ways enter a house in the 2022 Easter House Contest starting April 1st:
a) Post your design in the Paper Glitter Glue Facebook group with the tag #2022EasterHousecontest. But you do have to be a member of the group to enter on this Facebook group.
b) Follow me on Instagram and post your house with the tag #2022EasterHousecontest
c) Email a good quality photo to me at [email protected] When you take your photos pay attention to what is behind your house so it's not distracting.

Use this email address - [email protected] Please include 2022 Easter House Contest in your email title so I can find the photo easily.
4. Permission to post photo on my blog and my social media
In submitting your creations, you are giving me permission to post a picture or pictures of your project on my blog and social media - Instagram, Facebook, and/or YouTube - just like I did for the Christmas house contest last year. I love to share your projects because they are all so incredible.
I will use your first name only unless you want to me to include your full name.
5. Size requirements for the 2022 Easter House contest
Size requirements - The base can be 9 inches deep x 12 inches wide. House height - up to 10 inches tall, house width - up to 10 inches wide across the front or back, house depth 8 inches (side measurement).
6. Use any pattern you like
For your entries, you can use your own pattern, my patterns, Tim Holtz houses, or even a purchased pattern.
7. The house must be paper-based - generally card stock or cardboard
Each house must be made out of card stock or cardboard. No wooden houses. But you can use other materials for the base and embellishments.
8. Creativity and originality are emphasized
Judges emphasize creativity and originality. Hint: Let the fun shine through!
9. You may enter more than once, but the houses must be constructed in 2022
And you may enter up to 3 times, but each house must have been made in this calendar year - 2022. I recommend that one entry is probably best so you can concentrate on just that one house. But you are welcome to enter up to 3 times.
Deadline for the 2022 Easter House Contest - April 14th
Deadline for photo entries is April 14th and the winner will be announced on April 17th.
Good luck and have fun creating. Thank you for joining us.