How about making Paper Gingerbread Ornaments for a quick, fun paper craft this holiday season?
And paint your Gingerbread ornaments with DIY Gingerbread Paint for extra fun. The scent of gingerbread just adds to the appeal of these paper Gingerbread Cookies..
So this is the another project of the 15 Days of Holiday Craft series. Did you see the Red Roof Holiday Cottage - that's the first Christmas house in the series. Here's the project list:
You don't need many materials to make the these Gingerbread Ornaments - cardboard and the gingerbread paint, of course. Then you need some royal "icing" for the decorative details on your ornaments.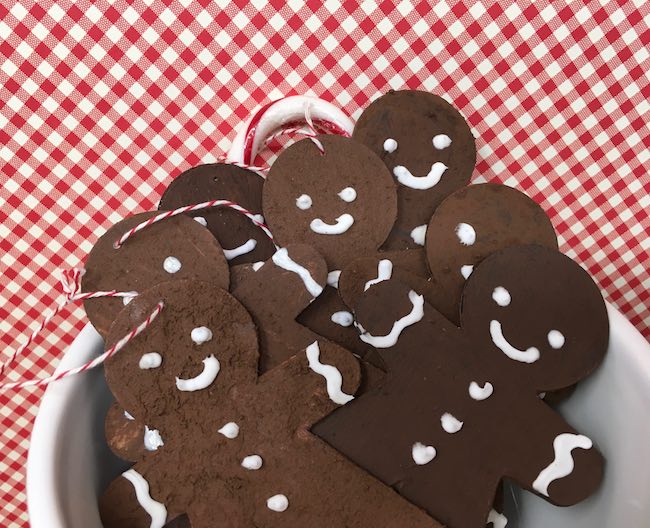 This post contains some affiliate links for your convenience. Click here to read my full disclosure policy.
Here's the materials list for the Paper Gingerbread Ornaments:
And here's how you make these cute little Gingerbread Men that smells like real gingerbread and you can keep them for many holiday seasons.
Here's my video which gives you a few tips on making the Paper Gingerbread Men.
First download the Gingerbread Man pattern from the Paper Glitter Glue library
This is just a simple shape. That you can cut out easily by hand or with your automatic cutting machine. If you are going to cut out a lot of them, the Cricut makes short of work of cutting out the gingerbread man shape.
If you already have the password to my library, then just download the pattern.
But if you do not have the password, then subscribe to my newsletter with the form below and you will get the password right away.
Here's how the Gingerbread pattern looks in Cricut's Design Space.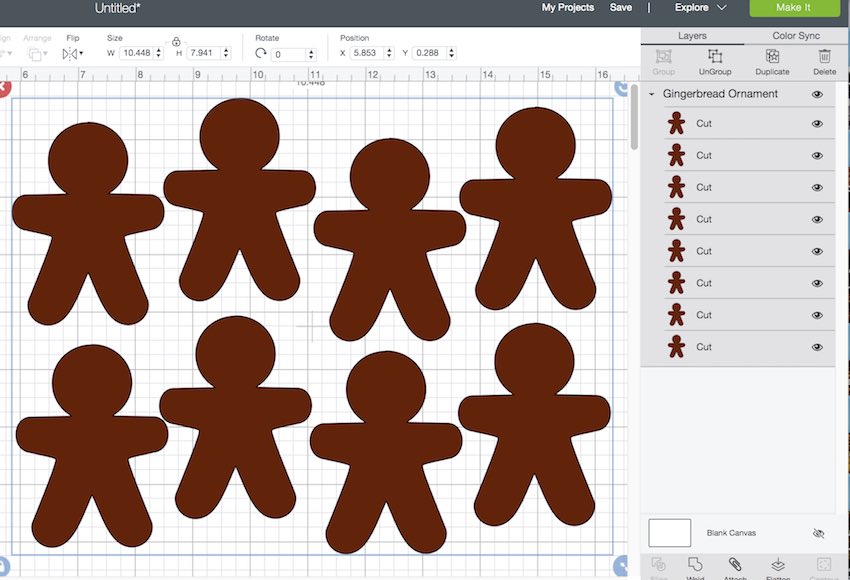 It's so nice to have an easy pattern where you don't have to do anything to it to cut it out - no score lines, no attaching. Just click make it. I used a 8.5" x 11" cardboard which cuts out 8 Gingerbread men.
Cut out the Paper Gingerbread Ornament Pattern
I used my Cricut Explore Air 2 to cut out the gingerbread men. It was quick because these are simple shapes.
Next glue 2 cardboard pieces together
I just think the ornaments are much more "cookie-like" if you make them thicker by gluing 2 pieces together.
Prime the Ornaments
Paint just sticks better if you prime the cardboard first. Then paint the gingerbread man ornament with brown paint so if the gingerbread paint doesn't stick well, at least the cardboard is covered.
Paint the Gingerbread Ornament with Gingerbread Paint
Here's the YouTube video where I show you how to make Gingerbread Paint with shades of brown acrylic paint and spices.

The Gingerbread Paint is thick and kind of lumpy even after I stirred it well with a palette knife. So use a firm paintbrush and kind of twirl it around to the spread the paint on your gingerbread ornament. It's ok if it's not perfectly smooth. You just don't want major lumps though. Allow to dry.
Next apply "icing" to your Paper Gingerbread Ornament
I found some light modeling paste at a craft store recently and decided to try it for the icing on the Gingerbread ornaments. To apply the icing, I used a disposable icing bag with a regular icing tip. It worked beautifully. Well, the paste worked. My icing technique left a little to be desired. But after I made a few of the ornaments, my icing skills improved.
The other thing you can use is Puffy Paint for the icing. That would work as well.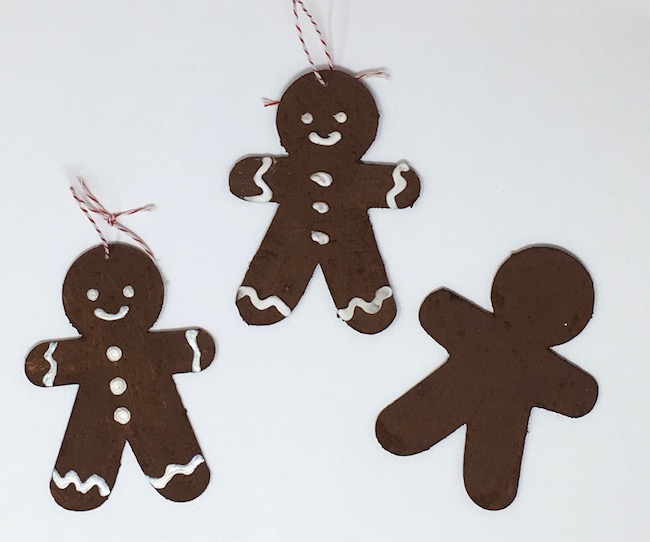 Now let your ornament dry. This step takes a while. You'll smear the icing if you handle them to soon.
Poke a hole in the top of the ornament and thread with twine
I used a tiny hole punch to make a hole at the top of the gingerbread man. Then thread baker's twine so you can hang up your great-smelling gingerbread ornament.
I hope you enjoyed this quick project. More Holiday projects soon.
Lucy
P.S. And be sure to pin to your favorite board so you can remember this cute paper craft.