What supplies do you need to make little paper houses, also called putz houses or glitter houses? They are all the same thing. These are absolutely my favorite projects to make. If you enjoy making paper houses, here is a comprehensive list of all the materials and items you need to make the little house. I hope this helps your paper house-making journey.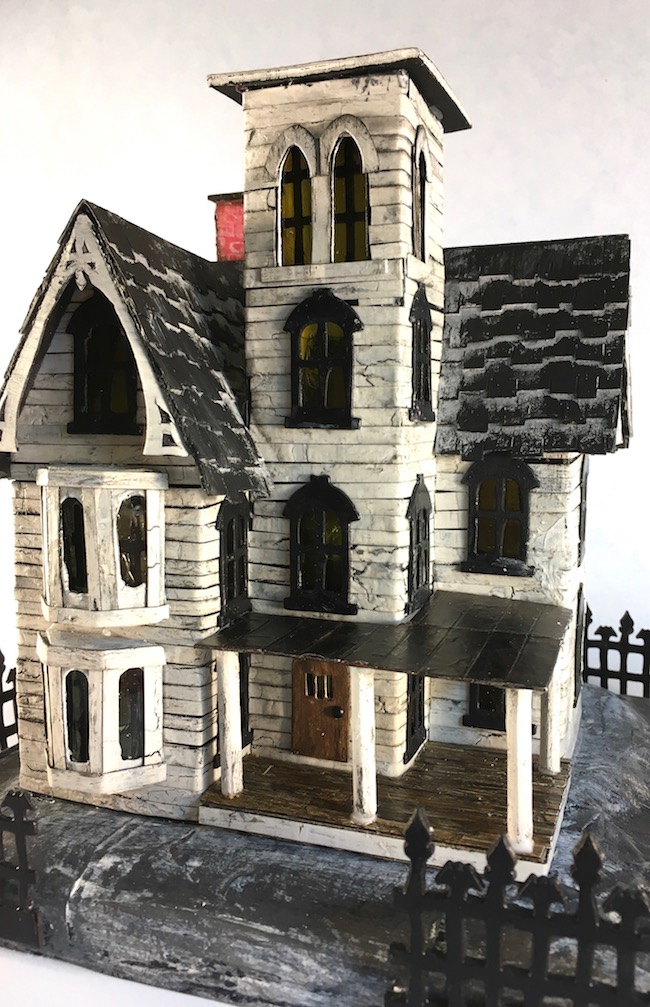 Next, here are the categories we're going to cover in this little paper house article:
Cutting Materials - What do you need to cut out little houses?
Paper Choices - What types of paper and cardboard can you use to make little houses?
Glue and Adhesives - What glues and adhesives work best for making paper houses?
Materials to Color Your Paper House - What paint to use for decorating paper houses?
Glitter - What do you need to make your houses sparkle and shine?
Window Materials - What do you use for windows on a putz house?
Embellishments - What kind of embellishments are available to decorate little paper houses?
Miscellaneous Tools and Supplies - What else simplifies making little houses?
Patterns - Where can you find patterns to make paper houses?
Specialty Shops - Where else can I find special supplies for making these miniature houses?
This post contains some affiliate links for your convenience. Click here to read my full disclosure policy.
In the Paper Glitter Glue Library, I have this information in a checklist that you can use for gathering all the supplies you need for making adorable paper houses. The checklist is in the Paper Glitter Glue library in the July 2021 section.
1. Cutting Materials - What do you need to cut out little houses?
Now let's go over these specific tools and materials to help you with your paper crafting - specifically making little houses.
Cutting Mat
First, no matter how you cut out your little house - by hand or machine - you still need a cutting mat. There are always things you will need to trim or cut on a cutting mat. Also it is a great work surface as well. The two main types of cutting mats are self-healing cutting mats and glass mats.
Probably the cutting mat you see most often is the self-healing mat. And the most important thing is to decide is the size of the mat. Mainly it needs to be larger than the materials you are cutting - 12" x 18" or 18' x 24" are good options. The disadvantage to this type of cutting mat is that it's not a great surface for painting.
The next cutting mat option is a glass mat. Because I can paint and cut on a glass mat, it is my favorite choice as a cutting mat. But there are a couple of disadvantages - it tends to dull your cutting knife faster and it can break even though it is tempered glass. Though truthfully, I have never broken one. And I love the Tim Holtz Glass Mat, but there are other options. Whichever one you choose, it really helps to have a grid so you can do rough measurements and line things up with the grid.
Craft Knife
Again, just like you need a craft mat to work on, you need a craft knife. Even if you don't use it for cutting the main house because you use a cutting machine, it still helps with making little houses. I often use the back side to reinforce score lines so cardboard or paper scores and folds easier.
And my favorite craft knife? It's an ergonomic craft knife because it makes cutting cardboard so much easier on your hands.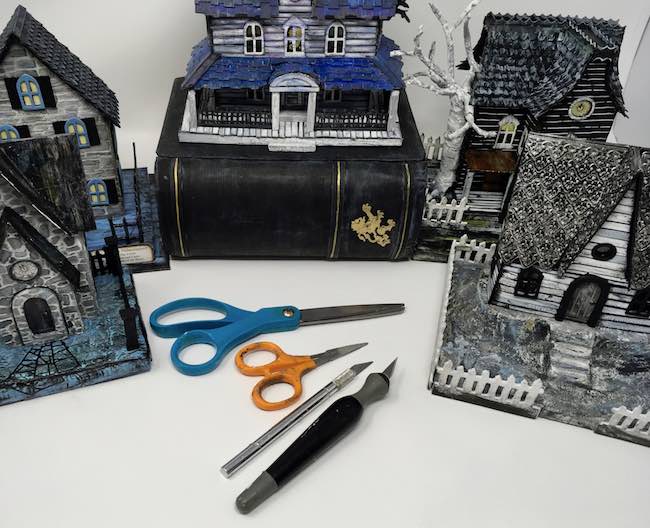 Utility Knife or Box Cutter
Why do you need a utility knife? Because it cuts corrugated cardboard better than any other cutting tool. Since I make all my bases with corrugated cardboard from saved boxes, I definitely need some kind of utility knife or box cutter.
Metal-Edged Ruler
In order to cut accurately with a craft knife you need a metal-edged ruler (also called a stainless steel ruler). In addition, it helps for fold over score lines as well. Get one with a cork backing to the stainless steel ruler. That way it won't slip when you hold it down.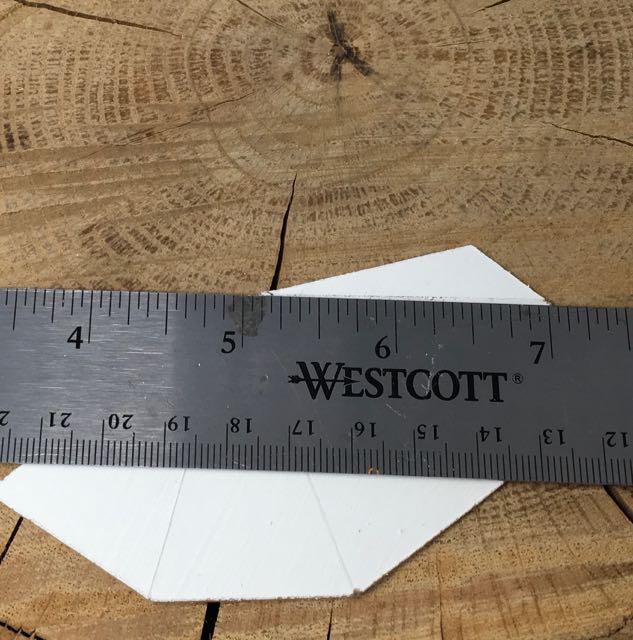 Scissors and Decorative Edge Craft Scissors
Choose some good paper scissors so you won't get in trouble for using fabric scissors. I've been using Fiskars brand scissors for awhile. I don't use scissors for cardboard - the craft knife is the way to go for that material.
Use decorative edge scissors to make fences or house trim. Unfortunately, I've never found this type of scissor to be very durable over time. They tend to be a little fragile. But for cutting decorative fence shapes quickly, they are a nice option and fairly inexpensive.
Electronic Cutting Machines
After cutting little houses by hand for 2-3 years, I finally purchased and learned how to use an electronic cutting machine. I use either my Cricut Maker or my Cricut Explore Air 2 because that is what my crafting mentor, JenniferMaker, recommended. I just LOVE using these machines for making my paper houses.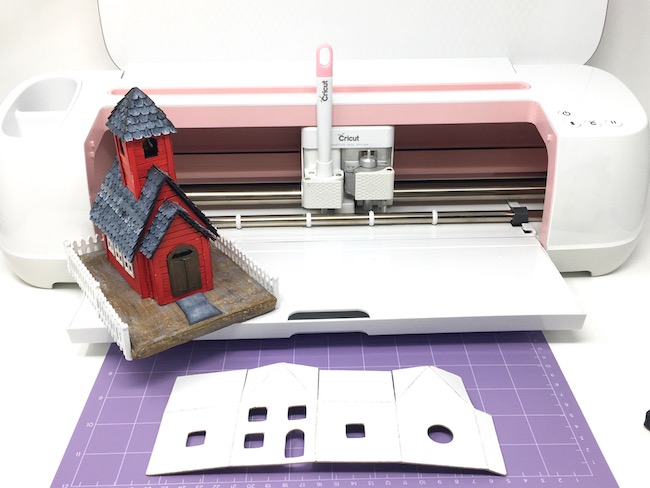 Just this year, Cricut came out with the Cricut Maker 3 and Cricut Explore Air 3. I haven't tried them yet, but I am sure they are amazing. If you don't want the most recent machines, you can get great prices on the older versions.
In addition to the Cricut machine, you need:
Other popular brands of cutting machines are:
Truthfully, I can't tell you about these machines from personal experience because I haven't used anything except the Cricut, but I have many friends who are very happy with both of these machines.
The advantage to the Brother Scan and Cut is that you don't need a computer to upload a design. You can scan a printed pattern PDF and make a design from this.
Also, I should briefly mention die cutting machines like the Sizzix Big Shot. While you can make houses with a die cutting machine, the problem is finding dies for making little houses. The best ones were the Sizzix Village Dwelling dies, but they are now retired and can be difficult to find.
2. Paper Choices - What types of paper and cardboard can you use for making little paper houses?
Here are types of paper that I've used in my paper houses:
Copy Paper
Card Stock
Scrapbook Paper
Vellum
Poster Board
Corrugated Cardboard
Tissue Paper
Briefly I'll go over how I use these types of paper in making little houses. I've written about paper and cardboard choices in more detail in this post. Here's my video to show types of paper you can choose from.
Copy Paper
Really, copy paper for little houses? Yes, but not for the house structure itself. When I am working on a pattern template sometimes I will cut out a pattern in scrap copy paper just to test the design.

But the main way to use copy paper is printing doors and windows. Traditional putz houses were made with printed windows and doors glued inside the house. It's a very easy and attractive way to add windows and doors.
The house below shows a beautiful example of a church made by Howard Lamey of the Cardboard Christmas Forum with a printed door and window. See how copy paper is useful? The printed windows are used to beautiful effect on this elegant church. These printed window options can be found on the Cardboard Christmas website.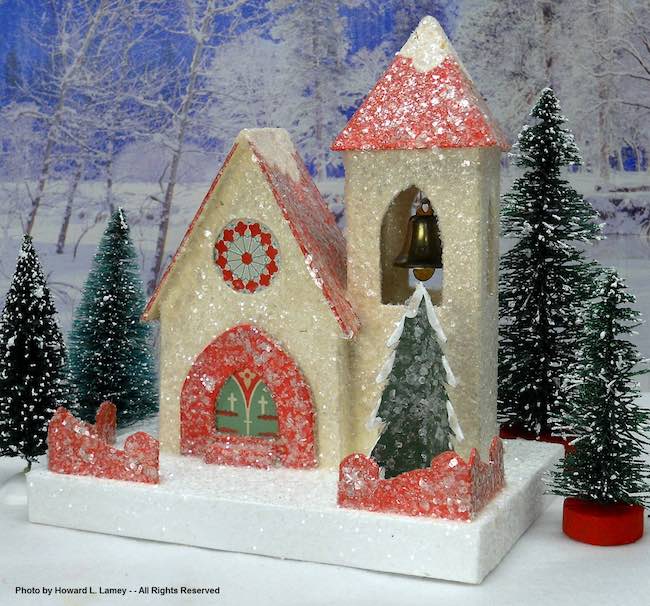 Card Stock
When I first started making houses I used card stock to make the houses. There are numerous advantages to using card stock - it's easy to find in many colors, easy to cut, folds beautifully along score lines. There are different weights of card stock. Usually I use either 65# or 110# card stock. 110# is stronger.

But the disadvantage is that it is not nearly as sturdy as cardboard. For the tiny house series though, card stock works beautifully. These paper houses are about 1-2 inches across so card stock holds up well.
However, when I want to make a house to last, I always make it out of cardboard. Vintage cardboard putz houses have survived for decades.
Scrapbook Paper
Where does scrapbook paper come in to making Paper Houses? For the most part it is an accent paper not something you can use for structure. In the example below, the Village Brownstone was covered with scrapbook paper cut the same size as the house.
The adorable house below was covered with printed paper to look like stone. Another great effect with scrapbook paper applied to a house.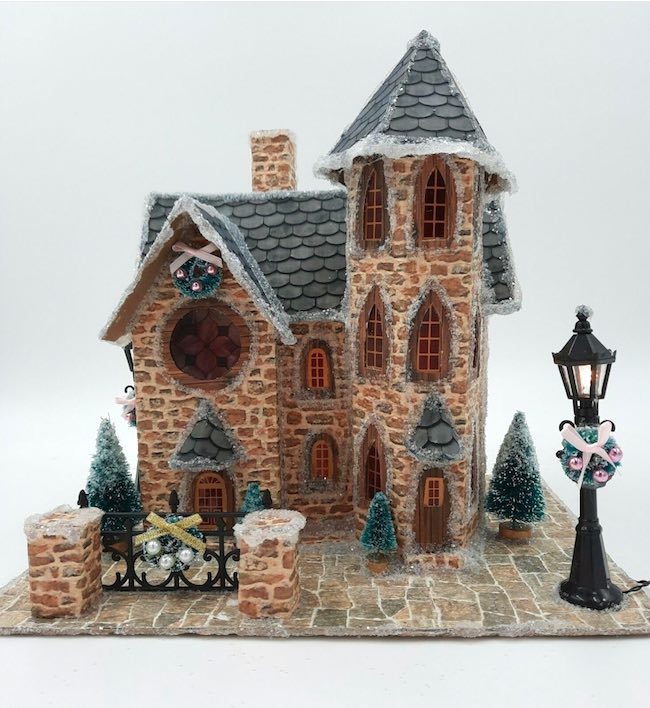 Cardboard - the BEST material for Making Paper Houses!
Now, we get to what I think is the absolute best material for making little houses. Again, I've written an entire article on types of cardboard, but I am going to simply summarize what I think is most important for you.
Cardboard types:
Poster board - easy to find and easy to cut. Downside? Some types of postern board as pretty flimsy so you may have to reinforce the sides if they flex too much when painted.
Cereal box cardboard - same advantage as poster board - easy to find and easy to cut. But also the same downside - may be kind of flimsy. Just double on the cardboard if needed.
Cardboard - this is the type of cardboard you see on the back of notepad for example. Often it is very thin, but on artist's pads, for example, it can be very thick and sturdy.

What do I use? I use 30 pt medium weight cardboard (Amazon calls it chipboard). It is easy to cut and folds well. It is the perfect weight of cardboard for making little houses.
Corrugated Cardboard
I use corrugated cardboard primarily for my bases. To make the house bases I cut out several layers of corrugated cardboard, hot glue them together, then cover the entire thing with paper followed by paint.

Can you make little houses with corrugated cardboard? Absolutely. And it makes a very sturdy house. But the major problem is that it is hard to cut especially for details like windows out of corrugated cardboard. In addition, it doesn't fold well so you would have to cut out each piece separately. After that glue the pieces together. Hot glue works best for a thick material like corrugated cardboard.

Bottom line: It's great for bases, but not great for little houses though you can use it for that.
Single-Face Corrugated Cardboard
What about is Single-Face Corrugated Cardboard? It's cardboard without the top layer. And what could you possibly use it for when you make little paper houses? It is perfect for log cabins and for roofs.

You can purchase it in rolls or you can remove the top layer from a piece of corrugated cardboard.
The little paper house below shows an example of a tiny log cabin made with single face corrugated cardboard.
Tissue Paper
For making little houses, tissue paper can function as window material or to cover the base. And the one weird thing I used it for, was to make the surface of bat wings for the Bat Wing House.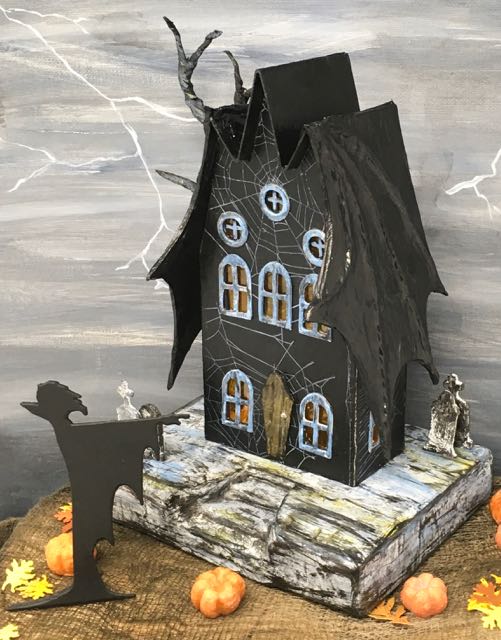 3. Glue and Adhesives - What glues and adhesives work best for making paper houses?
One of the most common questions I get about making paper houses is what kind of glue to use.
Below are some common types of glues that I use:
Next, let's go over each type and how to use these glues when making miniature houses.
PVA Glue
What is PVA glue? These are types of glue made from polyvinyl acetate. But really, just remember that they are white glues similar to the glue you used in school.
Probably the most common PVA glue is Elmer's Glue-All. It's very easy to find. Unfortunately, I think it is a little thin for gluing the main structure of cardboard house together. It works, but you really have to give it time for the glue to work.
My favorite types of glue for the structure of a house is either Aleene's Quick Dry Tacky Glue or Aleene's Fast Grab Tacky Glue. Both of these glues are thick and adhere quickly so you don't have to wait so long for the glue to set. That's the advantage.
But there is a disadvantage. Since both of these glues are so thick, they are hard to squeeze out of the bottle. Fast Grab Tacky Glue is the thicker of the two. So the solution is to store them upside down.
Mod Podge
Mod Podge has a number of uses when making little houses. First and most important is using it to apply glitter. Mod Podge works beatifully for applying glue.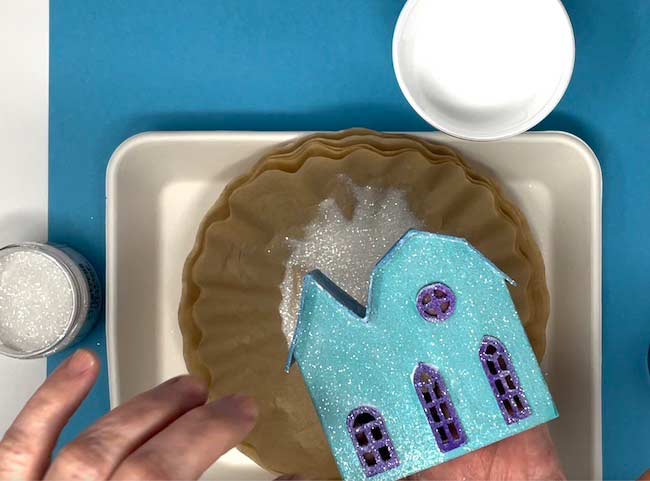 I also use it for apply paper to my cardboard bases. Mod Podge is visible on the Sea Worn Beach House cardboard base below. I do use matte Mod Podge but it still has a sheen. But it's ok. I painted over it.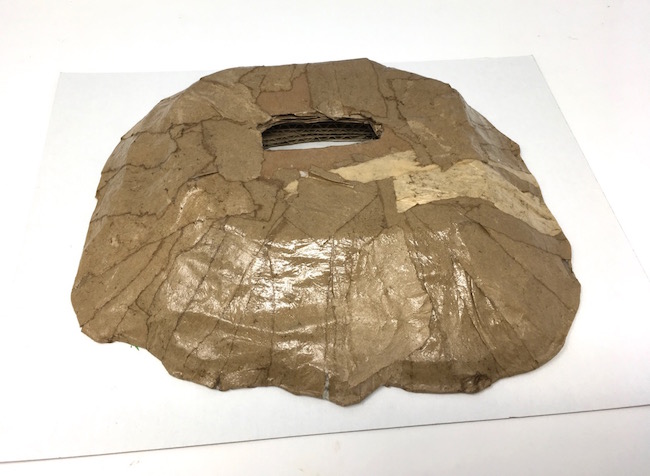 Art Glitter Glue
What is nice about Art Glitter Glue is that it is dries quickly and is still pretty thin and easy to use. It doesn't make paper wrinkle like other glues tend to do. Oh, and it doesn't have any glitter in it despite the name. One disadvantage is that it can only be purchased online.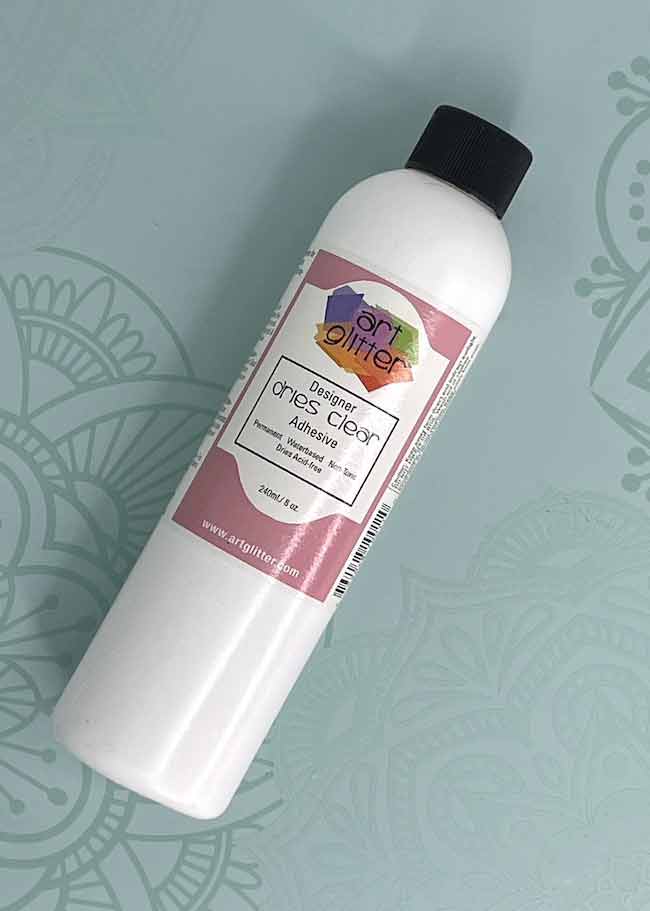 Mostly, I use it for gluing things like shingles to a roof. In addition, it works great for gluing on decorative pieces to card stock like on the tiny houses like the Swiss Chalet below.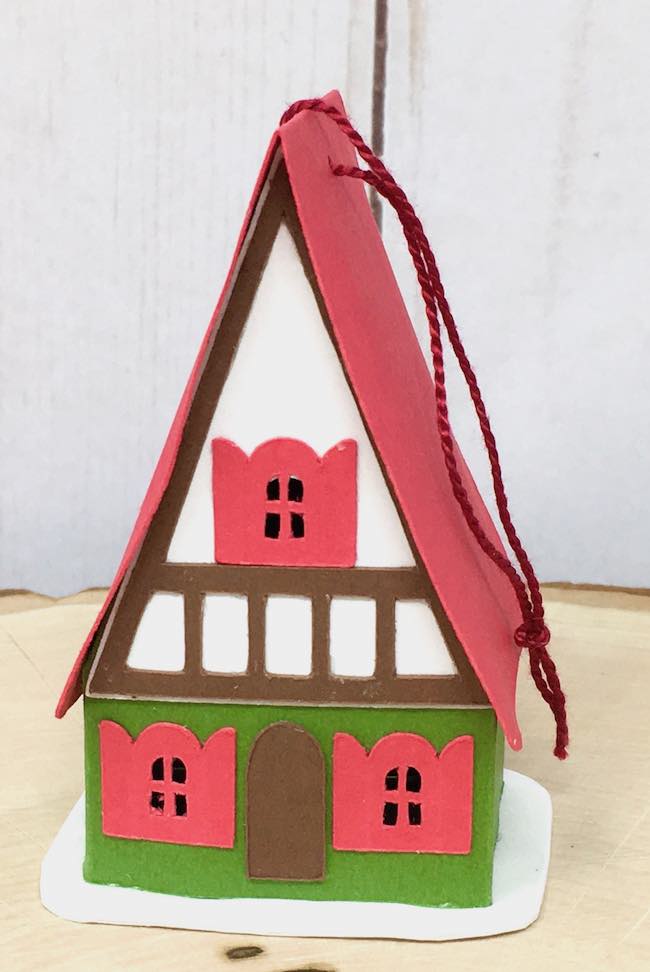 Glossy Accents
Glossy Accents is a great glue made by Ranger. It is easy to apply, dries really quickly and is surprisingly strong. When I glue window material to a little house, I like to use Glossy Accents. Additionally, I use it is to make "wavy glass" - with the acetate I use for my window glass. I smear the acetate with Glossy Accents so the windows are translucent and kind of spooky. Also, this obscures the light source within the house so it's not so obvious.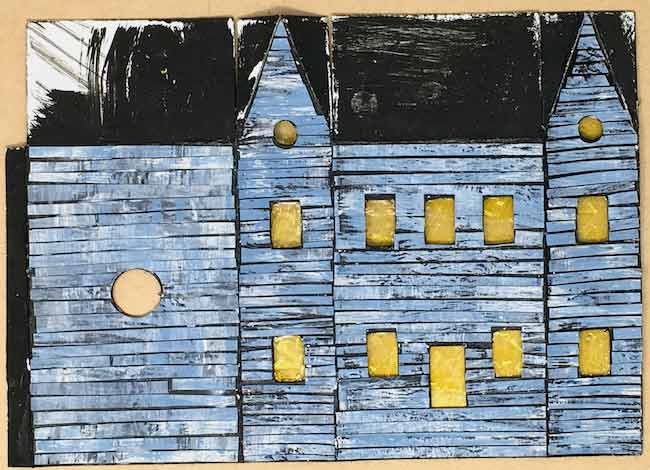 If you want to add a great shine to your paper crafts, Glossy Accents does a wonderful job at that.
Collage Medium
Collage Medium is another great product from Ranger. It has a cream texture. You can use it for any kind of collage - attaching paper to a cardboard surface, for example. But my favorite place to use this collage medium when I make twisted trees as below. Even though I use the matte version, I've noticed it still has a bit of a shine to it.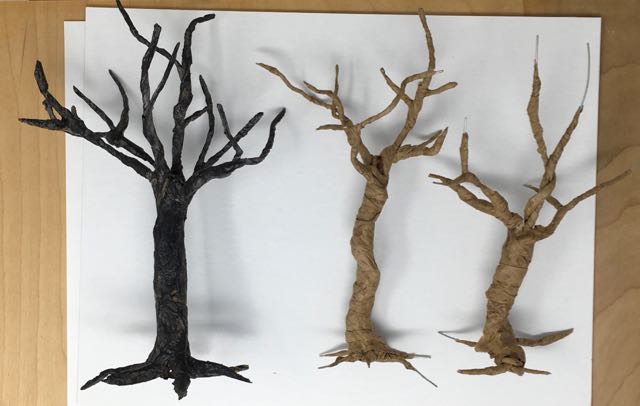 Hot Glue
But where would you use hot glue in making paper houses? Some crafters do use hot glue to make their houses. And it works, though I seem to have trouble with it.
I don't use hot glue for the house structure for 3 main reasons:
Hot glue is thick and can make a lump when you adhere 2 pieces together.
It is difficult to reposition pieces if you don't line things up perfectly on the first try.
And hot glue doesn't hold up quite as well over time. For example, it can actually melt if the little house is stored in a hot attic.
But there is one place I do use hot glue - between my layers of cardboard on bases. And that is because the hot glue doesn't show since I cover the whole thing with paper.
Painter's Tape
I've included painter's tape in this section because it is such a useful asset in making paper houses. Mostly I use it to hold things together while glue dries as seen below.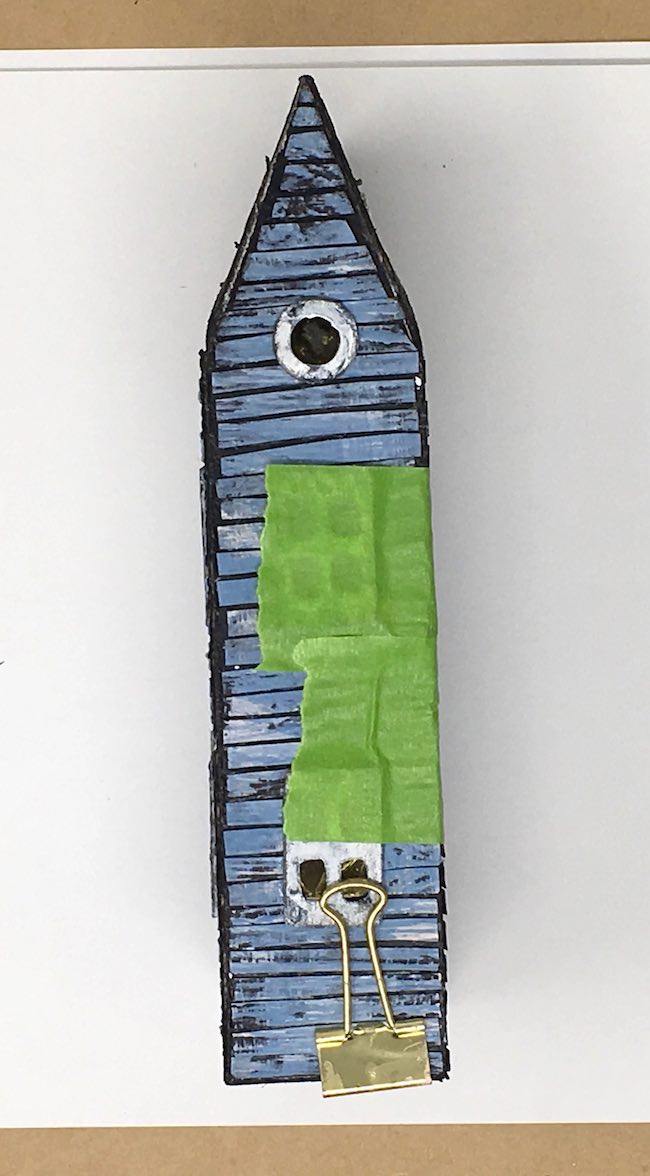 Also, use painter's tape to mask off areas when painting or using a stencil.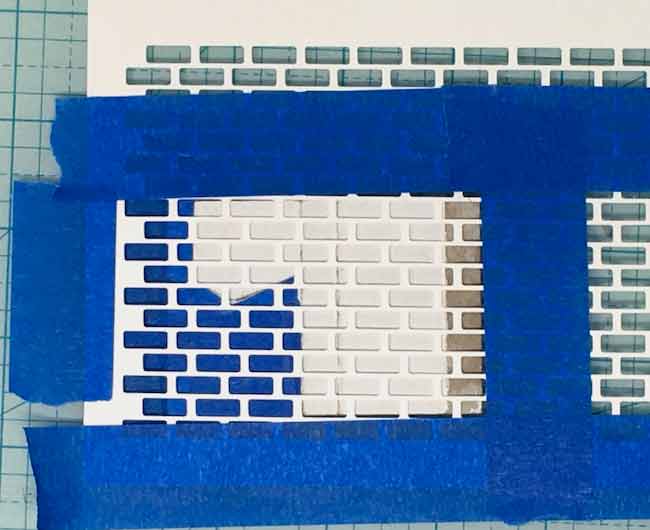 But there is an important distinction between masking tape and painter's tape - masking tape is a stronger tape and can tear your paper easier. Painter's tape is designed not to stick too tightly.
4. Materials to Color Your Paper House - What Paint to Use to Decorate Your Paper House?
Everyone has their own paint preferences, but basically you use acrylic paints. Here's a little more about paint choices.
Primer
What is a primer? It's the underlayer of paint that makes a better surface for the top coat of paint. You don't have to use as much paint to cover the cardboard when you paint a primer layer first. I always use it, but not everyone does. Some little house-makers skip this step.

My favorite primer is called Gesso. Most often I use white primer, but sometimes I use a black gesso primer when I want to make a Halloween house or for shadows between pieces of siding like you see on the siding examples on the Sea Worn Beach House as seen above. Gesso dries really quickly which is nice.
Basics Acrylic Paint
Basics Acrylic Paint is a common brand of acrylic paint that comes in tubes and comes in a decent range of colors.
Tim Holtz Distress Paint
My very favorite brand of paint is the Tim Holtz Distress Paint line. I just love this brand paint. It has a great paint palette (about 60 colors)and has a wonderful distress look as well. But the downside is that it comes in 1 ounce bottles and is expensive. Still I recommend this kind of paint because the colors are so perfect for Halloween houses.
Examples of less expensive brands that are still great are listed below.
Apple Barrel Paint
Apple Barrel Paints are a great brand as well. They come in 2 ounce bottles with a good range of colors. The prices are wonderful as well.
Craft Smart Paint
Craft Smart Paint is similar to Apple Barrel Paint in that it comes in 2 ounce bottles with a good range of colors and at a great price.
When I was looking for a specific shade of pink, I purchased several bottles of Craft Smart paint. For some reason, it is hard to find the perfect shade of pink. I can't remember which shade I settled on, but the paint worked great.
Martha Stewart Paint
I love Martha Stewart Multi-Surface acrylic paints as well. I have a large set of Martha Stewart paints because they are wonderful colors particularly for pastel shades. They also come in 2 ounce bottles. They are more expensive than Apple Barrel or Craft Smart, but less expensive than Tim Holtz Distress Paints. The other cool thing about Martha Stewart paints is that there are glossy and even glitter paints that are fun to use as well. And her metallic paints are the best I've found.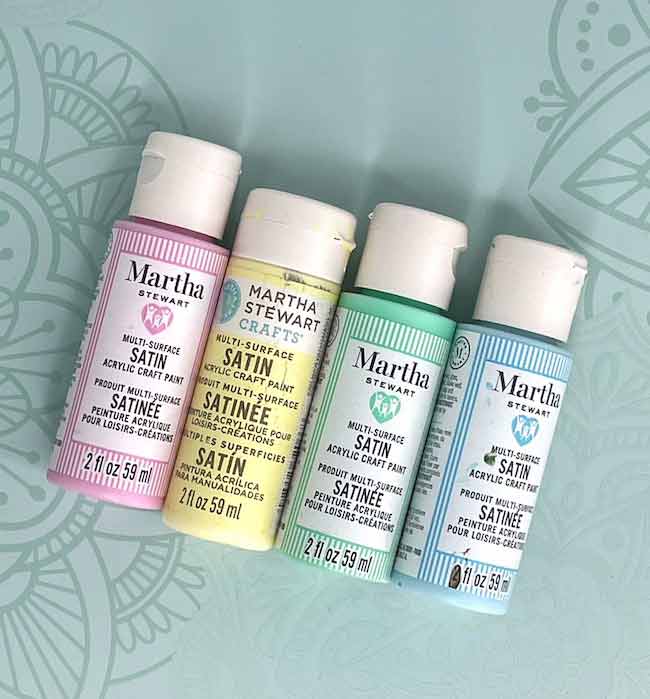 5. Glitter - what do you need to make your houses sparkle and shine?
This is probably the most controversial topic when making paper or Putz houses. People have very strong opinions about glitter - they literally either love glitter or hate it. I am somewhat ambivalent about glitter. I tend to use it on Christmas houses, rarely on my Halloween houses.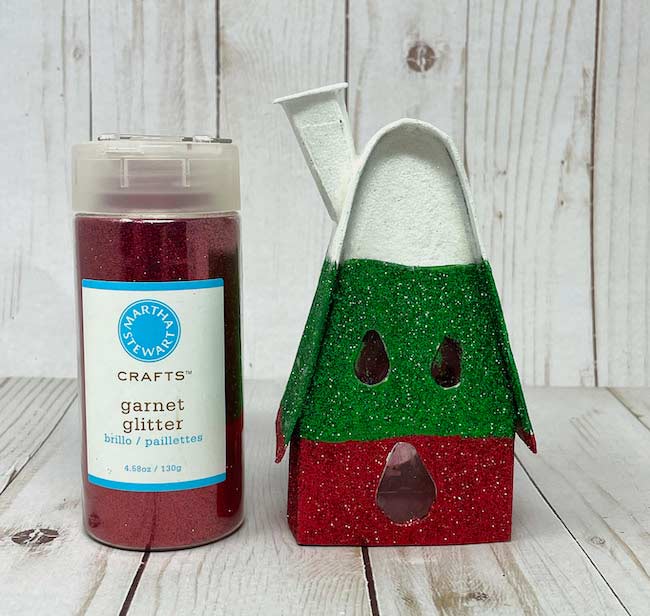 Another type of glitter that people love or hate is iridescent glitter. I just don't like it at all, but you may like the iridescent effect.
There are two main types of glitter - ground plastic or mineral-based (ground glass or mica). The important advantage of mineral-based glitter is that it does not stick to everything. Which means that it does not have a static charge that plastic-based glitter has.
Here are some options:
So even if I am not a heavy duty user of glitter, I do have my favorites.
Tim Holtz Clear Rock Candy Distress Glitter
This glitter called Clear Rock Candy Dry Glitter by Ranger is my absolute favorite. I like it for a number of reasons:
It is not too sticky or "contagious". One major complaint about glitter is that it gets everywhere. This glitter does not do that, but I am not sure what it is made of.
Clear Rock Candy Dry Glitter isn't as sparkly as traditional plastic glitter. I like the subtle effect. You may prefer much more sparkly glitter than this.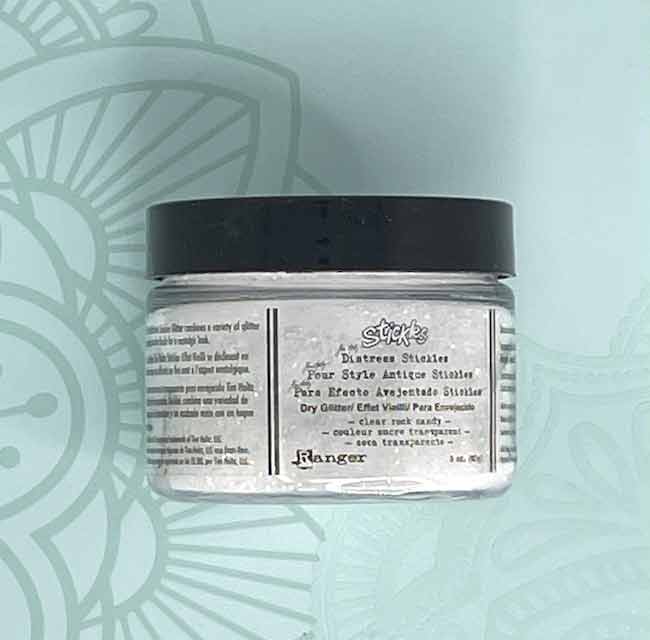 Martha Stewart Glitter
Martha Stewart has a large range of glitters in many colors that I like very much, but I only use the fine glitter. Again, I choose it because it is a little more subtle than glitter with larger particles. That's just the way I like glitter when I make my little houses.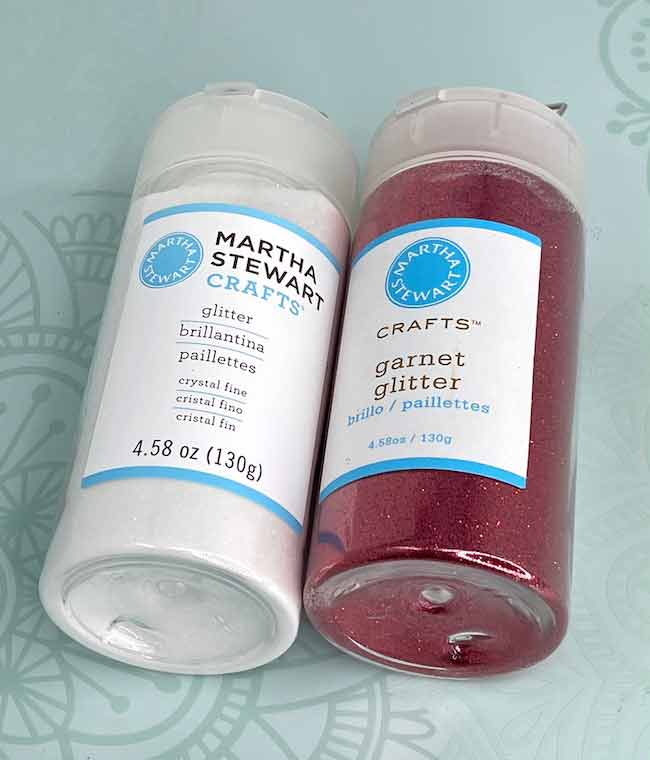 WOW! Glitter
WOW! Glitter is a very sparkly glitter that several crafters in my Glitter and Putz House Facebook group seem to like it very much. I don't think I've ever used it before.
Glass Glitter
Glass Glitter is the original glitter which is literally made out of ground glass. It is a lovely glitter. Remember that it doesn't stick to unwanted objects in your home like the plastic-based glitters. It's great for paper houses.
The easiest kind to find is Diamond Dust Glass Glitter with relatively large pieces of ground glass. It does have a warning to avoid using it where kids might get into it, but I haven't noticed that it is that sharp. Still I think it is wise to be cautious, so see the warning below.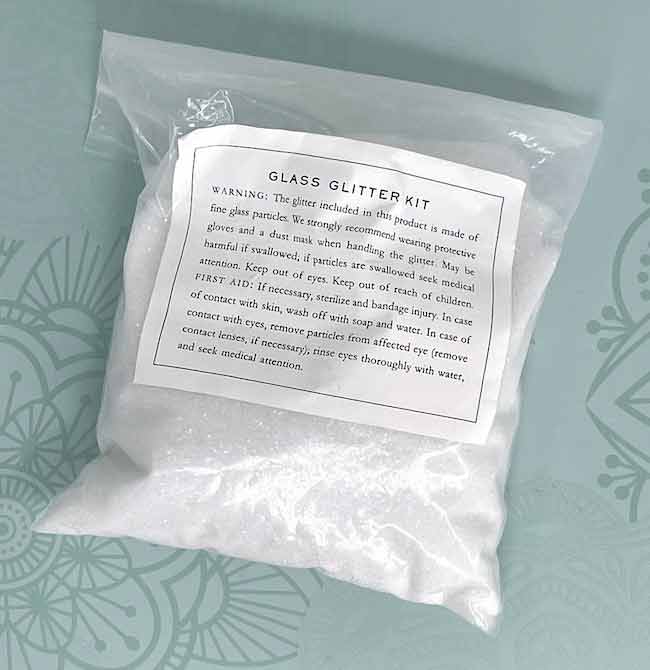 Another example of beautiful German Glass glitter is from Meyers Import.
Mica
Mica has been used to add shine to little houses since the early days of putz houses. Here is an example of ground mica.

D. Blumchen and Company has mica in a box with great vintage graphics.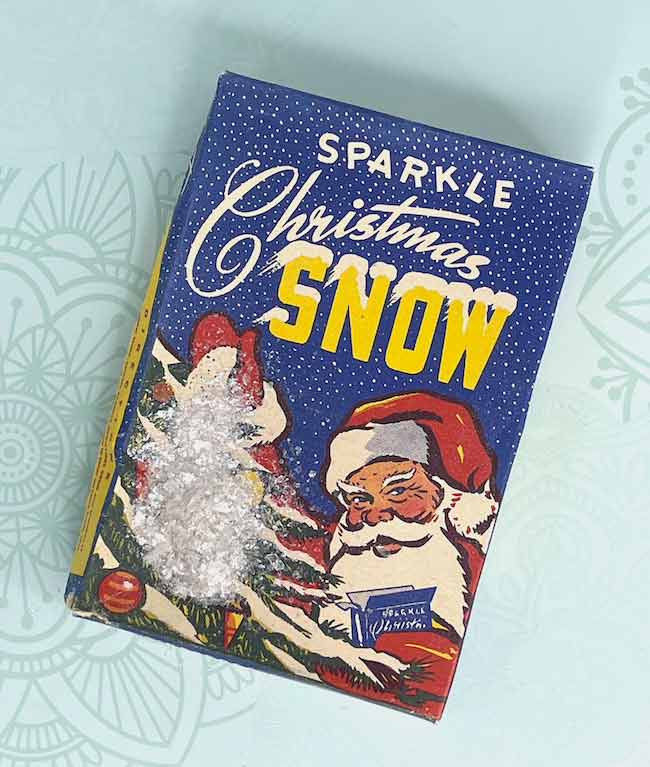 And here is another example of mica which has a more natural color which works great on Halloween paper houses, for example.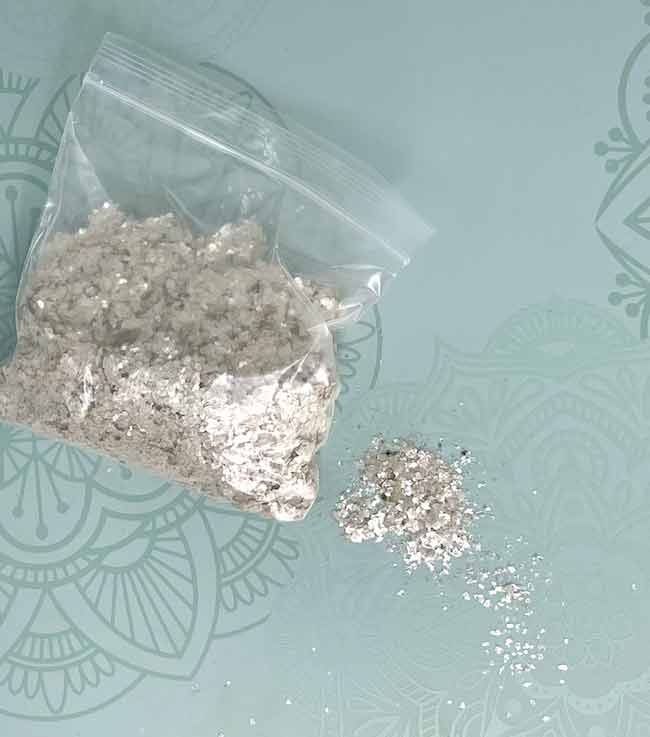 Sand
Even sand can put a nice subtle shine on a little house. Search for craft sand as in this example. I apply it just like glitter. Or you can mix it with the paint and it still gives a bit of shine as well as texture to the surface. It is a very inexpensive, sparkle option as seen on the sandy beach on the pink version of the Sea Worn Beach house.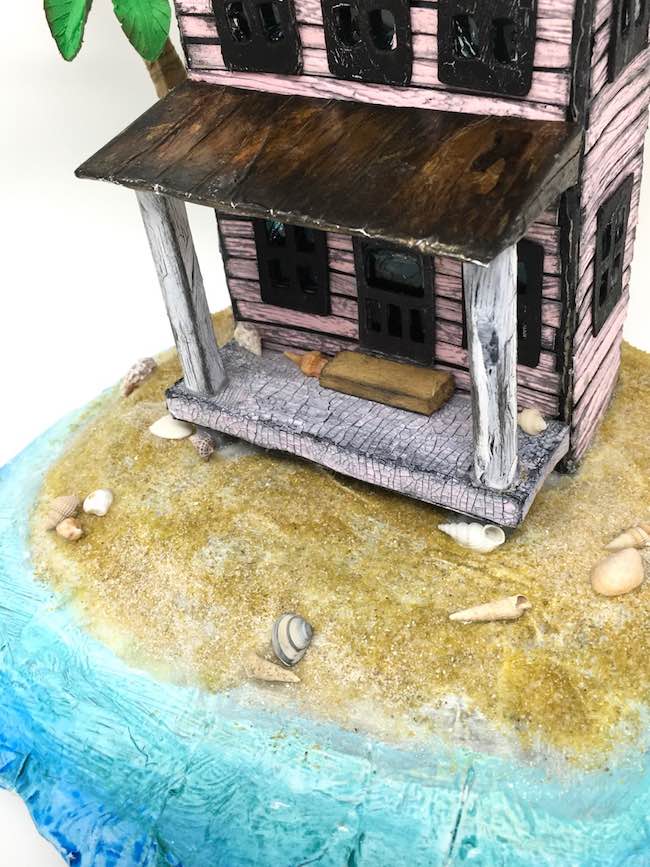 6. Window Materials - What do you use for Windows on a Putz House?
This is also a fairly common question when people start making putz houses - what do you use for window material? Options I use are listed below:
Acetate
The most common material I use is acetate recycled from clear packaging. Sometimes I stain the acetate to match whatever style of the house. You can see the stained blue windows below. Alcohol ink works beautifully for staining nonporous material like acetate.
For instance, see the windows glued to the inside of the Stone Stenciled Clock House.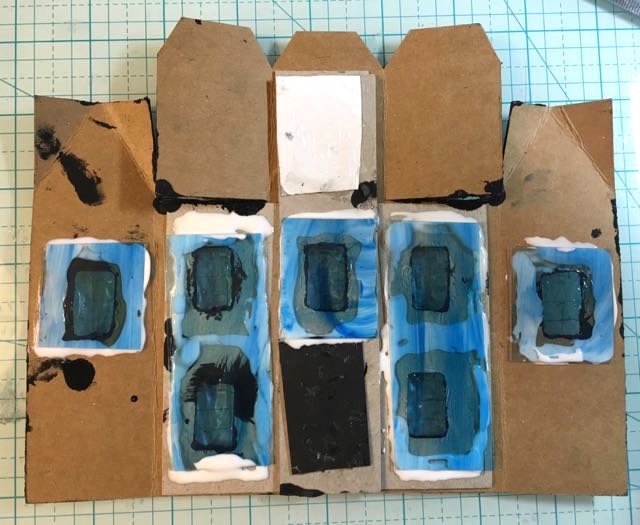 Transparency sheets are also a great source of acetate for windows.

And I've already talked about applying Glossy Accents glue to make the windows less transparent, but actually translucent which I like very much.
Vellum
Vellum is a paper product (though it used to be made of animal skins). What you find now is a cellulose product that is modified so it is not opaque, but translucent. It works great for windows. The only disadvantage is that because of manufacturing process sometimes it is a little difficult to get it to adhere to your project. You can print on it with an inkjet printer, but I don't think it works with a laser printer.
Copy Paper
I've discussed using copy paper as material in making little houses in the paper section above. Just below you see an example of a printed door made from copy paper. This is Christmas House No. 4 in the 12 Houses of Christmas series.
Plastic File Folders
One of my favorite Putz house makers, Rhonda of the Christmas Notebook website likes to use yellow plastic file folders for windows. When the lights are on, it makes a beautiful glow. Check out her houses on her website.
7. Embellishments - What kind of embellishments are available to decorate little paper houses?
Really your imagination is the best source for embellishments, but there are some traditional embellishments for paper houses, specifically for putz houses.

Here are a few classic options for tiny house embellishments:
Bottlebrush Trees
Bottlebrush trees are great little trees used on putz houses. You can get them in various sizes. I like to buy plain sisal (rather than plastic) bottlebrush trees and paint them with colors that match my little house. But they are easier to find already stained.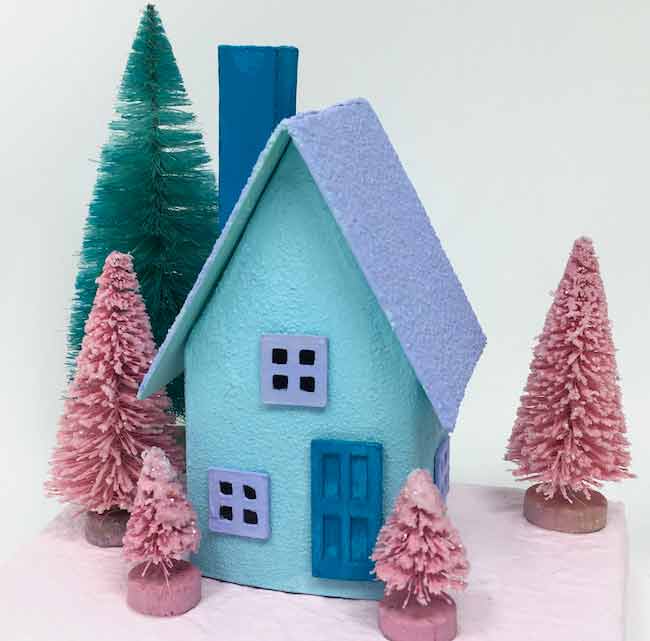 You can also make your own bottlebrush trees. That's a fun craft and the nice thing about it is that you can make them the size you like. Initially I stained them, but now I paint them using an acrylic paint. While stains have vibrant colors, they tend to bleed color if you cover them with snow.
Below shows one of my homemade bottlebrush trees in front of the Christmas Village house.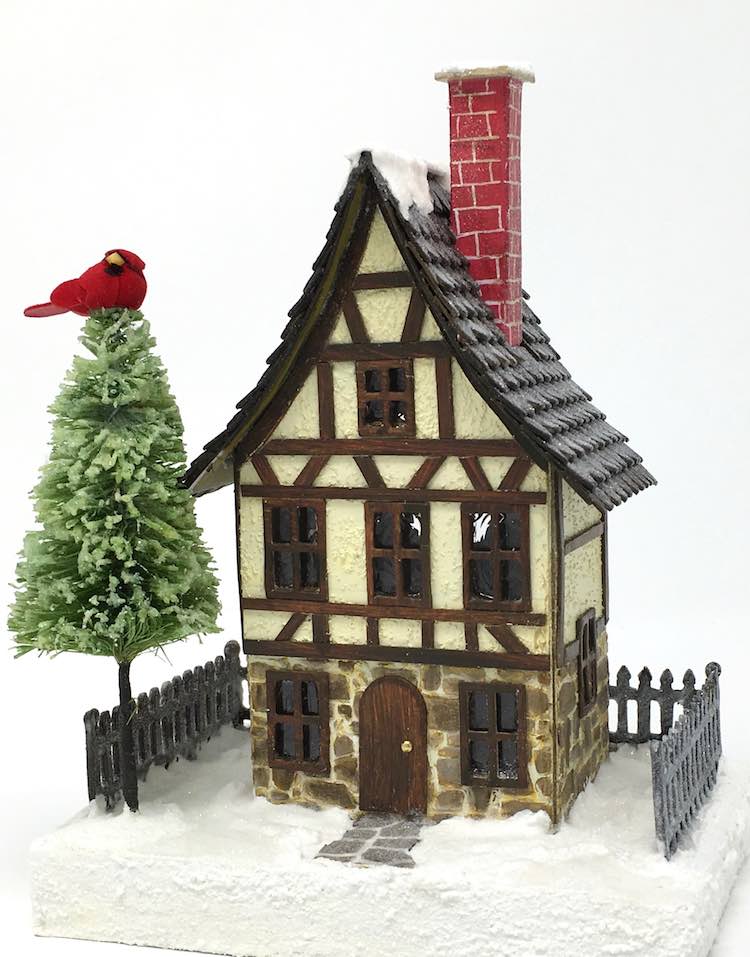 Vintage Putz houses were often made with loofah trees. I've never made a loofah tree before, but the Cardboard Christmas website has a tutorial for making them from loofah material.
Miniature Figures
One of my favorite things are tiny figures that you can add to your paper house projects. I love these Tim Holtz figures - the Salvaged Santa and Snowman.
And there are also some tiny deer from this same company. I love these deer as well for decorating my little houses.
One of my online buddies, Pete Oehmen, makes reproductions of figures from vintage putz houses. You can email him at this address - [email protected] - to get this catalog to see all his great products for making little houses.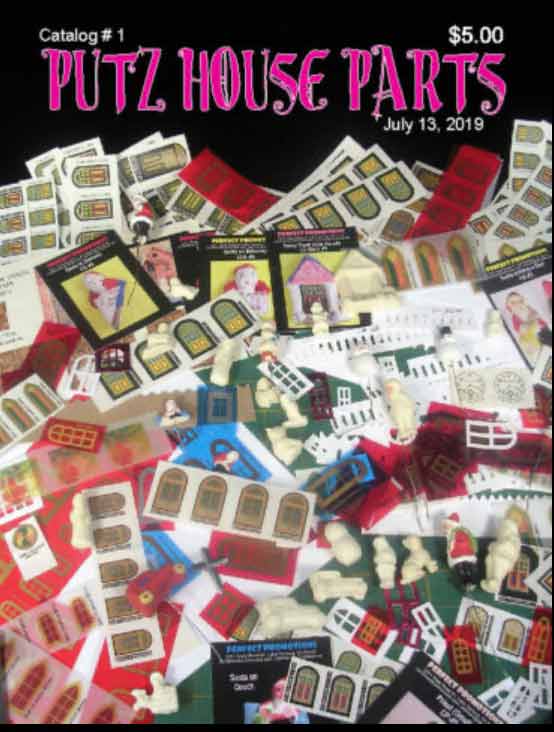 Snow
What makes a Christmas paper house super Christmasy? Snow! Don't you think that snow just turns your house into a frosty delight.
The snowy roof on the Storybook Holiday Cottage is covered with a thick layer of snow made from Snow-Tex diluted with white paint to make it flow better. I just love this effect.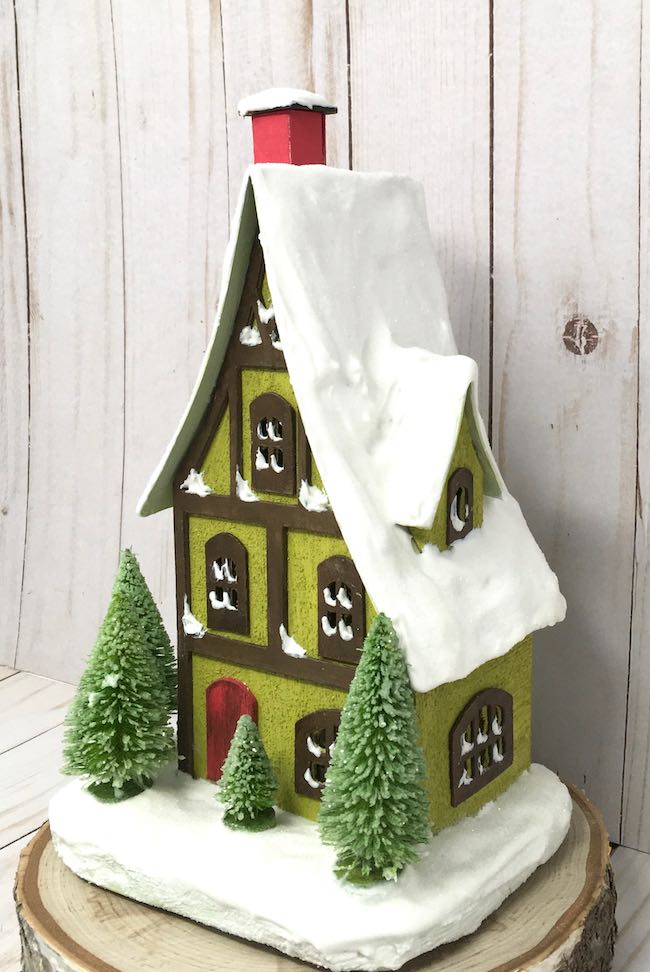 So what do you need to add snow to the paper house creation? I like to use Snow-Tex which I mix with some white paint to make it more spreadable. There are other brands:
8. Miscellaneous Tools and Supplies - What else simplifies making little houses?
What other tools help with crafting paper houses? Things that help me hold the house together help a lot. I'll add more as I think of them.
Binder Clips - medium binder clips hold cardboard together well, but they do leave a little impression on the cardboard
Clothes Pins - clothes pins also help hold things together as well and are less likely to leave an impression on the cardboard.
9. Patterns - Where can you find patterns to make paper houses?
Well, where is the best place to find patterns for making little houses? Honestly, I think my website PaperGlitterGlue.com is one of the best places to find patterns - especially free SVG pattern templates for cutting machines and PDF patterns for printing. So all you have to do to get access all of my free patterns is subscribe to my newsletter with this form and you will get the password to the library immediately.
But there are other great websites with free patterns include:
10. Specialty Sites for Buying Supplies - Where else can I find special supplies for making these miniature houses?
Besides Amazon (we all rely on Amazon, don't we?), there are a number of other sites where you can find great supplies to help you with little houses. So here is a list of specialty websites:
D. Blumchen and Company - great vintage and imported craft supplies
Meyer Imports - beautiful German glitter
Smile Mercantile - more vintage items, also great tutorials as well
Really that's about it. I sincerely hope this helps you on your paper house-making journey. Also let me know if you have any questions or think of things I need to add. I tried to make this list as comprehensive as possible, but you know how easy it is to overlook things.

Lastly, thank you for reading.

Lucy