13 Days of Halloween House No. 1
Finally, 13 Days of Halloween is here. This is a 13-day Halloween challenge where I post a free house pattern each day for the next 13 days finishing on October 30th. The first paper house is the Halloween House No. 1 - a simple gable front house with a steep roof and a spooky coffin-shaped door. It's easy to construct with the pattern provided. And I've even included a scan of the house siding and windows and the cool front door if you don't want to paint or draw your own windows or door.
What do you need to make the houses?
First, Access the Paper Glitter Glue Library
You can find all my free patterns in my Paper Glitter Glue Library. I list the patterns chronologically. So you will find the newest 13 Days of Halloween paper house pattern first at the top of the library.
To get access to the library, simply subscribe to my newsletter with the form at the bottom of the post and you will be sent the password immediately so you can download the pattern. Then click on the library link, click to enter the password protected area, type in the password and the poof! the list of free patterns and tutorials will appear. This pattern is listed in the October 2018 section of the library.
This post contains some affiliate links for your convenience. That means if you make a purchase after clicking an affiliate link, I will earn a small commission but it won't cost you a penny more. Click here to read my full disclosure policy.
Materials for Halloween House No. 1
Halloween House No. 1 Pattern PDF (also SVG pattern available)
Carbon paper (if tracing to the cardboard)
Cutting Mat
Or an electronic cutting machine like a Cricut
Metal-edged ruler
Craft knife and scissors
Aleene's Tacky Glue or other PVA glue
Various colors of paint - I use the Tim Holtz Distress Paint line because I love this range of colors so much. I also use gesso to prime my houses before I paint them.
Colored pens, pencils if desired
Paintbrushes in different size (small pointy ones for details)
Halloween Embellishments
Brief Outline of Directions for Halloween House No. 1
Download and print pattern
Copy pattern to cardboard
Score, then cut out pattern and cardboard base
Paint the house and the cardboard base
Fold and glue house together
Glue the roof on
Glue to base
Decorate with Halloween embellishments
Additional Links:
Here are the links to the series of 13 Halloween houses:
13 Days of Halloween Paper House patterns:
First Download and Print paper pattern for Halloween House No. 1
After accessing the Paper Glitter Glue library, download and print out the pattern. I have included it in two main formats - a PDF file and often a zip file including the SVG pattern. The pattern is in the October 2018 section of the library.
Just subscribe to my newsletter to get the password to the Paper Glitter Glue library if you don't have it already.

The PDF file includes:
Printable PDF house pattern
Directions
Scan of the house with siding and windows and door already drawn
The SVG Zip file contains:
SVG pattern for this house
PDF pattern for this house
Copy pattern to cardboard or cardstock if cutting by hand
This house is simple and sturdy enough to copy directly to cardstock from your printer. Generally though, I use a thin cardboard about the the thickness of poster board because that is what I have and it makes a very sturdy house. Corrugated cardboard doesn't work too well because it is too thick for these tiny pieces and does not fold with nice sharp corners.
I used tracing paper to transfer my pattern to the cardboard. But you can trace the pattern with a pen or a dull pencil to leave lines on your cardboard which you can cut out and score.
Or cut it out with a cutting machine like a Cricut.
Score, then cut out pattern and the cardboard base
Score the fold lines. On my patterns, I draw the score lines as dotted lines and the cut lines as solid lines. Remember to score before you cut because it is easier that way.
For the bases of these house, I cut out an irregular shaped piece of cardboard that is just a little larger than the house itself.
Important Note about the SVG files for Cutting Machines like a Cricut:
If you are using the SVG pattern for your automatic cutter, the score lines are in a separate layer from the cut lines.
Note for cutting machine users: There is ONE layer of lines for the house and the roof that needs to be converted to score lines. When you convert that layer to score lines, you also need to attach them to the house layer. See the photo below.
Paint Halloween House No. 1 and its Cardboard Base
Now you have your first really fun step - painting your house.
If you printed the scanned pattern with the siding and windows already drawn on it on cardstock, you can just start painting.
But if you are using cardboard, paint your cardboard with gesso so the next paint layer will stick well. Poster board and the cardboard I use has a slick coating on it that needs gesso for the paint to adhere. Then choose your paint color. I chose a different colors for the 3 houses I made with this pattern.
Paint with the base with gesso, then your desired color. For my miniature Halloween houses, I used contrasting colors for the house and the base.
Fold and glue house together
And this is another fun step because this is where the house comes together. Fold along the score lines and glue the house together. The roof flaps and roof tabs help the house maintain its rectangular shape. Don't worry if the roof flaps don't meet perfectly in the middle because you're going to add another, larger roof piece to the house.
Glue the Roof on
If you want to make a Rusted Roof, just tape metallic DUCT tape (a real true metallic tape - not the famous fix-everything DUCK tape) on the roof piece, and color it with alcohol inks and paint to age it. You can read about how I make a Rusted Roof in this tutorial.
Paint your roof the desired color. If you are going to add shingles you can do it now or after it is adhered to the body of the house. Normally, I glue shingles on after the roof is already glued onto the house.
Glue the roof on after the house shape is dry. Sometimes it is hard to get the roof to stick so you have to hold it or tape it in place for a little while as the glue dries.
Glue your fun miniature Halloween house to base
Now add a thick bead of glue to the bottom of the house and adhere to your cardboard base. Leave it alone while the glue dries. Almost always, I mess with it at this stage and then have trouble getting the glue to stick (which requires more glue, then more time, etc, etc.)
Finally Decorate with Halloween embellishments
Finally, the funnest step - decorating. I use all sorts of embellishments on my little houses. For Halloween House No. 1, I kept it kind of simple, but you can go bat crazy if you want.
Here's a list of ideas for embellishments:
Natural elements like moss and bark
Acorns
Miniature pumpkins - I make mine out of polymer clay
Halloween die cuts
Ghosts
Bats
Witches
Tombstones
Spiders
Bones
Cardboard stepping stones
Creepy fences
Tiny broomsticks
Twisted Trees (see the Twisted Tree Tutorial)
Bottlebrush Trees
Roof decor - shingles, rusted roof
There are lots of examples of Halloween decor on my Halloween houses throughout the blog.
So that is Halloween House No. 1 of the 13 Days of Halloween series of paper houses. It is the easiest, but that also means it is the most flexible. You can do a lot with it. I'll add more details later in the series.
See you tomorrow for the next Halloween paper house.
Thank you for stopping by.
Lucy
P.S. I made a really cool feather tree using from Halloween fringe in place of the feathers. That's a bonus design for this challenge. I will post it in a few days with a brief video of how to make it. It is surprisingly easy. Or perhaps I should say easier than I thought it was going to be.
P.P.S.
Update! I now have a detailed book, 13 Handcrafted Halloween Houses, with all of the patterns in this series including:
variations on a number of the houses - some with side chimney options, dormers, roof top chimney
lots of window and door patterns
roof shingles patterns
2 fence patterns
The patterns are in two formats - printable PDF patterns and SVG cut file patterns if you have an automatic cutting machine like a Cricut.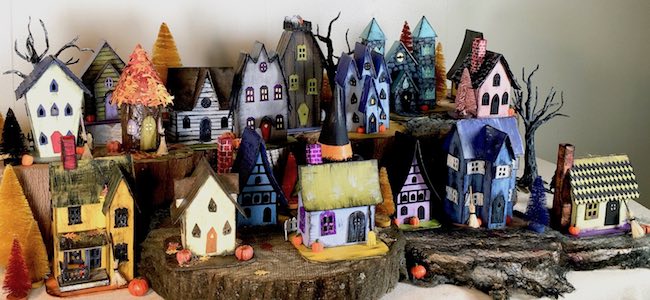 Below are the variations for Halloween House no. 1 - now named Esmeralda's Quaint Cottage.