The Coffin House is a whimsical Halloween house in the 13 Days of Halloween series of little houses. This particular miniature paper Halloween house is easy to make and cute and definitely not too scary.
Here is the Coffin House version in my book, 13 Handcrafted Halloween Houses.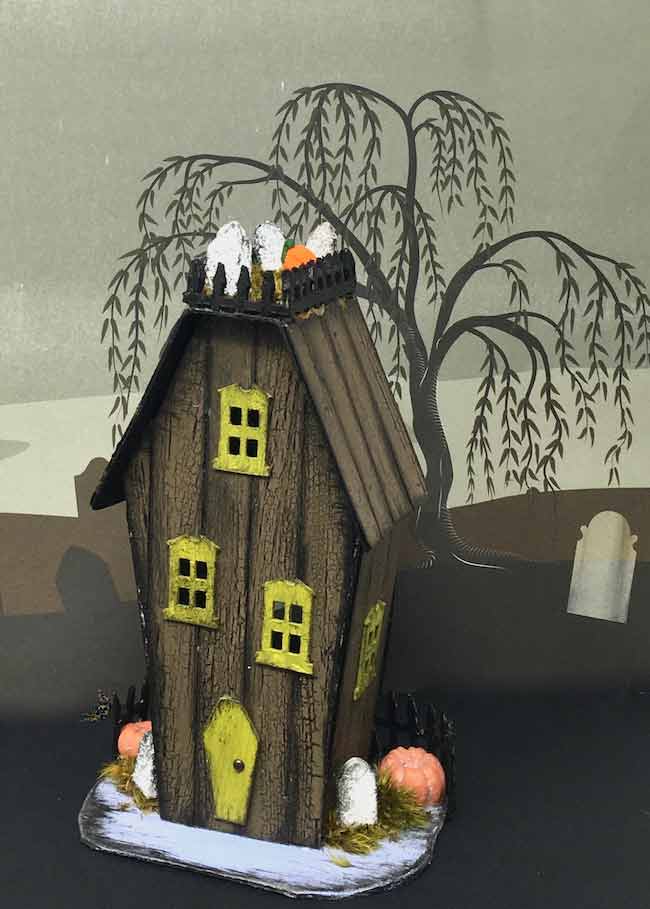 The idea for this house came to me when I was making the Crooked Little House - Halloween Paper House No. 6. I noticed that the house was shaped a bit like a coffin and I wondered if I could make it a little house in the shape of a coffin. Several designs later I came up with this pattern.
While most of the houses in this challenge series have gradually been getting more complicated, I figured an easier house might help you at this time. Also this is a good house to make with a child.
Let's get to it. Only 2 more days to Halloween. The Halloween village is almost complete.
What do you need to make the whimsical Coffin house?
First, Access the Paper Glitter Glue Library
You can find all my free patterns in my Paper Glitter Glue Library. I list the patterns chronologically. So you will find the newest 13 Days of Halloween paper house pattern at the top of the library - listed first.
To get access to the library, simply subscribe to my newsletter with the form at the bottom of the post and you will be sent the password immediately so you can download the pattern. Then click on the library link, click to enter the password protected area, type in the password and then poof! the list of free patterns and tutorials will appear.
Materials
Halloween House No. 12 Pattern PDF or SVG Pattern
Tracing paper (if that is your preferred transfer method)
Cardboard
Cutting Mat - I love this glass cutting mat. It is so easy to clean so I can cut and paint on it.
Metal-edged ruler
Craft knife and scissors
Aleene's Tacky Glue or other PVA glue - here is my favorite for making little houses
Various colors of paint - I use the Tim Holtz Distress Paint line because I love this range of colors so much. I also use gesso to prime my houses before I paint them.
Colored pens, pencils if desired
Paintbrushes in different size (small pointy ones for details)
Halloween Embellishments
Cutting machine like a Cricut if you use the SVG cut files
Brief Outline of Directions
Download and print pattern
Copy pattern to cardboard
Score, then cut out pattern and cardboard base
Paint the house and the cardboard base
Add windows and doors
Fold and glue house together
Glue the roof on
Glue to base
Decorate with Halloween embellishments
Related Links to Making this House
Twisted Tree Tutorial  - information on making a twisted paper tree

13 Days of Halloween Paper House patterns:
First Download and Print paper pattern
After accessing the Paper Glitter Glue library, download and print out the pattern.
The PDF zip file includes:
Printable PDF house pattern
Brief Directions
There is now an SVG pattern for the Coffin house so you can make it with an automatic cutting machine. It is listed in the 13 Days of Halloween section under Halloween house no. 12 - the Coffin house. For windows, you can use the windows from one of my other houses - Spooky Habitat House for Halloween or even the Valentine Villa.
Copy pattern to cardboard or cardstock
I used tracing paper to transfer my pattern to the cardboard. But you can trace the pattern with a pen or a dull pencil to leave lines on your cardboard which you can cut out and score.
Paint the house and the cardboard base
Here is your first fun step - painting your house.
Paint your cardboard with gesso so the next paint layer will stick well. Poster board and the cardboard I use has a slick coating on it that needs gesso for the paint to adhere. Then choose your paint color.
Also paint with the base with gesso, then your desired color. For my miniature Halloween houses, I used contrasting colors for the house and the base.
Add Windows and Doors
Each time I make one of these little house, I come up with new ideas. So on most of the houses, I glued on square or rectangular windows and doors cut from cardboard. For this house I decided to draw some funky windows and doors specifically for this house - much like the drawings on Halloween Paper House No. 1.
So with a fine tip black marker, I drew the outline of the windows and the coffin-shaped door on cardboard primed with white gesso paint. Then I colored them with various Distress pens. Easy. Next I cut them out and glued them on the little house. They aren't fancy, but I think they are fun.
All the windows are just randomly placed because I want the house to look kind of haphazard.
Fold and glue house together
And this is another fun step because this is where you see the house come together. Fold along the score lines and glue the house together.
Please note that the roof flaps and roof tabs help the house maintain its shape. Just trim the roof tabs a little bit so they don't overlap on the roof flaps. Don't worry about the roof flaps that don't meet perfectly at the top of the house because you're going to add another, larger roof piece to the house. I think of the roof flaps as the under roof - they are just there for support.
Glue the Roof on
Now score the roof along the two lines on the pattern. Bend gently along these score lines.
Paint your roof the desired color. If you are going to add shingles you can do it now or after it is adhered to the body of the house. In general, I adhere shingles on the roof after it is already glued in place on the house.
Glue the roof on after the house shape is dry. It can be a little challenging to get the roof to stick so you have to hold it or tape it in place for a little while as the glue dries. This roof shape adheres pretty easily.
Glue your miniature Halloween Coffin house to its base
To do this add a thick bead of glue to the bottom of the house and adhere to your cardboard base. Leave it alone while the glue dries.
Finally Decorate Your Coffin House with Halloween elements
Finally, the funnest step - decorating. You can use all sorts of embellishments on your little houses. For this little Coffin House Halloween House No. 12, I kept it simple with pumpkins again, but you can go bat crazy if you want.
Another house completed. Only one more in the 13 Days of Halloween challenge - a castle. Don't worry it's a pretty simple castle based on the Smithsonian castle that I saw in Washington, DC last week.
Lucy
P.S. Please let me know if you need help with any of the patterns or how to make the houses. You can always email me at [email protected].
P.P.S. Important Update!
I have written a detailed book, 13 Handcrafted Halloween Houses, with all of the 13 Halloween house series patterns, but the book also includes:
Variations on a number of the houses - some with side chimney options, dormers, and roof top chimney
Lots of window and door options
Shingles patterns
2 styles of fences
tutorials on putting the houses together
The patterns are available in two formats - printable PDF patterns and SVG cut file patterns if you have an automatic cutting machine like a Cricut.
For example, here is the updated Coffin House in the 13 Handcrafted Halloween Houses book.