Time to make little Halloween houses!
To inspire you, here are some of my favorite little Haunted Halloween houses that I've made over the years. Many of them have free patterns in the Paper Glitter Glue library to help you make Halloween houses easier.
Below, I'll show you a photo of each house with a brief description. Then you can pick out your favorite paper haunted houses to create.
And how do you get access to the free library to get the free patterns? Just subscribe to my free newsletter with the form below and you get the password immediately and in every Paper Glitter Glue newsletter. I include craft tips and ideas and notifications of new posts in my newsletter.
Probably my favorite Halloween house of all time is the Abandoned Italianate Mansion. I really love this house. It's fairly complicated to make, but looks great when finished.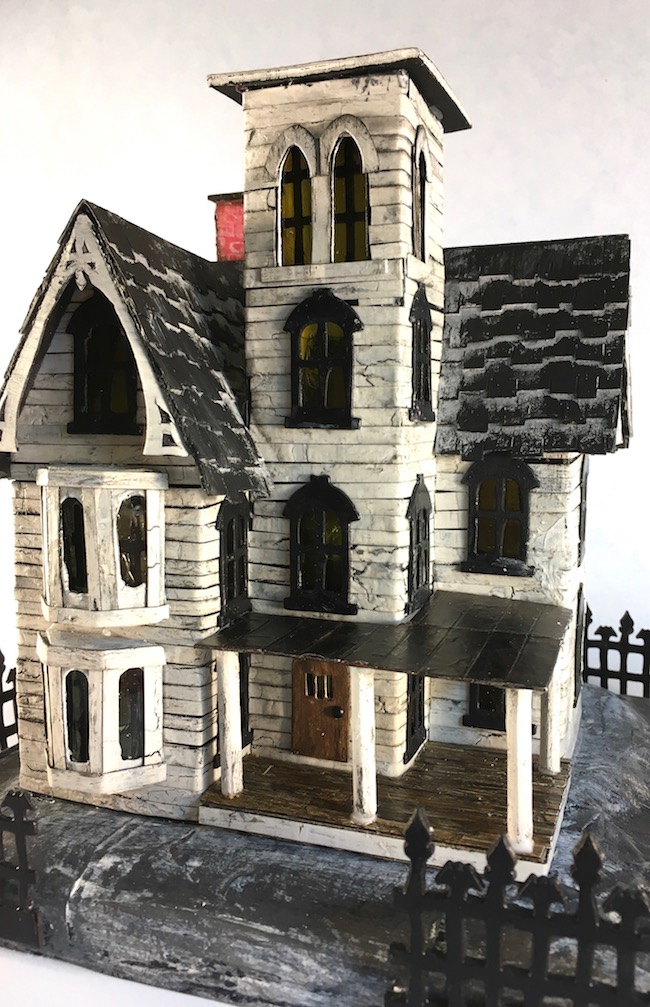 Get the PDF and SVG patterns for this house as the Faded Mansion in January 2019. The photo below shows the Faded Mansion decorated for Halloween. It's Design No. 42 in the Paper Glitter Glue Library.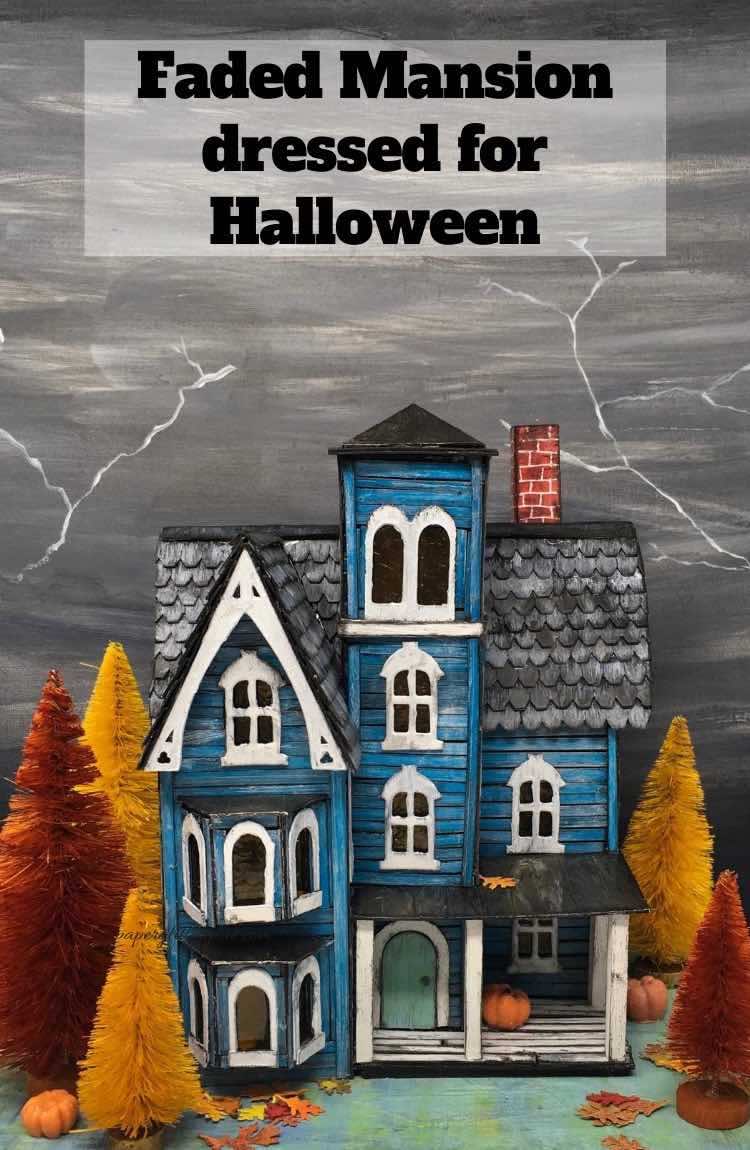 This house definitely ranks up there among the best Halloween houses I've made. The pattern has all the details including the shingles, funky windows, and the porch railing. There are both SVG and PDF patterns as Design No. 60 in the free library.
One of my friends commented that my little houses reminded her of a book she loved as a child. The book follows the adventures of Gus the Ghost when his house is sold and he has no place to live. I was intrigued by the delightful illustrations by Seymour Fleishman. So I made this house 2 years ago. At this time, there's isn't a pattern for Gus' house - yet. I will get around to making a pattern so.
I included the Black Hat Inn here because it was one of my very first Halloween houses. I worked so hard on designing the Inn and all the little details. The tree stump houses are constructed in the same way. See Designs No. 16 and 51 in the library.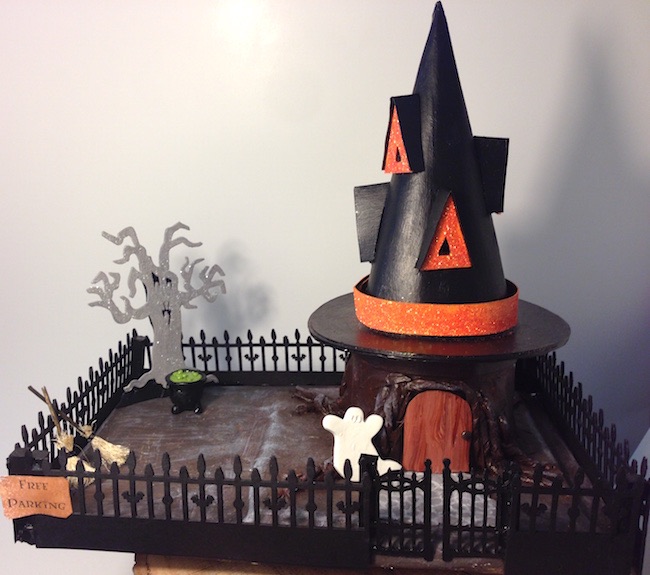 While the Sea-Worn Beach house isn't strictly a Halloween house, it still has lot of spooky potential. It's Design No. 53 in the library.
The two-sided Apothecary Halloween house has plenty of spooky charm including a ghost rattling a chain in the attic. Add all the apothecary decor elements for extra spooky factor. Published in August 2018, the tutorial demonstrates how to make a two-sided house.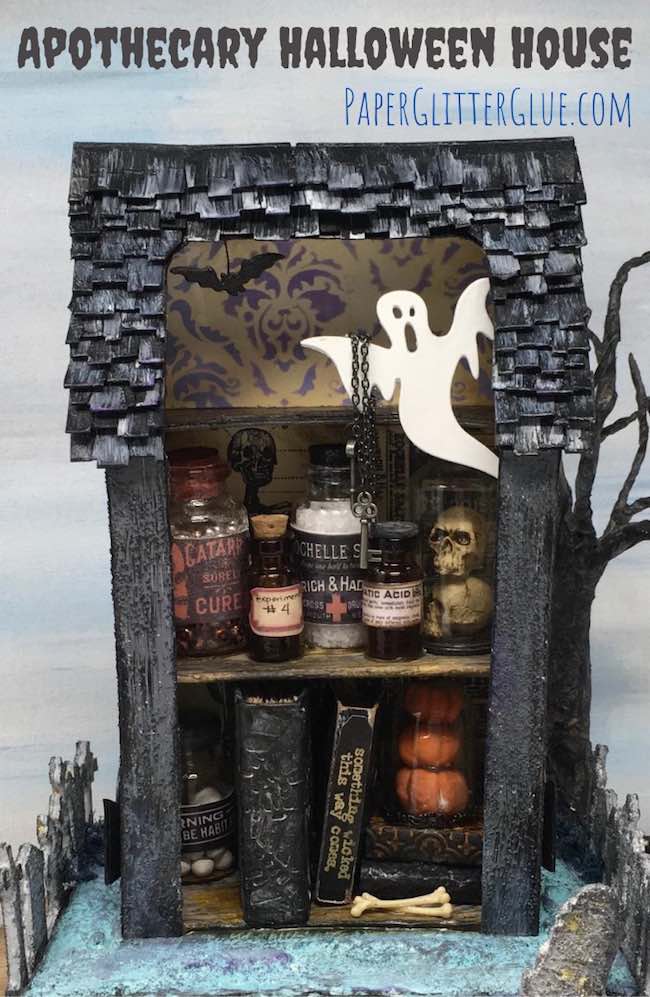 What about making a Miniature Halloween Bookstore?
Ok, next make a miniature version of a Halloween Bookstore. In addition, there is a tutorial to make spooky little books for the bookstore. This pattern is also a free PDF pattern from August 2018.
And every Halloween Village needs a Haunted Schoolhouse, right?
I used the Front Tower Clockhouse from October 2018 to make a number of houses. I like the Haunted Schoolhouse variation the best. Often, I make a crackle siding on my little haunted houses for the spooky effect.
Each of these patterns is available as printable PDF files as well as SVG files.
Ebonywood Mansion - Make another Miniature Halloween Front Tower variation
The Ebonywood Mansion variation is also made from the Front Tower Clockhouse Pattern. listed in the library in January 2020. The Ebonywood Mansion has an embossed wood grain finish to add to the creepy factor. An owl weathervane helps too.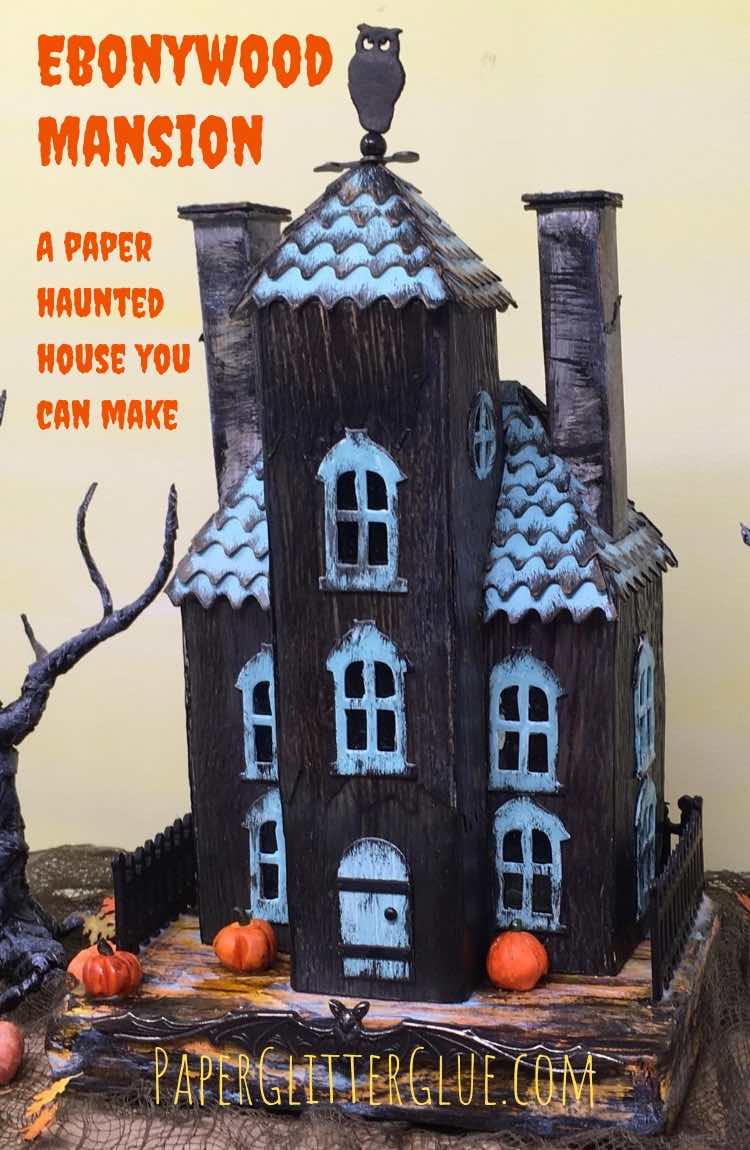 This pattern is only available as a PDF file. But there is an SVG pattern for a smaller Bat Wing house in the 13 Days of Halloween series. When I conceived of this design, I studied how bat wings work. The bat's "fingers" form the structure of the wing itself. I find that interesting, don't you?
Hilda's Haberdashery has so many fun details for Halloween. The front of the haberdashery shop has a stone surface and a twisted tree. But the back shows the witches' hat and cape display.
Inspiration for little houses comes from many sources. But one of my favorites is a house I found on Pinterest is called the Davenport house located in Michigan. This particular house inspired me so much that I made THREE different versions. Again, I don't have a pattern for this house, but I will. Really and truly, it will be done.
First, I made Davenport Green with spooky, crackled green siding. It's my favorite of the three.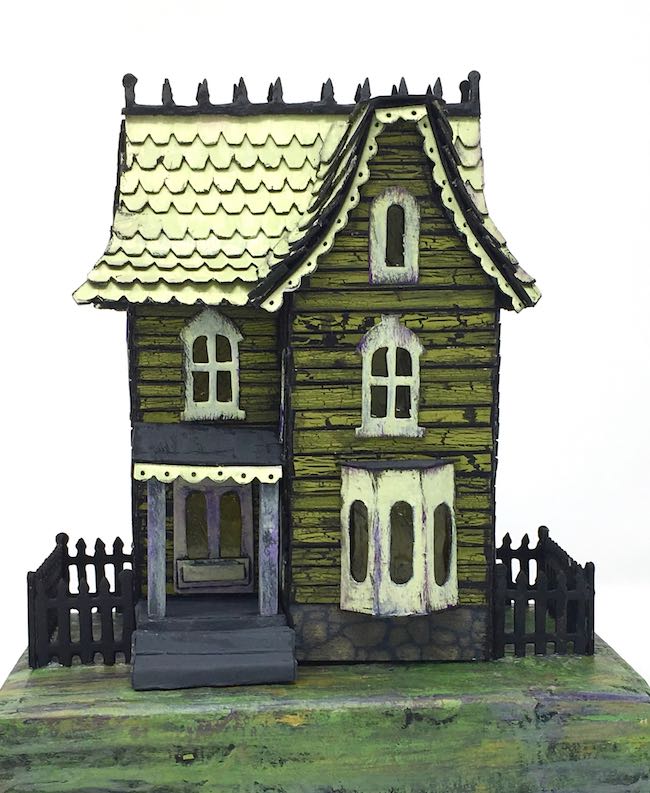 Next, I made Lady Davenport's House. She has a surprise guest in front room.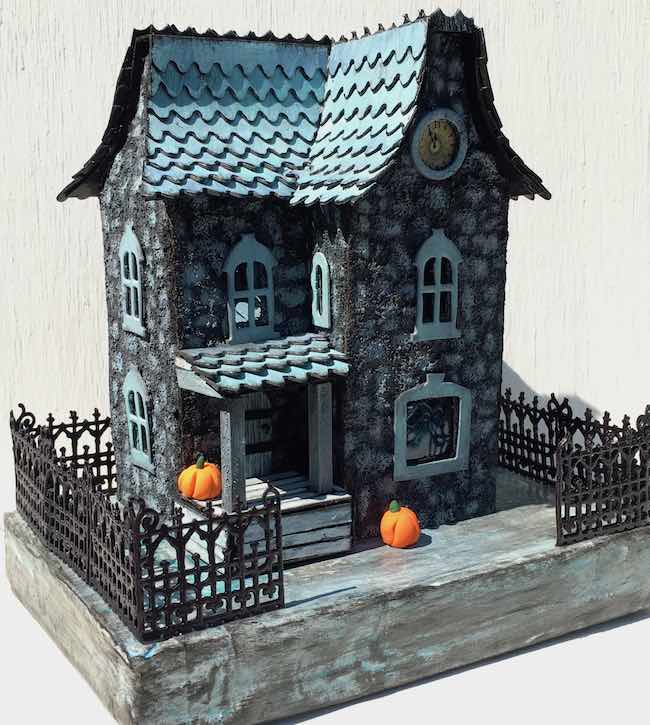 And here you can see the surprise guest in the front parlor brewing up some kind of potion.
For the third house, I experimented with a black and white finish. Davenport Hall is not exactly my most successful house in the Davenport series. I included it because you might be able to make it much better. Remember it's here for inspiration. And again, the pattern is being developed.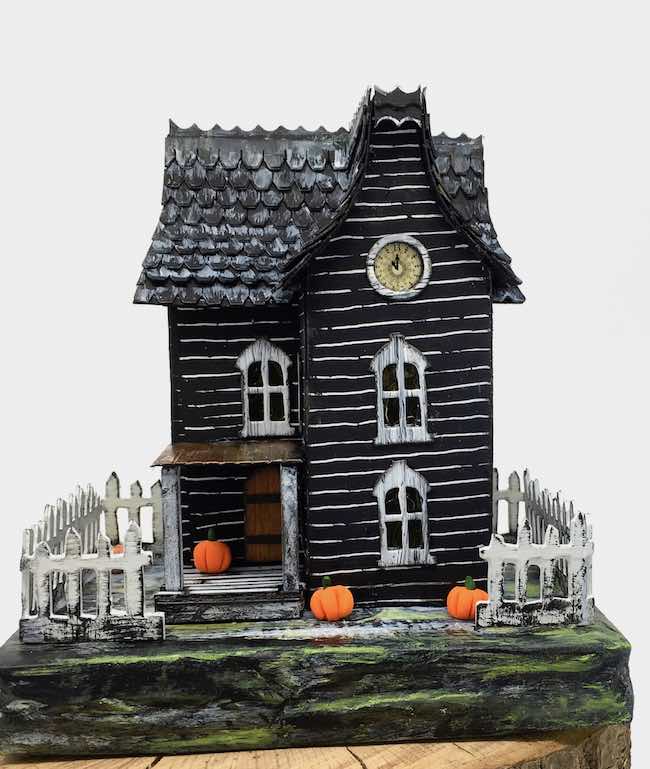 This house isn't strictly a Halloween house either, but it certainly has spooky potential. The Stone House with 3 Gables (officially, "La Maison en Pierre a Trois Pignons) is one of my favorites as well. Don't you see the haunted potential in this little cardboard house? The pattern is in the free library in the month of September 2020. Just make sure you have the password by subscribing to my newsletter.
And finally, I wrote the 13 Days of Halloween Houses Challenge. All 13 of those houses have free PDF and SVG patterns in the library listed in September 2018. There's lots of haunted inspiration in that series. The photo below shows Vlad's Castle - Halloween house No. 13.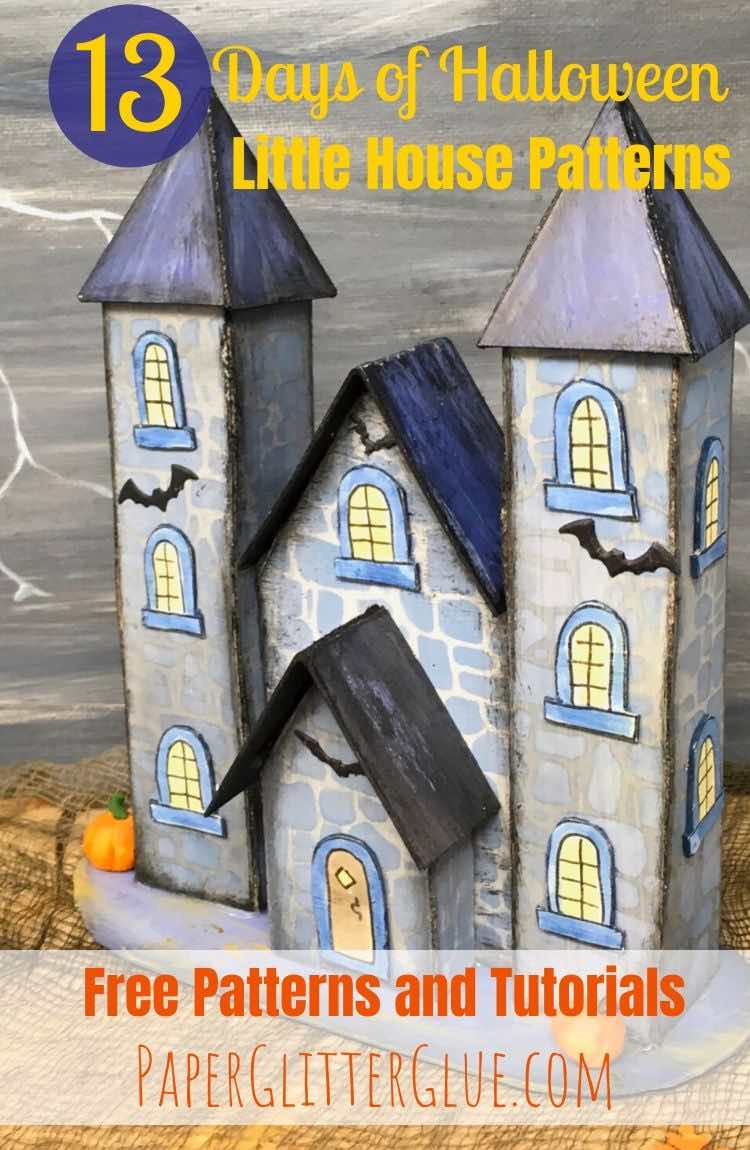 So that's it for now (though I have many other houses on my website). I hope you will join me this season to make a miniature haunted houses out of paint and cardboard and glue and whatever else you can imagine. We'll have fun.
Important Update!
I have written a detailed book, 13 Handcrafted Halloween Houses, with all of the 13 Halloween house series patterns, but the book also includes:
Variations on a number of the houses - some with side chimney options, dormers, and roof top chimney
Lots of window and door options
Shingles patterns
2 styles of fences
tutorials on putting the houses together
The patterns are available in two formats - printable PDF patterns and SVG cut file patterns if you have an automatic cutting machine like a Cricut.
Lucy
P.S. And you can always join my private Facebook group called Paper Houses and Paper Crafts hosted by PaperGlitterGlue. That way it's easy to ask questions and show your own creations. Because I do love to see what you create.