Make Christmas Paper Projects in July!
It's Christmas in July - a great time to get started on Christmas crafts. Want some ideas to get your fun started? All of these projects have free files in my Paper Glitter Glue library.
If you already subscribe to my newsletter you have the password. If not, just subscribe with the form below to get my newsletter and the password to the free library full of great paper crafting ideas.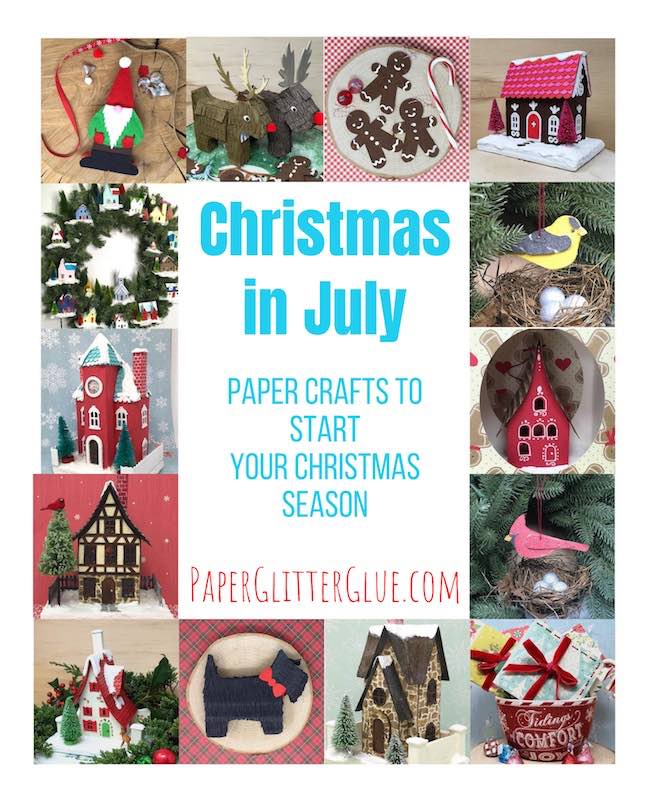 Little Christmas House Craft Projects
So let's start with the Christmas houses you can make. As you know, these are my favorite paper crafts.
This post contains some affiliate links for your convenience. Click here to read my full disclosure policy.
It's based on a pattern I call the Front Tower Clockhouse.
Make this elegant Christmas clockhouse for your mantle or some other prominent place in your house. I love the clock in the front which is copied from the clock on real Putz houses. Paul Race of the Cardboard Christmas forum made a free file that you can download.
But no one really knows why all the Japanese Putz House clocks are set at 3:38. That mystery persists to this day.
I usually give names to most of my houses, but I couldn't come up with a great name for the house above. This house has a barn-shaped gable in front so I named the house, the Mini Christmas house with a Barn-Shaped Front Gable. Probably one of my worst names ever. But it is still a cute house. And it is pretty small - about 3 inches wide and 1.75 inches deep. That means it can easily be adapted to go on a Christmas tree, tucked in among the branches or fit on a shelf.
This house makes a great gift topper. For one present, I glued it to the top of a small gift box and put a gift card inside. What do you think?
This is one of my favorite Christmas houses of all time.
To simulate stone on paper houses, just follow the instructions in the my post called the Stone Texture Tutorial.

Next, we have the Christmas Village House. Sometimes I refer to it as the German Half-Timbered House because it is based on a style of house-building that was prominent in Germany and Europe. To save wood, they often built the houses with a combination of wood timber-framing with plaster covering stones or bricks as the bulk of the building. It's a distinctive, beautiful building style very similar to Tudor houses. The design is perfect for a decorating a miniature paper house.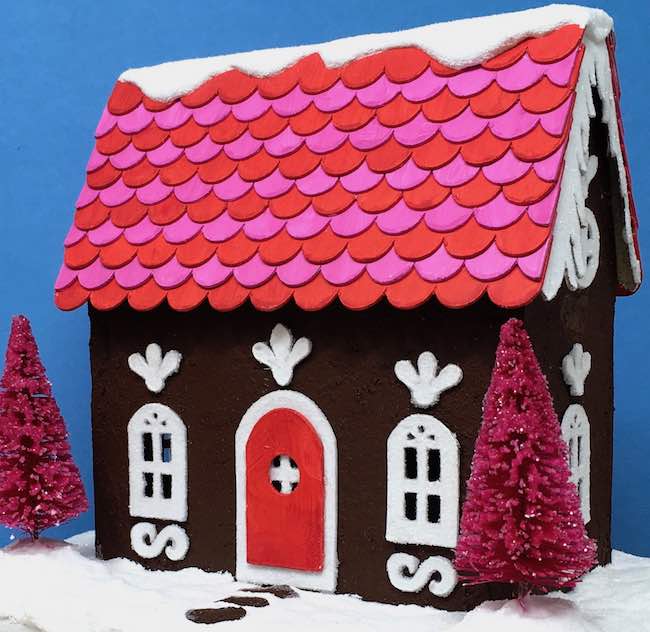 During one of my crafting experiments, I figured out how to make gingerbread paint. How do you make gingerbread paint? Just mix acrylic paint with the spices used in gingerbread - cinnamon, ginger, and cloves. Then paint on the surface of your little house and poof! you have a house that truly smells like gingerbread. It's amazing.
But gingerbread paint is not the only way to make a paper house look like gingerbread. Just use a white pen to look like icing. This little house is designed as an ornament. Made of card stock, rather than cardboard, it's lightweight and easily hangs on a tree branch. In addition, I've included a pattern for the display box so you can display it within the box or give it as a gift.
Another great house with a not-so-great name - the Red Roof Holiday Cottage. This is really one of my very favorite designs which was based on a suggestion from one of my readers to make an Elf House. Just like I did with one of the above houses, I gave this one as a hostess gift.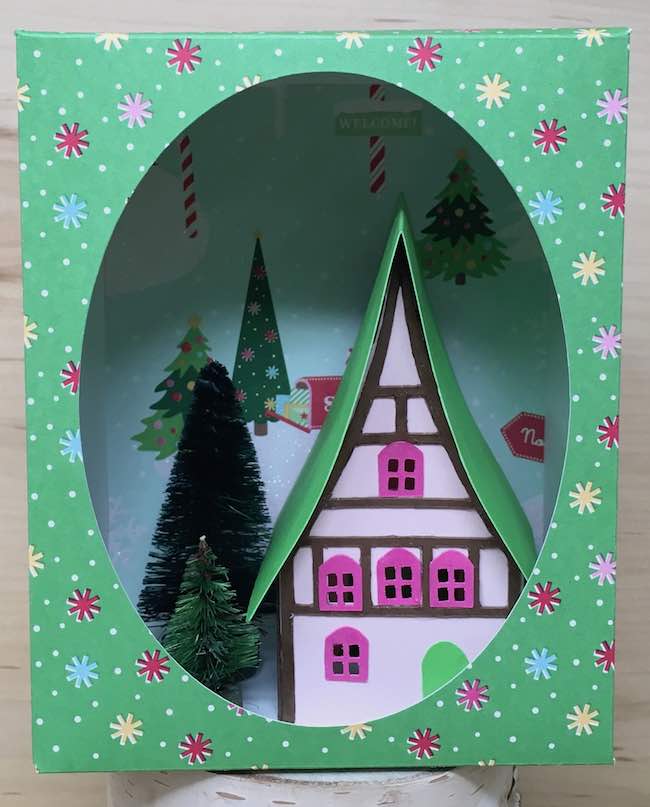 Here's another variation on the German Half-Timbered House made into an ornament. Basically, it is the same pattern as the Gingerbread ornament house just with different trim. This house is so easy to make that I gave them as gifts for my co-workers. And you can make a display box as the gift box.
The cool thing about this house is that it is two-sided. You make a regular looking house on the front and then decorate the inside of the house on the back. The free pattern is in two formats - PDF as a printable pattern and SVG cut files for your automatic cutting machines.
And if you want to make even more houses perfect for a Christmas village, you can purchase my book, Create 12 Simple Super Miniature Houses. See two examples of houses from my book below.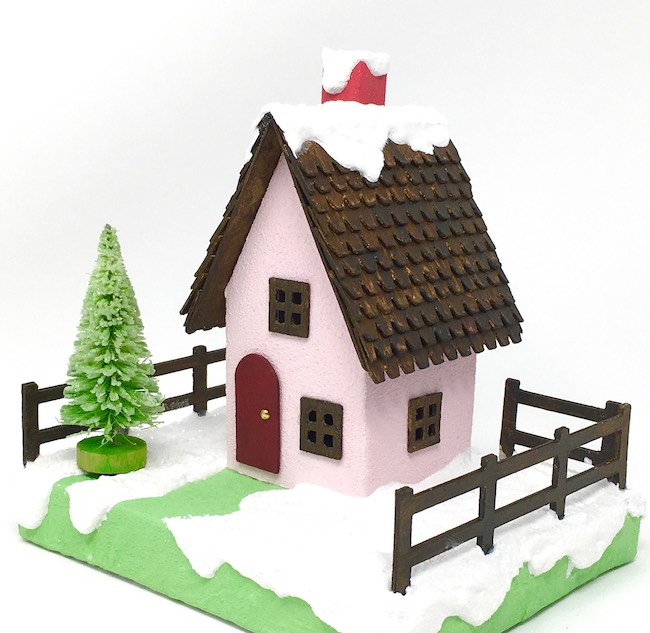 The little paper house above is the simplest design and the first house in the book.
This little house with the funky roofline is based on a vintage Putz house design.
In addition, if you subscribe to my newsletter you'll get a substantial discount offer for the book. The book includes PDF patterns so you can cut out the patterns by hand as well as SVG cut files for electronic cutting machines like the Cricut Maker.
Gift Boxes (or Gift Wallets)
I have made several options for gift boxes or ways to dress up gift certificates. Check out the cool designs below.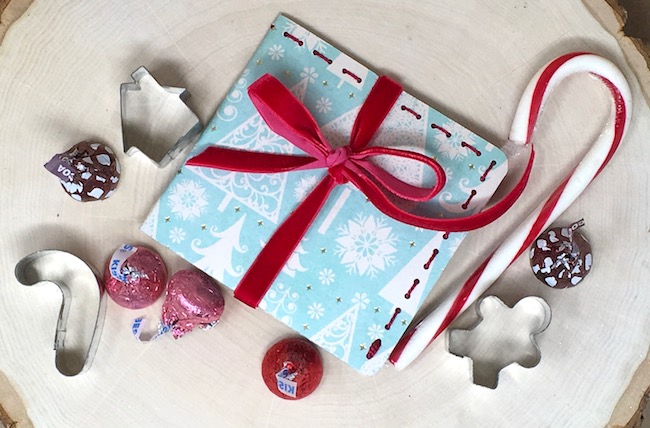 This little paper wallet has pockets inside for gift cards.
Isn't that a great way to give gift cards?
I had so much fun designing this little Moose gift box. I call him ChrisMoose. He has a flap on the other side for candy, little treats or a note. Don't you think kids would love to get ChrisMoose as a party favor? Or even better, wouldn't they love to make him?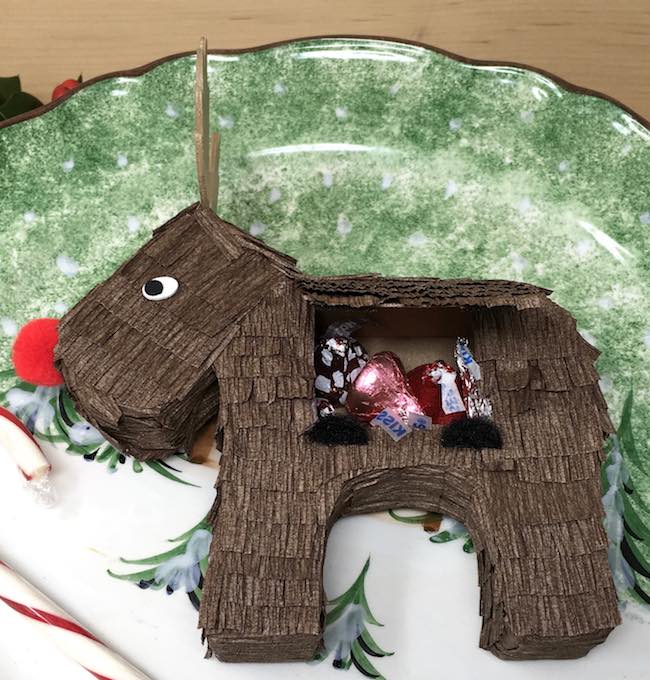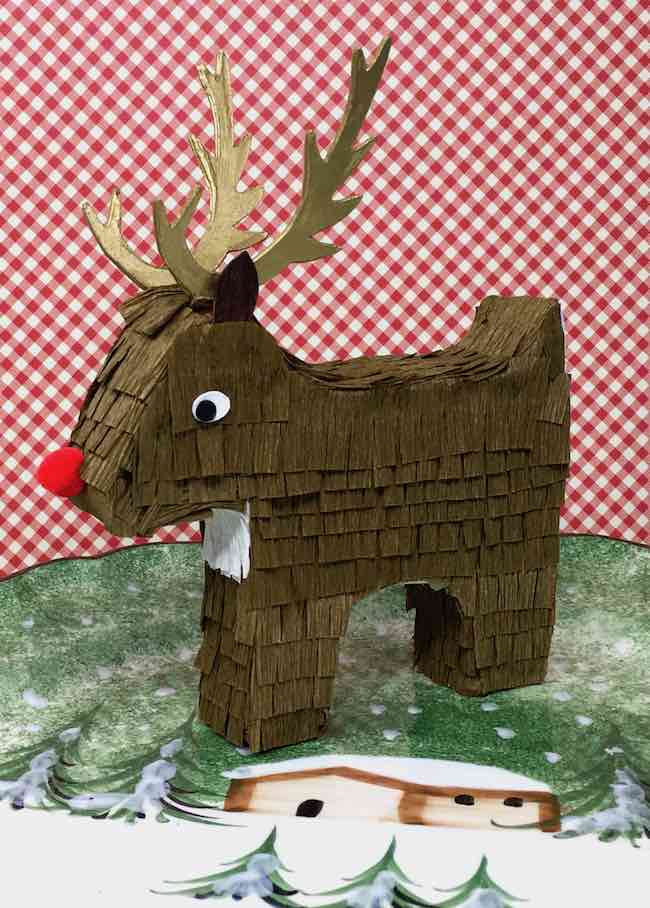 Just like Merry ChrisMoose, Happy HollyDeer has a flap in the back for little treats. This is another great party favor or craft for kids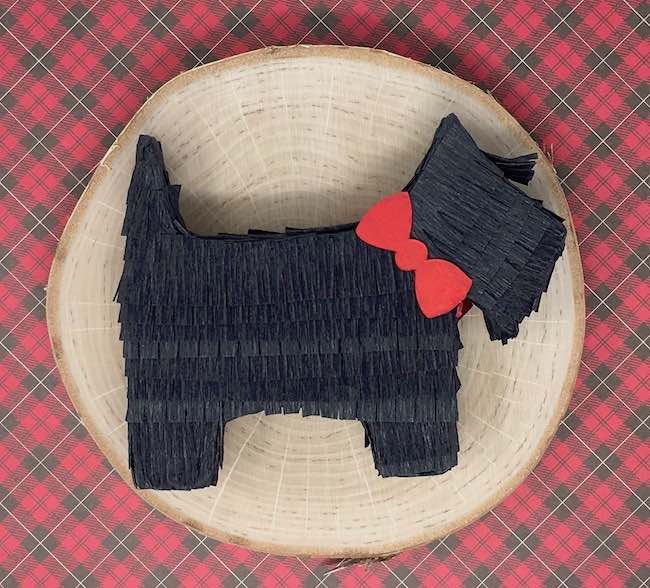 The Scotty Dog Treat Box or candy box is made the same way as Merry ChrisMoose and Happy HollyDeer. He has a flap in the back that you can open and close. There are small velcro tabs on the flap so you can secure the flap. Don't you think this treat box is so fun?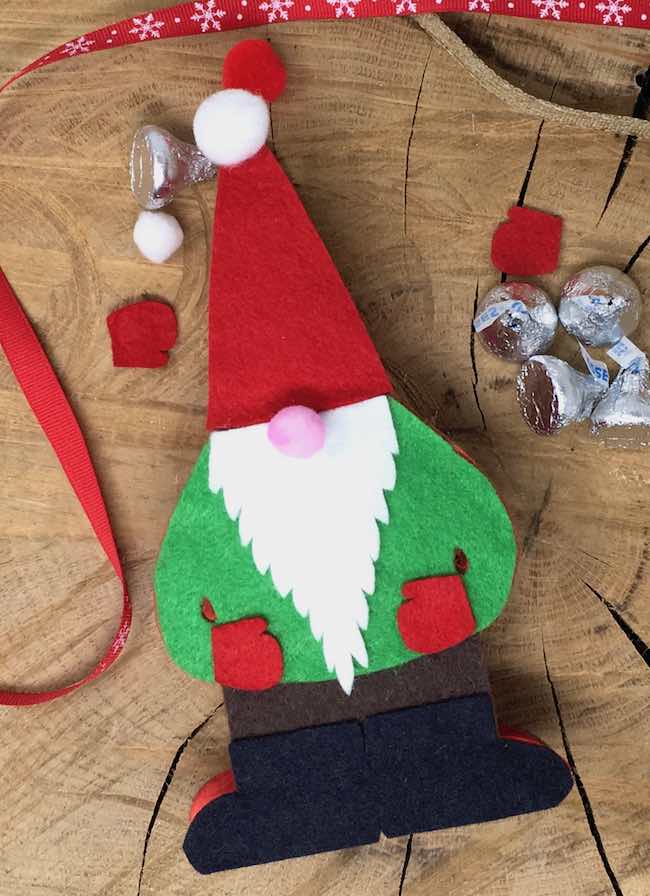 Moving on to Gnomes. Since we all love gnomes, I figured out a way to make a cool gift box perfectly sized for gift cards. The Gnome gift box opens up like a book with a box inside big enough for gift cards. Below you see the size flap which is secured with small velcro tabs.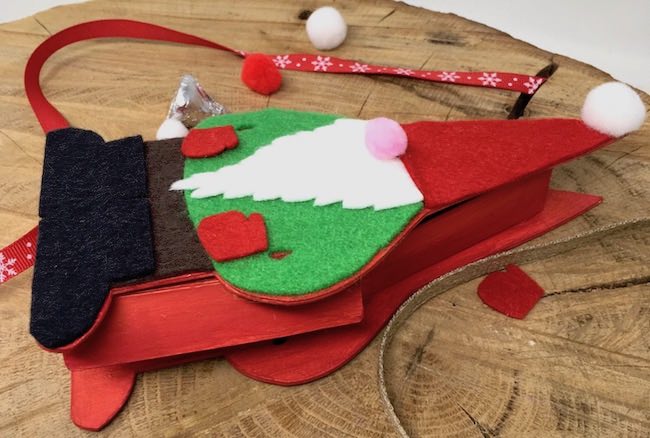 And how about Christmas Ornaments?
These cute little gingerbread men are made using a simple (and free!) pattern that you can cut easily by hand or with your electronic cutting machine like a Cricut Maker. And to get the real feel and scent of gingerbread, use gingerbread paint again. They still smell good a year later (though not quite as strong as they did at first).
Well, this isn't exactly a paper craft, but I did use stamps that are designed for paper crafting. I've seen adorable examples of cornstarch ornaments on Pinterest over the years so I decided it was time to make my own. In this blog post, I discuss how to make the cornstarch dough including the challenges and failures. Also I talk what stamps work best with the dough.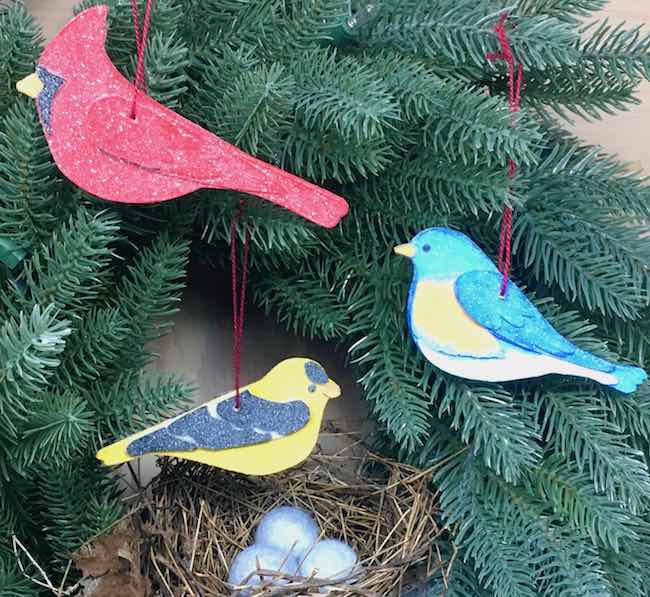 I just love cardinals. My mother loved cardinals. When I saw 5 beautiful red cardinals in my front yard one day, I was inspired to make these ornaments. For these ornaments, I picked 3 birds that I've seen in my yard that are particularly colorful - the cardinal, the Goldfinch, and the Bluebird.
And, of course, you can make little house ornaments listed in the house section above.
What about a Winter Wreath loaded with Miniature Houses?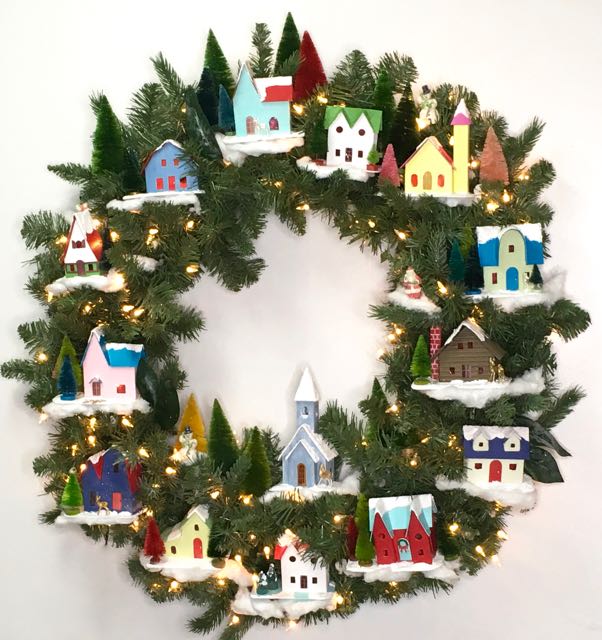 And last but not least, you can make a bunch of little houses to make the cutest wreath, ever.
So even if it is July, it's a great time to get started on your Christmas crafting.
Let me know what crafts appeal to you. If you have questions, just email me at [email protected] I love to help.