Here's is a list of over 31 of the very best Halloween paper crafts with the perfect degree of spookiness to haunt your house for the season. Well, really most of these crafts are mildly spooky, but loaded with color and fun. And if you have a Halloween party - even better, because these crafts take your house to a different level as Halloween paper decorations.
You can see all the Best Halloween Paper Craft projects in this short video.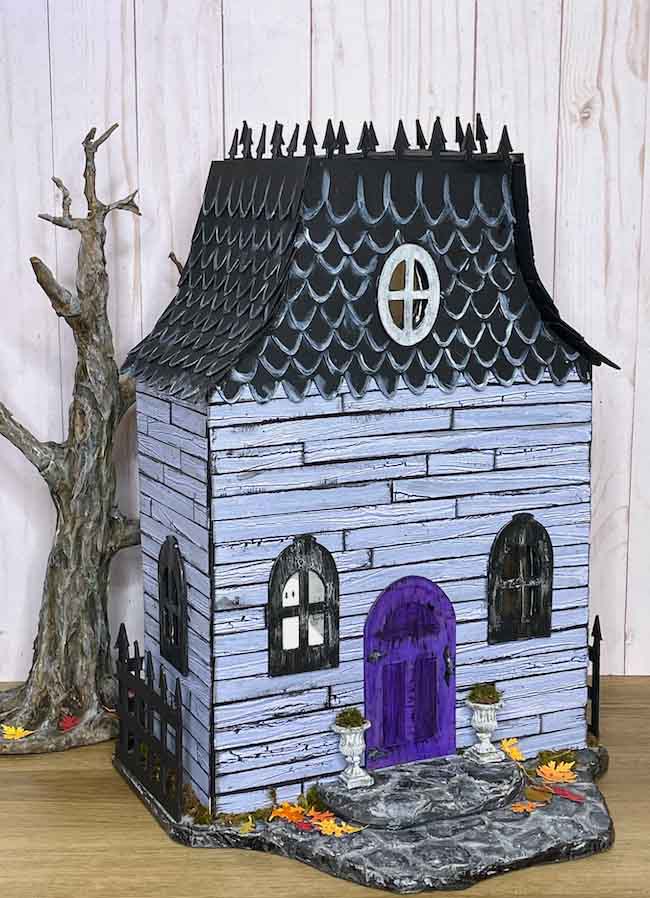 Now, this is a great Halloween paper craft for the entire family. Using recycled cardboard boxes, make a Halloween dollhouse that works as a great way to exercise your creative imagination. Use my free pattern and templates or just take off on your own flight of whimsy to construct your little Halloween dollhouse. The video and tutorial help you get started on your crafting journey.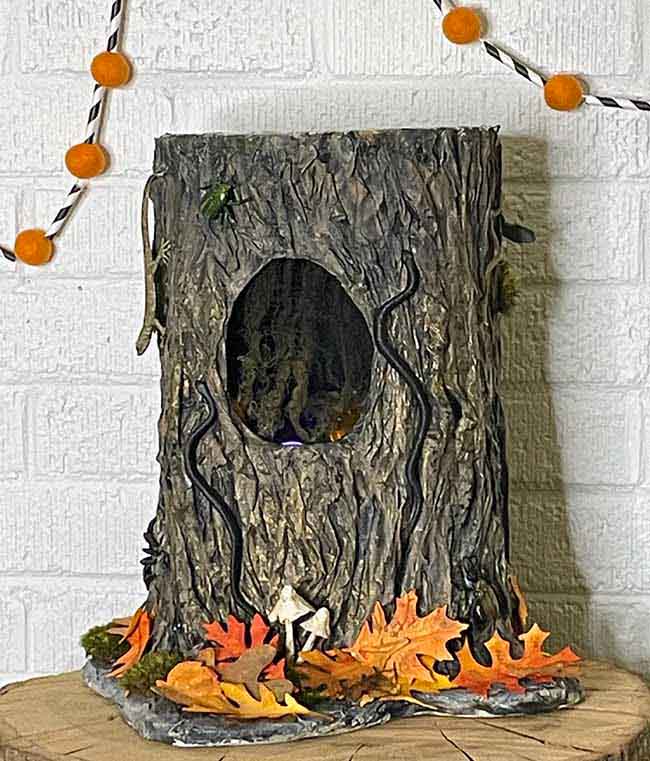 I must admit that this is my favorite Halloween paper craft - a paper mache tree stump that holds candy. Use plastic snakes, insects, and autumn-colored leaves to decorate the tree stump. Don't you think this is so fun? You will certainly enjoy making it and handing out candy from the paper mache tree stump.
When confronted with a number of pasta boxes in my recycling bin, I thought of using them for making a little house. And from that, the idea of the Recycled Halloween Manor came to me. It's much like the Halloween dollhouse only smaller and a little easier to make. Kids LOVE crafts like this.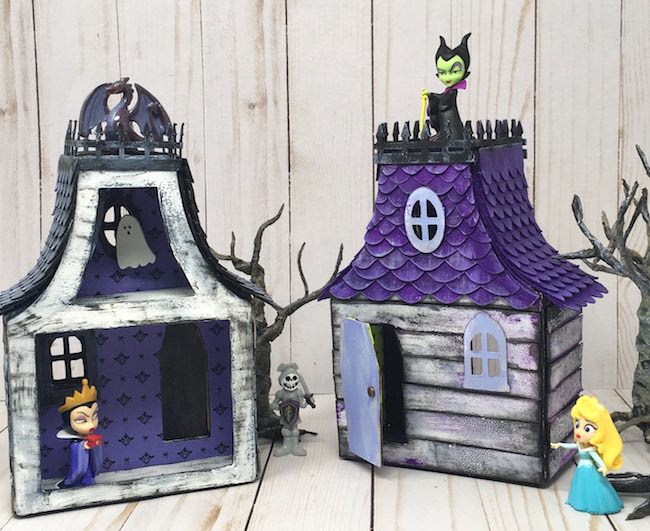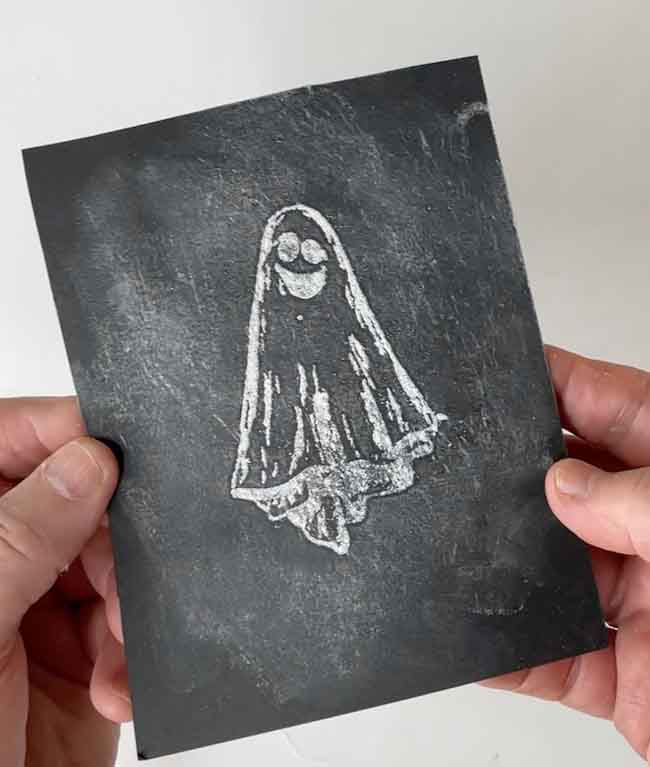 And the perfect thing to hang on your garland are these chalkboard ornaments. Make them by stamping an image on black cardstock, emboss with frosted crystal embossing powder, then color with white chalk. Really, it is a great technique that looks just like a chalkboard for Halloween. Then simply cut out the design and hang from a garland.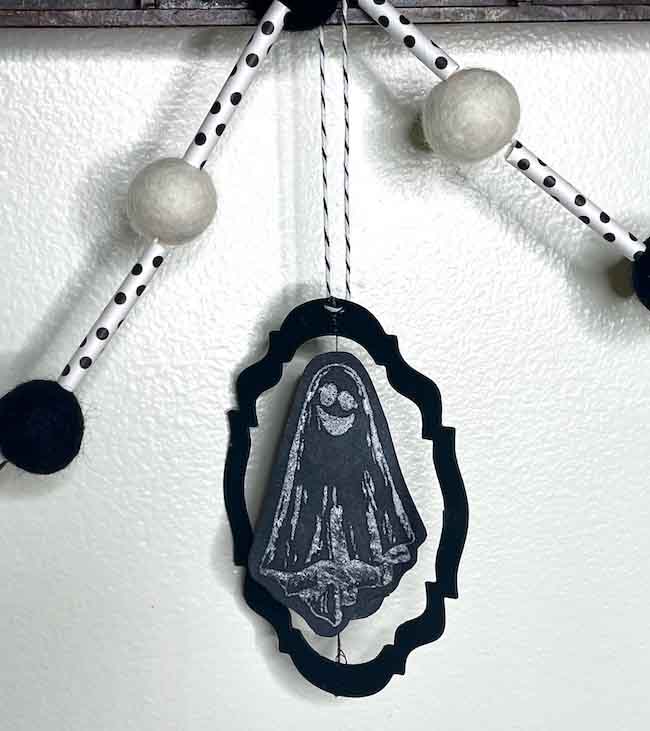 And here is an easy way to make a colorful wall display for Halloween. The orange, yellow, black, and white felt balls combine to make the best Halloween garland. This garland is so easy. Just go to this tutorial to see how to make the cutest Halloween garland with felt balls.
Want a unique way to give out Halloween treats? Seriously cute, these treat boxes are easy to make with a cutting machine like a Cricut. Just cut out the shape, decorate with windows and doors, assemble the box, and fill with a few little treats. Make a bunch of these little houses to hold Halloween party favors. Your guests will be delighted.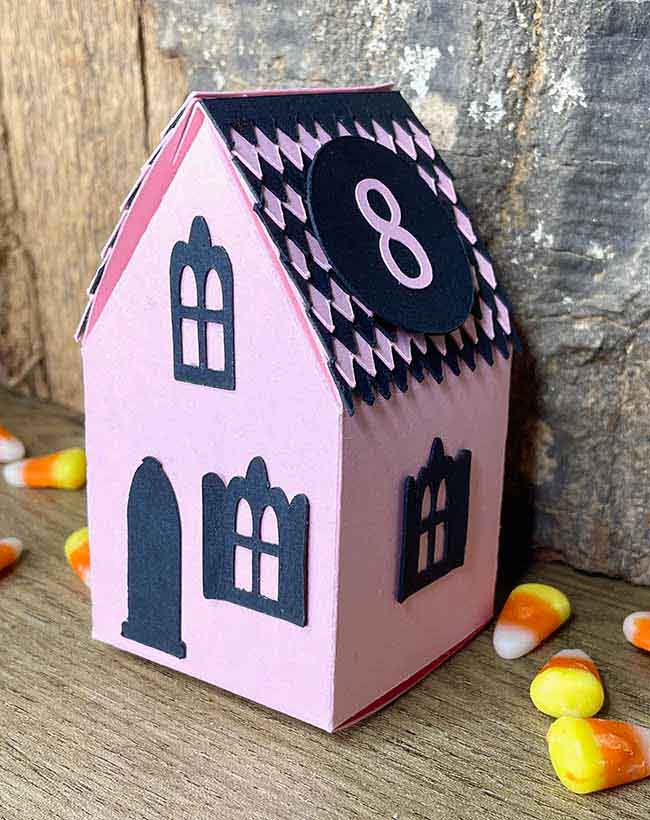 Here's another little house candy box that's great as a party favor. Just combine different house designs for a great display or use them as a countdown calendar by putting numbers on the roof.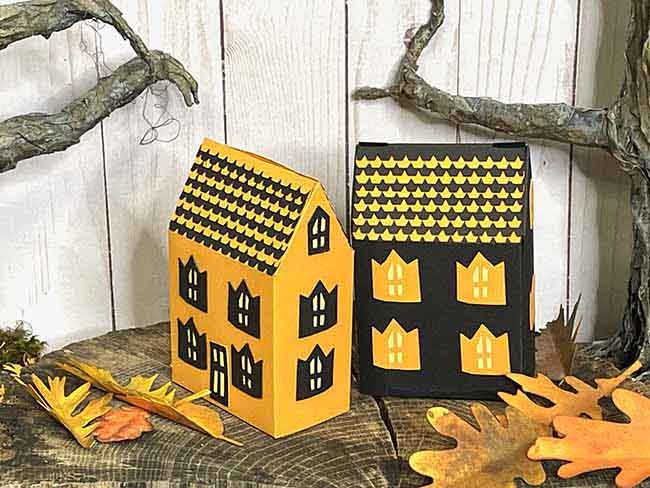 For a different look for your Halloween house gift box, check out the gothic version with an exaggerated roof line. I love the steep roof and angled sides of this Halloween house gift box.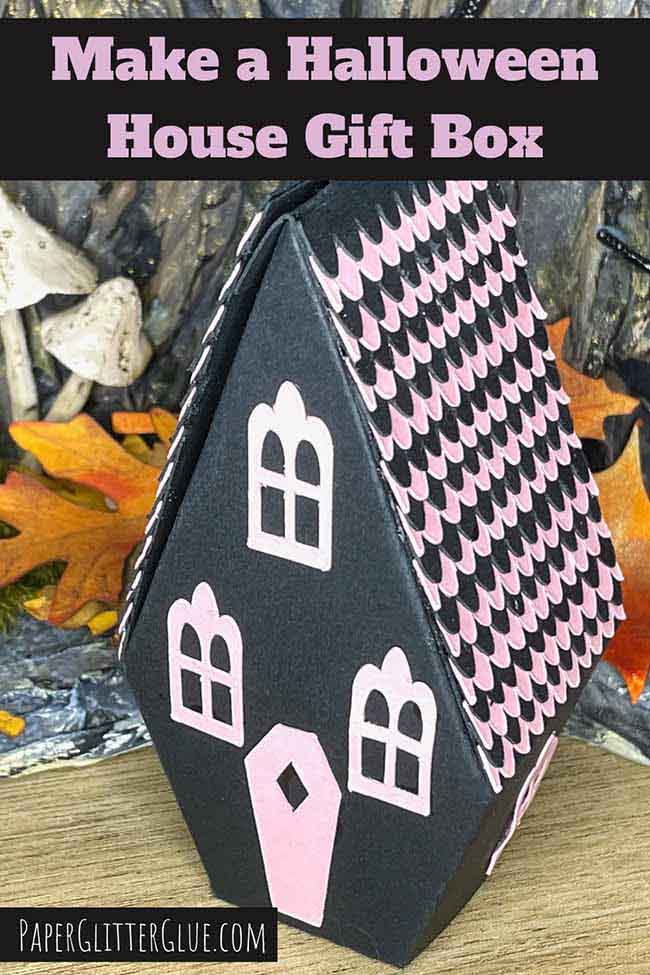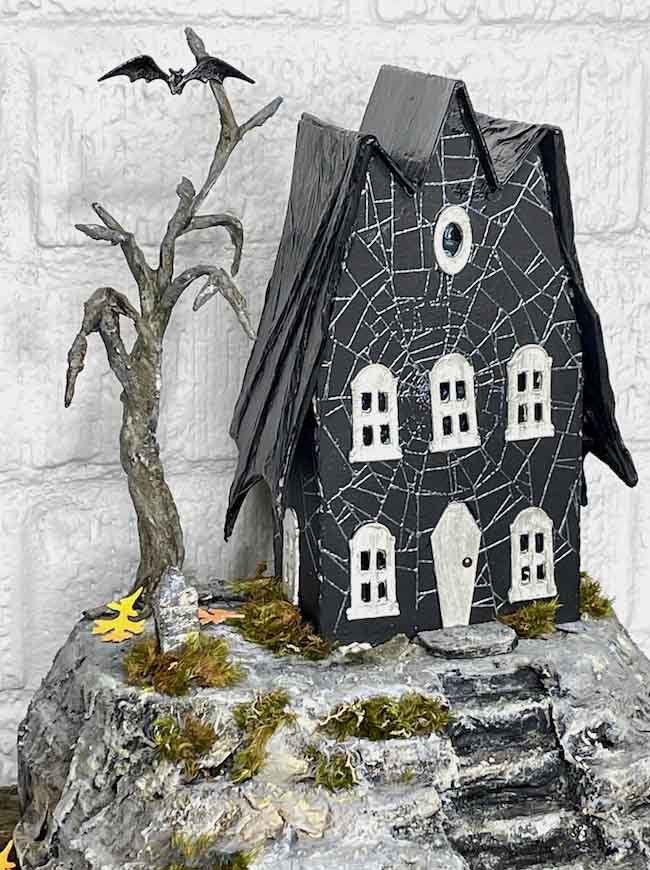 Now this Halloween craft is certainly more involved, but worth it. Just follow the tutorial to see how to make this delightful house with bat wings as the roof line.
Another set of options for an interesting Halloween house is the Davenport series of Halloween houses. In this series of 3 houses, my favorite is Davenport Green named because of the shade of green on the siding.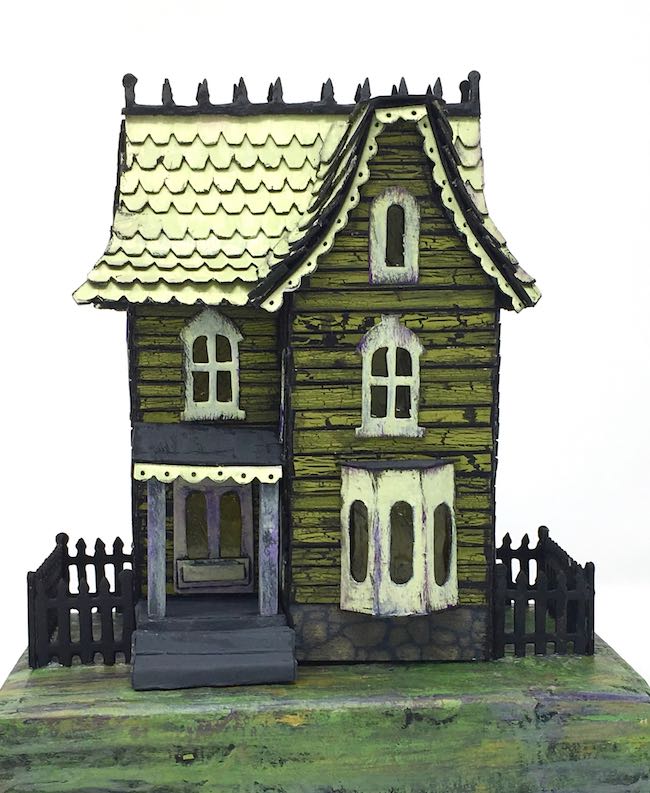 Lady Davenport's house is pretty cool, too.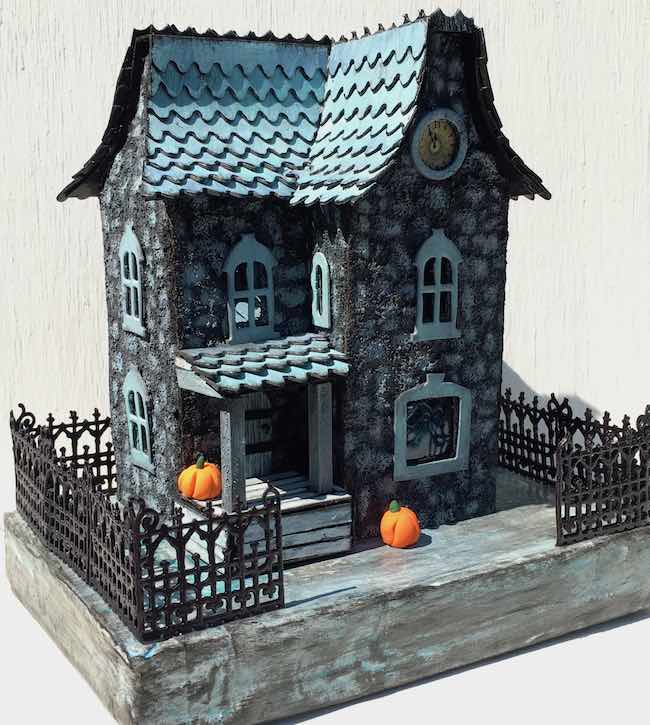 For the third Davenport house, I experimented with a black and white color scheme. Unfortunately, I'm not sure it was as effective as I hoped. What do you think?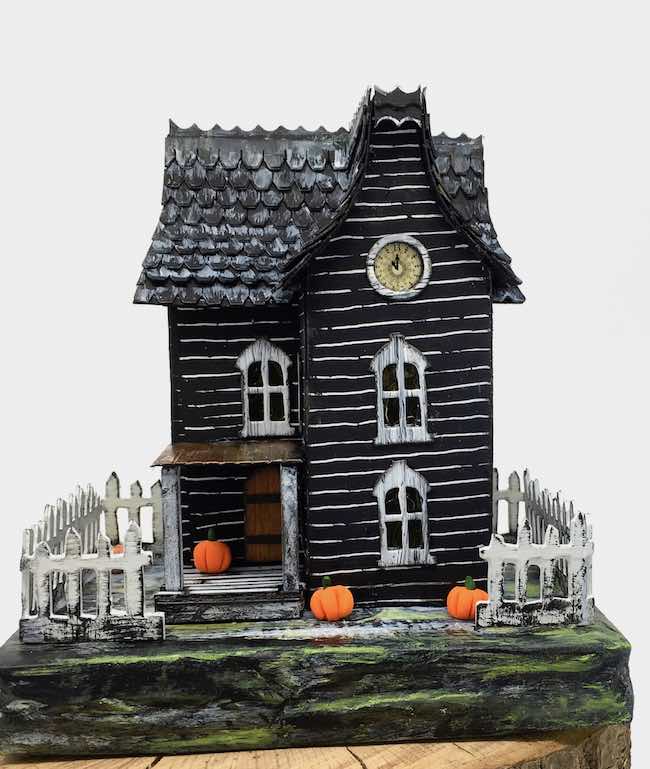 One of my favorite houses of all time is the Abandoned Italianate Mansion. Based on a great old house in Coudersport, Pennsylvania, I made the pattern in a separate post for the Putz house mansion.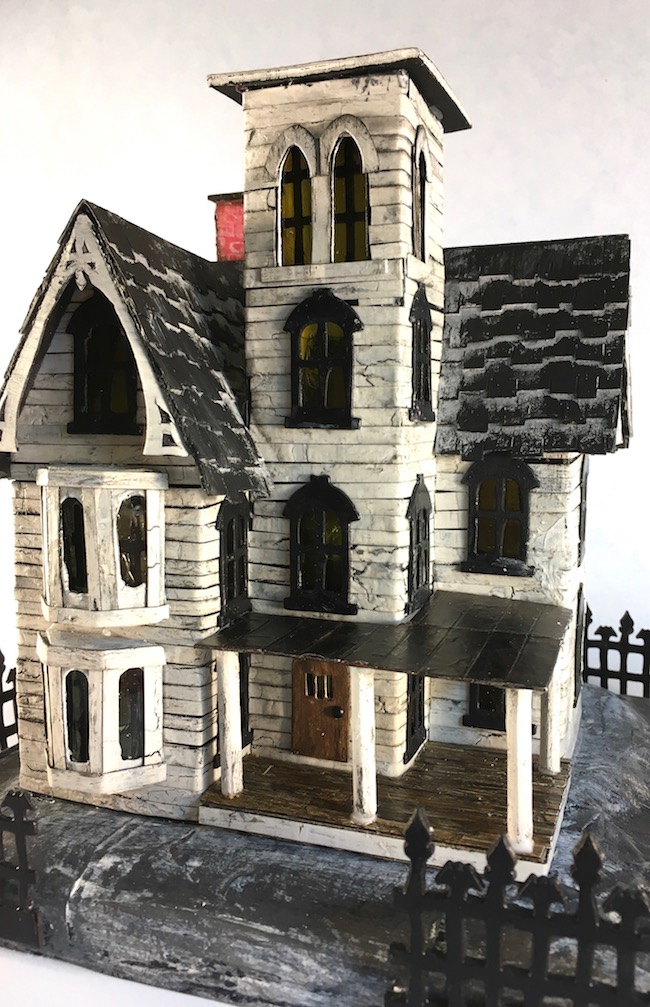 You can read about renovating the original house built in 1880, the F. W. Knox Villa, here.
When I wrote the pattern, I made a more generic version called the Putz House Mansion.
I got inspired to make this tree when I saw two kinds of trees on Pinterest - one was made with paper bags and the other kind was made with twisted wire. It occurred to me to combine these techniques to make a spooky tree easily. That's how the Twisted tree was born.
When I made the Haunted Dollhouse, I knew I needed a some furniture to go with it. The Coffin clock is one of the furniture pieces made for the house. The free pattern is available in the Paper Glitter Glue library in the July 2021 section of the library.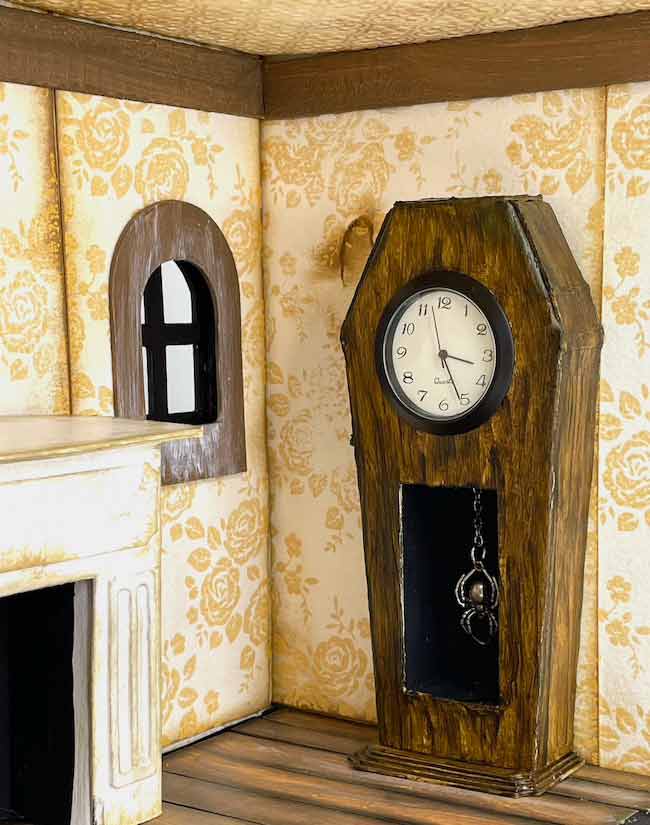 And here is another version of the Halloween Haunted Clock covered with coffee sticks as the wood panels.
Another cool piece of furniture is the miniature Cat Bench which is easy to make, too. You can get this free pattern in the August 2021 section of the Paper Glitter Glue library. Also, there are two sizes so you have perfect fit for you haunted dollhouse.
Want to make the most beautiful paper leaves for fall? Well, here is the tutorial on how to make paper leaves with great colors and variation. Fortunately, they are so easy and can be used for any Autumn or Halloween decor.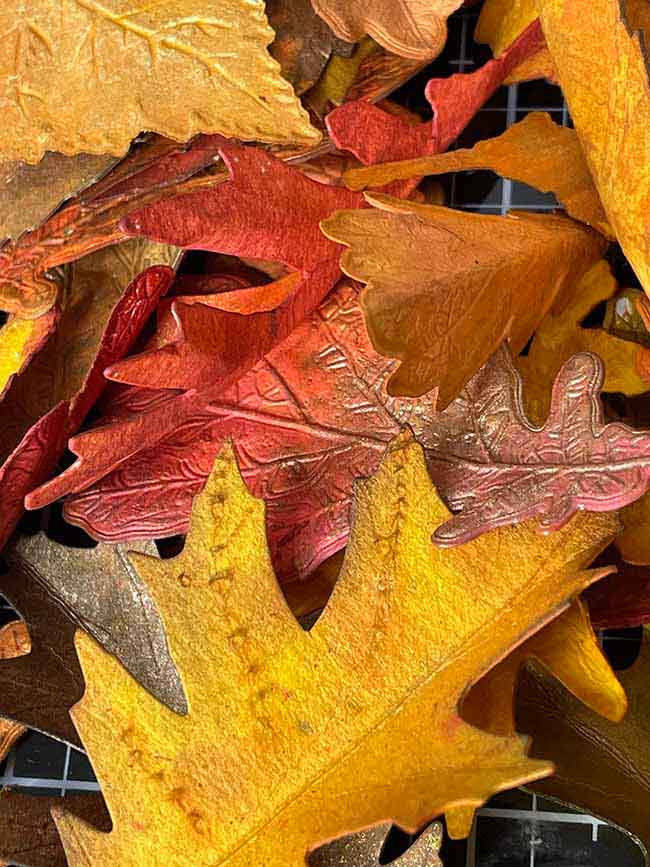 Here's one suggestion for using the incredible paper leaves - make your own wreath. This one is made using an ombre design that I love. What do you think?
When I needed some books for a haunted bookstore, I knew I wanted to make them from scratch using scrap paper dipped in tea. But I didn't know how fun it was going to be to make them.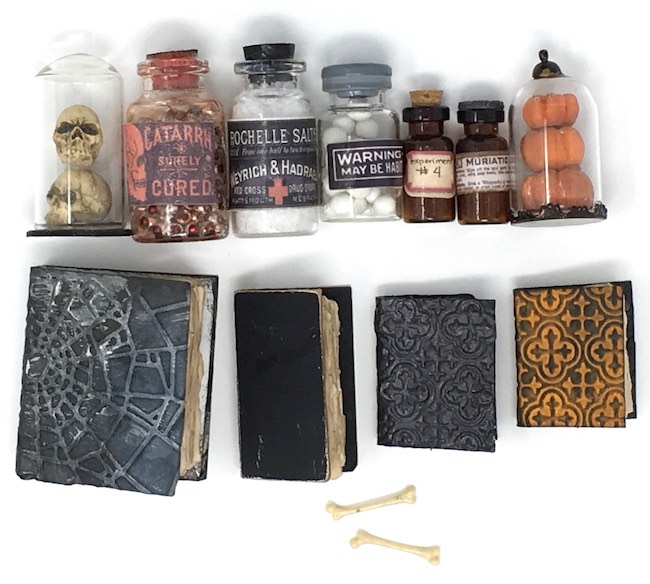 If you are making a Halloween diorama or shadow box, you might need a tiny broom. Here's the tutorial to how to make a broom or two or three. It's just another easy craft for your haunted decor.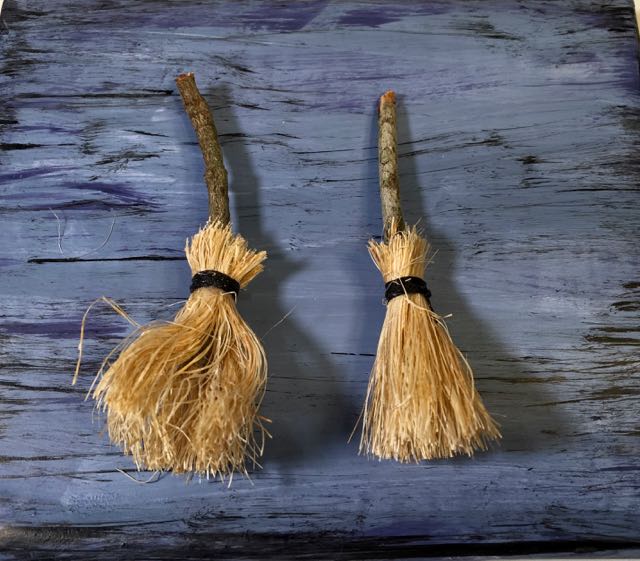 For ideas on making a Halloween house like choosing shapes and textures and distressing, this is the article to help you.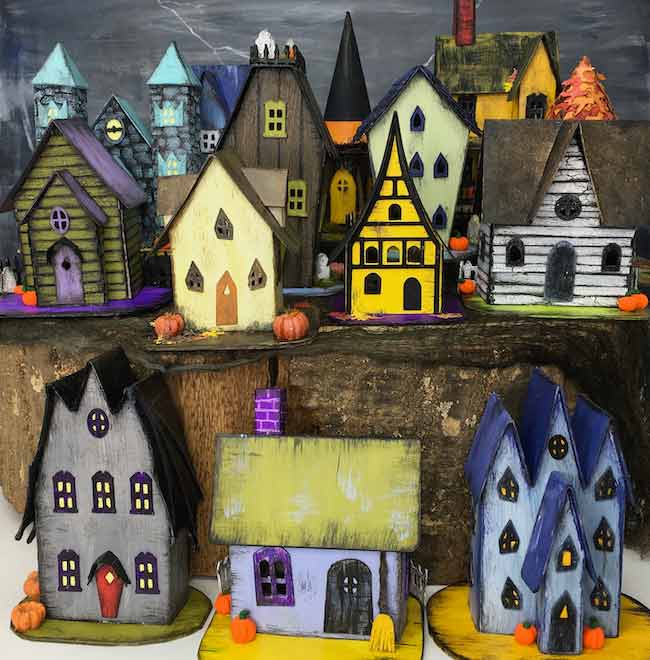 And for more suggestions on distress technique, this article will help you. On the little house below you can see the distressing on the sides of the house, the fencing, the tree - really everywhere. I love doing this on my Halloween projects.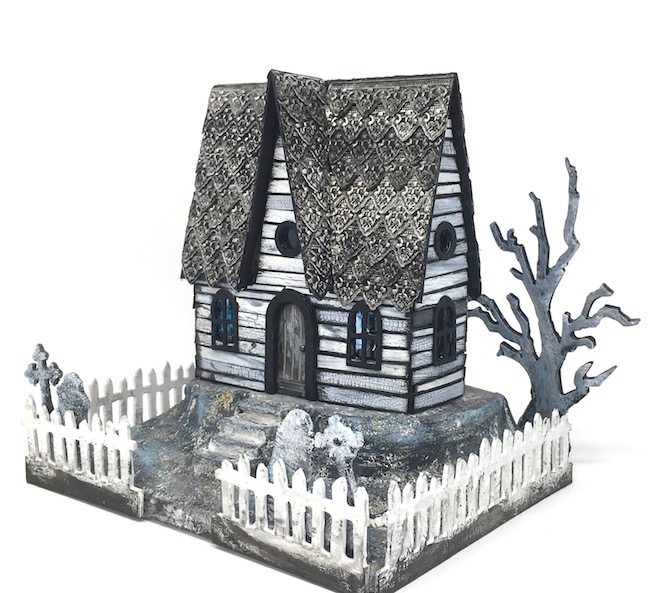 For the Recycled Halloween Manor, I needed a ghost in the attic. When I made the ghost pattern, I decided the ghost would make some fun Halloween earrings. These are another fun craft that you can make with kids.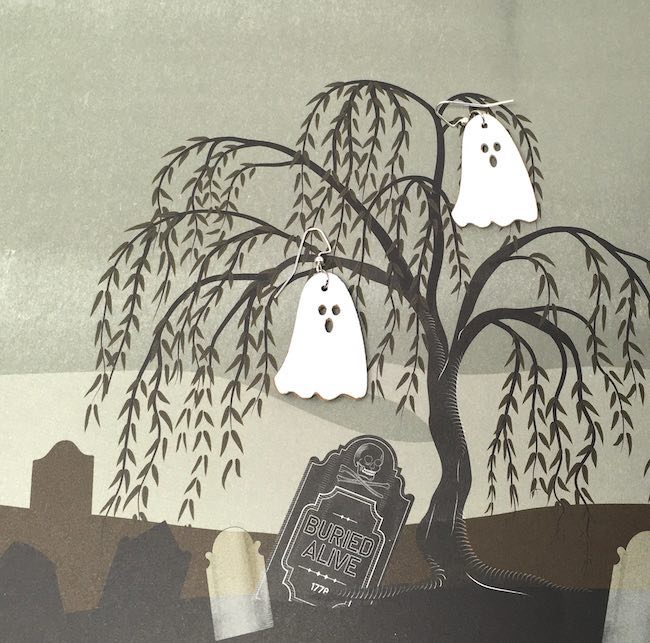 Oh, this is one of my very favorite Halloween houses that I've made. In 2019, I made this house to be auctioned off for my local chapter of Habitat for Humanity. It's actually based on an old house in my hometown. If you want to make one for yourself, get the free pattern and tutorial so you can decorate your table or mantle with this cool little paper house.
And the pattern even includes a funky fence pattern with bats.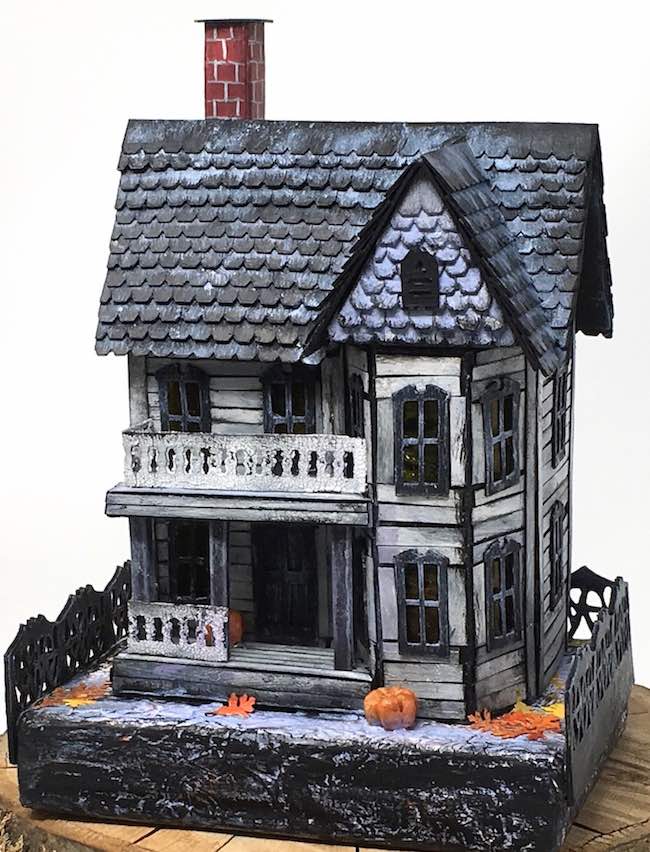 Another of my favorite houses is the Haunted Schoolhouse. Based on a design called the Front Tower Clock house, it has a lot of personality. To make it, use the Front Tower Clock house pattern in the Paper Glitter Glue library.
In fact, there is another Halloween variation of this pattern - the Ebonywood Mansion. You can see two examples of twisted trees beside the Mansion.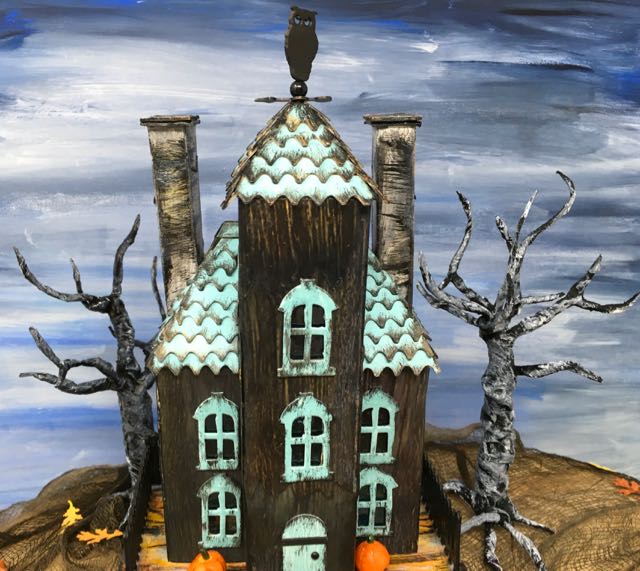 For another example of interesting Halloween houses, take a look at the Stone House with 3 Gables. I love the symmetry of this house. In addition, it can be easily adapted for other seasons.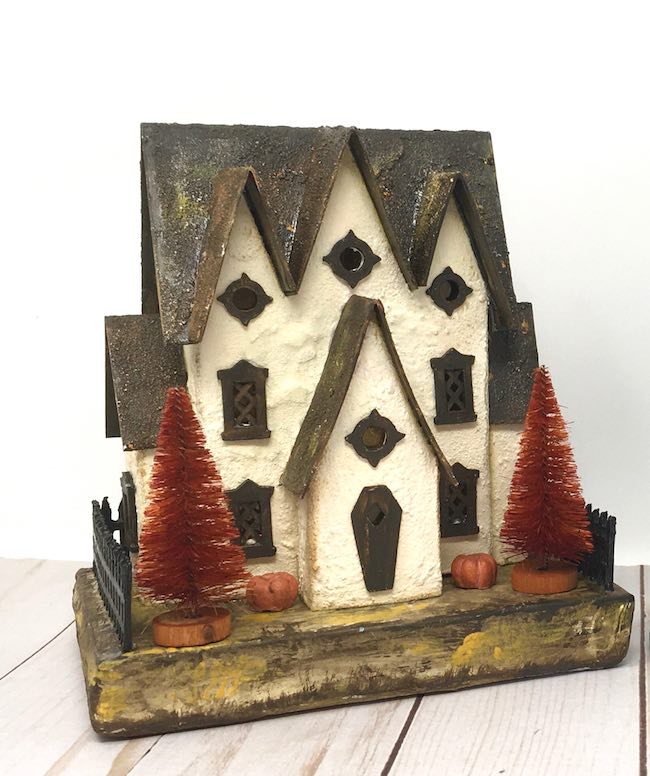 I have always loved feather trees, but they are expensive so I decided to make my own. I made this cool tree using Halloween tissue paper fringe (also called tissue festooning). What a great way to display your Halloween ornaments or some tiny Halloween houses.
If you are going to decorate for Halloween, a bat garland is a must.
Here's a two-sided Halloween house that is fun to make and display. You can decorate it any way you like. Right now, the pattern is only available as a printable file, but it is easy cut out by hand.
See the back side of Hilda's Haberdashery with the miniature broom in the photo below.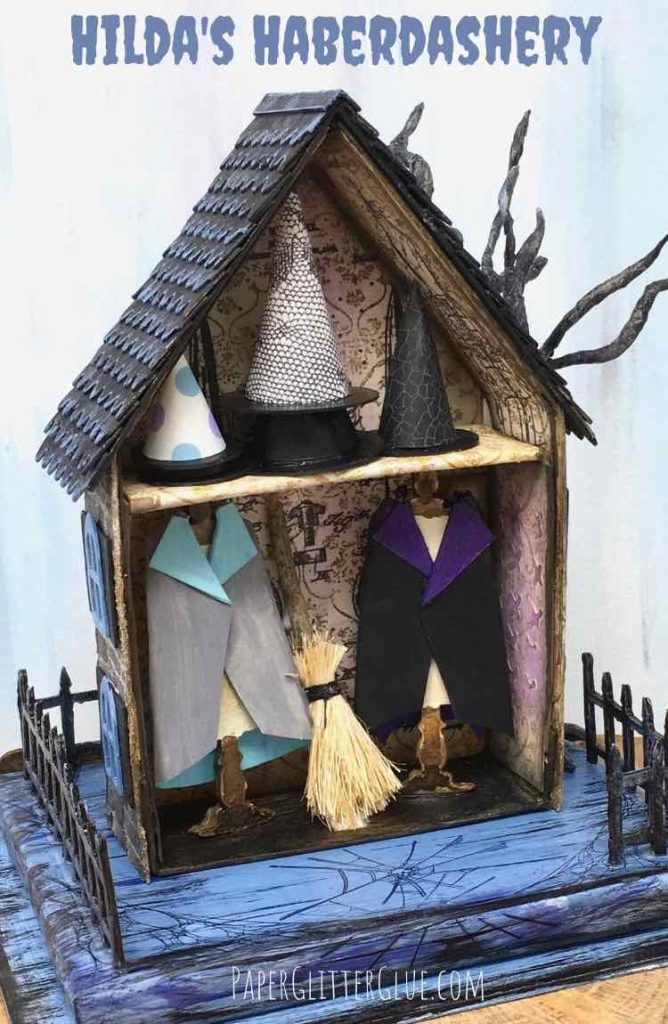 For an another example, here's the Apothecary Halloween House. Again, the only pattern available at this time is a printable file. Fortunately, it is another pattern that is very easy to cut out as well. This is the house where I used the miniature Halloween books.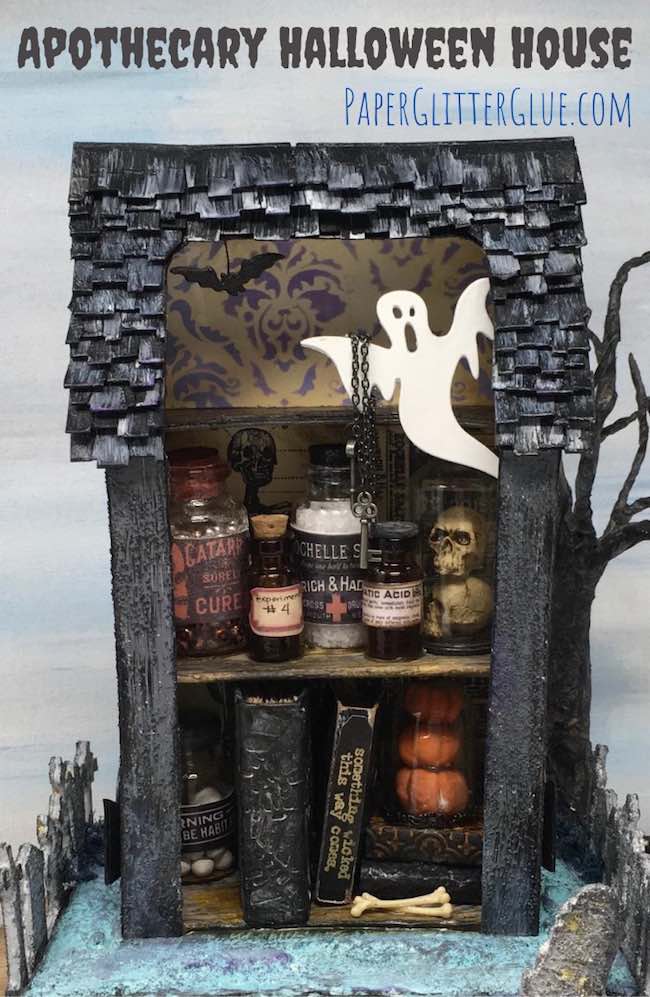 Front view of Apothecary Halloween House.
And it is only fitting that the Candy Corn house is included in this list. It was the first house pattern that I shared on my blog.
The truth is that I never did like candy corn until I started making the Candy Corn house. So I gave candy corn another chance and now I kinda like it.

The history of candy corn is interesting. Did you know it was first called "Chicken Feed?? That's kind of funny. Apparently, about 9 billion pieces of candy corn are sold each year - almost all of it around Halloween. If you are a geek like me, you can read more about candy corn.

But do check out the post about making Candy Corn Halloween House.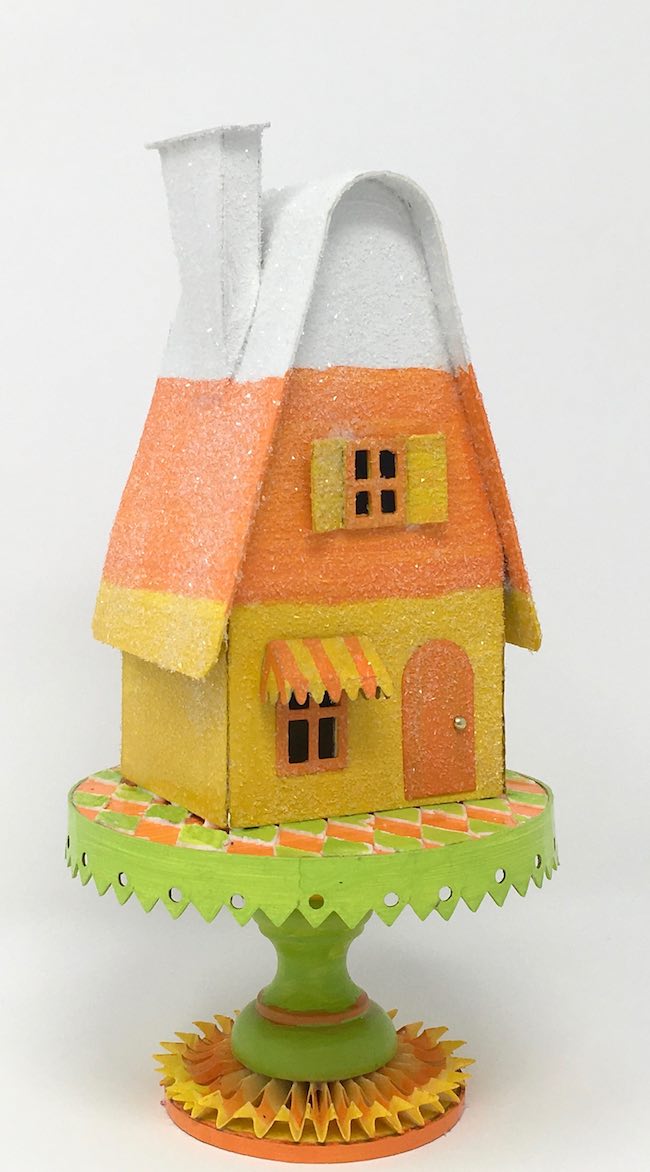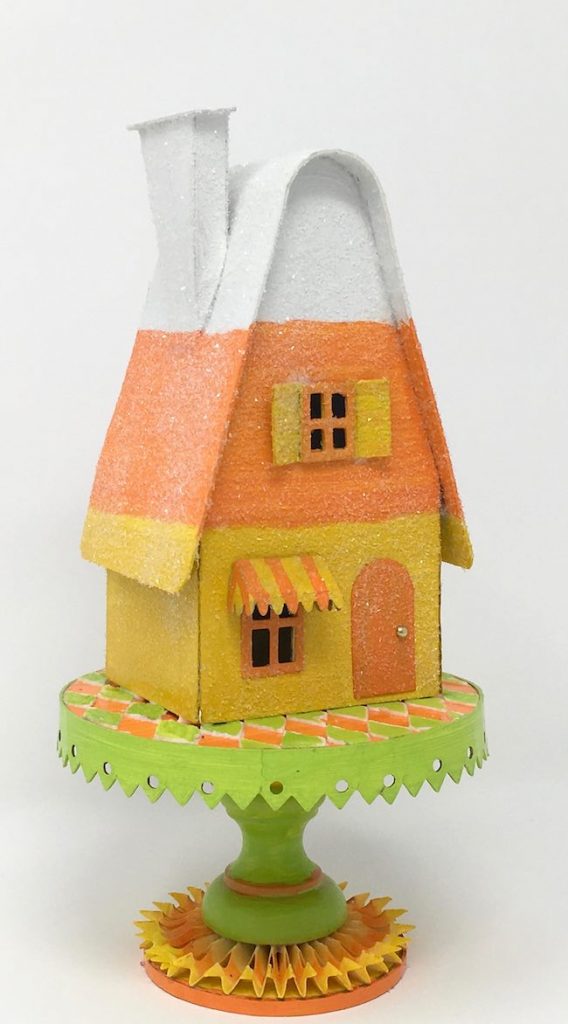 If you want to make a complete Halloween village, this series of houses is all you need.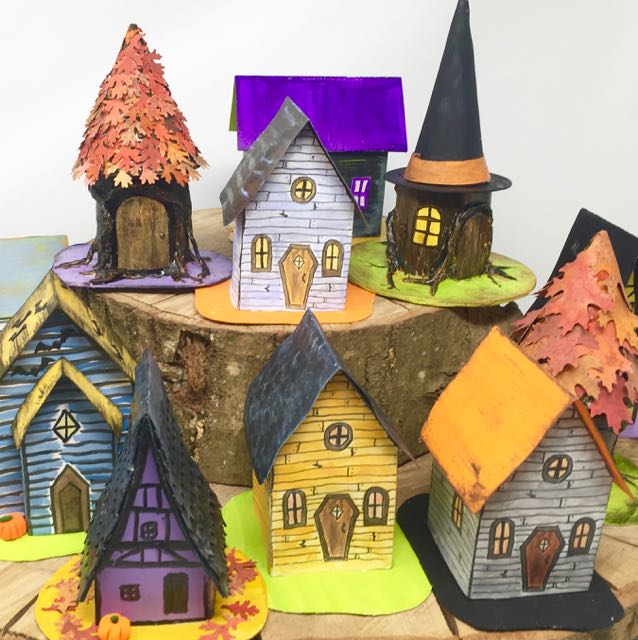 And if you want to get all the upgraded patterns (more window and door options, shingles, and fences) and a printable PDF in one place, I've updated this series as a book you can purchase the book here.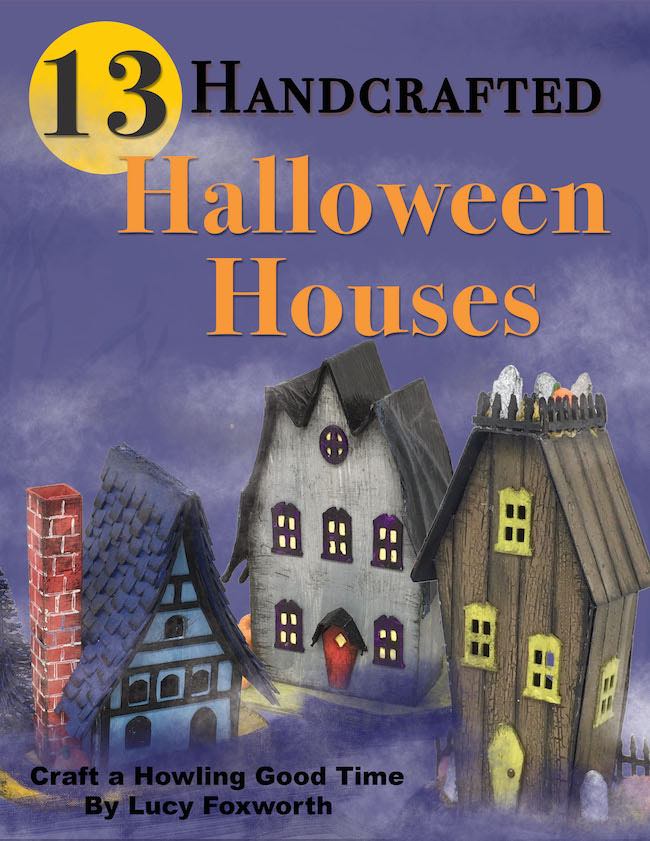 Normally I make all the patterns for my blog, but when I saw these adorable paper figures, I had to make them using Sizzix dies designed by Tim Holtz. Meet Ace, Stitch, and Stanley, wild and crazy party guys perfect for any Halloween display.
Ace can't wait to attend the party.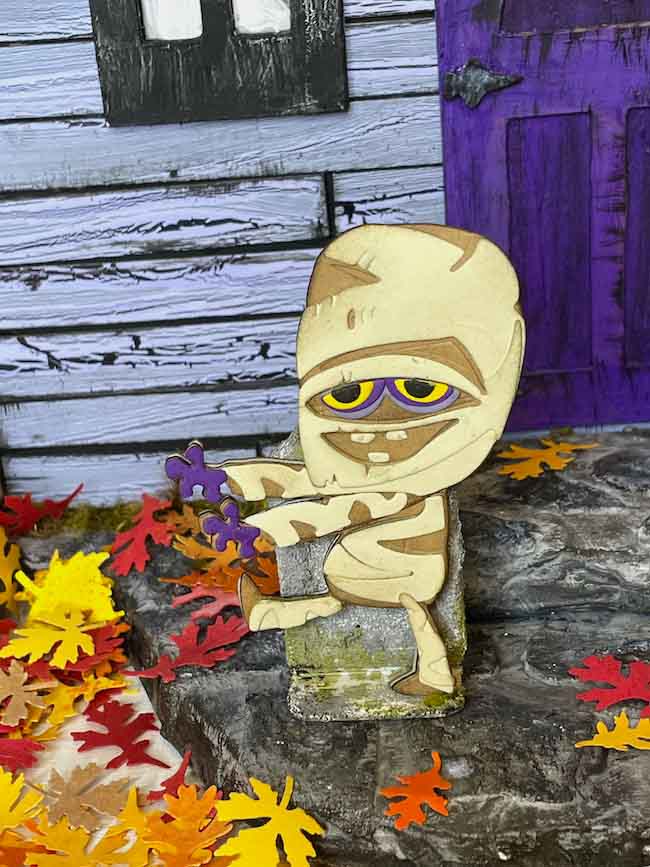 Stitch dressed in his best for the party at the Halloween dollhouse.
And Stanley loves the Coffin clock in the living room of the Halloween dollhouse.
Finally, I got the pattern done for the Stone Clock house. It has a unique construction that makes the tower in the center of the house.
Any questions about the 31+ Best Halloween Paper Crafts?
If you have any questions or need help, please email me at [email protected].
Pin to Your Favorite Pinterest Paper Craft Board
Please pin to your Favorite Pinterest Board so you can remember where you found this great list of crafts.